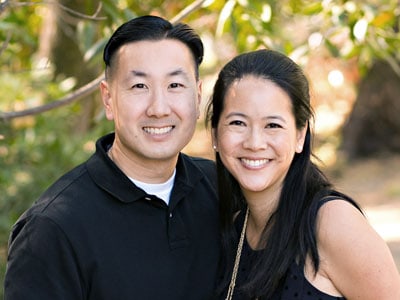 I think you are going to really like the podcast today.  Perrin and I had a chance to sit down with Steve Chou from MyWifeQuitHerJob.com and talk about his eCommerce business.
Steve and his wife own the ecommerce store, BumblebeeLinens.com. Steve also has a training class on starting ecommerce stores at ProfitableOnlineStore.com.
Steve gives us the story of how he and his wife started their store which sells a large product line of personalized wedding handkerchiefs and linens. Since its inception in 2007, the store has grown significantly and now has earnings in the high six figures each year.
The act of setting up an eCommerce store probably isn't much of a stumbling block for people.  The real hard part is figuring out how to actually get traffic to your site once it's set up.
During the podcast we dive into 3 ways that Steve has gone about getting traffic and growing his eCommerce store:
1. Pay Per Click advertising
I've been selling products on Amazon since 2014.
Want to know the research tool I've been using since I've started (and still use today)? Get my latest tips and how to guide for using this tool.
See the Full Jungle Scout Review
I was pleasantly surprised with the awesome nuggets of wisdom that Steve had to share on this subject.  They are using lots of different sources for PPC ads: Google, shopping ads, Amazon ads, Facebook, and several others.
It really is feasible if you are starting an ecommerce store to just start out with PPC ads from day 1 and get a positive ROI.  Steve is currently seeing about a 4x ROI on his advertising spend.  That's incredible!
About 1/3 of their traffic comes from paid sources.
Everything You Need For a Sales Funnel FREE
90% of all System.io features don't cost anything. Free Account Includes:
1000 email subscribers
Unlimited emails 
3 funnels 
1 Membership sites 
Unlimited file storage space
Unlimited membership site members 
Automation
Run your own affiliate program 
24/7 email and chat support
Check Out the Systeme Review Here!
2. Content and SEO
Steve's wife creates product tutorials and then they promote these as much as possible.  They also provide original content on all their category and sub-category pages that help with SEO.
About 30% of their traffic comes from SEO.
3. B2B Sales
They reach out to wedding and event planning businesses who would buy from them in bulk.  This helps to stabilize the business with repeat customers and bigger orders.
In addition, they reach out to wedding magazines or related publications to get mentions and traffic.  Finally, they were able to make it on the Today Show to get a nice bump in sales!
Overall, Steve shares several tips to increase orders, good SEO practices for ecommerce stores, and email targeting.
On previous podcasts we've talked about selling a product on Amazon and Steve explains how bumblebee linens uses Amazon. He talks about the advantages and disadvantages to using Amazon to sell products.
You can check out Steve's blog and reach out to him at MyWifeQuitHerJob.com. Or you can find his training course here: ProfitableOnlineStore.com
If you enjoyed today's episode please leave a rating on iTunes right here. And as always, feel free to leave a comment below…thanks!
---