Trainual Review: Is It The Easiest Way To Onboard New Employees?
When you buy something through one of the links on our site, we may earn an affiliate commission.
Welcome to my Trainual review!
Training new and existing employees is time-consuming (and costly).
Studies show it costs businesses an average of $1,252 per employee to onboard them properly - not including the cost of lost productivity while they're learning the ropes.
Enter Trainual—the world's leading Standard Operating Procedures (SOP) software.
It's like a playbook for your business and gives new employees the knowledge to hit the ground running.
In this Trainual review, I'll be taking a close look at the software's features, benefits, testimonials, and use cases. By the end, you'll be able to see if it's right for your business.
Let's dive in!
If you're short on time, the TL;DR is that Trainual is a powerful SOP and process documentation tool. I give it my full stamp of approval. Get their free trial today if you're ready to take the plunge.
Trainual Review
Ease of Use

Stability

Customer Service

Price
Summary
Trainual offers an easy-to-use system for documenting and systemizing key processes. It allows businesses of any size to train employees, maintain quality standards, and foster a winning culture. Try Trainual today!
Pros
Remove yourself from the onboarding process
Improve employee ramp-time
It's very easy to use, create content, and assign roles
You can create quizzes to check off knowledge retention 
Easy to migrate current information into Trainual's software
Customers rave about the customer support of Trainual
Cons
The pricing you see is only "base-pricing", and they charge for new users
Access to dedicated rep reserved for 50+ seat customers
Search function can surface irrelevant content
Trainual's Main Features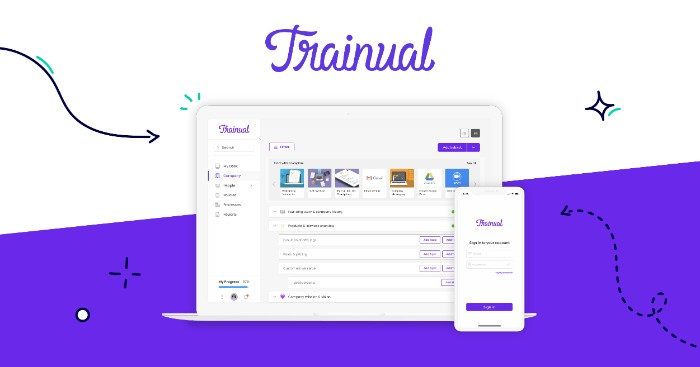 Here are Trainual's key features.
Processes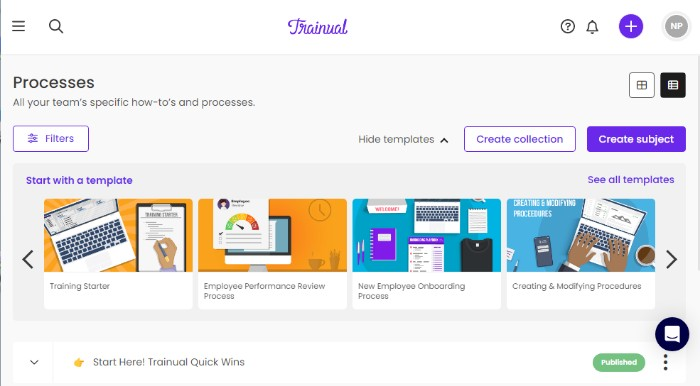 When scaling your business, having clear and well-defined procedures is vital.
Nine out of ten companies with 20% growth during the pandemic said process documentation was important. 60% said it was paramount. (Small Business Knowledge and Training Report).
SOPs help staff understand what needs to be done, when it should be done, and how it should be done.
With Trainual's Processes feature, you can create SOPs that will arm your employees to do their best work.
There are three steps to building a process out with Trainual:
Start with a subject: If you're a real estate organization, your subject could be "Property Showings."
Name your topic: Your topic could be "Using Zoom for Virtual Tours."
Create the steps: This is where you document and organize every aspect of the process. You can record your screen and explain each step as you go or embed content like text, PDFs, GIFs, or videos in training modules.
Lastly, assign the process to the appropriate team members!
Now, do this over and over again. It won't take long until you build a complete guide to running your business.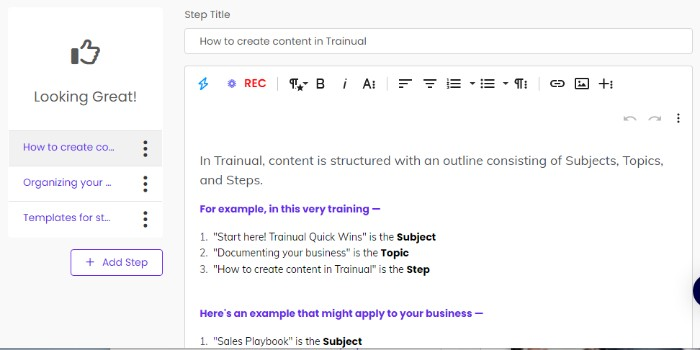 Trainual also offers templates, so you don't have to build out every process from scratch.
It's a WYSIWYG (What You See Is What You Get) system. It reminds me of WordPress' ease of use— you can drag and drop, and the content editor feels much like a document. There's also no coding required!

Trainual also offers analytics to track engagement and progress by individual, department, and role. This helps identify knowledge gaps and ensure your SOPs are helping everyone stay on the same page.
Policies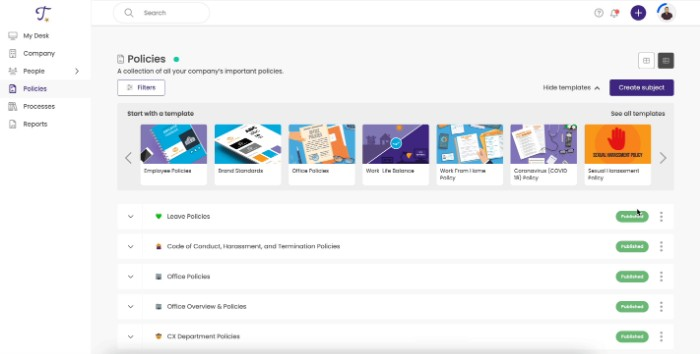 The policies section is an invaluable resource for both HR departments and employees alike!
It's basically a central repository for all your rules, guidelines, directives, and employee handbook information.
For example, you could place your office policies, work-from-home rules and expectations, vacation, and other need-to-knows in this area.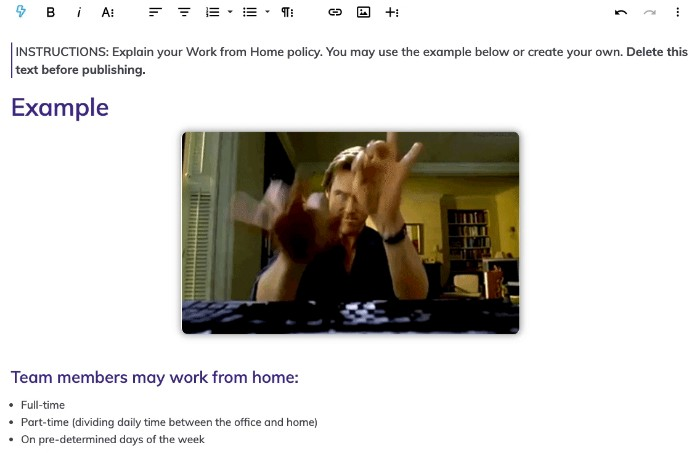 Now your team doesn't have to search through old emails or outdated employee handbooks; all the information is centralized in Trainual.
People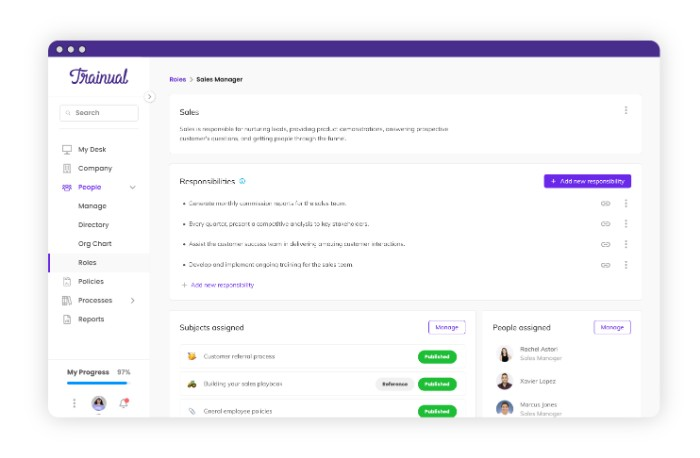 People are an essential part of any business.
Trainual's People section allows businesses to:
Easily invite and manage their team
Visualize an interactive org chart
Capture all roles and responsibilities in one place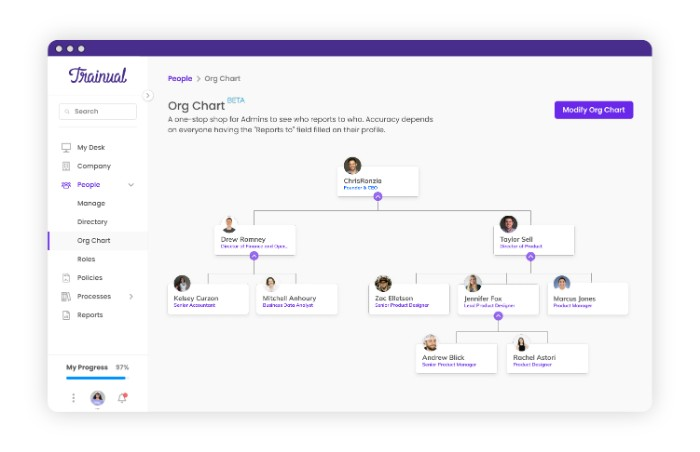 In this section, you can assign tasks and link individual responsibilities to people. Their responsibilities link to content that helps train people to execute those tasks.
Pretty nifty, huh?
Company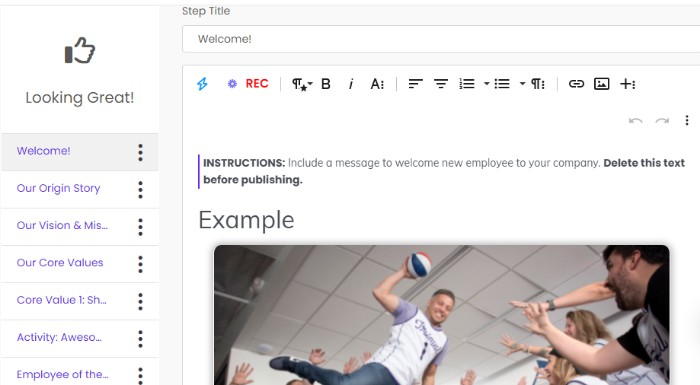 Let's talk about Trainual's "Company" feature—the one-stop shop for all the information that makes your company, well…your company.
With the Company section, you can document your origin story—from where it all began to your current successes.
You can also create core values—the principles that everyone in your organization can use as a guide when making decisions.
You will establish a clear mission statement, so everyone knows the company's ultimate goal.
And finally, Company lets you document all of your products and services—everything from product features to pricing plans. This way, everyone in the company can easily reference and understand what is offered to customers.
Integrations

Trainual integrates with various popular software programs to simplify onboarding and training.
With Loom, you can add screen recordings directly into Trainual for clearer instructions.
QuickBooks Payroll allows you to quickly and easily add employees to Trainual, streamlining your team's onboarding process.
And the Slack integration is excellent for creating knowledge in real-time. You can capture content directly from Slack and add it to Trainual.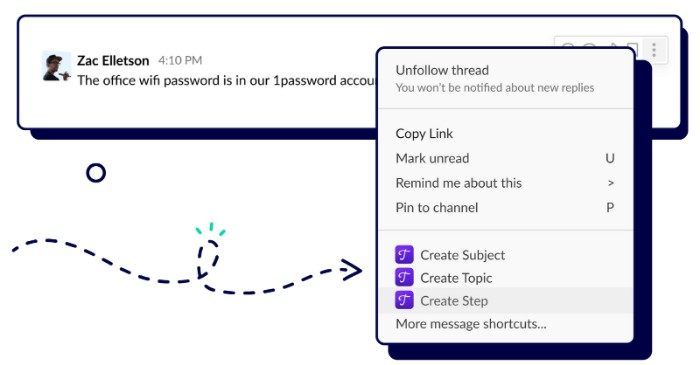 Important questions come up in Slack all the time. So why not turn those questions into training content?
This is super helpful because there's no more copy-pasting or switching back and forth between tools.
Other integrations: Justworks, Paylocity, Zenefits, Gusto, and more. Your team can start using Trainual with their existing software solutions to ensure a seamless onboarding experience. Check out the full list of their integrations.
Trainual Review: The Pros and Cons
You can "remove yourself" from the onboarding process
Cuts down onboarding time (one company brought their training process down from 12 days to 4-5)
The tool is very easy—your existing employees can easily adopt it so the software won't become shelfware
You can create quizzes to check off knowledge retention
Clone yourself and your best employees to document their processes
Easy to transfer current information into Trainual's software
Customers rave about Trainual's customer support
You have to pay more per new employee beyond 10 or 20 seats.
The search function could be better as it can sometimes surface inaccurate results. That's more of a nitpick than a con.
I'd like to see more interactive features.
You only get a dedicated rep if you purchase more than 50 seats.
Trainual Pricing
For larger teams, plans start at $99 per month and range up to $249/month.
Pricing is based on the following:
The number of people who need access to the Trainual platform
Specific features
Train Plan
Annual: $99/month
Monthly: $124/month
The Train plan is tailored to teams of 1-10 people who want access to the following:
Templates
Completion traction
Reporting
Org chart
Integrations (Loom, Slack, Zapier)
Custom Branding
Adding additional team members beyond ten costs $3/person.
Scale Plan
Annual: $199/month
Monthly: Annual: $199/month
Monthly: $249/month
This plan is tailored to teams with more than 20 people who want access to everything in the Train Plan plus:
Due Dates
Time Estimates
Single sign-on
HRIS, ATS integrations
E-Signature capabilities
Who is Trainual Best For?
Trainual is perfect for businesses of any size—from startups to large companies with teams spanning multiple locations. It's ideal for creating frictionless operations and winning cultures.
Any organization looking to scale up and out will benefit from utilizing Trainual. Their customers range from Swine It (a pig farming digital information company) to Quality Water Systems, a well-drilling company.
But that's not all—Trainual is very horizontal in its application.
An SEO agency can use Trainual to onboard new employees. In addition, they can create comprehensive training manuals that explain the SEO fundamentals, the latest trends, and best practices.
Manufacturers can use the platform to set up detailed processes for quality assurance. They can create step-by-step instructions to ensure that each product meets its high standards.
A SaaS company can use Trainual to train its customer support staff efficiently. They can create detailed information about the features of each product team and how to troubleshoot common problems that customers might encounter.
If you're a one-man army, then Trainual isn't for you. But if you have plans to scale with people, then Trainual is going to reduce those growing pains.
What Are People Saying About Trainual?
Trainual's reviews are overwhelmingly positive. Trustpilot gives Trainual a 4.3 (Excellent) rating, and I can't say I'm surprised.
Many of these helpful reviews cite how Trainual helps businesses boost their efficiency. Specifically, it eliminates the need to repeat manual onboarding processes for new hires.
Justin Tan from Video Husky says Trainual is the cornerstone of his massive output. He has over 45 editors who deliver hundreds of training videos each week. Anytime he brought somebody new on board, he could "get them started within two days. Instead of a ramp-up period full of miscommunications and challenges," he tweets.
NineTwoThree CEO Andrew Amann says Trainual is a key "culture tool" that helps new hires get up to speed.
Trainual has also earned helpful reviews from sales leaders like Blaker Harber. He calls Trainual the resource to create the "playbook" to scale your team to 100+ reps.
Other expert users like Tamera Kemper highlight Trainual's strength in communicating changes in roles and responsibilities.
She also asserts Trainual helps businesses "get really clear on where they're going and what the vision is."
Tamera has helped businesses like Scribble 2 Script overcome their specialist onboarding woes with Trainual. Their training was "very technical" and "bogged the whole team" down whenever they did it.
Trainual Review Alternatives
Trainual is the industry leader in training and onboarding software, but some training alternatives are worth considering.
Whale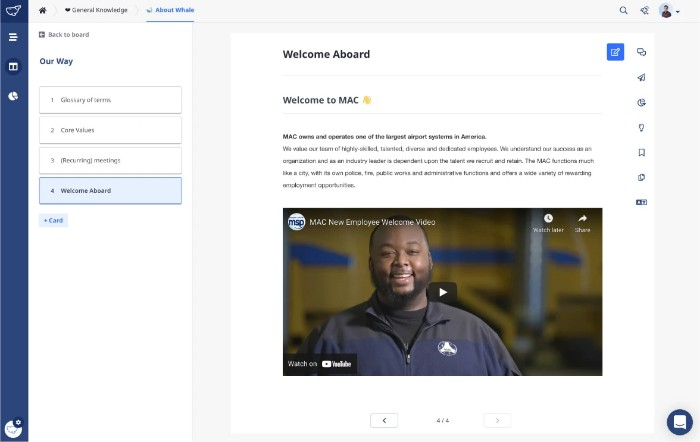 Whale is an all-in-one training and onboarding tool designed to help small and medium businesses create processes that scale as they grow. It's an excellent choice for those looking for a simple, straightforward solution that helps them quickly get their team up and running.
Whale offers a free trial, and then their pricing starts at $5/user per month.
Comparatively, it has reporting capabilities to help you analyze team performance and close knowledge gaps, but it is not as comprehensive as Trainual's.
On the other hand, Whale users claim it's superior to Trainual in its content management and manager portal capabilities.
A lesser percentage of Whale users stated that they weren't as happy with the product direction compared to Trainual users.
---
Sweet Process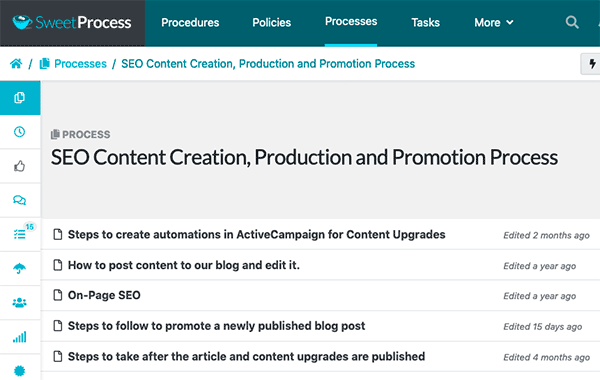 Sweet Process enables businesses to document all their processes, procedures, and tasks in one place. It's perfect for companies looking to stay focused on growing their business.
They offer a 14-day free trial (compared to Trainual's 7-day free trial) with no credit card required, and pricing starts at $99/month for 20 team members with regional discounts available.
The platform also offers an optional migration service to help you switch from any other tool to Sweet Process. It's an excellent choice for those looking for a more affordable option than Trainual.
FAQ
We'll keep this super short and sweet.
Does Trainual have an App?
Yes, the app is rated over 4.5 stars on the app store. It's excellent for your team if they're in the field and they don't have access to a computer.
Trainual Review Verdict: Is Trainual Worth It?
The problem with traditional training is that it's:
Time-consuming
Expensive
Ineffective
That problem is magnified when you're dealing with large teams and a remote workforce.
A Training Industry Report determined that companies spend 16% of their budget on training. But, most of the time, it isn't measured for a tangible return on investment.
Harvard Business Review found that organizations spend over $350 billion annually on learning and development. But it's not all going to the right place.
70% of employees still feel like they lack the skills to do their job successfully, and that's where Trainual comes in.
The difference between "customer-obsessed" companies and average companies is that leaders at customer-obsessed companies place emphasis on training.
That's why Trainual is worth it:
It helps close the "skills transfer gap" between learning and application.
Training new team members is simpler, more organized, and cost-effective. And it provides an easy way to measure the return on investment in training—something that's been missing from traditional methods.
All in all, Trainual helps you create an organized, well-oiled machine. All team members can find what they need when they need it without confusion.
Considering hiring freelancers? Then read our article about 15 Toptal alternatives you should check out. And if you need a virtual assistant, I recommend you read our Zirtual review to find out if this is the best platform for you.
Want to learn step-by-step how I built my Niche Site Empire up to a full-time income?
Yes! I Love to Learn
Learn How I Built My Niche Site Empire to a Full-time Income
How to Pick the Right Keywords at the START, and avoid the losers
How to Scale and Outsource 90% of the Work, Allowing Your Empire to GROW Without You
How to Build a Site That Gets REAL TRAFFIC FROM GOOGLE (every. single. day.)
Subscribe to the Niche Pursuits Newsletter delivered with value 3X per week