The Best Skills to Put on LinkedIn To Help You Stand Out
When you buy something through one of the links on our site, we may earn an affiliate commission.
Choose your skills to put on LinkedIn wisely - it can be the game-changer that makes your profile pop among a sea of potential candidates.
In this article, I will discuss the top LinkedIn skills that catch a recruiter's eye. I will also explain how to polish your LinkedIn profile for the best results.
You're about to make your LinkedIn profile a magnet for opportunities, and I'm here to guide you through each step.
Skills to Put on LinkedIn: Why it's Important
LinkedIn is the world's biggest network of professionals online. It has over 985 million members worldwide, located in 200 countries and territories.
So, if you are looking for a new job opportunity, LinkedIn is the place to be! And including a well-curated list of skills on your LinkedIn profile is vital.
Visibility and First Impressions
A detailed LinkedIn skills list can grab recruiters' attention and make a captivating first impression.
A comprehensive list will clarify to any employer that you have the qualifications they are looking for. The initial impact will make your profile stand out, and you will be noticed.
Increased Contact from Recruiters
The more skills you list, the more likely it is that you will be discovered by those looking for your specific expertise.
Job Matching
When applying for jobs, the skills listed on your LinkedIn profile offer recruiters a snapshot of your capabilities. This enables them to determine if there's a match between your qualifications and the job's requirements.
Passive Recruitment Opportunities
Even without applying for jobs, your skills make you searchable on LinkedIn. Recruiters often use the platform to search for candidates with specific skill sets.
Listing your skills increases your chances of being discovered for opportunities.
SEO (Search Engine Optimization)
Recruiters often use search engines to find suitable candidates. Keywords in your skills section can help your profile rank in these searches.
Comprehensive Professional Overview
A good LinkedIn profile provides a comprehensive view of your professional expertise.
Networking and Connections
LinkedIn skills lead to connections with others in the same field or with similar interests. As a result, professional networks and communities are built.
In-Demand Skills to Include in Your LinkedIn Profile
LinkedIn regularly publishes a list of their most in-demand skills. It provides interesting insights into the job market.
Here is our take on the subject. Have a look at these valuable skills to list in your profile and add the ones that apply to you.
Creativity
This encompasses the following abilities and attributes:
Find innovative solutions
Think outside the box
Curiosity
Imagination
Open-mindedness
Problem-solving
Collaboration
Effective teamwork and working well with others are essential in any workplace. This includes interpersonal and intrapersonal qualities, emphasizing the ability to work cohesively within teams.
Emotional Intelligence
This involves understanding and managing your emotions and the emotions of others. Effective communication and teamwork require active listening, conflict resolution, empathy, and resilience.
Blockchain (Hard skill)
Blockchain technology offers a new approach to:
Data storage
Validation
Transfer online
These play a crucial role in the secure handling of digital assets.
Its numerous applications include:
Personal data security
Supply chain management
Election integrity
Identity validation
Cross-border transactions
To enhance your LinkedIn profile and make it more appealing in this innovative field, consider highlighting skills in areas such as:
Blockchain System Design
Cryptographic Security
Decentralized Application (Dapp) Creation
Data Organization Structures
Development of Smart Contracts
Proficiency in Solidity Programming
Artificial Intelligence (AI) (Hard skill)
Key competencies in AI and machine learning (ML) are:
Algorithm development
Programming languages
Software development
Robotics
ML platforms
Read our article on Machine Learning platforms to get to know more about the topic.
Cloud and Distributed Computing (Hard skill)
The shift to cloud-based technologies requires skills in:
Cloud security
Network management
Database management
Development and Operations (DevOps)
Expertise in cloud service platforms
Scientific Computing (Hard skill)
Crucial tasks include:
High-performance computing
Numerical analysis
Scientific modeling
Analytical Skills (Hard skill)
Analytical reasoning skills are in demand. Particularly in data mining and interpreting metrics for effective business decision-making.
Hard Skills to Add to Your LinkedIn Profile
Hard skills are specific, teachable abilities or skill sets that are easily quantifiable. In the current job market, specific hard skills are in demand due to technological advancement and challenges after the pandemic.
In addition to the technical skills mentioned in the "In Demand" section, consider the following.
Marketing
For those eyeing a career in marketing, the array of the best skills you can showcase on your LinkedIn profile is diverse, given the broad spectrum of roles within the industry.
Depending on your expertise and career aspirations, consider including these skills on your LinkedIn:
Content Creation and Marketing
Strategic Content Planning
Online and Digital Marketing Techniques
Digital Media Expertise
Marketing and Promotional Planning
Conducting and Analyzing Market Research
Public Relations Management
Sales Expertise
Search Engine Optimization (SEO)
Search Engine Marketing (SEM)
Social Media Marketing Strategies
Need to brush up on your online marketing skills? Read our article about the best online marketing courses.
Business Analysis
This includes the ability to:
Understand business processes
Conduct gap and stakeholder analysis
Improve operations
Use tools like Microsoft Access and SQL for data management
Digital Marketing
In the expansive marketing field, the skills range includes:
Creating content
Digital marketing
Market research
Media planning
Sales strategies
Connecting customers with companies requires an understanding of:
Online marketing
Social media platforms
Affiliate marketing
As businesses evolve with technological advancements, technical skills and work experience are among the top requirements of any hiring manager.
Soft Skills to Put on LinkedIn
Non-technical skills, or soft skills, refer to how you interact and work with others. They are personal attributes that can affect relationships, communication, and exchange in the workplace.
Here are the most valuable soft skills you need to highlight.
Adaptability
In a fast-changing world, the ability to adapt to new environments, processes, and technologies is vital. This skill ensures that organizations and individuals can overcome challenges and seize opportunities.
Communication Skills
The ability to effectively communicate information is an important skill in any business environment. Strong communicators can share ideas swiftly and effectively.
Critical Thinking
This is the ability to:
Objectively analyze information, and
Make reasoned judgment.
These are valuable assets in decision-making.
Digital Literacy
As businesses use a variety of digital tools, being able to learn and adapt to new technologies is a necessity.
Time Management
This skill, especially relevant in remote work, involves managing time effectively to meet deadlines and be productive.
Initiative
Going beyond expectations and being proactive can distinguish you as a valuable team member.
Leadership
A valuable skill is demonstrating the ability to guide others and take charge when necessary.
Networking
Establishing and nurturing professional connections is essential for advancing your career. Maintaining them is equally important.
Life-Long Learning
A commitment to ongoing personal and professional development is key to keeping up with industry changes.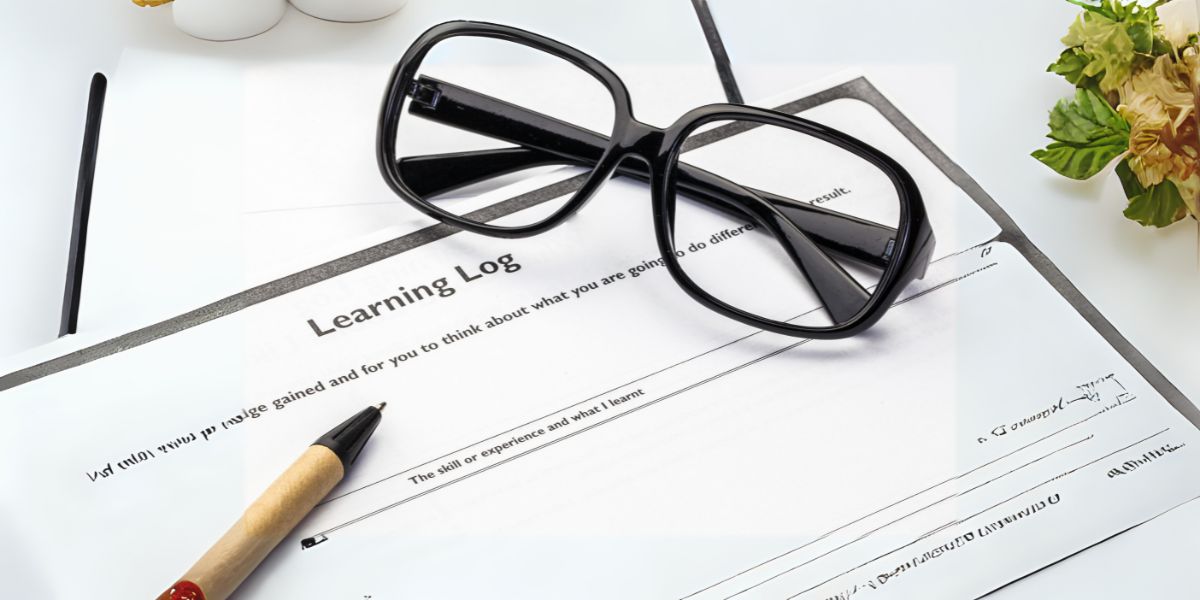 Negotiation
Whether discussing salaries or project terms, negotiating effectively is a valuable skill.
Self-Care
Managing work-life balance to prevent burnout is essential for long-term career success and personal well-being.
Confidence
Believing in your abilities can help you overcome imposter syndrome and contribute more effectively to your work.
Resilience
This is the ability to bounce back swiftly from challenges and sustain a positive outlook.
Soft skills are critical to professional success. Employers increasingly value them.
Tips for Listing Skills on LinkedIn
Consider the following tips to make your skills stand out on your LinkedIn profile.
Rank Your Skills
Put the most important and relevant skills at the top of your list. LinkedIn allows you to reorder your skills to showcase your primary abilities first.
Include Both Hard and Soft Skills
Hard skills show your technical ability. Soft skills are equally important and attractive to potential employers. I will discuss both in more detail later.
Be Specific
Use specific skill names and industry keywords. Use precise terms like "project management" or "team leadership". Don't use general terms like "management skills."
Keep it Updated
Make sure your LinkedIn profile reflects any new abilities or certifications you acquire.
Limit Your List
Listing a focused set of LinkedIn skills (up to 50) is more effective than a long, irrelevant one.
Avoid Overused Buzzwords
Terms like "hardworking," "specialized," or "experienced" should be more specific. They don't differentiate you from others in your field.
Highlight Transferable Skills
If you plan to switch to a new industry or role, it is a good idea to showcase your transferable skills applicable to your new field.
Balance Industry Jargon with Layman's Terms
Use terms recognized in your industry but also understandable to those outside of it. Your profile should be clear to all recruiters who might look at it.
Group Skills Logically
Organize your skills in a way that makes sense and tells the story of your professional growth and focus areas.
Follow an Organization or a Skill Page on LinkedIn
Your public profile information will be visible to all Page admins when you follow a Page.
Adjust Your Skills Before Applying for a Job
Before you go job hunting, investigate which skills employers are looking for and update your profile.
Match Your Profile to the Best Job Description
Some jobs require different skills than others. Find the job posting that suits you best to see what the employer is looking for in applicants. Be sure to incorporate those keyword phrases into your LinkedIn skills section.
Cross-reference Skills with Your Experiences
Make sure the skills you mention in your experience align with the job descriptions and roles. This creates authenticity.
Reinforce Your Skills
Get Professional Recommendations
Recommendations are valuable to showcase your skills and provide real examples of your abilities.
Use LinkedIn Skill Assessments
These assessments can validate your proficiencies. They will show a "Verified" badge next to the skill on your profile.
Confirm with Accomplishments
Confirm your skills with corresponding achievements listed in your experience section.
Endorsements Matter
Seek endorsements from colleagues, clients, and employers. Endorsements serve as social proof of your skills.
By curating and presenting your skills well, you'll make an impression on those viewing your LinkedIn profile. Boost your professional image to attract more attention from recruiters and hiring managers.
How to Manage the Skills on Your LinkedIn Profile
To update skills on your LinkedIn profile, begin by accessing your profile and scrolling to the "Skills" section.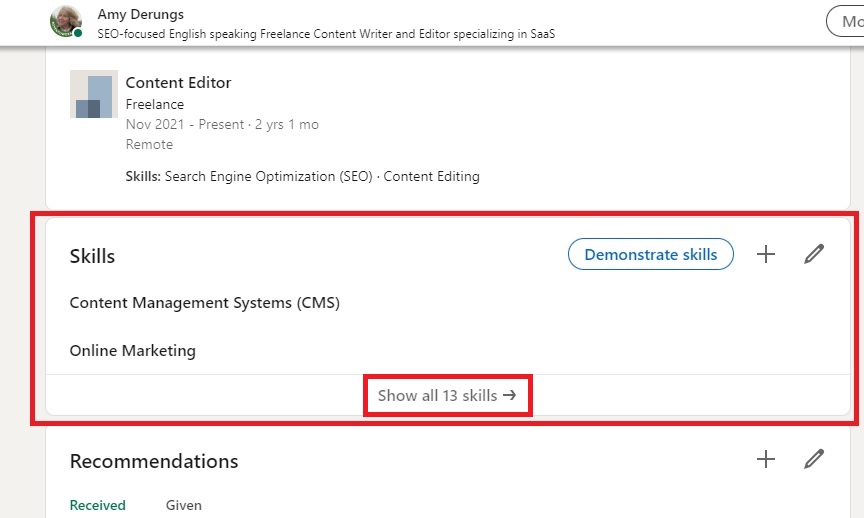 Click on "Show all skills."
You can add new skills by clicking "+" on the top right corner.
Alternatively, you can add skills by selecting "Add New Profile Section" located beneath your profile headline and navigating to the "Skills" tab.
Click on the pencil icon in the "Skills" section to manage your skills.
You can rearrange the order of your skills by pressing the three dots and using up/down arrows to place the most relevant ones at the top for better visibility.
To remove any skill, click on "Delete skill."
Regularly update your skills. This ensures they reflect your current expertise and align with the endorsements you receive from your connections.
How to Endorse Skills on LinkedIn
The subject of endorsements on LinkedIn focuses on enhancing your profile's visibility and credibility through skill endorsements.
To appear in LinkedIn's search algorithm, your skills need endorsements, and the more endorsements you receive, the higher your chances of showing up in search results.
You can ask for endorsements from various connections, such as:
Classmates
Current or former managers
Colleagues
Mentors
Mentees
Members of professional groups
A reciprocal approach is often practical.
Endorse the skills of others, especially those who have witnessed your skills in action. This way, you're likely to receive endorsements in return.
It's important to authentically endorse the skills of contacts you genuinely believe in rather than randomly endorsing people you don't know.
This mutual endorsement approach increases your skill endorsements and helps build a network of credible professional relationships on LinkedIn.
Wrapping up Skills to Put on LinkedIn
Maintain a current and relevant set of skills on your LinkedIn profile. Updating and refining your skills list is critical to staying competitive and relevant in your industry.
This enhances your visibility to recruiters, especially if you're seeking new employment opportunities, and also positions you as a potential candidate for head-hunting.
I have provided a list of top skills recommended by LinkedIn research, which you should consider adding to your profile if they align with your expertise.
Beyond our suggestions, it's wise to review job postings within your field regularly. Take note of the skills frequently requested, as this will offer insights into the most sought-after capabilities in your industry.
You may want to consider completing some online classes offered by Skillshare so that you can add more skills to your LinkedIn profile. Or, for more technical courses, look at a few of the many Skillshare alternatives.
Of course, there is also LinkedIn Learning. It offers over 16,000 online courses by real-world professionals.
With your newly polished profile, you'll be sure to land the perfect job in no time!
Want to learn step-by-step how I built my Niche Site Empire up to a full-time income?
Yes! I Love to Learn
Learn How I Built My Niche Site Empire to a Full-time Income
How to Pick the Right Keywords at the START, and avoid the losers
How to Scale and Outsource 90% of the Work, Allowing Your Empire to GROW Without You
How to Build a Site That Gets REAL TRAFFIC FROM GOOGLE (every. single. day.)
Subscribe to the Niche Pursuits Newsletter delivered with value 3X per week