How Seth Williams' Real Estate Blog Earns Up To $60k/Month From Content Marketing
When you buy something through one of the links on our site, we may earn an affiliate commission.
Seth Williams used to have an 8-to-5 job that left him feeling unfulfilled. He tried a few real estate ventures, but none of them worked out.
One day he came across land investing. After a successful first deal, he realized the potential it had to be a very profitable business model.
Eager to share his discovery with others and show them how to do it, he started his blog, REtipster. Today he also runs a YouTube channel, sells several courses, and hosts a podcast, and Seth is earning up to $60k per month.
Keep reading to find out:
What Seth did before he got into land investing
How land investing works
Who inspired him in the beginning
Where he gets ideas for content
What other projects and areas he's ventured into
Where his income comes from
Which marketing works for him
What the rest of his team do for the business
His thoughts on keyword research and link building
What type of content he creates
How he grows his email list
The resources and tools he uses the most
His biggest challenge
His greatest accomplishment
His main mistake
His advice for other entrepreneurs
Meet Seth Williams
I'm currently 40 years old. I am married with a wife and two kids. We live in Grand Rapids, Michigan, and life is great.
I've been a real estate investor for over 15 years and an online content creator for a little over ten years.
When I graduated college in 2006, I got married and started my career in the commercial banking industry. It was a decent career (as far as W2 jobs go), but it wasn't truly my passion.
About a year into this career, after trying to flip houses and buy rental properties (and failing at both pursuits), I discovered the land investing business (a little-known real estate investing niche) and found it was an incredible opportunity that required far less risk and startup capital.
After doing my first deal and realizing how achievable and scalable it was, it changed my life forever.
The land investing business model I followed allowed me to find and buy vacant parcels of land around the United States at an extreme discount (usually, anywhere from 20% - 30% of their full market value).
This was possible because I learned where and how to find off-market properties, owned by people who did not want their land anymore, and since I found them and made it easy for them, they were willing to sell me their land, free-and-clear, at a huge discount.
As a result, I was buying properties that were immediately worth far more than I paid for them, without me having to lift a finger to make improvements… It was like flipping houses, but much easier.
This business model allowed me to turn around and list these properties for sale at a higher price, and they would sell at a substantial profit within a matter of months, if not weeks.
Why He Created His Website
After working as a land investor for a few years, in 2012, I discovered Pat Flynn and Smart Passive Income.
After paying attention to him for a while, I recognized I could follow his example and create a similar online community for real estate investors, making epic content teaching everything I knew.
What I liked about Pat's approach was that he was a real person and he provided insane amounts of value without charging thousands of dollars for the information. At the same time, he was also managing to make a great income, even though it never felt like he was selling anything.
When I started REtipster, it was purely an experiment, because I knew I needed to explore the idea of starting a blog.
I never realized how much I would enjoy writing content until I tried.
After writing my first blog post and making my first video, I realized I loved the process. When I was writing about things I cared about, I had a newfound passion and appreciation for the content creation process.
Most of my content ideas come from my own experiences in the real estate business.
Whenever I encounter a problem that needs to be solved or an ingenious solution (whether I thought of it or someone else did), I'll explain the solution and give credit where credit is due.
It also helps to pay attention to the questions, answers, and dialogue in our community forum and Facebook group. As our business continues to change, these are great places to find where others are struggling and to find inspiration and ideas about where others need help.
Being a content creator and "influencer" of sorts has given me a lot of other opportunities to work with great people and pursue exciting new business ideas.
In 2021, I started designing my first self-storage facility, which is now up and running.
Self-storage is a business I've wanted to pursue for years, because storage facilities allow the owner to generate income from hundreds of units, instead of one or two, like a single-family home or duplex.
With hundreds of units, it's easy to increase everyone's rent by $3 - $5 per month, and each individual tenant won't care, even though this can have a big impact on the global income from the property because $5 multiplied by a few hundred units makes a noticeable difference to the property owner's income.
Storage facilities are also simpler to manage than a typical rental property because there are no people living in the units, and tenants won't call you at 3:00 am to fix their toilet.
My self-storage facility isn't directly connected to REtipster, but it gives me a lot of opportunities to create content and explain to my audience why self-storage investing is a great business model, the upsides and downsides of owning a facility, and what it takes to build one from the ground up!
I was also able to use my editing and storytelling skills to start a children's podcast called Storyland, where I write and tell short stories, which are very immersive, with music and sound effects.
It's aimed at kids between the ages of 4 and 12, and it has grown a lot. Surprisingly, it's about 10x more popular than my original podcast (The REtipster Podcast).
It's been interesting to see the difference in reach between a very niche-specific podcast (like REtipster) vs. a podcast that is relevant and interesting to a very large segment of people (Storyland).
It's also interesting to note that at the time of this writing, Storyland generates $0 in revenue, whereas REtipster generates five figures per month, even though the sizes of each audience would suggest the opposite.
Storyland has always been a passion project that I've done just because it's fun. Part of me is apprehensive about turning it into a money-making business, because I don't want the pressures of monetization to turn it into a job instead of a life-giving hobby.
However… I'll be the first to admit, with the following it has garnered, it's hard not to think about ways to generate revenue from it.
I would like to try publishing one or two of these stories as a printed book in the not-too-distant future. With how easy it is to generate AI art these days, I've already put together a full, illustrated version of one of the stories, and it was surprisingly easy to do.
Even so, in order to publish a children's book that looks legitimate and professional, there are several more steps I still need to take (market research, editorial, layout, cover and interior design, printing, etc.), so I'm not quite there yet, but I hope to make it happen in the next year.
If for no other reason, it will be interesting to test the market and see what kind of demand there is for a book like this.
How Much He's Earning
REtipster's income has fluctuated a bit over the years as the internet, traffic sources, social media, and the ways we monetize the site have changed.
These days, our gross income fluctuates between $30k and $60k per month. About 50% of this income is from the courses we sell, 30% is from affiliate sales for various products and services we review and recommend, 10% is from advertising revenue (YouTube, the podcast, etc.), and another 10% is from various one-off digital products we sell in our online store.
Here's a screenshot showing the past several months from our Stripe account, which collects most of the revenue from our courses.
As far as traffic goes, we get around 40k visitors per month.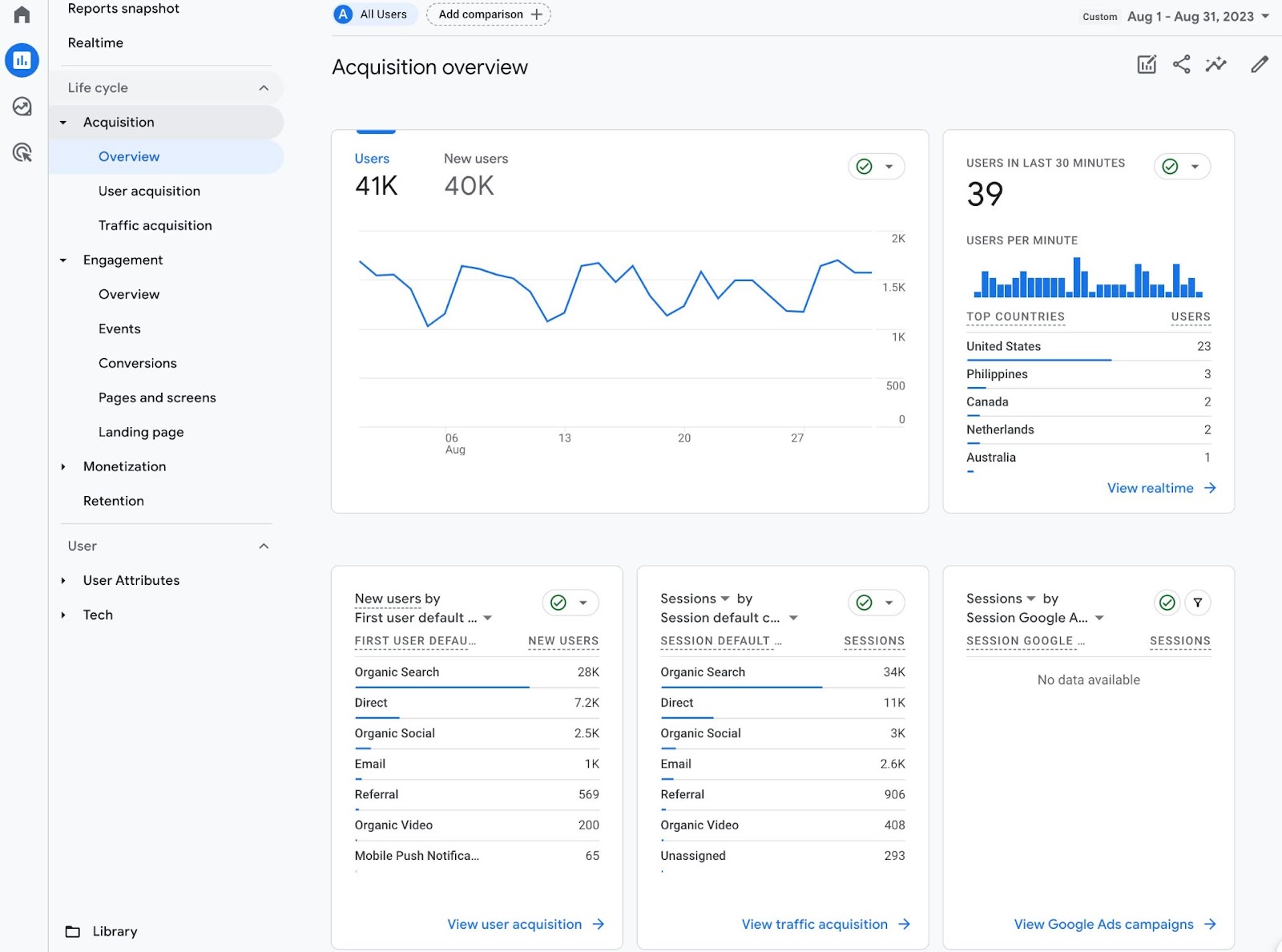 At one point, we were getting close to 200k per month, but our traffic took a huge hit when Google updated its algorithm a few years back.
I think it has also been impacted by new competition from other content creators who have entered our space. At one point, I was one of a few people in the world publishing a lot of good, free information about land investing, but many new voices have been added to the mix in recent years.
Interestingly, though, this drop in traffic hasn't had much of a noticeable impact on revenue. It seems the most relevant visitors who need our content are still able to find it.
I don't think I've ever spent more than 45 hours working on REtipster in a single week.
An average week is probably 30-35 hours per week, and I'll spend the other 5-10 hours working on my land or self-storage business.
Seth's Main Marketing Strategy
Content marketing is our one and only marketing strategy. We don't pay for ads on any platform. We tried this on a couple of occasions, but the ad agencies we hired to do it didn't know what they were doing and we ended up wasting a lot of money.
I take some pride in this, but the truth is, it also leaves us vulnerable to whatever changes Google decides to make, and that can be a dangerous position, too.
The big advantage of being 100% organic is that REtipster generates revenue without requiring any ad spend, and it seems to come in on its own.
I do this with the help of my team. I Have one full-time employee and several contracted employees who handle certain tasks on a part-time basis:
Full-time editor based in the Philippines (all of the written text published on REtipster and related channels)
Graphic designer in the US (blog images, infographics, PDFs, and more)
Podcast editor in the US (all of the audio-only content for our podcast)
Video editor in Pakistan (all of the long-form videos on our YouTube channel)
Another video editor in Nepal (all of the shorts, reels, and videos on TikTok)
Thumbnail designer in Eastern Europe (all of the thumbnail images on our YouTube channel)
His Thoughts on SEO
It's very important, but I can't pretend I'm an SEO expert. I know enough to be dangerous, but there are plenty of things I don't understand and don't implement.
Our focus has always been on providing the best content—information so valuable, it's worth paying for… but it's free—and that has been very effective at attracting lots of attention and respect.
Granted, if I spent more time trying to understand and implement SEO, it would probably make a difference, but with my limited time and mental energy, I have to be careful about where I spend it, and I usually opt to put it into creating more helpful, relevant, applicable content rather than trying to keep track of Google's ever-changing qualification standards.
Keyword Research
On some occasions, I'll check Google Trends, and I'll usually do a few different searches for the topic I'm thinking of writing about to see what kind of competition exists and how much demand there seems to be, along with any other related keywords.
At one point, I was subscribed to both Ahrefs and SEMrush, and I spent a lot of time trying to figure out how to make it work, but it felt like a never-ending labyrinth where I could spend all day without making much progress.
There was a time when I geeked out on SEO tools, and it was helpful to understand them… but I found that when I spent a lot of time with these tools, they overwhelmed me and drained my energy.
I wasn't able to spend my energy deciphering these tools and taking the required action to make a difference. I understood how they worked and what issues they were pointing out, but I don't rely heavily on these to run my business.
They're a secondary focus, not the first thing I think about when deciding what content to create.
Link Building
This matters to some extent, but it matters less today than it used to years ago.
When I started REtipster, nobody knew about it; and it was very important to leverage other platforms to let the world know that our site existed.
Over time, as we've created a vast library of top-notch content that ranks well, people can now find us in the regular course of their searches, and inbound links are created naturally because we're an important resource that matters to people.
There is still value in having links on other websites, and I'll take those opportunities when they naturally present themselves in the course of our day-to-day business, but it's not something I'll bend over backward to try and get these days.
The Content Creation Process
We have 570 blog posts and 485 terms articles live on the site. The two types of content are a bit different in how they're written, why they're written, and who they are for.
Blog posts are more of a personally written message with the goal of teaching a lesson, similar to what you would find in a course. They include video content, and they are also used as "show notes" for our podcast episodes. They are written in a more informal, conversational tone.
Terms articles take more of an academic approach, and each article in this section of the site is written to help readers develop a comprehensive understanding of what a word or a "term" means. It's a similar concept to the Dictionary of words from Investopedia, but we focus only on words related to real estate investing and the real estate industry.
These don't include much personal commentary or opinion, it's just a black-and-white reporting of the facts, supported by evidence from other sources around the internet.
We started the Terms Library as an SEO play, in an attempt to rank for various terms. It has worked reasonably well, but it hasn't been a huge game-changer.
Not surprisingly, it's been difficult to rank for the terms with the most search volume, but when we cover a term that hasn't been explained in many other places on the internet, we can usually rank quite well for that term.
His Email List
We have created a number of lead magnets over the years, where we explain how to use a tool that we've developed (e.g. a spreadsheet, calculator, PDF, or something similar) and then give people free access to it if they sign up for our email list.
A few examples are:
The Surprisingly Simple Math to Retiring on Real Estate: This is a retirement calculator that we spent a lot of time creating, and it's an interesting way to look at what it takes to plan out your retirement using only income-producing real estate.
The Fastest Way to Research Any Property in the United States: This is a research spreadsheet I use in my land business, and I decided to give it away to our audience if they sign up for our email list. I included a good explainer video in the blog post, so people understand how to use it and why it's helpful. So, even if people never sign up, they'll still walk away with a lot of value.
My Self-Storage Facility Due Diligence Checklist: I spent a lot of time trying to figure out what information was absolutely necessary to make a well-educated decision about buying an existing self-storage facility. Since I had already done all the work, I decided to make a blog post out of it, and I allowed people to download a PDF of my checklist if they signed up for our email list.
We have plenty of other opt-in forms throughout our site, and people can also sign up through those (you'll find a big one immediately on our homepage at REtipster).
They all work to some extent, but the ones that really give a person a compelling reason to sign up work the best.
Seth's Favorite Resources
For video creation and inspiration, I'm currently getting a lot out of FilmBooth. I also follow a lot of other YouTubers who are in totally unrelated niches, but I get a lot of ideas and inspiration from how they present themselves and their information.
There are countless great examples I've been able to observe and then put my own spin on what they did to make my own version of the same type of video.
For example, I once found an interesting video from Wired, where astronaut Chris Hadfield explained some myths about outer space.
This has absolutely nothing to do with my niche, but I thought the concept was great. I saw it had a lot of views and likes, so I decided to come up with my own version of that video for land investors, which was a lot of fun to make, and it ended up performing very well.
I would also recommend attending a conference or two in your niche every year, where you can meet other key people. I attend FinCon most years, and I've been able to connect with a lot of other content creators who talk about money, investing, real estate, and other similar things.
His Go-To Tools
ChatGPT: If you have a good enough imagination and thought process to come up with the right prompts and explain exactly what you're looking for, ChatGPT has endless applications.
I use it to get business advice (coming up with ideas I never would've thought of on my own) and how to implement it.
I also use it to come up with headlines (a hugely important and otherwise time-consuming task), and when I'm trying to write emails that require a lot of thought, and I know what I want to say but I'm not quite sure how to word the message effectively.
I almost never do exactly what ChatGPT says (I never click copy, paste, send), but it can do 80% of the heavy lifting for me, and then I'll put my own voice and flavor into the content to make it my own and make changes where needed.
Slack: This is another essential tool I use every day to communicate with my team and other key people that help REtipster run smoothly. It can do everything I need it to do and more. If Slack suddenly ceased to exist, it would be much more difficult to run my business.
Canva: As someone who isn't a graphic designer and doesn't have access to (or understand how to use) most photo editing software, Canva is an essential tool that I use every day.
Whether I'm creating a video thumbnail, blog post header image, infographic, PDF, or any other visual asset, Canva can do just about anything I need. I also have a graphic designer who can do the super-complex things that Canva can't handle, but for 95% of what I need, Canva has me covered.
His Biggest Challenge
Most of the biggest challenges I've faced have been in my own brain.
For example, when we have a month where revenue is down, one response is to panic and scream that the sky is falling.
A more productive response is to step back and look at what isn't working, and start the fun creative process of ideation: thinking of new ways to make money from new sources, or to change course in a way that makes the perceived threat irrelevant.
Admittedly, thinking differently takes a bit of effort and mental energy, but it ultimately brings us to a much stronger and healthier place when we can deal with these challenges in a way that creates a more sustainable business.
His Greatest Accomplishment
The fact that I can arrive to work late and leave early, whenever I want, and be available as a father to play with my kids and serve them in the ways they need and deserve, is something I'm most proud of.
I'm also grateful for the extra margin my business has given me, allowing me to pursue fun projects like Storyland, start new businesses and sources of income like my self-storage facility, and connect with countless other amazing people…
It's given me a life that far exceeded my expectations, and I don't see how this existence would have been possible if I was still working an 8 to 5 job.
What He Wishes He Knew When He Started
It's possible (probable, even) to spend an insane amount of time and effort creating something nobody wants or cares about. Just because you think it's great, and put your blood, sweat, and tears into something doesn't mean it will matter to anyone besides yourself.
It's important to do some homework to verify there is sufficient interest in what you're doing. If your goal is to make money from what you're creating, try to verify that it's something people want enough to pay for.
Depending on what you're trying to build, I think there are some cases when you simply can't be 100% sure of this before you start, but you should still do some amount of homework to understand the situation.
Don't just start running towards your dream without spending some time to understand and verify the amount of demand for what you're trying to build.
Seth's Main Mistake
My biggest mistake is trying to chase after too many things at once. And to be honest, I continue to make this mistake today (although I'm getting better at it).
When REtipster started gaining momentum, I started getting inundated with requests from companies and people who wanted to "work with me, "which is code for, "we want you to promote and sell our stuff, and you probably won't make anything from it".
For the most part, you can assume that everyone is out to serve their own interests first. Their interests may align with yours, but they also might not.
Years ago, I wasn't very good at discerning this. I would say "yes" to everyone, and I ended up wasting a lot of time on things that went nowhere.
These days, I have a good set of criteria I use to gauge whether these opportunities and pursuits make sense for REtipster.
Sometimes, the answer is "yes" because we can generate revenue from it, but sometimes, the answer is "yes" because it will simply help our audience.
You have to clearly understand what kind of benefit you're looking for (whether it's a money-making benefit or not) and then get laser-focused on pursuing those opportunities while ignoring the rest.
His Advice for Other Entrepreneurs
Get started! Make mistakes, learn from them, have fun, and enjoy the journey!
I absolutely love what I get to do. That doesn't mean there aren't hard days.
There are plenty of tasks I have to do that are monotonous, difficult, or simply aren't fun… but I'm still happy to do those jobs because they're a small part of a much larger whole. I am extremely fortunate to have a career that I love doing and find a great deal of satisfaction in.
I used to live on the other side of the fence. I'm intimately familiar with having a job that doesn't pay as well as I'd like, with the knowledge that it's not leading anywhere I want to go. This was my life for years, and it took a toll on my mental health and personal satisfaction.
It takes a lot of intent and a concerted effort to get there, but if I could do it, you can too!
Want to learn step-by-step how I built my Niche Site Empire up to a full-time income?
Yes! I Love to Learn
Learn How I Built My Niche Site Empire to a Full-time Income
How to Pick the Right Keywords at the START, and avoid the losers
How to Scale and Outsource 90% of the Work, Allowing Your Empire to GROW Without You
How to Build a Site That Gets REAL TRAFFIC FROM GOOGLE (every. single. day.)
Subscribe to the Niche Pursuits Newsletter delivered with value 3X per week