SEO for Landscapers: 5 Core Strategies to Boost Visibility
When you buy something through one of the links on our site, we may earn an affiliate commission.
Maybe your landscaping business is booming, but you still wish to attract more clients. Perhaps your business isn't doing so well, and you desperately need more clients through the door. Search engine optimization (SEO) for landscapers is essential at every stage of your business's growth.
It is how you get positioned on the search engine results page, marking how easy it is for potential customers to find you quickly. You need to launch an SEO campaign that will see your company through every step of the process.
If you're ready to start bringing in more clients from local searches, here is what you need to do to rank on the search engines.
1. Keyword Research for Long-Tail Keywords
Keyword research is the first and best tool in your arsenal for finding potential customers for any landscaping company. Spend some focused time thinking about what people search for on the internet when they look for businesses like yours.
One way to manage your keyword research is to think about what sets your landscaping business apart from your competitors.
Maybe you offer residential landscaping, commercial landscaping, or grow your own plants in a greenhouse. No matter what it is, there's something that makes your business unique.
These ideas and differentiators should be included in the keywords related to your business.
Look for keywords with a lot of search volume and containing three or more words, known as long-tail keywords. Long-tail keywords tend to be the more effective SEO strategy. People who search for these are looking for something very specific, and your company may fit the bill.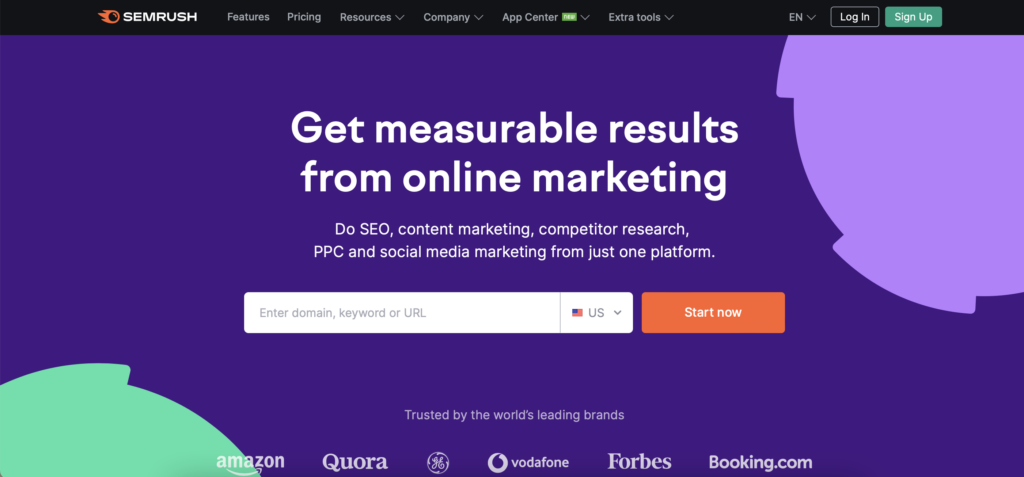 You can use keyword research tools like SEMrush to determine potential traffic, see what your competitors are doing, and calculate how difficult it would be to rank on the search engines like Google for a given set of keywords.
Local Keywords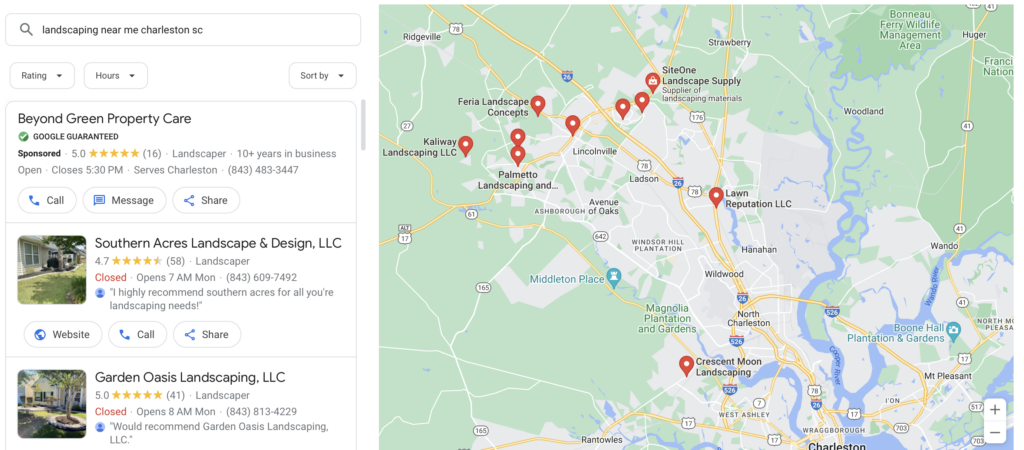 In addition to general keywords related to your business, you also need to think about how your landscaping business will show up in the local search results. Local SEO for landscapers is just as important because most people turn to Google to find places in their area.
This includes searches for businesses "near me" or in a specific city.
You can make the most of your local SEO by using your location in your meta description, company profile, headers, and more. When your SEO campaign includes the area where you do business, you're more likely to find that customers come to you.
After all, it does no good for your page to show up in a city where you don't offer your services. Target the areas that you want to market to with specific content.
2. Improving Your On-Page SEO
The experience that a customer has on your website is one of the first things that Google looks at when it comes to ranking you in their results pages. Here are a few ways that you can improve on-page SEO for landscapers and maybe even see a boost in your rankings.
Title Tags and Meta Descriptions
What is the first thing that a customer sees when they search for landscaping companies? Hint: it isn't your logo, your brand's homepage, or the pictures of lawns that you recently manicured. By the way, if your company needs an entire rebrand, then make sure to check out our article on landscaping business name ideas.
Instead, the first thing they are likely to see is your title tags or meta description. These are short and sweet, but they have a serious impact on whether people convert to website visitors.
Plus, these are the first things that search engines see related to your business as well. That's why it is crucial to see how the keyword research you did in the last step using a tool like SEMrush is so important. You need to include your primary keywords into your title tags and meta description so that Google (and the other search engines) know what your landscaping company really offers.
Make sure that your title tag has fewer than 60 characters and your meta description has fewer than 150 characters to prevent it from being cut off.
Load Speed
How quickly does your website load? If it's bloated with extra code and fancy plugins, it might be costing you when it comes to your page speed.
Unfortunately, load speed is one of the highest ranking factors for Google.
Not to mention, website conversion rates drop 4.42 percent for every additional second of page load speed.
You can monitor your own page load speed by visiting PageSpeed Insights, directly from Google. Try to keep page load speed to three seconds or less to see a boost on the search engine results page.
Mobile Optimization
These days, most people are looking for companies to work with directly from their smartphones. People don't always sit down with a laptop or a desktop computer to do their search for a landscaping company. They are always on the go, so your website should be optimized for mobile use.
Mobile devices generated more than half of all global website traffic. Don't miss out!
Calls to Action
Make it clear what people need to do if they want to work with your landscaping company. Invite them to interact with you more through calls to action on each of your pages. Make it easy for them to call you with a few taps on the screen or to send in a contact form from your website.
Never leave people wondering what they should do next if they want to connect with your landscaping business!
3. Optimize for Local SEO with Google My Business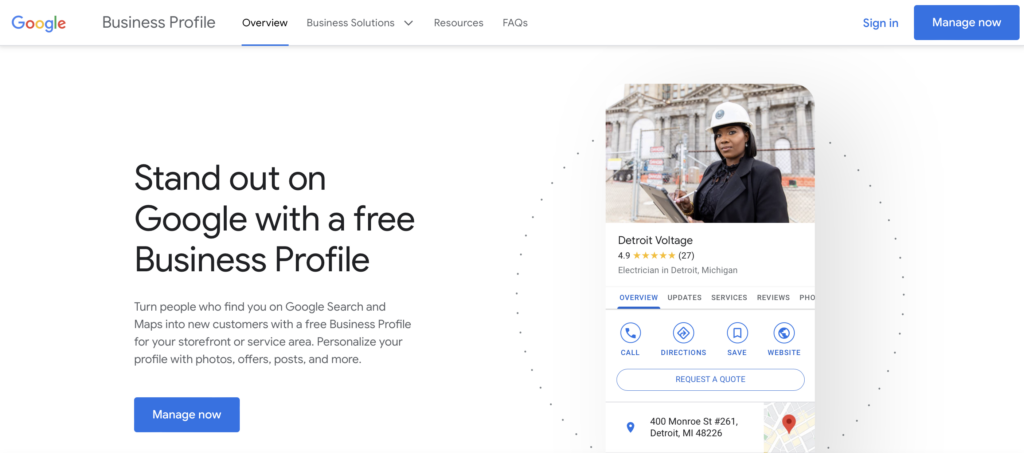 If you want people to be able to find you through local searches, then you need to make sure that you've claimed your Google My Business page. This allows you to set your service areas, business hours, contact details, website, and more.
Google My Business might include a link to your website, but many people will interact with you based solely on what they see on Google. They can contact you without ever looking at your branding or your logo.
Of course, you should claim other directories too, including Yelp and Yellow Pages. Social media should also be claimed, as many people will turn to Facebook to search for proof that their landscaping companies do a great job for other homeowners or business owners just like themselves.
Your free Google My Business page also allows people to see reviews for your business, which we will talk about in the next point.
4. Launching a Review Campaign
The best way to catapult yourself to the top of the search engines is to stand out from your competition. A landscaping company often makes its money from recurring customers. Because they continue to use you and shell out their hard-earned cash for your services, you can generally assume they were happy with your services.
Why not ask them to leave you a positive review so others can find you too?
It might feel a little uncomfortable at first to ask someone to leave a review for your business. However, the best way to get more reviews is to ask right up front.
You might find creative ways to prompt people to leave reviews. Make it easily accessible from your website or your email signature. Create a business card with a QR code that they can scan to be taken directly to a platform where they can leave a review.
No landscaping business should ever pay for reviews, but you can offer some incentives for leaving one such as a discounted service on their next month of lawn care.
Keep in mind that you may eventually receive a negative review as well. Do your best to respond kindly to a negative review and try to make it right on the platform where the review was left. This signals to others that you value the customer experience and will do what you can to make people happy, which is always a good thing!
5. Key Off-Page SEO for Landscapers
Off-page SEO for landscapers is just as important as the heavy lifting that you do on your actual website. Every landscaping business needs to think about the whole picture of their services when it comes to the search engines.
That means making sure that your page is relevant and shows up multiple times on the World Wide Web.
One of the best things you can do for local SEO is to make sure that you claim all of the social media tags that point back to your business. These are great for posting images of completed landscaping services, but they also signal your authenticity to Google.
Specifically, you will need to make sure that you create a link-building strategy that positions your landscaping company as an authority in the industry -- which we'll look at in just a minute.
Create a Link Building Campaign
How many other pages link back to your website? This more technical SEO is imperative for Google search results and can result in tons of organic traffic for landscaping companies. You need a clear strategy that will help you to get more links back to the pages on your site.
Links from other pages back to your website are one of the biggest factors in how you show up on search engine results.
You can use content marketing as part of your robust digital marketing strategies, which we'll look at in the next section. This gives other websites something to link back to that benefits their audience. You could do a blog post tour on other websites that are well-positioned in the landscaping industry.
If you have a piece of content marketing that you are super proud of and that promotes a lot of value, don't be afraid to reach out to other websites that can help you get it in front of more people. Asking doesn't hurt anything, and the worst they can do is say no.
On the other hand, if they say yes, you can benefit from a little extra link juice for your work.
Recommendations for Content Marketing Ideas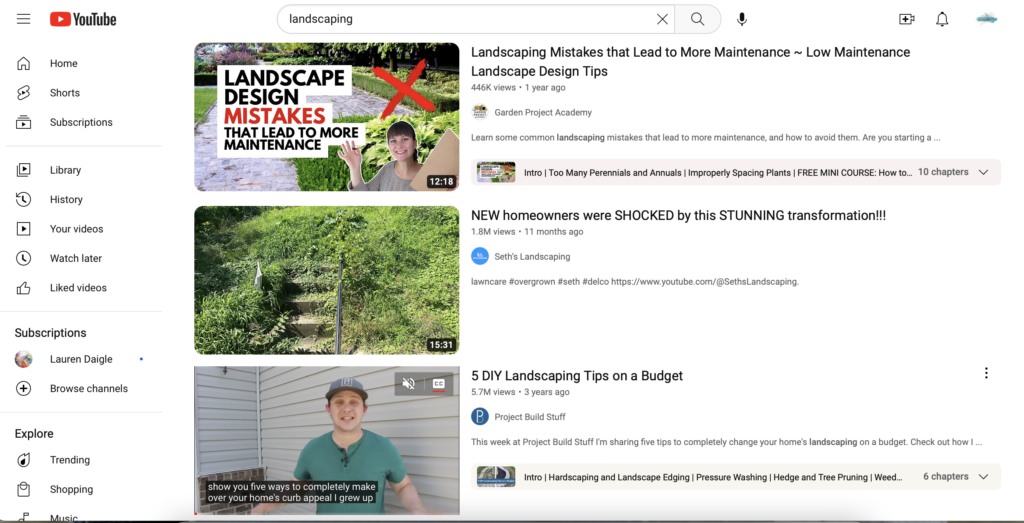 Content marketing is another important piece of the puzzle when it comes to landscaping SEO strategies. Google Analytics will point to areas where you can benefit from a little more time spent on your strategy. The old adage is that content is king, which still holds true today.
While most people turn to blogs and articles written about their area of expertise within the landscaping industry, this isn't the only option.
Great content takes a number of forms and can be quite helpful for your market. Think outside the box of blog posts that are posted directly on your website (and might not yield as much website traffic for you if no one knows they're there).
Here are a few content marketing ideas to supplement your SEO for landscapers that you might want to implement:
YouTube videos on how to care for specific plants or manage lawn care routinely
Ebooks that answer frequently asked questions from your customers
Infographics that relay information in a fresh, new way that's easy to read at a glance
Podcasts related to the seasonality of lawn care and landscaping for your area
Quick PDF guides that are less detailed than ebooks but still answer a question
Get creative with how you can answer the questions for your audience, and you'll start to bank on some of these SEO strategies.
Final Thoughts: SEO for Landscapers
Search engine optimization is an essential tool for all landscaping companies that want to draw in more customers. Even if you have enough clients to keep you busy right now, there's always room for growth, and you don't want your business to be left behind when those clients dry up. SEO puts you in front of more people and helps them to find you.
If you're ready to start your landscaping business ranking on the search engine result pages, then it's time to implement a new strategy.
Start with keyword research and steadily make your way into the other top methods for growing your network. Take the first steps to finding keyword research with SEMrush today!
Want to learn step-by-step how I built my Niche Site Empire up to a full-time income?
Yes! I Love to Learn
Learn How I Built My Niche Site Empire to a Full-time Income
How to Pick the Right Keywords at the START, and avoid the losers
How to Scale and Outsource 90% of the Work, Allowing Your Empire to GROW Without You
How to Build a Site That Gets REAL TRAFFIC FROM GOOGLE (every. single. day.)
Subscribe to the Niche Pursuits Newsletter delivered with value 3X per week