40+ Podcast Statistics That Will Convince You to Start One Today
When you buy something through one of the links on our site, we may earn an affiliate commission.
Chances are you have listened to a podcast or two over the past month. It can hardly be denied that podcasts are a growing trend, increasing in popularity month over month. When you stop to look at the podcast statistics, a case can be made for starting your own podcast sooner rather than later.
What should you know about how podcast listening impacts our world?
You might be surprised to learn just how prevalent this media form is and how you can capitalize on this growing trend with your target demographic.
Let's take a closer look at how many people really listen to podcasts and what it says about them.
Podcast Statistics: The Basics of the Market
42% of people ages 12 and up have listened to a podcast in the last month. When you look at the next age bracket up, that statistic improves even further at 53% of people ages 12 to 54. This means that the majority of people are tuning into what podcasters have to say about the subjects that interest them.
Even though not everyone is listening to podcasts, there is a growing sense of awareness: 79% of people are fully aware of what they are and why they matter.
The same study from the Statista indicates that more than 82 million people are listening to podcasts, and that number is slated to exceed 100 million listeners in 2024.
What else should you know about the podcast market?
Take a look at some of these shocking statistics:
All of this indicates that the trend for podcast listening is on an upward trajectory. If you've been thinking about whether starting a podcast is right for you, now has never been a better time as we see these numbers climb ever-higher. Check out our post on how to start a podcast and make money for more info on getting started.
Demographics of Podcast Listeners
Out of the millions of monthly podcast listeners, we looked at in the last section, what can you expect from the demographics of people who are actually spending their time devoted to the podcast industry?
Take a look at this breakdown based on race before we dive into the gender gap in podcast stats:
White listeners: 57%
Latino listeners: 16%
African American listeners: 13%
Asian listeners: 4%
Other races: 10%
More men than women are tuning into the podcast industry, though the numbers aren't too far off from each other. Men make up roughly 53% of monthly podcast listeners, while women come trailing slightly behind at just 46%. Non-binary people make up about 1% of listeners, according to the same survey.
Where People Listen to Podcasts
If you guessed that most people listen to podcasts from their smartphone, you would be right. But there are tons of different ways they can access those podcast episodes. From Apple podcasts to Spotify, where are most people tuning into their favorite podcast episode?
It's a close tie between Apple Podcasts and Spotify for which one gets the most downloads. According to Buzzsprout, Apple Podcasts is the winner, with almost 38% of all downloads.
Spotify is close behind with almost 29%.
These two leaders have a landslide victory over the other methods of podcast listening, such as via web browser (6%), Google podcasts (2.5%), and even Apple iTunes (1.8%).
The moral of the story here is that you want to upload your podcast to one of the most well-known names in podcast listening if you want people to find you: Apple Podcasts or Spotify.
Podcast Revenue Statistics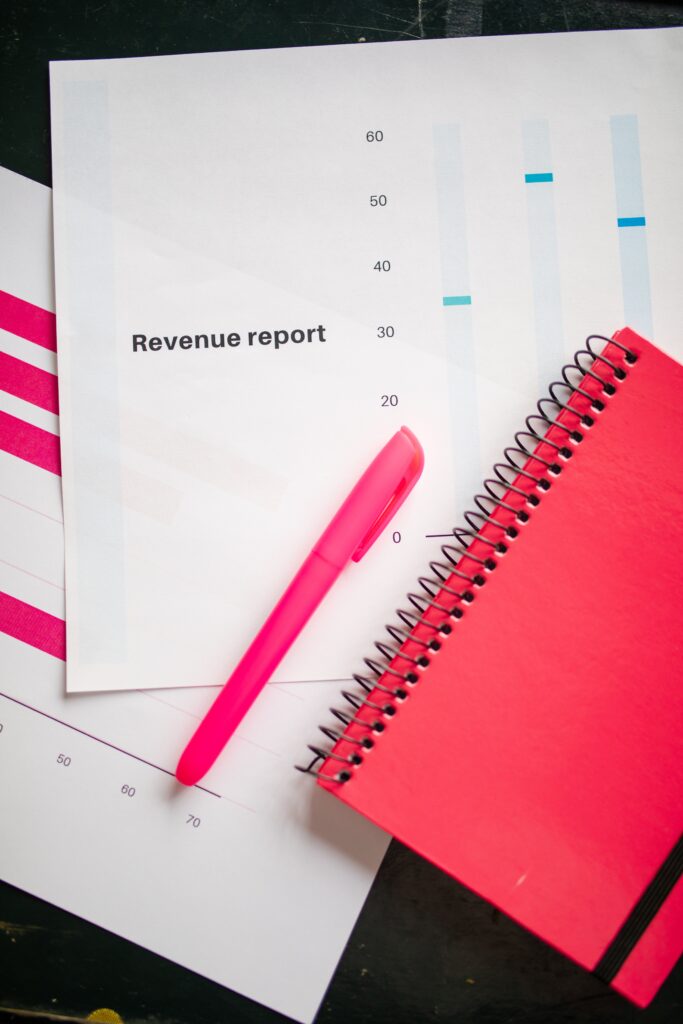 If you thought that listening to podcasts was a free activity and had no major revenue, you would be wrong. Podcast statistics like those found in this section clearly highlight how much money there is to be made as a podcast host.
According to Grandview Research, the current podcast industry is worth $23.75 billion.
But that isn't the end of the story.
Podcast listeners are increasingly tuning into this variety of shows, and monthly podcast listeners seem to be on the rise. As a result, the revenue from podcast ads and sponsored content will likely grow.
The same research study reports that the expected revenue in 2030 will be somewhere around $130.63 billion.
How exactly can people be making money from those that listen to podcasts? You might be surprised at how even the most popular podcast genre makes a living. People listen and are incredibly apt to make purchases based on the recommendations of a podcast host.
A whopping 69% of people say that a podcast episode introduced them to new products or services that they had never heard of before. Coming in slightly lower, 38% of those podcast listeners report actually making a purchase of things that they heard about in an episode.
How and When People Listen to Podcasts
Most people will tune into their latest podcast episodes during the morning hours, but that isn't the whole picture. Consider these time frames when people are most likely to spend a little time with their favorite podcast host:
6 AM to 10 AM: 25%
10 AM to 2 PM: 26%
2PM to 6PM: 21%
6 PM to 10 PM: 15%
10 PM to 2 AM: 11%
2 AM to 6AM: 3%
The division in times that people are actually planning to listen to podcasts shows that people are more inclined to listen on their morning commute.
This aligns with other statistics that show that the majority of people are tuning in from their smartphone (73%). It has a substantial lead over all of the other places that monthly podcast listeners might be tuning in from:
Computer or laptop (11%)
Tablet (7%)
MP3 player (5%)
The same study shows that people are most apt to listen to podcasts while doing something else. Some people listen while in the car (14%), but others are more likely to tune in while doing something else: working (16%) or walking and riding public transportation (19%).
There are tons of ways that people will consume the latest podcast episode, and these are just the tip of the iceberg when it comes to podcast statistics.
Most Popular Podcasts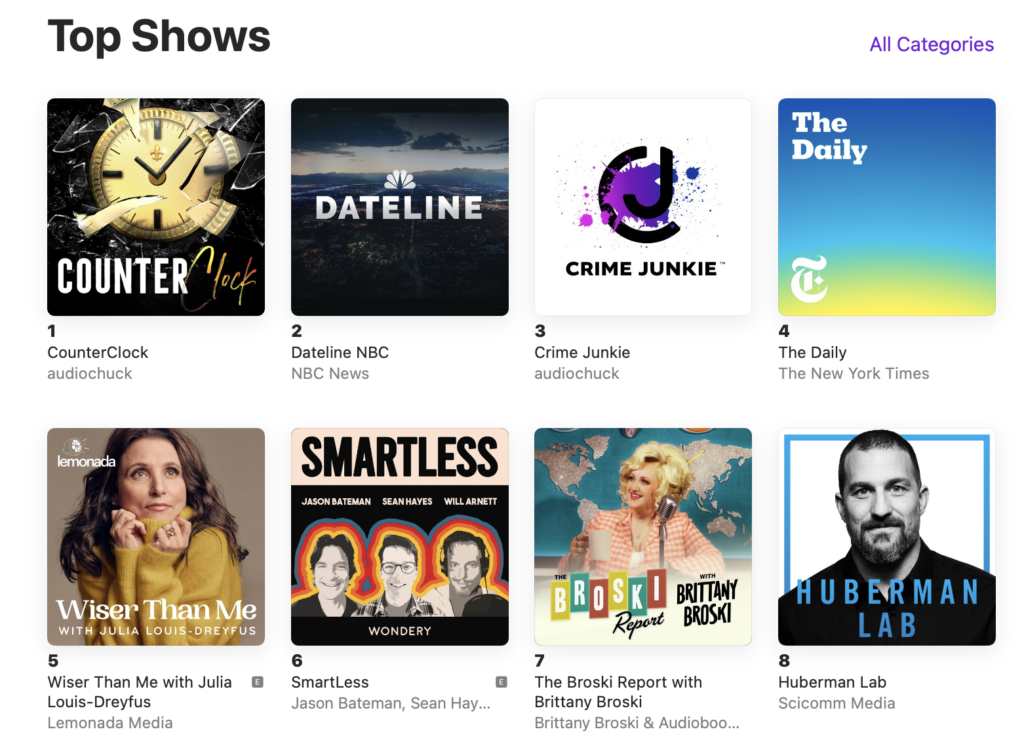 According to Apple Podcasts, you might want to tune into some of these channels. This can give you some insight into what the most popular podcast genre is and how you can capitalize on the trends when it comes to starting your own:
CounterClock by audiochuck
Dateline by NBC News
Crime Junkie by audiochuck
The Daily by The New York Times
Wiser than Me with Julia Louis-Dreyfus by Lemonada Media
SmartLess by Jason Bateman, Sean Hayes, and Will Arnett
The Broski Report with Brittany Broski by Brittany Broski & Audioboom Studios
Huberman Lab by Scicomm Media
Morbid by Morbid Network | Wondery
Believe in Magic by BBC Radio
Not all podcast hosts are famous. As you can see, podcast listening runs the gamut from true crime junkies to those who want a good laugh. Many people use them as a way to keep up with the daily news and current events.
There's a podcast out there for everyone if you look hard enough, so don't feel the need to limit yourself only to the most popular podcast genres. 
Best Practices: Podcast Statistics for Length and Release Schedule
What do the podcast statistics tell you about how your own development should move forward in order to get the best audience? It isn't as simple as choosing a popular podcast genre. You also need to make sure that you're getting in front of people at the right times and in a way that aligns with their expectations.
First, let's talk about how long your podcast listeners will expect your content to be.
Buzzsprout breaks it down into the following categories based on their research of the industry as a whole:
Less than 10 minutes: 15%
10 to 20 minutes: 15%
20 to 40 minutes: 32%
40 to 60 minutes: 21%
Over 60 minutes: 16%
The sweet spot for people who want to listen to podcasts seems to be 40 minutes or less, with 62% of podcasts falling into these lengths (learn more about how long a podcast should be here).
Of course, this isn't the only thing podcast statistics can tell us about how people listen to podcasts. The majority of people will publish their podcasts at least every 2 weeks, with many people posting new episodes for podcast listeners every week.
One research study looked at podcast statistics to determine when podcast listeners tune into new episodes. They found that the average podcast produced new episodes during the week for the best results. Most weekly podcast listeners had a preference for episodes that were not posted on Saturdays. 
If you want a little more specificity for when your podcast audience might find you, it's best to upload your new podcasts on Wednesdays, Tuesdays, and Thursdays, respectively.
Final Thoughts: Do These Podcast Statistics Convince You to Start Today?
Whether you decide to post on Apple podcasts or Spotify, the truth is that podcast listeners are growing, and you should capitalize on the trend. Building up a repertoire of sponsored podcast episodes or having a decent following can be a great way to scale your income and grow your platform.
Do these podcast stats have you thinking about how you can get in right away?
It might be time to pick up that microphone and start recording so that you can make your mark on the world among your podcast listeners.
For related reading on starting a podcast, here are a few other articles that you may want to check out to get started:
And, of course, don't forget to listen to our Niche Pursuits podcast for even more ideas about how you can grow your business, brand, and more! 
Want to learn step-by-step how I built my Niche Site Empire up to a full-time income?
Yes! I Love to Learn
Learn How I Built My Niche Site Empire to a Full-time Income
How to Pick the Right Keywords at the START, and avoid the losers
How to Scale and Outsource 90% of the Work, Allowing Your Empire to GROW Without You
How to Build a Site That Gets REAL TRAFFIC FROM GOOGLE (every. single. day.)
Subscribe to the Niche Pursuits Newsletter delivered with value 3X per week