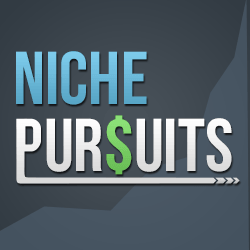 In episode 31 of the Niche Pursuits Podcast, Perrin and I discuss in detail my last blog post.
In particular, we review how many websites people should be building at once, and when its time to just start scaling your existing portfolio.
Even though the general content is the same as my previous blog post; because its a discussion between Perrin and I, I feel like we dig into a few aspects a bit deeper and even cover a few points that were not mentioned in the blog post.
So, I hope you'll give it a listen and let us know what you think!
GET MORE QUALIFIED TRAFFIC TO YOUR WEBSITE — FAST
The Traffic Course is designed to be a quick-study course with tactics you can implement today.
Here's the curriculum:
1. How to Make Google Love You—Or At Least Stop Ignoring Your Texts
2. The Hidden Traffic Opportunities Right Under Your Nose
3. The "Unsung" Search Engines You Might Be Overlooking
4. How to Create New Content That's a Hit–Without Wasting Time
Check Out the Full Course
And if you haven't had a chance to do so, I would appreciate a rating and review on iTunes right here.
Thanks again!
---