So, believe it or not; its time for another income report for aPennyShaved.com!
As you may recall, aPennyShaved.com is the site that Perrin created as part of Niche Site Project 2.  I simply coached Perrin along the way, and he's done all the actual work and built a pretty impressive site!
I know that I mentioned in a recent podcast that we had completed our last official coaching call.  While that is true, I still plan on providing at least these monthly income reports for the next little while.
Perrin is going to share a brief update on what he's does for the site recently, but for the most part the strategy remains the same and the site continues to do well.
A Little Reminiscing…
I also wanted to just reflect for a moment about how far we have come.  When I initially conceived of the idea of holding a second niche site project, I left the voting completely up to YOU the readers as to what the idea would be and then ultimately who my student would be for the project.
Its by pure chance that Perrin's name came up as one of the 10 finalists for this project.  I used a simple random number generator within an Excel file to sort all the student applicants (over 600 if I recall correctly).  That random sort of names, led to the finalists, and again all of YOU the readers chose Perrin the final student.
What can I say, you chose wisely!  The project has been a huge success, and has dramatically changed the course of Perrin's life and my business.  Partially due to the success of this project, I made Perrin a job offer a few months ago, and we have been working together full-time now for almost 3 months!
If someone would have told me 6 months ago, that I was going to hire one of my blog readers that I had never met before, I wouldn't have believed them.  But alas, such is the awesomeness of the internet!
Perrin and I have built a number of niche sites over the past few months, and have other major projects in the works (one of which is Vylo).  But it all started with this one small niche site, and aPennyShaved.com continues to have success and is enjoyable to see the monthly reports.
So, with that, I'll let Perrin take it away to review how the site performed in February.
Perrin's Monthly Income Report for February
Hey guys! Time for another income report. And, really, not much has changed since the last income report. In fact, I finished this month at about the same as last month. And that's awesome! I'm still super pumped about the success of the site.
Here's the raw data from Amazon:
Total earnings: $1,368
Total sales: $17,658
Total items shipped: 720
Conversion rate: 6.12%
(In January, the site earned: $1,391.97)
Cumulative Earnings Since Inception: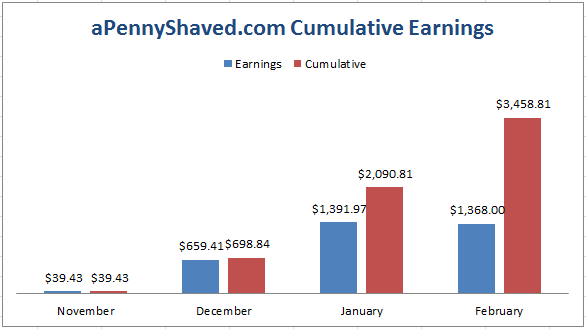 And here's the raw data from Google:
Total visitors: 32,627
Total uniques: 24,460
Total pageviews: 124,817
So, everything stayed more or less the same, which is really awesome. But it's not just awesome because it was consistent, it was awesome for two reasons: (1) it was a short month, and (2) my traffic dropped sharply at the beginning of the month, and I had to recover. Here's the story…
How I recovered from my traffic drop…
Want To Build Smart & Relevant Internal Links...Quickly?
Link Whisper is a revolutionary tool that makes internal linking much faster, easier, and more effective.  It makes it simple to boost your site's authority in the eyes of Google. You can use Link Whisper to:
Bring out your orphaned content that isn't ranking

Create smart, relevant, and fast internal links

Simple yet effective internal links reporting: what has lots of links and what pages need more links? 
Click here to revolutionize your site's way of doing internal links
Around the end of the first week of the month, I noticed my traffic heading down a steep decline. I went from about 1,400 visitors a day to about 800. Even scarier, I noticed that my impressions and queries were also taking a nosedive.
It wasn't too long before all of that was reflected in my earnings; I went from earning around $40/day to earning $10 or less.
Needless to say, I was kind of freaked. I hadn't changed anything on the site, so I figured it was something to do with the backlinks. At first, I was scared I'd been attacked (mostly because I've been paranoid about it – ha). Luckily, that wasn't the case. And (also luckily), it didn't take me too long to find the problem. So what was it?
Well, I was looking at my backlinks in Majestic SEO, and I noticed that one of my best backlinks – a link I'd secured through link baiting and networking – had been deleted. Uh oh. I headed over to the site and saw that the webmaster had deleted his blogroll and moved all his links over to a brand new page, forgetting mine in the process.
This had a couple implications. First, obviously, my link was gone. Second, though, even if I did get my link back, it'd be a brand new page buried deep in the site, which meant the PA would be less than 20. So, it really wasn't worth my time to go try to get that link back, since it probably wouldn't help me recover.
Here's what I did…
My solution was simple. I just threw 10 more Rank Hero links at the site.
And it worked! The site recovered in a couple days, and my last few weeks were some of my most profitable ever. Still, there are a few things to say here…
I'm now certainly over my initial $500 budget, which we outlined in the very first call for Niche Site Project 2. And, as you know, I've been trying really hard to stick to the budget, since I want this to be a case study anyone can emulate.
So why did I go over? Because I'm earning money! After thinking about it, I realized that the $500 budget is really only a spending cap on a brand new site – the amount you want to spend to make a site work.
But now, the site is earning money. It's a business. And businesses need maintenance. It doesn't make sense to stick to some arbitrary budget I set four months ago. In other words, I had the following two choices:
Spend no money to recover and make $400 in February (estimate)

Net profit: $400
Spend $300 and make $1,300+ in February
See where I'm going with this?
The lesson learned
So, overall, I was super happy with my decision to act on my traffic drop. It's not always the case in SEO, since SEO is an inherently volatile business that kind of ebbs and flows at the whims of Google's math. Still, I think there are some good takeaways:
Rank Hero works. I didn't do anything else to recover the site.
Spending money to maintain an established site can make you money in the long run, so don't be scared to pull the trigger!
Anyway, overall, I'm still really excited about and proud of the site. Checking the earnings everyday still hasn't gotten old, and I'm working hard on my second site.
Thanks for reading, and I'll see you next time!
---