Kickstarter Marketing: A Step-by-Step Guide for Success
When you buy something through one of the links on our site, we may earn an affiliate commission.
Your Kickstarter marketing campaign is incredibly important if you want to succeed in attracting crowdfunding. You never know; your product could land up in the Kickstarter hall of fame!
In this article, we'll share some of the essential steps you should try and take to get your project funded.
Kickstarter was founded in 2009 and is the world's largest crowdfunding website for creative projects. Some of the most successful Kickstarter initiatives that have changed the world would not have been possible without it.
According to Statista, games are the most popular type of project on Kickstarter as of April 2022, with 1.9 billion dollars committed. Next to be most funded were design projects, then technology, film & video, and music.
Kickstarter has funded over 122,878 projects, attracting over 12.7 million supporters, and raising more than $3 billion!
Read on to see what you need to do to get your idea on board.
What Is Kickstarter Marketing?
Before we get into Kickstarter marketing, let's summarize what Kickstarter is. Kickstarter is a one-size-fits-all crowdfunding platform. Set a project goal, figure out how much money you'll need to achieve it, and set a time frame.
You must first choose one category and a project title for your Kickstarter project. You add a primary image, a project description, and any supporting images and text.
Money is pledged to your project by interested backers. If you reach your financial target before the deadline, your donors' credit cards get charged the sum they pledged.
No one pays if you don't accomplish your target amount on time. You can either abandon the campaign or start afresh.
The last step is to create a rewards system that outlines what potential backers will receive at various donation levels.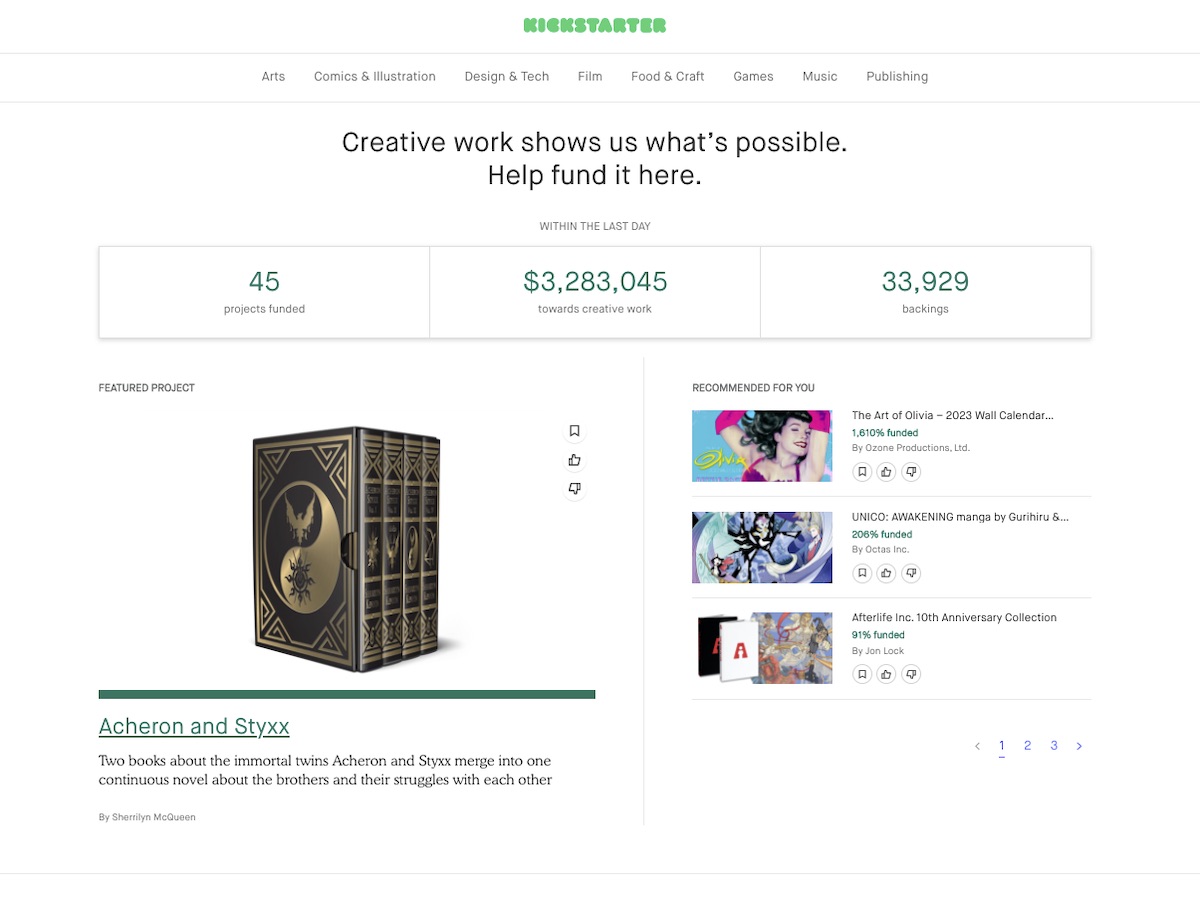 Crowdfunding: How Does it Work?
Crowdfunding is a method of obtaining or raising funds that involve peers, relatives, clients, and individual investors working together.
This strategy harnesses the combined efforts of a large group of people – mostly via social networking sites and crowdfunding platforms. And it utilizes their networks for increased reach and exposure.
What Makes Crowdfunding Unique?
Crowdfunding is basically the polar opposite of traditional business financing. If you want to start a firm or launch a new product, you used to have to present your business plan, market research, and prototypes to sell your concept to a small group of affluent individuals or organizations.
Banks, angel investors, and venture capital firms were among the available sources of funding for businesses, limiting your options to a few major players.
Crowdfunding platforms like Kickstarter change the financing model completely. This method streamlines the traditional model by giving you, the entrepreneur, a single platform to produce, exhibit, and share your pitch resources. You'd spend months sorting through your personal network, researching possible investors, and investing your own time & expense to get in front of them in the past.
With crowdfunding, it's a lot easier for you to get your project exposed to many more interested parties. You can offer more ways to help grow your business, from investing thousands in exchange for equity to contributing $20 in exchange for a first-run product or other rewards.
Crowdfunding Advantages
The advantages to crowdfunding campaigns like Kickstarter over conventional methods include access to a larger investor pool and more flexible fundraising options. Here are some of the many benefits.
Thousands of accredited investors can see, interact with, and share your fundraising campaign if you use a crowdfunding platform like Kickstarter.
Presentation – When you launch a crowdfunding campaign, you go through the valuable process of distilling your company's history, traction, offerings, addressable market, value proposition, and more into a polished, readily consumable package.
PR & Marketing – You can use social media, email newsletters (check out the best marketing newsletters), influencers, and other internet marketing strategies to share and promote your campaign from start to finish. You may double down by directing traffic to your website and other corporate resources while you and other media sites cover the development of your fundraising.
Validation of Concept – Putting your concept or enterprise in front of a large audience allows you to test and refine your product. As soon as potential investors start expressing interest and asking questions, you'll be able to tell if something is missing that might encourage them to invest.
An online crowdfunding campaign's ability to consolidate and streamline your fundraising is one of its strongest features. You can avoid the need to approach each of your prospects and possible investors individually. You do this by creating a single, comprehensive profile to which you can funnel them all. Rather than repeating work by copying documents, compiling binders, and physically updating each one when there is an update, you can provide things online, giving you more time to focus on your business rather than fundraising.
What Is The General Cost of a Kickstarter Marketing Campaign
Fee for Kickstarter: 5% of the total money raised
Payment processing fees: 3% + $0.20 per pledge
For successful Kickstarter funding, the following costs get deducted from your financing total. Kickstarter charges a 5% fee, and there are payment processing fees (between 3 percent and 5 percent of each pledge). There are no fees if the funding is unsuccessful.
Pledges under $10 are eligible for a discount. A discounted micropledge fee of 5% + $0.05 per pledge applies to pledges under $10.
Do all The Preparation You Can Before You Launch
Starting a campaign entails more than just coming up with a concept or sketching out alternative designs for your product or service.
A Kickstarter marketing campaign is all about developing a community and interacting with prospective clients, influencers, industry professionals, and crowdfunding backers. These folks can ultimately drive additional traffic to your website.
Identifying your target audience and interacting with them long before your campaign launches takes time, but it yields the greatest results.
Marketing is the first step in increasing pledges to your campaign. Let's look at how Kickstarter marketing works and what techniques top creators use to earn more money during their campaigns.
Allow Plenty of Time
Campaigns can be as brief as one day or as long as two months, but Kickstarter believes that 30 days is the ideal duration for a campaign (and most agree).
Fundraising takes effort and time. So plan on spending at least 30 days ahead of schedule preparing for a large campaign ($30K and higher).
Then, after the campaign is up and running, devote four to five hours every day to running and managing it. The biggest blunder you can make is going live and expecting money to come to you.
Do Your Homework
Many excellent Kickstarter guidelines are available, and Google is a wealth of information. Invest time by examining and learning from the other successful campaigns in your category.
Check out their language, updates, incentives, ancillary websites, email marketing drives, and other social media.
And don't be afraid to steal ideas and techniques from larger campaigns – if a project is shooting for $100K (and is already well on its way there), chances are a team of paid marketing experts is running it – and you can learn from them.
Don't Overestimate How Much You Can Crowdfund
Be careful not to be overconfident about how much money you can raise through crowdfunding. Even if you have a unique and ground-breaking product, don't expect your Kickstarter campaign to be a huge success right away.
Businesses and individuals should use Kickstarter to launch with realistic financing objectives and be prepared to interact with the community. Kickstarter is an all-or-nothing platform, so you won't receive anything if you don't meet your target.
A successful campaign requires a strong community that will support you, a prototype of your product, and time spent engaging with the community.
Count up the people you think might really donate and not just make promises, and you'll be able to estimate how much you could raise.
Calculate your prospective total by going through your phone and email connections and counting the number of likely backers. Assume they'll each give $25. Then subtract 15-20% from the total.
Find Potential Investors
A customer profile, often known as an ideal backer profile, represents your target market. By creating this profile, you can identify the types of people who will support and possibly benefit from your project.
The profile will also lead you through each phase of your campaign and assist you with making decisions on how to build, advertise, and discuss your project.
A blend of demographic (quantifiable qualities like geography and age) and psychographic information will make up your ideal backer profile (qualitative characteristics such as values, opinions, and hobbies). The data you need to find will, of course, vary based on your project.
Convert Your Current Customer Base
Creators with plenty of experience are likely to have a following of supporters and influencers who believe in them and are thrilled about their new project.
But for folks who are brand new to crowdfunding, there are tried and tested tactics you can go for, and everybody knows somebody!
Start with this current audience if you're setting up a crowdfunding marketing budget and aren't sure where to put your first dollar.
It's much easier to get people you know to visit your Kickstarter marketing campaign page than it would be to gain new supporters, so your money will stretch further with this group.
Make a Great Video
Create a fantastic (short) video. Your video serves as an introduction to your entire campaign, and you want it to entice viewers to commit right away.
Of course, you want visitors to read the remainder of the page to see how witty you are, what amazing prizes you have to give, and so on – but people are busy. Try and keep your sales pitch/story to under a minute.
To get started, write a script that explains who you are, what your project is, and why it'll be fantastic.
Include why you're fundraising and how you'll spend the funds.
A good short script will help with making a good short video.
And, of course, make sure you also describe everything in your email marketing campaign.
Submit Your Project to Backer Communities
A variety of product listing and newsletter services are available to help you with your fundraising efforts.
Some platforms compile lists of the best Indiegogo and Kickstarter marketing campaigns in related product categories and distribute them via newsletters to backer communities.
Here are some of the best paid and free crowdfunding promotion services that might help your campaign succeed:
BackersHub
BackersHub keeps its backer community fully informed on the hottest deals going and gets them in on the action early. And even if the campaign fails to reach its target, they offer a money-back guarantee to their members and will fully refund their pledges. Please note that BackersHub is a paid service.
ProductHype
ProductHype is another fantastic tool that aids in integrating innovative products into people's lives. A vast number of people subscribe to the email, including Kickstarter funders, product producers, and others.
Gadget Flow
Gadget Flow is a product discovery site that keeps you up to date on the most cutting-edge technology and the most successful crowdfunding campaigns. They highlight 12 new discoveries every day, with over 17,000 live products in 250 categories. Gadget Flow has various pricing plans available.
Present Your Project to Product Hunt
Product Hunt is a platform where users share and discover new products for free. Product Hunt can help you dramatically generate knowledge about your product. This can lead to conversions by uniting a large community of inventors, early adopters, and simply gadget aficionados.
The platform works as follows:
You initially submit your product, which is then listed in a linear format each day with other products.
The site employs a voting system to market the product, with the most popular ones becoming the product of the day and appearing on the daily list.
Subscribers get emails with the top five tech "hunts" list.
Your Email Marketing Strategy
Activate and excite your community by creating an email marketing strategy for your Kickstarter marketing campaign. And ensure you're reaching them with the correct messages at the right time.
You should send email messages at a few key points in time before and during the launch. These include, but are not limited to:
A week before your project launches
Launch day
A few days after your campaign launches
The last days of your campaign
You'll need to whip up excitement for your campaign and push people to give early in each email.
Share how your product solves a problem.
Allow them to see your product development or prototyping process from the inside.
Early-bird promotions and specials can make the excitement even more urgent.
Using Social Media and Paid Marketing to Find New Backers
You can use organic social media and email marketing to find new backers.
Regularly posting about your initiative and participating in relevant community dialogues on Twitter, Facebook, and Instagram can help you create an audience.
Buffer, Trello, TweetDeck, Hootsuite, and Mailchimp simplify scheduling social media updates and creating emails to engage your target audience constantly. Use Google Analytics to assess the success of your organic efforts by tracking traffic sources.
Although organic email marketing is a vital element of your total acquisition strategy, spending money on *outreach can help you reach a larger audience.
Paid marketing includes a wide range of activities, and how effective each action is in attracting prospective backers varies.
*Individuals in an organization or group connect their ideas or practices to the activities of other organizations, groups, targeted audiences, or the broader public through outreach.
Brand Marketing
Brand marketing aims to raise brand recognition and present a compelling story. Consider Super Bowl ads: they're not really very targeted, and measuring the outcomes is challenging, yet they reach a large audience.
However, a Kickstarter marketing effort does not lend itself to brand promotion, so don't go for that option even if suggested.
Facebook Ads
One very powerful way to get the word out about your project is by using Facebook Ads. Set up a Facebook Business and Ads Manager account and set up your Facebook Ads Manager.
While you can create an Ads Manager account under your personal Facebook account, it won't have all of the features of a Business Manager account, just beware of Facebook jail.
Behavioral Targeting
This is the most accurate type of targeting. You're not just looking for folks who seem like the types of backers you're looking for; you're looking for people who have already shown signs of being good prospects and who the influencers love.
You can engage with real people who have funded similar projects using behavioral targeting and propose your project to them through ads. This data allows you to stretch your marketing funds further, which is why top artists choose this form of Kickstarter marketing.
PR/Influencer Marketing
This is where you'll find folks who are social media influencers, bloggers, or other well-known creators who produce material related to the project category you're working on. They can help get people to talk about your campaign once it's live.
This method could be beneficial. It is, however, most effective when used in conjunction with other advertising strategies.
Run Giveaways
Choose excellent rewards. People don't necessarily donate to your project just to receive a reward, but outstanding rewards may motivate someone to contribute more than they planned.
Think about providing a variety of items that appeal to diverse groups, but most importantly, choose prizes that you would want.
Consider merchandise that doubles as promotional material for your project! For example – your unique project images on tote bags are really useful.
Remember that these incentives (and their shipping) will cost you both time and money, so keep that in mind when planning your budget. Keep as many rewards as possible digital.
Devise a Strong Awareness or Outreach Strategy
Before you hit the launch button, write personal emails to anyone and everyone you think might be interested in hearing from you.
Personalize them: explain what Kickstarter is and how to make an online donation if you're writing to a less tech-savvy audience.
Also, see if you know someone who writes for a blog, website, or magazine and might be curious to hear about your idea.
Preparation well in advance can help you solve issues long before they become troublesome and save you a lot of time and effort.
You'll also need every spare moment following the launch to write thank you notes, post updates, and even reach out to people you don't know.
And, if at all feasible, using photographs to share your story is the best way to show people what you are doing and your progress.
Update Your Progress Often
Keep your Kickstarter campaign active. Staying active is a vital aspect of a Kickstarter campaign. Frequently, potential investors will use the Kickstarter site to make inquiries.
Prompt responses demonstrate to potential investors that you are concerned about the situation. Promptness also encourages potential investors to invest before changing their minds or moving their money elsewhere.
Don't forget to update your backers and supporters as your project progresses. Fundraising is only the beginning of your project, and your backers are likely to be your audience as well.
They'll want you to succeed, and if you do, they'll probably stick with you in all of your future undertakings.
So, remain in touch, figure out how and when to pay out awards, and stay organized to ensure that everyone has been recognized and compensated.
You can keep sending Kickstarter updates indefinitely, so be sure to invite your most ardent supporters to join your next project.
Once your project is live, your Kickstarter project dashboard will show you the overall project financing, top pledge referrers by domain, and prize selection split in real-time.
On this dashboard, creators can also build bespoke referral codes to track the conversion of their efforts.
Kickstarter offers Google Analytics connections for additional data and greater insight. This tool allows authors to track and evaluate the source of traffic and pledges more precisely.
Three Kickstarter Marketing Success Stories
Here are just three of Kickstarter's most successful projects.
Pebble Time Smartwatch
In 2015, Pebble Time created a major stir in the market by raising a massive amount more than its original goal. It set a new record by raising $1 million in 49 days, and it remains the most-funded Kickstarter project to this day, with $20,338,986 contributed.
Pebble was a game-changer in the smartwatch business at the time. It grabbed the hearts of 78,471 backers with a clean e-paper design and amazing functionality, and they still write sentimental comments on their Kickstarter campaign about how much they miss Pebble since they sold it to Fitbit.
EcoFlow DELTA Pro
EcoFlow raised $12,179,651 from 3,199 backers as the world's first portable home battery with an expandable ecosystem for home backup, smart energy management, and decreased energy expenses.
Travel Jackets With 15 Features by BauBax
Who knew 44,949 people were willing to pay $9,192,055 for a ridiculously over-engineered jacket? But in hindsight, people love electronics, so why not make a jacket that's half clothes and half gadgets?
Travel Jackets with 15 Features by BauBax remains one of the most supported Kickstarter fashion projects, with a large number of satisfied buyers.
BauBax has subsequently launched over six Kickstarter campaigns and is well on its way toward becoming a household name.
Conclusion: Make Kickstarter Marketing Work For You
Because Kickstarter allows people to create and fund a variety of projects, there are trends in which things are the most popular.
Board games, in particular, fit in nicely since they can contain interesting stretch goals and add-ons, and the board game community is a grateful, engaged, and patient bunch.
Some projects are more successful than others with Kickstarter marketing campaigns, and there's usually a reason. Everyone wants to know how these campaigns become so successful, but keep in mind that there is rarely just one item that makes a Kickstarter project stand out.
They are usually just really unique and well-designed products the designers genuinely believe in. If you use the steps we have described in this article and do a whole lot more research as you go, you'll be well on your way to getting your Kickstarter marketing campaign up and running.
If you have a project you believe in and want to try Kickstarter, we look forward to seeing your project succeed – good luck!
Want to learn step-by-step how I built my Niche Site Empire up to a full-time income?
Yes! I Love to Learn
Learn How I Built My Niche Site Empire to a Full-time Income
How to Pick the Right Keywords at the START, and avoid the losers
How to Scale and Outsource 90% of the Work, Allowing Your Empire to GROW Without You
How to Build a Site That Gets REAL TRAFFIC FROM GOOGLE (every. single. day.)
Subscribe to the Niche Pursuits Newsletter delivered with value 3X per week