How to Start Your Own Fanfiction Website
When you buy something through one of the links on our site, we may earn an affiliate commission.
Everybody hates endings. Not ready to let your favorites go? Here you'll learn how to start your own fanfiction website. 
No matter how good the book or movie is, nobody likes to see a good story come to an end. We want more action, we crave more of the characters that we've come to know and love, so what do we do after it's over?
For some people, the answer is simple: Create their own. 
Fanfiction isn't a recent development, but the advent of the Internet has allowed fans all over the world to create and share their own content. The only real way to know that a particular fanfiction world exists is to become a part of it. Once you do though, it's a veritable rabbit hole that takes you to the limits of your imagination.
What is a Fanfiction Website?
Just as the name suggests, "fanfiction" is fiction that is written by the fans themselves.
This may be a continuation of the original story, adding more depth to a specific character, or creating an alternate universe. If these characters were placed in a different time and space, or if different characters interacted with each other, what would happen?
Fanfiction doesn't have to be very long. In fact, some of the best fanfiction stories on the internet are only a few paragraphs, or only a few sentences long. Others have entire fanfiction sites devoted to them, with their own spinoffs and their own devoted fan base.
The one thing that unites them all is that they all have their foundation in a well-known story. Harry Potter fanfiction, for instance, only focuses on Harry Potter. The same applies for Star Trek, Star Wars, Indiana Jones, or any other pop-culture icon — they all have their own fandom and fanfiction site to match.
In some cases though, some of the different stories may intersect. This is called crossovers, such as when one group of characters "crosses over" to a different universe. One of the more famous examples of this is the Marvel/DC crossover, which saw Batman fighting alongside Captain America.
A really crazy crossover would be matching Jane Austen with Percy Jackson. Two totally different worlds that collide in one fanfiction story. 
These stories aren't just fun to read, they're also fun to write, and offer their creator an unlimited sandbox to play in.
Examples of Great Fanfiction Websites
If you're going to start writing your own fanfiction, and you want to put it on a website, it's smart to see what's already out there. Lots of would be writers have started sites, only to have them fail for a variety of issues. Emulating successful sites (within reason) is a good way to set yourself up for success.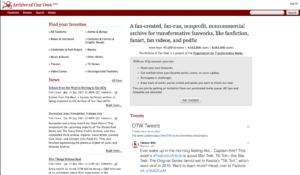 One of the more prominent fanfiction sites is called Archive of Our Own, or AO3. Started in 2008 as a nonprofit, the site currently hosts more than 7 million individual pieces of literature across 40,000 fandoms. Completely user-generated and open source, it is developed first and foremost with the fans in mind.
What makes Archive of Our Own so valuable is that not only do fans create and post the stories, but they also vote on them. Readers are able to give feedback on stories, and suggest changes to the platform. More than 700 readers volunteer to keep the site active.
AO3 also has a wide variety of content, some of which is adult-themed. Users can log onto the website and set filters for only those stories that are for general audience, or choose to avoid those that depict scenes like graphic violence. As long as it is legal, creators can post whatever fanfiction stories they like.
What separates Commaful from the other fanfiction sites on this list is not their content, but the way that it's distributed. Instead of long, written stories, Commaful focuses on "multimedia storytelling." This includes largely bite-sized versions of fanfiction that you can consume in a matter of minutes.
Specifically designed for mobile devices, Commaful is much more visual than other fanfiction sites. You can also create short videos based on your fanfiction creations and share them on social media websites. This creates greater engagement, and a wider reach for storytellers.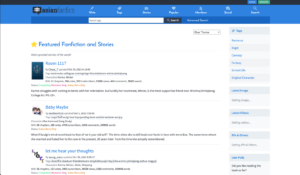 If Asian fiction is your jam, AsianFanFic is probably already on your radar. Founded in 2009 as a way to give writers more creative control, AsianFanFic has exploded as a hub of Asian fanfiction. Everything Asian related is allowed, including television series, video games, bands, or even books.
Despite the fact that anybody can upload any fanfiction they want to the website, curiously enough, there is no email registration required. You will have to create a user profile, but once you do, you can interact with others. As with other sites, messages, subscriptions, and fan reviews are all a big part of AsianFanFic.
Harry Potter Fanfiction
To say Harry Potter has a devoted following is putting it mildly, to say the least. With over 500 million copies sold, the Harry Potter series is almost a genre to itself, with legions of devoted fans that read, re-read, and re-re-read the series again and again.
Harry Potter doesn't just have one fan fiction website, it has several. Today's budding writers, storytellers, and creators cut their teeth reading Harry Potter, and have continued the stories long after the books ended.
A lot of Harry Potter fanfiction can be found on several sites, such as:
Forums like these usually have moderators, rules, but also beta readers and contests. Since the genre is so completely reader driven, only the best stories rise to the top.
How to Start a Fanfiction Website on WordPress
Starting a fanfiction site is just like any other website, with a few specific features. Most choose to develop it on WordPress, but if you want, Weebly and Wix are also good alternatives.
Here's how to get started building a website or blog on WordPress here.
You'll need to host your website through a company like Bluehost and buy your own domain, but from there, it's relatively simple to start your own site. All you need is a few key items.
Set Up Fanfiction Categories Early
The old adage, "if you build it, they will come," rings true here. If you set up a site devoted to a certain type of fanfiction, you'll most likely have a group of fans waiting in the wings.
In order to better serve your audience though, you'll need to set up a few categories. This can be organized over individual characters, certain topics, or even particular storylines.
Another thing to consider is adding the capability for tags, which operate like search indicators. This allows people to find whatever stories straight through the search function, rather than browsing through categories.
This doesn't have to be final; in fact, it'll probably change over time. But you do need to set up a rudimentary system of categorizing your content at the beginning, or it'll get out of hand in a hurry.
Once more people add content to your site, it can be nearly impossible to categorize them. And without categories, people won't find what they want, which means they'll leave the site as soon as they can.
If you plan on using WordPress, then the WriteShare plug-in is a necessity.
This nifty little plug-in is free, and allows users to create and submit content to the site from the front end interface. Instead of having to create individual writing accounts for everybody (which borders on insanity), users can create accounts on their own and post their content at will.
Users will also be able to create their own profiles on your site and show off their portfolios to their fans. It may sound odd, but your site may be the platform other writers used to watch their career. To do that, you'll need to give them a space that allows them to express themselves to the fullest.
Start with Great Fanfiction Content for Your Website
This is the whole reason you started the fanfiction website in the first place, isn't it? To create and share all of your amazing content, and read others' as well?
If so, then start your site off on the right foot by "seeding" your website with your own original content. In order to keep people on your site when they first find you, shoot for about 20,000 words in the beginning.
If you truly want to double down on your efforts, optimize a lot of that content for SEO as well. It's a little bit more difficult to write fiction using high-value keywords, but you'll get the hang of it before long.
Once you have your own content, build up your community on social media and through email. Ask them to submit stories and post links on their own profiles in order to drive traffic to your site.
What Does a Fanfiction Website Need?
After the technical specs on your fanfiction website are in place, there are a few more items that are imperative for your website.
Guest Accounts
Some of this can be taken care of with the WriteShare plug-in mentioned previously, but for more established writers, it's not a bad idea to have permanent guest accounts.
Guest accounts will not only encourage them to continue building content on your website, but it can also open up other opportunities. People can subscribe to their fanfiction content, and could also tip the writer if they like a story (though you'll need a payment processor installed as well).
Writing Guidelines for Fanfiction
Fanfiction can be a lot like the wild west. People feel free to express themselves as creatively as possible, which can result in some really "unique" content potentially being posted on your site. This is why guidelines are important when learning how to start a fanfiction website. 
In order to keep this from happening, make sure you have firm guidelines set in place at the beginning. Some should be content-related, such as limiting adult content or certain topics. Others might pertain to more logistical matters, such as mandating a certain frequency for guest posters (once a month or once a year, for example).
Spammers attacking your site is also a constant worry. Someone may post a great piece of content on your site, only to link to their own site at the end of the post. If so, that'll pull traffic off of your site, so make sure you include a "no spam" policy as well.
Don't forget to enforce your rules too (or have moderators do it for you). Otherwise, your site rules will be just another piece of fanfiction that people read for their own enjoyment.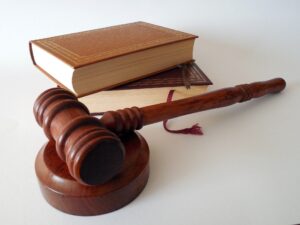 Community Buzz
Considering the fact that your site will almost be completely user-driven, it stands to reason you'll need community buzz to get it off the ground. Your community is going to help you start a fanfiction website, so it's best to keep them in the loop.
There are lots of ways to accomplish this, such as paid ads, influencer targeting, and organic traffic. But you should also focus on forums and online communities to help build your audience, as well. Don't spam other sites (see above), but any opportunity you have to direct traffic to your site is worth taking.
One of the most straightforward ways to accomplish this is by asking other writers to participate on your site. Have them create a few unique stories to post, and then ask them to share in their own communities. They'll want to highlight their work, and other like-minded people will be drawn to it.
Remember to have fun
If done right, setting up your own fanfiction website will be less about work and more about fun. You get to create and add to a world that you already love, and enable others to experience it as well. As your community grows, so does the world you know and love.
Lean on this passion, especially as you try to make it through the first several months of getting your site up to steam. It may seem discouraging when you don't see the traffic you would like, but it will be exhilarating when you watch other people enjoy what you created.
Want to learn step-by-step how I built my Niche Site Empire up to a full-time income?
Yes! I Love to Learn
Learn How I Built My Niche Site Empire to a Full-time Income
How to Pick the Right Keywords at the START, and avoid the losers
How to Scale and Outsource 90% of the Work, Allowing Your Empire to GROW Without You
How to Build a Site That Gets REAL TRAFFIC FROM GOOGLE (every. single. day.)
Subscribe to the Niche Pursuits Newsletter delivered with value 3X per week