How Emma Todd's Caravanning Blog Earns $5k/Month from SEO, Affiliates, and Info Products
When you buy something through one of the links on our site, we may earn an affiliate commission.
Emma Todd was living the slow nomadic life while traveling across Australia with her family in their caravan. Her blog, MY RIG Adventures, started out as a creative outlet where she could share her thoughts and adventures.
After the pandemic, caravaning really took off, and her blog started to see organic growth even though she was barely working on it. She couldn't imagine working a 9-to-5 job, so she went all-in on her website to see what she could make of it.
Today her caravaning blog is earning $5k per month from multiple income streams, plus she's started two other blogs as side hustles, one of which is growing steadily.
Keep reading to find out:
Why she created her website
What info products she created
How her other blogs are doing
Where her income comes from
What type of content she publishes
Her main marketing strategy
Her thoughts on SEO
Her approach to keyword research
How she creates content
How much time she spends on her blog
Her go-to resources and tools
Her biggest challenge
Her greatest accomplishment
Her main mistake
Her advice for other entrepreneurs
Meet Emma Todd
Hi, I'm Emma, a 39-year-old single mum from Brisbane, Australia. My two kids are Dominic (15) and Indii (13).
These days I blog full-time, however, that wasn't always the case.
Up until 2020, I was living on the road full-time in a caravan with my family. We were slowly making our way around Australia, living the slow nomadic life.
My (ex) husband would pick up work as a truck driver every 3 months or so, while I was homeschooling the kids and building the blog.
At that stage, the blog was nothing more than a creative place to share whatever I felt like about living nomadically in a caravan. But, I realized along the way that the blog could actually become a good side hustle to help fund our fuel costs as we traveled.
We were down in Sydney, temporarily parked up in a friend's front yard when the first of the 2020 lockdowns hit. All of the state borders were about to close indefinitely, so we had three days to make a snap decision.
Should we stay parked up in a front yard in the western suburbs of Sydney… or take the 10-hour drive back home and be with family in our home state? Since at that point, we had no idea how long we'd be stranded, we decided to hightail it back home.
During those first months of lockdown, our marriage broke down, which was completely unrelated to Covid and had been on the cards for a long time. I found myself in my mid-30s with two kids, no home, and not a scrap of furniture, as we'd sold everything to live on the road back in 2016.
I rented myself a townhouse and furnished it with a mixture of hand-me-downs and Ikea flatpacks. My only income at that point was the blog, which was making about $15,000 a year, and whatever help I was entitled to from the government.
For the next 6 to 12 months, I basically took a hiatus from the blog because I really needed to heal from the place that the toxic marriage had left me in and figure out how to put myself back together.
As luck would have it, caravanning and camping in Australia really popped off during and after Covid, since it was the only travel people were able to do. So, even though I was only doing the bare essentials with the blog, it was actually growing organically as a trending topic.
By 2021, I was ready to give my all to blogging and make it my full-time job. It was either that or I was going to have to shelve it as a hobby and go and get a regular job, clocking on and off for somebody else.
After living a life filled with so much freedom, the thought of going back to a 9-5 job made my soul want to shrivel up and die.
Even though I wasn't living on the road anymore, I still had many years worth of experience and knowledge to share, plus a catalog of over 20,000 photos to support the content.
I spent all of my time learning all that I could about SEO, updating old content, writing new articles, and building Info Products. Fast forward two years later the blog has grown from earning just $1250 per month to over $5,000 per month.
Why She Created Her Website
MY RIG Adventures came about in 2016, when my family and I were packing up the house to hit the road full-time. I've always been a natural writer and wanted to be able to share my journey along the way for anyone who was interested.
The number plates on our 4WD were "MYRIG," so MY RIG Adventures felt like a cool name to give ourselves. I started a Facebook page and a WordPress blog, having absolutely no idea what I was doing!
From 2016 to 2019, the blog was really just an online journal of me sharing the journey of packing up the house, selling everything, getting the car and caravan set up for living off-grid, and homeschooling the kids.
Within the first few months of hitting the road, I'd created an expense tracker spreadsheet to track all of our on-road expenses and was sharing monthly budget reports on Facebook.
I received so much interest in the budget breakdowns and the spreadsheet that I decided to sell the spreadsheet on the website for $3.95 AUD each. That was the first time that I thought, "I could actually make some money out of this!"
I continued to do camp reviews of places we stayed along the way as well as writing articles based on what I thought would be useful or interesting for people.
It wasn't until we had to come back home for 3 months in 2019 to get some repairs done on the caravan that I first started looking into the basics of SEO. That's when the game really started to change for me as I learned about link building, how to structure content, and so on. I went from about 6,000 monthly pageviews in mid-2019 to 30,000 monthly pageviews and got onto Mediavine by the start of 2020.
To learn about SEO, I did a ton of Googling and implementing whatever information I could find that felt doable and relevant.
Some stand-out resources include Income School (on YouTube), Nomadic Matt's Superstar Blogging course, and the Digital Nomad Wannabe website and Facebook group.
Fast forward to 2023, and MY RIG Adventures is a niche website focused on caravanning in Australia. I'm now very intentional about all of the articles that I write, using keyword strategies to find out exactly what people are searching for within the niche.
MY RIG Adventures is my biggest blog and my main income source. But, I do have two other websites, which are really just side hustles at this point until I can find the time to give them the love they need.
My second blog is in the mental health field and gets around 30,000 pageviews per month, earning $400 - $600 per month. I started it in mid-2021 and wrote 67 articles for the site, got Ezoic ads happening, and have just left it due to lack of time.
It's largely a US-based audience, with 64% organic traffic and 36% Pinterest traffic. My goal is to add a lot more content to this site in 2024 and get it onto Mediavine.
My third site is a general lifestyle blog with only 25 articles and literally only makes a few dollars per month from Ezoic ads. This website went through a domain change, which killed its small amount of traffic. It's another shiny object, which I will get back to one day!
How Much She's Earning
MY RIG Adventures currently makes a little over $5,000/month across three income streams: Mediavine ads, affiliates and info products.
This equates to:
71% - Ad Revenue
19% - Info Product Revenue
10% - Affiliate Revenue
When it comes to affiliates, I work directly with four companies in the camping industry, plus I also use Commission Factory and eBay Partner Network.
The reason I chose eBay over Amazon is because at the time eBay was still more highly used and trusted in Australia. These days, Amazon is much more commonplace now and it might even be worth making the switch at some point in the future.
I created three info products in 2018: a caravan packing list, an expense tracker spreadsheet, and a travel apps ebook. The packing list and the spreadsheet were much more popular than I had expected, proving the whole info product theory to me firsthand.
I slowly added to those products over the following few years, which saw a slow increase in income. Most of my products were printables and I knew that I needed to be able to offer digital versions of everything so that people had the choice.
In mid-2022 I dedicated many months to redoing all of my info products so that they were available in both printable and digital versions. Plus, I added more products to the range and moved payment systems from Easy Digital Downloads to ThriveCart.
The result of those changes has pushed my info product sales from $200 - $300 per month to over $1,000 per month.
There are now 18 info products available on the website with all except two being under $10 each. There is potential to make so much more in info products with higher priced items and by adding more to the range.
The journey to getting the blog to its current earnings has been a slow progression over 5 years, but I've really only been working full-time across all of the blogs for 2 years.
My combined blogging earnings from mid-2022 to mid-2023 have literally doubled in just 12 months. This has all come down to working at it full-time and making sure that the time goes towards tasks that will move the needle.
As of August 2023, MY RIG Adventures is averaging 130,000 pageviews per month, with this being the slowest part of the year.
The peak season for this website is November to February (summer in Australia), with December being the biggest month as people prepare for the Christmas holidays.
The website currently has 245 articles, broken down into 97 camp reviews and 148 informational posts. 42 of those articles are less than 8 months old, so they haven't hit their maximum potential just yet.
Informational articles bring in 78% of the traffic
Camp reviews bring in 22% of the traffic
Emma's Main Marketing Strategy
Today, my main marketing strategy is all about SEO, plus I send out one email per week to the subscribers.
In the earlier days of my blog, before I knew the value of SEO, I used to get decent boosts of traffic from posting on Facebook (both on my own page and in caravan and camping groups).
These days, I literally only spend five minutes first thing in the morning moderating my Facebook group, The OZ BIG LAP Crew, as I now find social media to be a huge time suck for such a small and short-lived return.
Every time I publish an article, I create a quick pin for Pinterest. Besides uploading and linking that initial pin, I don't do anything extra. Pinterest traffic only accounts for about 4,000 pageviews per month, with most of that coming in from old pins.
The Importance of SEO
SEO is the backbone of my business and since that's where the bulk of my traffic comes from, that is where my attention is always focused.
I have a pretty standard template for how I structure a blog post with H1, H2, and H3 headings, plus using short paragraphs and relevant keywords sprinkled organically throughout the post.
I also strive to make the content as scannable as possible with the use of subheadings, bold and italics, quotes, tables, dot points, infographics, and so on.
If the information is too hard to consume, the readers will just bounce. Especially when it comes to explaining technical caravanning elements such as weights and measurements.
Keyword Research
To find valuable keywords within my niche I use the "alphabet soup" method, where you key in part of the topic and let Google fill in the rest based on what users are searching for.
I also look at the "More Questions" section in the search results, plus the related suggestions at the bottom of the page.
Once I've got a keyword idea, I'll put it into KeySearch and see if there are any other variations that would be a better fit. KeySearch will also give you an estimated number of searches per month, as well as a difficulty rating, based on existing articles for that search term.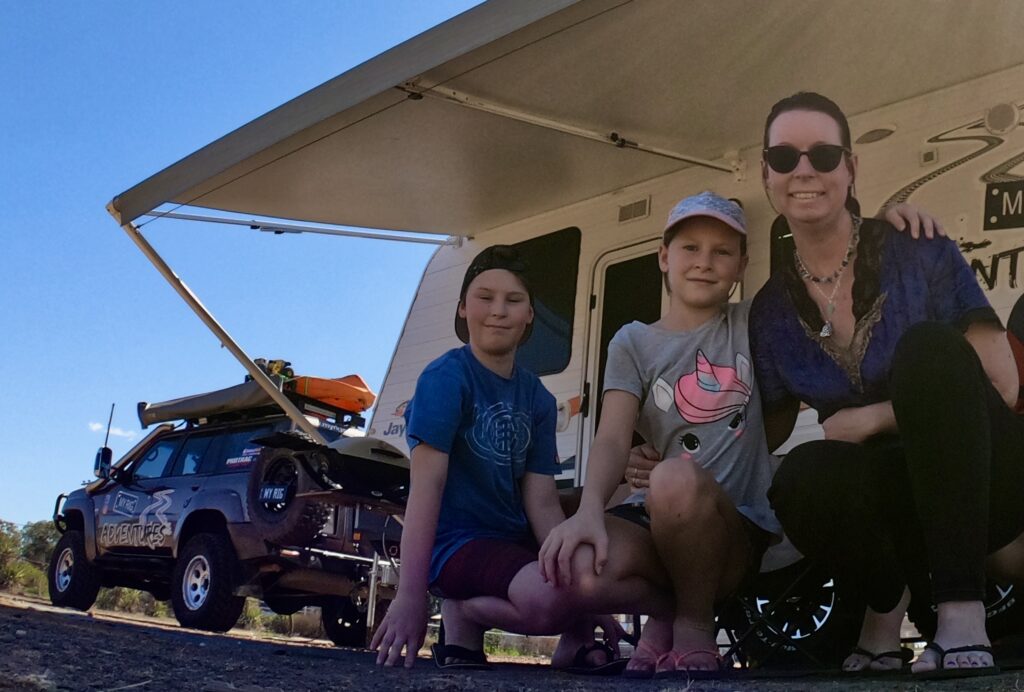 Although the numbers are often wildly different from the real data, I still find it helpful to drill down and find the closest keyword match to what people are typing into the search engines.
Oftentimes when I'm researching articles, I'll find additional keywords along the way that I haven't yet got an article for. Every time I find a new keyword idea, I add it to my overflowing laptop sticky note so that I'm never without ideas!
Link Building
In the early days of my blog, I actually did lots of link building without even knowing what I was doing.
I would take any opportunity I could get my hands on to give the blog exposure, which meant lots of guest posts and collaborations. Little did I know that I was actually building domain authority through the backlinks that I was receiving as well.
By the time I even knew what a DA or DR rating was, I'd already built a good backlog of links, which really gave the blog a nice boost as it was growing.
These days, I don't actively do much to build links because I've found that my time is better spent just creating more content. However, if an opportunity comes my way, I'll go for it if I feel it's worth my while.
Currently, the website is a DA 36 (Moz) or DR 31 (Ahrefs), which are not super big numbers in the blogging world. But, when compared to the competitors in my niche, they are actually fairly high.
So, my strategy at this point is to focus on thoroughly covering the topic and being the most authoritative in the field, which naturally tends to result in organic backlinks over time.
Her Content Creation Process
The way I create content is by starting with the keyword research first. From there, I craft the best title, which includes those keywords, plus quickly tells the reader what they're going to get.
Then I will structure the bones of the article by laying out all of the headings and subheadings. While I'm doing this, I will check what all of the other articles on page one (for the same search term) have covered.
I will also use a word counter tool to see what the highest word count is out of all the articles on page one.
From there, I go and fill in the article template that I've created, using all of my own information, expertise, and experience from within the field.
I write all of my own content, with the use of Grammarly to help clean up the articles.
When it comes to a publishing schedule, I aim to publish an average of 5 articles per week. Sometimes it can be more, if the posts are shorter, and sometimes it's less if I'm working on longer articles with a heavier amount of research involved.
I treat blogging as I would any other work-from-home job, but with the flexibility to still be available for my kids whenever they need me.
I get up at 5:30 to start work by 6 and generally work till around 5 at night (depending on what I'm working on). In between that, I do school runs, washing, food prep, groceries, and whatever else needs to be done during the day.
Some weeks I will work 25 - 30 hours, while others I'll work 45 hours.
My current goal each week is to produce an average of 1 article per day (5 days per week), regardless of how many hours that takes.
Emma's Email List
I have an email list with around 8,300 subscribers. I was a bit slow to the email game because I always struggled with what the heck to write in them.
I now send out one email every Monday and focus on sharing just one article each week. I always try to add something of value in the email, so that even if they don't click through to the article, they've gained something out of opening it up and taking a look.
At the bottom of each email, I'll share one of my info products and sometimes one or two affiliate products (if it relates to the email topic).
On the website, there is an email pop-up, an opt-in on the sidebar, plus a sign-up box in the middle of each post.
The sign-up incentive is a free printable Travel Planning Kit, which gives them a Caravan Pack Down Checklist, First Aid Kit Checklist, and Travel Planning Itinerary.
Her Favorite Resources
When I was still learning everything there is to know about SEO, I would binge-watch Income School on YouTube at night, then spend my days implementing what I was learning. The earlier videos are particularly good for seeing motivational numbers when you're trying to get your own blog off the ground.
Once I became more of a seasoned blogger, I started listening to Niche Pursuits on YouTube. I love both the success story videos for inspiration, plus I routinely listen to Jared and Spencer each Saturday while I'm cooking breakfast so that I can stay up-to-date with the weekly blogging news.
Her Go-To Tools
The main tools I use in my business are:
KeySearch, which helps with keyword research
Canva, for creating feature images, pins, infographics, and info products
ThriveCart, which is a payment system that ensures all of the info products sales are completely automated and passive
Her Biggest Challenge
My biggest challenge has been my blog not growing as fast as I want it to.
However, I know that to scale it much quicker I need to outsource some of the work, which I don't want to do. I love having full control over my blog and making sure the content comes from a place of someone who's also lived and breathed caravanning.
So, instead of investing my blog profit into scaling the blogs, I'm approaching things in a different way.
While I will continue to invest as much time as I can into growing the blogs, my excess income is going into getting a property portfolio started.
This way I will continue to diversify my income and have multiple passive income streams, but I also get to continue working a day job that brings me complete joy and freedom.
The strategy is simple: blogging supports my lifestyle, while the properties will compound and pay for themselves, setting me up for later in life.
Her Greatest Accomplishment
My proudest accomplishment as an entrepreneur is starting from scratch in my mid-30s and earning less than minimum wage, to having a successful and growing business that financially supports myself and my two kids just a few years later.
Now, I'm on the road to being able to replicate that success with my second blog, plus invest in real estate as a side hustle.
What She Wishes She Knew When She Started
I wish I understood right from the beginning, just how important learning, understanding, and implementing SEO strategies are! I could have found success a couple of years before I actually did and not wasted so much time on unimportant things that do nothing to move the needle.
However, I really don't have any regrets because I've learned so much in the process.
Her Main Mistake
My biggest mistake in early blogging is much the same as what most others will say… writing content that no one is ever going to find.
Many of us start out by writing on topics that are personally interesting to us, but unless you've got a super-engaged social media following to share it with, that content ends up sitting in a very lonely corner of the website.
Emma's Advice for Other Entrepreneurs
Learn SEO. Just do it.
Yes, it can feel like learning a whole new language in the beginning and it may be boring as heck. But, no matter what your website is being built for, SEO gets you into the long game.
The trick is to learn one or a few strategies at a time, then go to your blog and continue implementing them until they become second nature.
You'll be on the road to success so much faster than if you distract yourself with things that only give a quick hit of traffic or validation.
Want to learn step-by-step how I built my Niche Site Empire up to a full-time income?
Yes! I Love to Learn
Learn How I Built My Niche Site Empire to a Full-time Income
How to Pick the Right Keywords at the START, and avoid the losers
How to Scale and Outsource 90% of the Work, Allowing Your Empire to GROW Without You
How to Build a Site That Gets REAL TRAFFIC FROM GOOGLE (every. single. day.)
Subscribe to the Niche Pursuits Newsletter delivered with value 3X per week