1,023 Delicious Dessert Business Name Ideas for Your New Sweet Venture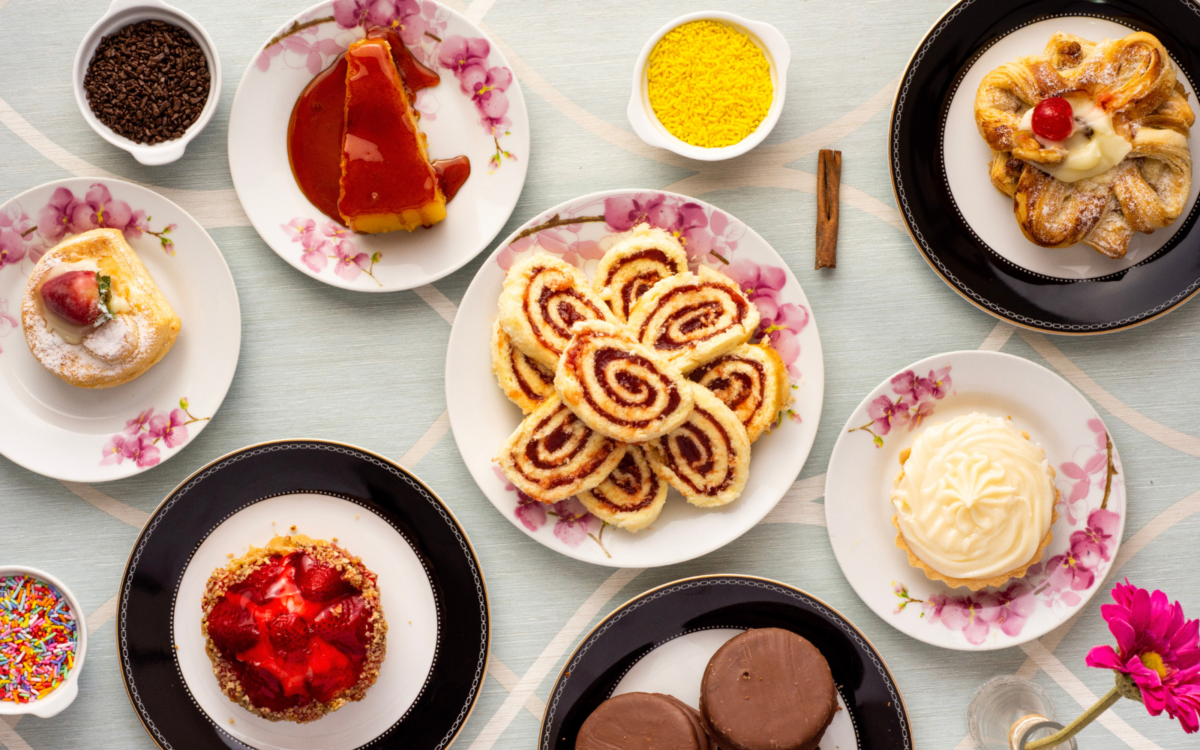 When you buy something through one of the links on our site, we may earn an affiliate commission.
Indulge your entrepreneurial sweet tooth and embark on a delectable journey into the world of dessert business names! In this blog post, we've whipped up a mouthwatering menu of dessert business name ideas that will have you craving success.
From catchy and creative to elegant and sophisticated, our list is designed to inspire and satisfy your naming cravings. We've also sprinkled in some essential naming tips to ensure your business name is the cherry on top of your sweet venture.
So, if you're ready to concoct the perfect name for your dessert business, read on!
Artisanal Dessert Business Name Ideas
SweetCraft Delights
SugarAlchemy Artisans
VelvetBite Creations
Blissful Confections Co.
GourmetSweets Studio
Petite Patisserie
Whisked Whimsies
Divine Dessert Atelier
Dessert Artistry Haven
DolceVita Treats
Heavenly Cravings Bakery
Dessert Dreamscape
Artisan Sweetscapes
Confectioner's Palette
Sugar & Spice Artistry
The Dessert Artisans Guild
Sweet Serenity Creations
Delicate Decadence Studio
SugarRush Creators
Elysian Sweetsmiths
Melted Moments Artistry
The Sugar Canvas
Frosty Whisk Artisans
Epicurean Elegance Sweets
Sugar Symphony Creations
Posh Patisserie Paradigm
Artisanal Eclat Desserts
Crème de la Craft Sweets
Whipped Wonders Workshop
Dreamy Dessert Odyssey
Pastry Perfectionists Co.
Best Dessert Business Name Ideas
Sugared Whisk Creations
Delightful Bites Bakery
Dessert Enchantment Co.
Heavenly Crumbs Delights
Blissful Indulgences
The Dessert Artisan Collective
Artful Cravings Confections
SugarCrafted Temptations
Dolce Dalliance Desserts
Sweet Affection Atelier
Gourmet Dessert Oasis
Velvet Spoon Sweets
Dessert Alchemy Studio
Dessert Whisperers
Sweetscape Artistry
Crème de la Craft Creations
Confectioner's Dreamland
Pastry Prism Patisserie
SugarSpell Delicacies
Dessert Elysium Workshop
Frosty Fantasy Sweets
Divine Cravings Crafters
Enchanted Sugar Studio
Sweet Symphony Artisans
Patisserie Paradiso Pleasures
Sugar Artistry Haven
Dessert Delirium Dreams
Whipped Wonderworks
Sweet Sensation Gallery
Delectable Dessert Odyssey
SugarFlair Artisans
Cake Business Name Ideas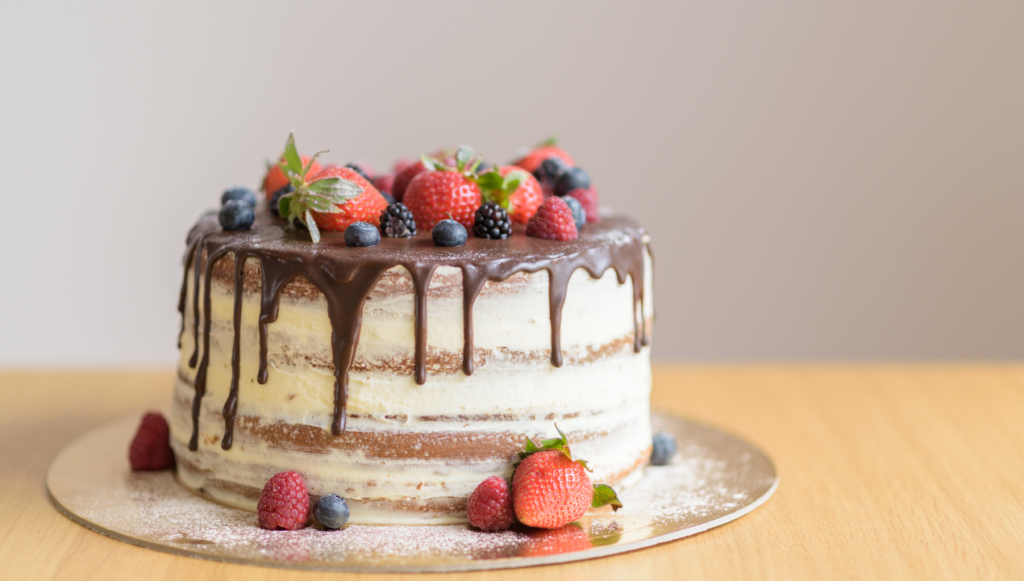 Cake Couture Creations
Layers of Love Cakes
Heavenly Slice Bakery
Cakery Craftsmen
SugarFlare Confections
Sweet Elegance Cakes
Bake My Day Delights
Tiered Treasures Bakery
Velvet Crumb Creators
The Cake Artisan Guild
Slice of Bliss Patisserie
Cake Symphony Studio
CakeCraft Chronicles
Frosted Whimsy Creations
SugarLeaf Sweets
Whisked Wonders Cakes
Cake Enchantment Atelier
Sweet Serenade Cakes
Crème de la Cake Delights
Artful Layers Bakery
Confectioner's Palette Cakes
CakeCanvas Creators
Velvet Temptations Bakery
Elysian Cakecrafters
Dreamy Dessert Layers
Posh Pastry Paradigm
Cake Odyssey Delicacies
SugarPetals Patisserie
Layered Dreams Bakery
Slice of Heaven Sweets
The Cake Alchemy Workshop
Check out our list of bakery name ideas for more suggestions.
Catchy Dessert Company Name Ideas
Sugar Rush Delights
Sweet Tooth Treats
Dessert Delights Express
CraveWorthy Confections
Blissful Bites Bakery
Heavenly Sweetscapes
Flavor Frenzy Desserts
Indulge & Delight
SugarFix Artisans
Tasty Temptations Hub
Sweets Galore Creations
Dreamy Dessert Haven
Bite-sized Bliss Delights
SweetTreat Trove
Dessert Delicacy Dash
Delightful Dessert Oasis
Yummy Cravings Creators
Sweet Escape Delights
SugarPop Pleasures
The Dessert Bliss Brigade
SavorSweets Studio
Dessert Dynasty Delights
Flavor Fiesta Creations
SugarSplash Artistry
Dessert Decadence Express
Crispy Cravings Central
Bliss Bites Bonanza
Treat Tornado Delights
SugarSpin Delicacies
Dessert Delight Junction
Sweet Sizzle Creations
Chocolate Dessert Business Name Ideas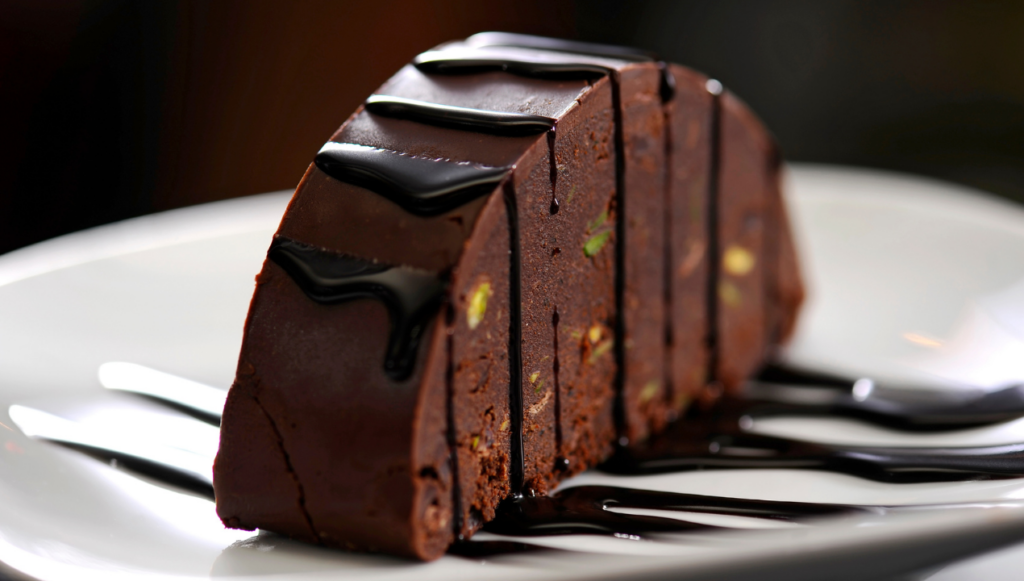 ChocoBliss Creations
CocoaWave Confections
The Chocolate Craftery
Velvet Truffle Delights
Heavenly Cocoa Haven
Sweetly Satisfying Chocolates
ChocoArtisan Treats
Tempting Truffle Trove
Velvet Indulgence Sweets
The Chocolate Symphony
CocoaCrafted Delicacies
Divine Chocolate Dreams
Sugar & Cacao Creations
Melted Bliss Chocolatiers
Artful Cocoa Confections
ChocoWhirl Delights
The Chocolate Temptation Co.
Rich & Dreamy Chocolate
CocoaFantasy Artistry
SweetSeduction Chocolates
ChocoMagic Delights
Decadent Cocoa Creators
Heavenly ChocoDreams
Velvet Morsel Sweets
ChocoEuphoria Studio
Blissful Cacao Symphony
The Chocolate Alchemy
Melted Ecstasy Treats
TruffleTrail Confections
Pure Chocolate Pleasures
ChocoCharm Artisans
Take a look at our list of chocolate business name ideas for more inspiration.
Clever Dessert Business Name Ideas
DessertIQ Delights
Smart Sweets Studio
Confectionery Genius
Sweet Strategy Sweets
Witty Whisk Creations
Dessert Dynamo Co.
Clever Cravings Confections
Sweets Savvy Studio
The Dessert Equation
Artful Sweets Alchemy
Brainy Bites Bakery
SugarGenius Creations
Puzzling Pastries
Dessert Insight Delights
Savvy SweetFormulas
Dessert Intellect Co.
Cunning Cravings Crafters
Sweets Savant Studio
The Dessert Conundrum
Inventive Indulgences
Dessert Whiz Creations
Sweet Thinkers Sweets
The Dessert Innovator
Clever Crumb Crafters
Genius Sweets Syndicate
Crafty Confectionery
Sweet MindCraft Studio
Dessert Discovery Delights
Savvy Sugar Solutions
The Clever Treatologist
Sweet Logic Laboratories
Cookie Company Name Ideas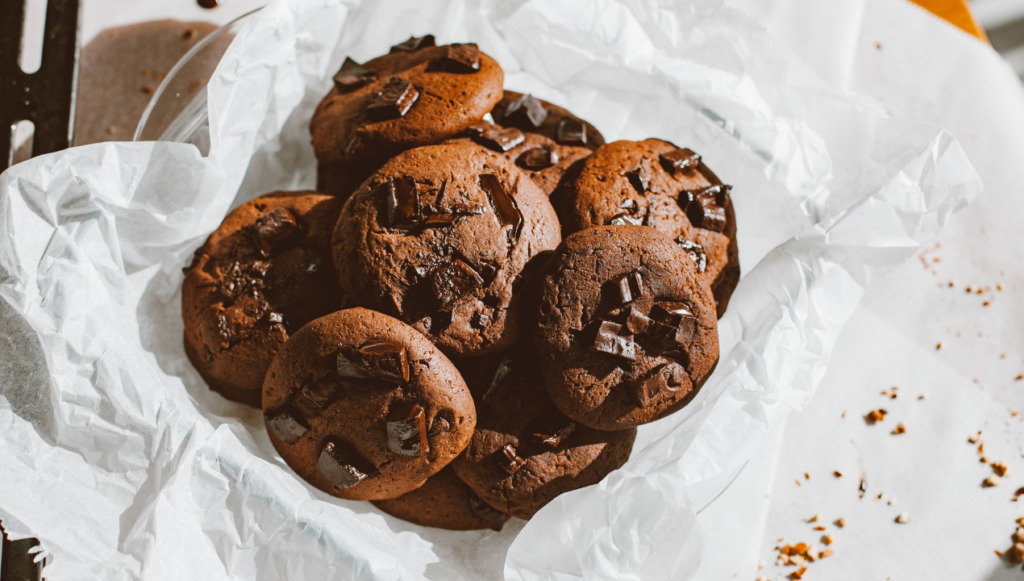 CookieCrafted Delights
Crispy Crumb Creations
CookieConnoisseur Co.
SweetSatisfaction Cookies
ChewyCharm Bakers
The CookieJar Artisans
GourmetGoodness Cookies
SugarWhisked Treats
CookieCanvas Creators
MeltInYourMouth Bakery
Delightful Dough Delights
CookieAlchemy Artistry
SweetTooth Symphony
OvenFresh Cookie Co.
Crumbly Cravings Creations
Artisanal Cookie Haven
CookieEuphoria Studio
WholesomeBite Bakers
VelvetMorsel Cookies
The CookieCraftery
Crispy Delight Dreams
CookieSculpt Creations
SweetComfort Cookies
DoughyDelights Studio
CookieCouture Confections
CravingCraze Cookies
SugarSprinkle Sweets
BiteSized Bliss Bakers
The CookieCraft Syndicate
WarmHeart Cookies
Homemade Cookie Magic
We have a full article on cookie business name ideas if you need more suggestions.
Cool Dessert Business Name Ideas
Frosty Flavors Delights
Chillin' Sweets Studio
CoolWhisk Creations
Iced Elegance Desserts
Arctic Temptations Co.
Sweet Chillax Treats
PolarPalate Artisans
CoolBite Bakers
Icy Indulgence Studio
Frozen Fantasy Sweets
FrostyCanvas Creations
Gelato Groove Delights
ChillWave Sweets
Glacier Gourmet Desserts
Subzero Cravings Creators
CoolChurn Artistry
IcyDreamscape Studio
Snowflake Sweetsmiths
Chilled Delicacies Hub
ArcticAlchemy Desserts
ChillOut Confections
FrostFusion Treats
CoolWhipped Creators
IceCream Oasis Delights
PolarBreeze Bakery
GelatoGalaxy Sweets
ChillSculpt Artisans
ArcticFlavor Delights
CoolSensation Studio
FrozenZest Treats
FrostyFlavorCrafters
Creative Dessert Business Name Ideas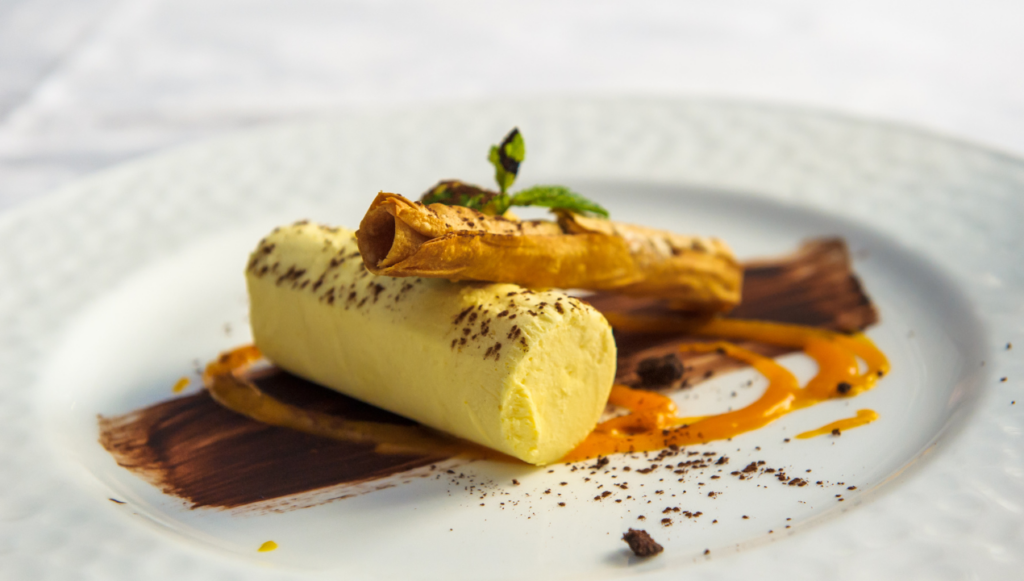 Dessert Dazzle Studio
Creative Cravings Confections
Sweet Innovation Sweets
Dessert Artistry Nexus
Whimsy & Whisk Delights
Crafted Crumb Creations
Dessert Imagination Co.
Sweetscape Innovators
The Artful Sweetery
Divine Dessert Odyssey
CraveCraft Artisans
Confectioner's Canvas
DessertAlchemy Dreams
Sugar Sensation Studio
Patisserie Paradigm
Dessert Fusion Fantasies
Palette of Sweet Dreams
CrumbCrafted Confections
Sweet Enigma Creators
Artisanal Dessert Reverie
Sweetsmith's Palette
Delicate Dessert Fantasia
Dessert Mosaic Magic
Whisked Whimsical Delights
Dessert Marvel Makers
Artful Sweets Symphony
Crispy Creations Collective
Dessert Tapestry Studio
Whisked Wonder Wagon
Dessert Ingenious Co.
SweetMosaic Artisans
Crepes Company Name Ideas
CrepeCrafted Creations
Crepe Couture Delights
Flippin' Fantastic Sweets
Whisked Crepe Creators
CrepeCharm Confections
Sweet & Savory Creperie
Gourmet Crepe Canvas
CrepeArtistry Atelier
Delightful Crepe Haven
The Crepe Carousel
Crepe Symphony Studio
Crispy Crepe Whimsy
CrepeCraft Chronicles
Whisked Wonders Crepes
Savory Elegance Sweets
Velvet Crepe Creations
CrepeDreamscape Studio
Artisanal Crepe Oasis
CrepeTempt Delights
Flavor Fiesta Crepes
Crème de la Crepe Artisans
CrepeFusion Delicacies
SweetSizzle Creperie
The Crepe Odyssey
WholesomeBite Crepes
CraveCraze Creations
CrepeMagic Haven
SugarSwirl Crepes
TastyFold Confections
CrepeCanvas Crafters
Crepe Euphoria Express
Cute Dessert Business Name Ideas
Sweetie Pie Treats
Dessert Darling Delights
Sugar Sprinkle Delicacies
Whimsical Whisk Sweets
CuddleCakes Creations
Sugary Hugs Bakery
Adorable Bites Artisans
Petite Patisserie Cuteness
Cupcake Cuties Co.
SprinkleSmiles Sweets
Sweetheart Sweetscape
Mini Marvel Desserts
Treats 'n Tidbits
LoveBites Bakery
SweetiePatootie Creators
SnuggleSweets Studio
Little Delights Den
SugarPuff Bakery
CherubCake Creations
DreamyDessert Darlings
SweetiePie Bakery Bliss
Adorable Artisanal Sweets
CuddleCrumbs Confections
Lollipop Love Delights
SugarKisses Sweets
Treats of Tenderness
Petite Palate Pleasures
CupcakeCuddle Crafters
SprinkleJoy Sweets
SugarySmiles Studio
Hug-in-a-Mug Desserts
Dairy-Free Dessert Business Name Ideas
Dairy-Free Delights Co.
Creamless Creations
Almond Bliss Sweets
Lactose-Free Lovelies
Vegan Velvet Treats
Plant-Based Pastry Hub
Nutty Indulgence Bakery
DairyEscape Confections
Whipped Coconut Wonders
Sweet Alchemy Sweets
Soy Joy Desserts
Free-From Fantasy Creations
Coconut Creamery Delights
VeganVanilla Temptations
NoDairy Dreamscapes
Almond Artistry Studio
Guilt-Free Goodies
The Dairy Dilemma Solution
Dairyless Dessert Oasis
NutMilk Nibbles Co.
VeganVerve Sweets
Plant-Powered Palettes
CoconutWhisk Creations
Sweet Escape Dairy-Free
Blissful Bites Without Dairy
NutButter Bakery
Lactose Liberty Sweets
The Vegan Whisker
Creamy Delight Alternatives
Dairy-Free Decadence Studio
NutMunch Creators
Deep-fried Dessert Company Name Ideas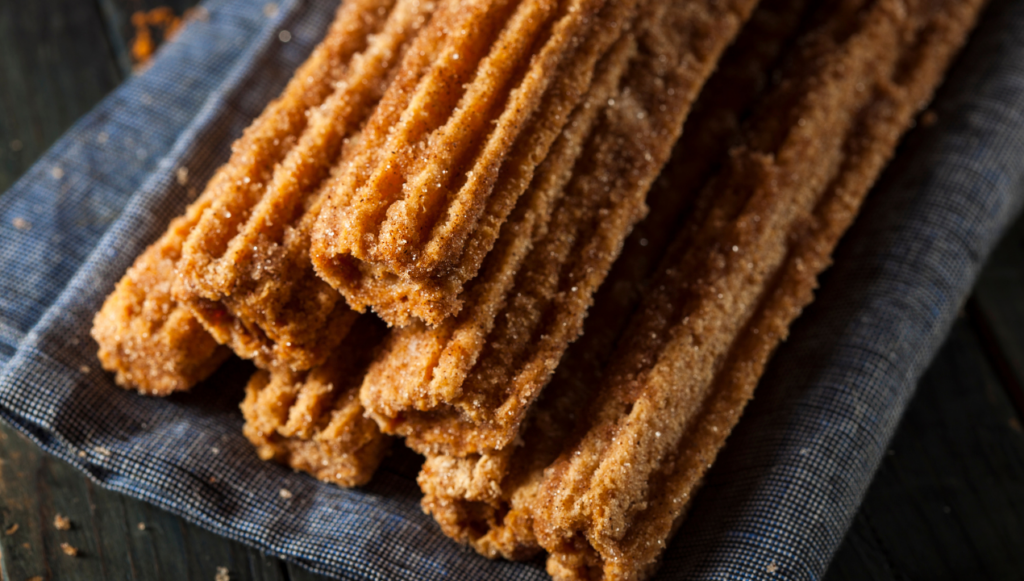 Fry Bliss Creations
Crispy Delight Dippers
The Fryer's Fantasy
Deep-Fried Delicacies Co.
Golden Fryer Sweets
Crunchy Cravings Confections
SizzleFry Studios
Fryer's Haven Delights
Whisked & Fried Treats
BatterUp Sweets
Doughy Delights Hub
Fryer's Artistry Atelier
CrispyCanvas Creations
Fryer's Fantasy Fritters
FryJoy Delights
Sizzling Sweets Workshop
The Fryer's Palette
CrispCraft Confections
Sweet Sizzle Express
Golden Bites Bakery
Fryer's Fusion Sweets
Crispy Temptations Co.
Fryer's Fantasy Fritterland
BatterBliss Studio
Whisked & Fried Wonders
Fryer's Delight Delights
Golden Fryer Artisans
Crunchy Concoctions
Sweet Sizzle Savvy
Fryer's Artisanal Fritters
CrispyCrunch Creators
Dessert Business Names Using Alliteration and Puns
SweetSculpture Studio
BlissfulBite Bakery
SugarSwirl Sweets
CraveCraft Confections
DreamyDessert Den
ChocoCharm Creations
WhiskedWhimsy Workshop
CrispyCraze Creators
TreatTwist Temptations
CookieCraic Co.
FrostyFables Fantasy
VelvetVoyage Vittles
DelightfulDough Delights
PatisseriePleasure Palace
LusciousLayered Luxe
SweetStrum Sweets
GelatoGiggles Galore
PuffPastry Playhouse
BlissfulBake Boutique
CakeCraic Creators
ChocoChip Chronicles
WhippedWhimsy Wonders
CrispyCanvas Confections
PieParadigm Palace
CookieCrafty Corner
FrostedFable Fantasia
SweetSizzle Showcase
DreamyDessert Doodles
CreamyCraze Creations
TastyTwirl Temptations
CupcakeComedy Co.
Fancy Dessert Business Name Ideas
Dessert Elegance Enclave
Luxe Delicacies atelier
Gourmet Patisserie Palace
Divine Dessert Soirée
Sweet Symphony Soirees
Dessert Couture Creations
Opulent Sweetscapes
Artisanal Dessert Decadence
Crème de la Crème Delights
Haute Pastry Paradise
Dessert Extravagance Studio
The Confectioner's Ballroom
Posh Patisserie Pavilion
Sweet Soiree Artisans
Elegant Éclat Desserts
Dainty Delights Elysium
Dessert Affair Atelier
Prestige Patisserie Perfection
Regal Delicacies Domain
Dessert Royalty Creators
The Grand Pâtisserie
Royal Frosting Delights
Dessert Gala Gourmands
Elegant Sugar Sculptors
Luxurious Dessert Soirees
Decadence at Dusk
Dessert Aristocrats Studio
The Sweet Extravaganza
Fancy Flavorscapes
Elite Éclairs Creations
Sweet Symphony Salon
Foreign-Language Inspired Dessert Company Names
Dolci D'Arte (Italian for "Sweet Art")
Délices Français (French for "French Delights")
Süße Träume (German for "Sweet Dreams")
Dulce Encanto (Spanish for "Sweet Charm")
Delizie Orientali (Italian for "Oriental Delights")
Sabor Sutil (Spanish for "Subtle Flavor")
Le Délice Exotique (French for "The Exotic Delight")
Magia de Sobremesa (Portuguese for "Dessert Magic")
Amour Sucré (French for "Sweet Love")
Dolce Vita Delights (Italian for "Sweet Life")
Gourmandises Douces (French for "Sweet Treats")
Sapore Divino (Italian for "Divine Flavor")
Sabor y Arte (Spanish for "Flavor and Art")
Delícias do Oriente (Portuguese for "Delights of the East")
Desserts de Rêve (French for "Dream Desserts")
Bontà del Cielo (Italian for "Heavenly Goodness")
Sabores Mágicos (Spanish for "Magical Flavors")
Delícias da Vida (Portuguese for "Delights of Life")
Bonheur Sucré (French for "Sweet Bliss")
Sapore Incantato (Italian for "Enchanted Flavor")
Plaisirs Sucrés (French for "Sweet Pleasures")
Ternura Dulce (Spanish for "Sweet Tenderness")
Delícias do Mediterrâneo (Portuguese for "Delights of the Mediterranean")
Saveurs de l'Amour (French for "Flavors of Love")
Magia de Desserts (Spanish for "Dessert Magic")
Il Sogno Dolce (Italian for "The Sweet Dream")
Douceur de Vie (French for "Sweetness of Life")
Delícias do Paraíso (Portuguese for "Delights of Paradise")
Bellezza Dolci (Italian for "Beautiful Sweets")
Baiser Sucré (French for "Sweet Kiss")
Sabores Celestiales (Spanish for "Celestial Flavors")
Frozen Dessert Business Name Ideas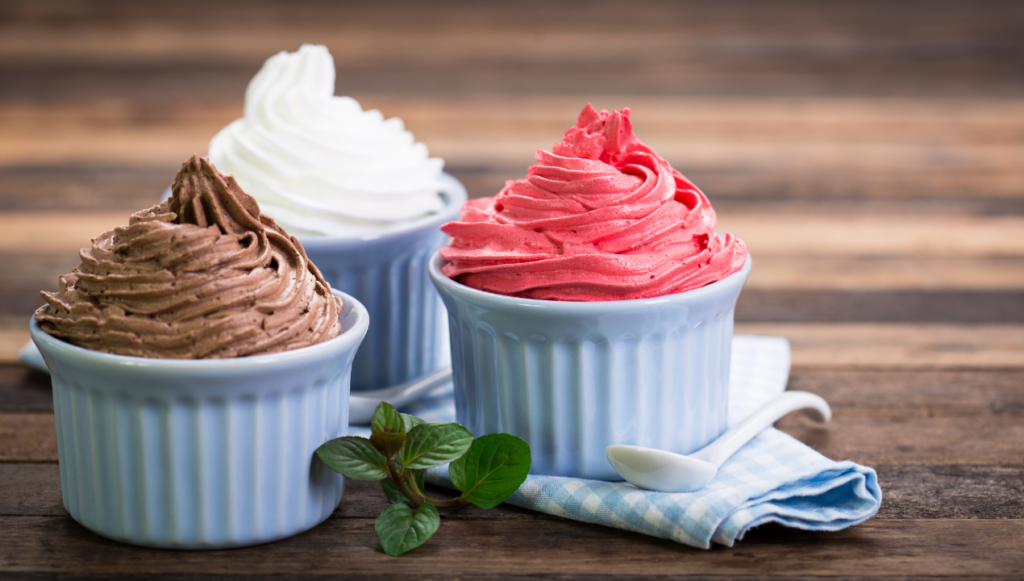 Frosty Delight Delights
Arctic Artisanal Treats
Chilly Creations Co.
Frozen Fantasy Sweets
Icy Whisked Wonders
Gelato Grove Delights
Snowy Palette Patisserie
Cool Bliss Creations
The Frozen Oasis
Ice Cream Dreamscape
Arctic Alchemy Artisans
Frosty Flavors Studio
Sorbet Serenade Sweets
Frozen Fantasia Factory
Chilled Canvas Creations
Iced Indulgence Haven
ArcticMist Artistry
Frozen Ecstasy Express
Gelato Galore Delights
Churned Cravings Co.
Snowflake Sweetscape
Frosty Fusion Bakery
Cool Cravings Crafters
Gelato Gusto Studio
Arctic Artistry Oasis
Frozen Whimsy Wonders
Icy Delights Dominion
Gelato Galleria Creations
Frosted Dreamscape
ChillWave Sweetsmiths
Frozen Flair Fantasy
Fruit Dessert Business Name Ideas
Fruitful Creations Co.
Berry Bliss Delights
Citrus Symphony Sweets
Orchard Artisanal Desserts
Tropical Temptations Studio
FreshFruit Fusion Creations
Juicy Delight Delicacies
Fruitopia Patisserie
Melon Magic Sweets
Pineapple Paradise Delights
Berry Bites Artisans
Sweet Citrus Grove Creators
Orchard of Indulgence
Tropical Treat Haven
Fruity Fantasy Sweetscape
Fruitful Flavor Oasis
Berry Bonanza Bakery
Citrus Charm Artistry
Orchard Whimsy Workshop
ExoticFruit Elegance
Heavenly Fruitful Delights
Fresh Picked Delicacies
BerryBurst Creations
CitrusZest Zing Sweets
Orchard Enchantment Co.
TropicFusion Artisans
Fruity Symphony Sweetsmiths
Bountiful Bites Studio
Berry Harvest Delights
CitrusSculpt Creations
Orchard Serenity Sweets
Fun Dessert Company Name Ideas
Dessert Delights Galore
Sweet Treat Carnival
FunFetti Creations
Sugar Rush Fiesta
Dessert Party Palace
Whimsical Whisk Sweets
Joyful Bites Bakery
Playful Pastry Pantry
Dessert Wonderland Co.
Delightful Doodles Delights
Sweet Tooth Extravaganza
SugarSprinkle Sensations
FunFlavor Frolic
Dessert Carnival Creations
Flavor Fusion Frenzy
Sweet Surprise Soirée
Whisked Whimsy Wonders
TreatTime Tropics
Dessert Playground
SugarCoaster Sweets
Blissful Bites Bonanza
Dessert Fiesta Factory
Sweet Escape Wonderland
Crispy Cravings Carnival
Dessert Dance Party
WhimsyWhisk Workshop
SprinkleSpree Sweets
TreatTango Delights
SugarSafari Studio
Dessert Delirium Dreams
FunFusion Flavors
Gelato and Ice Cream Dessert Business Names
Gelato Gusto Creations
ScoopJoy Delights
Chilled Blissery
Gelato Grove Gourmands
Creamy Concoctions Co.
Icy Indulgence Delights
Gelato Euphoria Express
ScoopScape Studio
Frozen Flavors Fantasy
CreamyCanvas Creations
Gelato Galore Delights
Scoopful of Happiness
Ice Cream DreamCraft
ChillCraze Confections
GelatoFusion Fantasia
Frosty Flavors Studio
ScoopSerenity Sweets
Iced Dreamland Delights
Gelato Gemstone Sweets
Creamery Comfort Co.
ScoopArtisans Creations
Gelato Gleam Delights
Frosty Fantasia Workshop
ChillChurn Charmers
IcyGourmet Oasis
Creamery Canvas Crafters
ScoopDelight Dominion
Gelato Galaxy Gourmets
Iced Odyssey Sweets
FrostyFusion Creators
Creamy Dreamland Delights
Gluten-Free Dessert Business Names
Gluten-Free Delights Co.
Celiac Sweet Sensations
Flourless Fantasy Sweets
GlutenAway Gourmets
The Wheatless Whisk
Blissful Bites Bakery
Allergy-Friendly Artisans
Wholesome Sweetscape
Gluten-Free Goodness Galore
NoWheat Nibbles Co.
Flourless Flavor Factory
Sweet Serenity Sweets
Glutenless Indulgence
CraveCrunch Creations
Sensational Sweetsmiths
Wheat-Free Whimsy
Flourless Fusion Delights
Purely Sweet Pleasures
Allergy-Free Artistry
NoGluten Nectar
Flourless Fantasy Creations
GlutenEscape Delicacies
Whisked Wellness Sweets
Flourless Bliss Bakers
Gluten-Free Gastronomy
Wheatless Whirl Delights
Sweet Sensitivity Studio
FreeFrom Fancies
Flourless Flavor Oasis
Delicate Dietary Delights
The Gluten-Free Palette
Good Dessert Company Name Ideas
Delightful Bites Bakery
Sweet Sensation Creations
Heavenly Crumbs Delights
Blissful Indulgences
The Dessert Artisan Collective
Divine Dessert Dreams
Gourmet Dessert Oasis
Velvet Spoon Sweets
Dessert Alchemy Studio
Sweet Affection Atelier
Flavor Fusion Delights
Confectioner's Delight Co.
Patisserie Paradiso Pleasures
Sugar Artistry Haven
Crispy Cravings Crafters
Sweet Symphony Artisans
Decadent Delicacies Hub
Dessert Oasis Creations
Whipped Wonderworks
Delectable Dessert Odyssey
SugarFlair Artisans
Sweet Serendipity Sweets
Blissful Bakes Delights
Dessert Delirium Dreams
Sugar & Spice Creations
Divine Decadence Sweets
Dessert Enchantment Co.
Treats of Temptation
SugarSpun Sweetscape
Crème de la Craft Creations
Dolce Dalliance Desserts
Great Dessert Business Name Ideas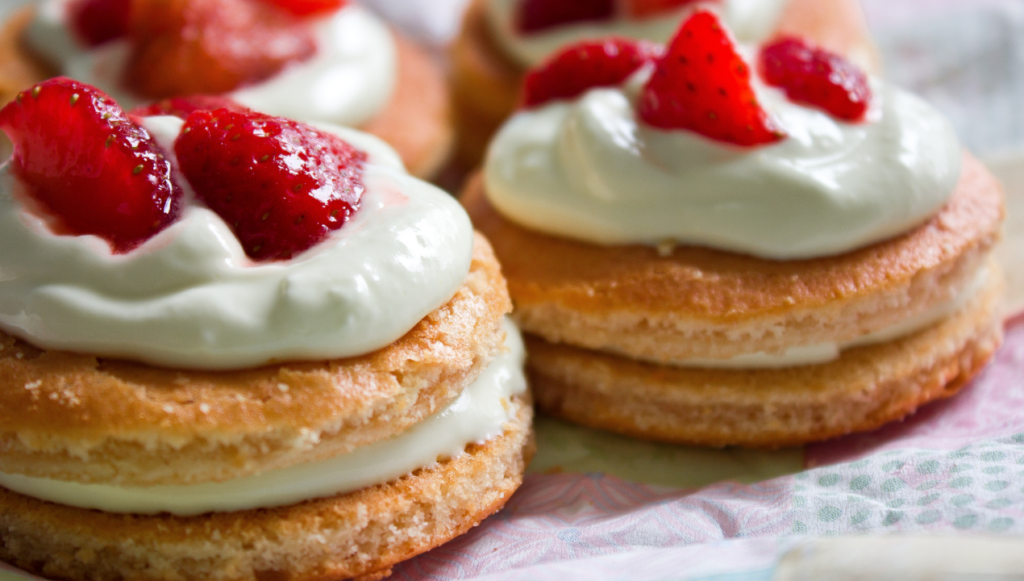 Delectable Delights Co.
Sweet Symphony Sweets
Divine Dessert Dreams
Heavenly Cravings Creations
Gourmet Goodness Galore
Blissful Bites Bakery
Velvet Temptations Hub
Dessert Artistry Atelier
Flavor Fusion Fantasia
CraveCraft Confections
Patisserie Paradigm
Sugar & Spice Artisans
Decadent Delights Delicacies
Whisked Wonderworks
Sweet Serenity Sweetscape
The Dessert Oasis Studio
SugarFlair Creations
Dreamy Dessert Delights
Delicate Dessert Dalliance
Treats of Temptation Co.
Artisanal Dessert Alchemy
Divine Decadence Sweets
SugarSpark Artisans
Blissful Bakes Delights
Dessert Enchantment Co.
Crème de la Craft Creations
Dolce Fantasia Desserts
Sweet Sensation Studio
Flavorful Fusion Bakery
Luscious Layers Delights
Sweet Whisked Dreams
Home Made Dessert Business Names
Homestyle Sweets Creations
Grandma's Oven Delights
Sweet Home Bakes
Homemade Happiness Co.
Baked with Love Desserts
Cottage Cravings Creations
Family Recipe Sweets
Wholesome Home Bakery
From Scratch Delights
Nana's Kitchen Sweets
Mom's Sweet Legacy
Handcrafted Homestead Treats
Rustic Oven Bliss
Artisanal Home Sweets
Cozy Kitchen Confections
Taste of Home Bakery
Heartfelt Homemade Delights
Kitchen Comfort Creators
Made with Love Pastries
Baker's Homestead Haven
Country Charm Sweets
Homemade Traditions Bakery
Grandma's Secret Sweets
The Sweet Hearth Studio
From Grandma's Kitchen
Homestead Sweetscapes
Warm Oven Whispers
Timeless Treats Bakery
Handmade with Heart Sweets
Legacy Sweets & Treats
Rustic Recipe Delights
Luxury Dessert Company Name Ideas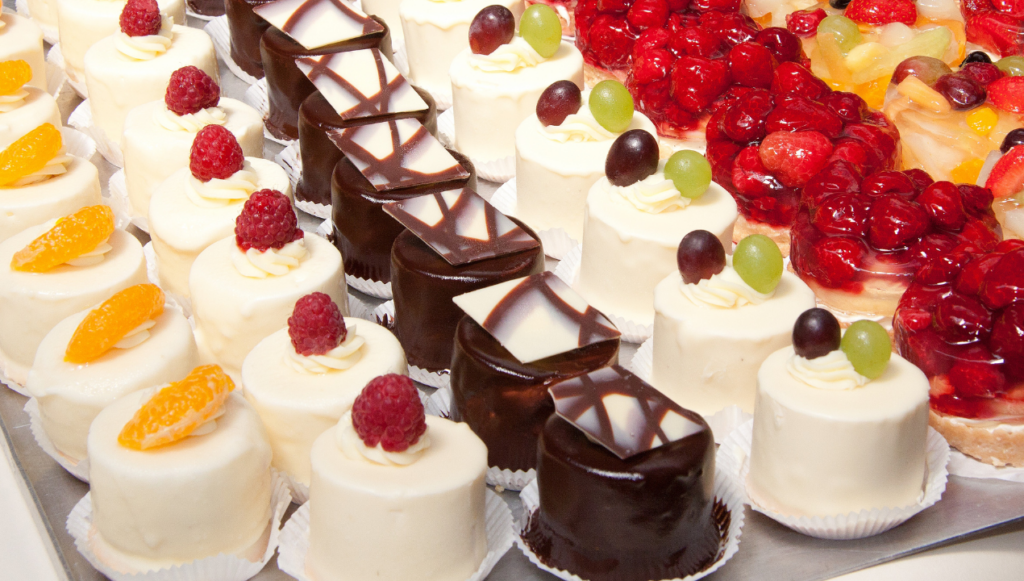 Decadence Delights Co.
Luxe Pastry Paradigm
Opulent Sweet Elegance
Indulgence atelier
Haute Couture Confections
Gourmet Dessert Oasis
Divine Dessert Luxuria
Velvet Symphony Sweets
Posh Patisserie Palace
Dessert Extravagance Delights
Gourmet Delicacy Dynasty
Decadent Dreamland Studio
Luxurious Layered Delights
Sweet Serenity Sweetscape
Patisserie de Luxe
Exquisite Eclairs Creations
Sugar Couture Artisans
Gourmet Indulgence Hub
Dolce Vita Luxuries
Dessert Symphony Soirees
Luxe Bites Bakery
Sweet Euphoria Studio
Opulent Treat Temptations
Crème de la Crème Creations
Luxurious Delights Dominion
GourmetArtistry Atelier
Decadence Dalliance Desserts
Chic Sweet Confections
SugarLuxury Creators
Elite Elegance Sweets
Delicate Decadence Delights
Memorable Dessert Business Names
Dessert Memoirs Co.
Memorable Morsels
Sweet Impressions Studio
Indulgent Memories Sweets
Unforgettable Bites Bakery
Nostalgic Dessert Dreams
The Dessert Chronicle
Timeless Treats Creations
Sweet Memory Lane Delights
Dessert Legacy Creators
Savor the Moment Sweets
Memoirs of Flavor
Lasting Lusciousness Co.
Cherished Cravings Studio
Sweet Recollection Sweets
Remembered Recipes Delights
Dessert Echoes Artisans
Treasured Tastes Haven
Memorable Confectionery
Sweet Reminiscences Hub
Dessert Engrams Delights
Memoir Morsel Crafters
Sweet Sentiments Bakery
Dessert Flashbacks Co.
Timeless Taste Memories
SugarSketch Studios
The Dessert Saga
Memorable Melts Delights
Fond Foodie Memoirs
Dessert Time Capsule
Savory Souvenirs Sweets
Pastries & Pies Business Name Ideas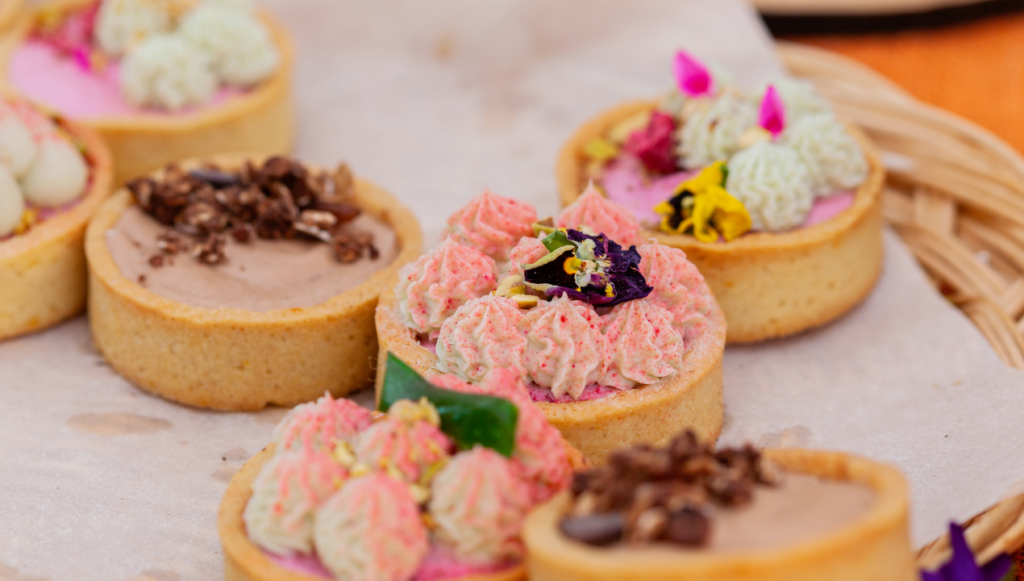 Pastry Perfection Delights
Pie Paradise Creations
Crispy Crust Confections
Heavenly Hand Pies
Patisserie Pleasure Palace
Whisked Wonders Bakery
Flaky Fantasy Sweets
The Pie Artisan Collective
Golden Goodies Hub
Sweet Slice Studio
Pie Haven Delights
Delicate Dough Delicacies
Savory Sweet Sensations
Gourmet Gastronomy Pies
Pie Palette Artisans
Craveable Creations Co.
Pie Symphony Soirees
Flaky Layers Bakery
Puff Pastry Panorama
Savory & Sweet Artistry
Pie Bliss Bakes
Wholesome Cravings Creations
Pastry Pleasure Pavilion
Buttercrust Delights
Pie Magic Makers
The Crispy Canvas
Delightful Doughnut Pies
Puff & Pastry Palette
Pie Sensations Studio
Flaky Fantasy Fancies
Patisserie Panache Delights
Seasonal Dessert Company Name Ideas
Seasonal Sweet Sensations
Holiday Delights Co.
Festive Flavors Studio
Winter Whisked Wonders
Springtime Sweetscape
Summer Serenity Sweets
Autumn Artisanal Treats
Holiday Harmony Hub
Wholesome Winter Bakery
Springtime Sprinkle Delights
Sunny Season Sweets
Fall Festivity Creations
Snowflake Sweet Haven
Easter Elegance Sweets
Summer Bliss Bakery
Autumn Apple Artisans
Holiday Hearth Delights
Spring Fling Sweetscape
Summer Sunshine Studio
Harvest Happiness Creations
Frosty Seasonal Fantasies
Christmas Cravings Co.
Blossom Bites Bakery
Sunny Delightful Sweets
Pumpkin Patch Delights
Holiday Flavor Frenzy
Whisked Wonderland Studio
Spring Serenade Sweets
Sizzling Summer Sweets
Fall Flavor Fusion Co.
Festive Frosting Fantasia
Specialty Dessert Business Name Ideas
Dessert Delicacies Co.
Sweet Sensation Specialties
Gourmet Treat Crafters
Specialty Sweets Studio
Divine Dessert Artisans
Confectioner's Choice Creations
Whisked Wonders Delights
Artisanal Flavors Hub
Unique Sweets Boutique
Epicurean Elegance Bakery
CraveCraft Confections
Exquisite Edible Experiences
Wholesome Whisk Creations
Sweet Symphony Specials
Signature Sweets Atelier
The Dessert Connoisseur
Custom Cravings Creators
Artisan Indulgence Studio
Blissful Bites Specialties
Creative Culinary Desserts
Premium Palette Delights
Dessert Artistry Express
Tasty Treasures Creations
Sugary Signature Sweets
Whisked & Refined Delights
Dessert Fusion Fantasia
Specialty Sweet Serenade
Gourmet Flavor Crafters
Crispy & Creamy Delicacies
Heavenly Sweetscapes
Signature Savor Studio
Special Occasion Dessert Business Names
Occasion Sweets Delights
Celebration Confections Co.
Custom Dessert Creations
Sweet Moments Studio
Special Day Sweetscape
Eventful Elegance Bakery
Whisked Wonders & Occasions
Occasion Indulgence Artisans
Memorable Treats Hub
Joyful Journeys Delights
Cake & Celebrations Creations
Dessert Delightful Occasions
Occasion Artistry Atelier
Sweet Signature Sweets
Event-Ready Artisans
Sweet Occasion Oasis
Delightful Daydreams Studio
Dessert Occasion Delights
Special Flavor Moments
Whisked Away Occasions
Sweet Celebrations Crafters
Occasion-Perfect Pastry Palace
Customized Creations Co.
Celebration Sensations Bakery
Heavenly Occasion Delights
Artisanal Occasion Creations
Whisked Bliss & Celebrations
Special Day Sparkle Sweets
Dessert Elegance Express
Occasion Perfection Sweets
Sweet Symphony of Events
Unique Dessert Company Name Ideas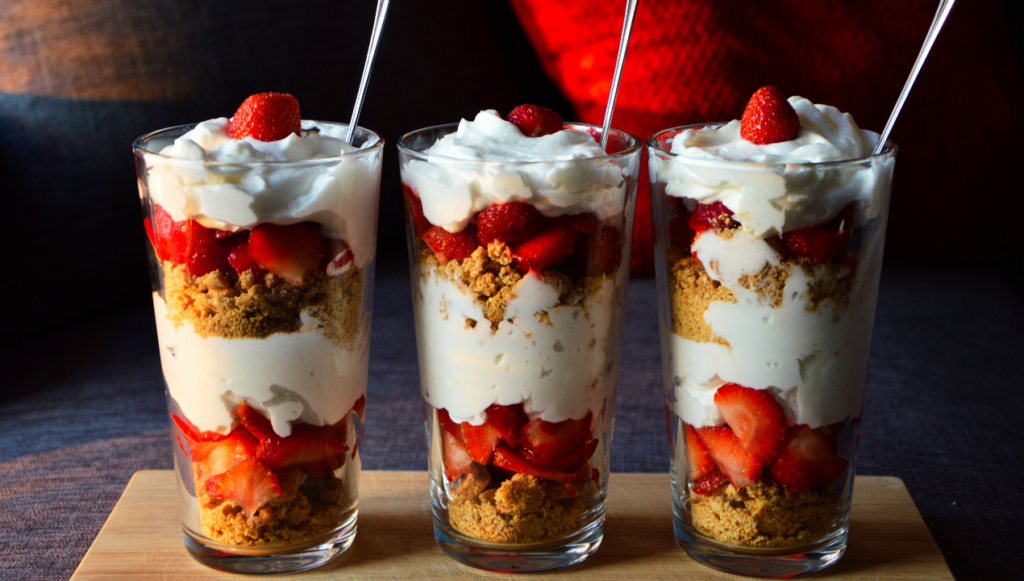 Dessert Divergence Co.
One-of-a-Kind Confections
Whimsical Sweetscapes
The Dessert Uncommon
Flavors Unveiled Studio
Eccentric Eats Delights
Novelty Nibbles Creations
Peculiar Pastry Pavilion
Whisked & Wonderstruck
Sweet Serendipity Oasis
Uncharted Flavors Bakery
Confection Curiosities
Unique Treat Treasures
Dessert Oddities Atelier
Whisked & Wondrous Delights
Quirky Cravings Co.
Enigmatic Elegance Sweets
Offbeat Indulgences Hub
Sweet Surprises Studio
The Dessert Whimsy
Curious Confectionery
Exotic Eats Delights
Whisked Wonderscapes
Sweet Mysteries Creations
Dessert Enigma Artisans
Eclectic Edible Elegance
Whimsical Whiskcraft
The Uncommon Palate
Dessert Adventures Co.
Inventive Indulgence Sweets
Whisked Wonderland Delights
Vegan Dessert Business Name Ideas
Vegan Delight Delights
Plant-Powered Sweets
Vegan Sweet Symphony
Compassionate Creations Co.
Earthly Elegance Desserts
Wholesome Vegan Treats
The Vegan Palette
GreenSpoon Sweets
Vegan Bliss Bakes
Eco-Friendly Eats Studio
VeggieVibes Creations
Sweet Plant-Based Pleasures
Vegan Whisked Wonders
Nature's Nectar Delights
VeganGourmet Artisans
Conscious Cravings Bakery
Vegantastic Sweetscape
Purely Plant-Powered
Whisked Wellness Studio
Earth's Sweet Treasures
Vegan Sweets Sanctuary
Plant-Driven Desserts
VegOut Vegan Sweets
Sweet Harmony of Nature
Vegan Delicacies Co.
GreenGoddess Desserts
Ethical Eats Artisans
Veganease Creations
Sweet Sustainability Studio
Purely Plant-Pleasures
Vegan Vibrations Sweets
Waffle Business Name Ideas
Waffle Wonderworks
Crispy Creations Co.
Heavenly Waffle Delights
Golden Grid Sweets
Whisked Waffle Artisans
Waffle Whimsy Workshop
Blissful Batter Bakes
Waffle & Whisk Studio
Delicious Grid Creations
Sweet Waffle Symphony
Fluffy Fusion Bakery
Waffle Blissful Bites
Whisked Waffle Whirl
Golden Griddle Gourmets
Divine Dough Delights
Waffle Wonderscape
Crispy Canvas Creations
Heavenly Breakfast Bliss
Whipped Waffle Wonders
SweetStack Studio
Waffle Fantasy Factory
BatterMasters Delights
Golden Grid Artistry
Craveable Crepes & Waffles
WaffleWhirl Creators
Whisked & Flipped Sweets
FluffyElegance Bakery
Morning Magic Sweets
Waffle Fusion Fantasia
BatterBliss Creations
Sweet Waffle Serenade
Do's and Don'ts
Naming your dessert business is an exciting and important step. Here are some key do's and don'ts to help you choose the perfect name:
Do's:
Reflect Your Brand: Your business name should reflect the essence of your dessert offerings, whether it's homemade, vegan, specialty, or something else unique. Make sure it resonates with your target audience.
Be Memorable: A catchy and memorable name can make your business stand out. Think about names that people can easily recall and share with others.
Check Availability with Namecheap: Before falling in love with a name, ensure it's available as a domain name for your website and on social media platforms. Also, check for trademarks in your region to avoid legal issues.
Consider Visuals: Visual elements like logos and branding should complement your name. Imagine how the name will look on a sign, menu, or packaging.
Test It Out: Get feedback from friends, family, or potential customers. Their input can offer valuable perspectives and ideas you may not have considered.
Think Long-Term: Choose a name that can grow with your business. Avoid overly trendy or restrictive names that may limit your offerings in the future.
Check Trademarks and Copyright: Ensure your chosen name doesn't infringe on existing trademarks. Legal issues can be costly and time-consuming.
Research Competitors: Take a look at the names of other dessert businesses in your area or niche. Make sure your name is distinct and doesn't cause confusion.
Don'ts:
Avoid Complex Spellings: Complicated or unusual spellings can make it hard for people to find your business online or remember it correctly.
Steer Clear of Generic Names: Names like "Sweet Treats" or "Delicious Desserts" are overused and won't help your business stand out.
Don't Box Yourself In: Avoid names that limit your offerings or geographic scope. You might want to expand or diversify in the future.
Stay Away from Offensive or Inappropriate Words: Offensive or inappropriate words can alienate potential customers and harm your reputation.
Don't Rush It: Take your time to brainstorm and choose a name that truly represents your vision. A hasty decision might lead to regrets down the road.
Avoid Lengthy Names: Long names can be difficult to remember and don't always fit well on signage or branding materials.
Final Thoughts
Remember, your business name is the first impression customers will have of your dessert business. It's an essential part of your branding and identity, so invest time and thought into choosing the right one.
Be creative, unique, and true to your vision, and you'll find a name that sweetly represents your business!
Want to learn step-by-step how I built my Niche Site Empire up to a full-time income?
Yes! I Love to Learn
Learn How I Built My Niche Site Empire to a Full-time Income
How to Pick the Right Keywords at the START, and avoid the losers
How to Scale and Outsource 90% of the Work, Allowing Your Empire to GROW Without You
How to Build a Site That Gets REAL TRAFFIC FROM GOOGLE (every. single. day.)
Subscribe to the Niche Pursuits Newsletter delivered with value 3X per week