The Top 11 Best Management Books To Help You Lead With Confidence
When you buy something through one of the links on our site, we may earn an affiliate commission.
Ever wonder how exceptional leaders seem to effortlessly steer their teams toward success, all while weathering the trials of everyday professional obstacles? The secret may lie in the pages of the best management books.
Every successful leader knows that learning is a lifelong process, and regularly reading is one of the best ways to continuously improve your leadership skills.
Management books aren't a one-size-fits-all solution, and your professional needs are as unique as your personality. So, each of these selections offers different perspectives and insights into the complex world of leadership.
From practical tips and techniques to creative, thought-provoking ideas, these books will equip you with the knowledge and skills needed to lead a team with confidence.
Top 11 Best Management Books To Read
You can find countless management books on the market, but we've narrowed down the top 11 must-reads that have provided powerful lessons for aspiring and seasoned leaders alike.
1. The Effective Executive: Best Overall Management Book
World-renowned leadership expert Peter F. Drucker's The Effective Executive is a beacon among the best management books. It masterfully outlines the measure of an executive: getting the right things done. Drucker emphasizes five acquired habits that lead to business success:
Managing time
Contributing wisely
Mobilizing strength
Setting priorities
Making effective decisions
Drucker's writing style blends intelligence and knowledge with imagination. The book insists on the crucial role of emotional intelligence in leadership, focusing on opportunities rather than problems.
The book also introduces the eight practices that effective executives follow. A few of these practices include:
Developing action plans,
Taking responsibility for decisions and communication
Running productive meetings
Thinking "we" over '"I"
The Effective Executive is not just about working right but also working on the right things. This masterpiece is a must-read for aspiring leaders seeking to enhance their effectiveness and contribute meaningfully to their organization.
---
2. How to Win Friends and Influence People: Best Management Book for Networking
Dale Carnegie's How to Win Friends and Influence People is a timeless classic in the business management genre. With practical advice on handling people, winning them to your way of thinking, and leading without offense, it's a must-read for anyone looking to refine their management style.
Carnegie's writing is engaging and insightful, focusing on fundamental rules like showing genuine interest in others, avoiding criticism, and encouraging conversation. These principles have guided some of the world's greatest managers over the past few decades.
The book encourages a personal change that goes beyond the workplace. It teaches empathy, understanding, and respect - qualities often overlooked in fast-paced business environments.
Carnegie's book doesn't just teach you to win friends; it equips you with the tools to inspire, motivate, and lead effectively.
---
3. The 21 Irrefutable Laws of Leadership: Best Choice For Foundational Principles
The 21 Irrefutable Laws Of Leadership by John Maxwell is a powerhouse of wisdom for anyone who aims to influence people, inspire an entire organization, or own a business. The book unpacks the crucial principles of leadership in a way that's easy to understand.
A few actionable highlights you can find in the book include:
The key pillars of successful leadership: vision, influence, responsibility, and commitment
Strategies to set goals and maintain emotional balance during challenging times
Fresh, relatable management examples that retain the timeless laws of leadership.
Maxwell's work stands as a testament to how great leaders inspire their teams, handle tough conversations, and drive visionary companies.
It reads like a mentor guiding you toward effective leadership with practical laws that help you map out your management journey.
---
4. Creating an Effective Management System: Best Book for Organizational Development
Creating an Effective Management System by Patrick Graupp is an empowering and straightforward read for business leaders. The book masterfully tackles the challenge of establishing successful, unique management systems in a world where one-size-fits-all solutions often fail.
You'll explore core principles that lay the foundation for an effective management system tailored to your organization's needs.
You're encouraged to connect the dots of Lean methodology to create a management system that meets and exceeds customer expectations.
This book sparks new ideas, inspires a personal vision, and helps you align your leadership skills with the goals of the entire company. It's a goldmine of practical insights, making it a top pick for business leaders seeking sustainable success.
---
5. Leadership: The Power of Emotional Intelligence: Best Book For Self-Development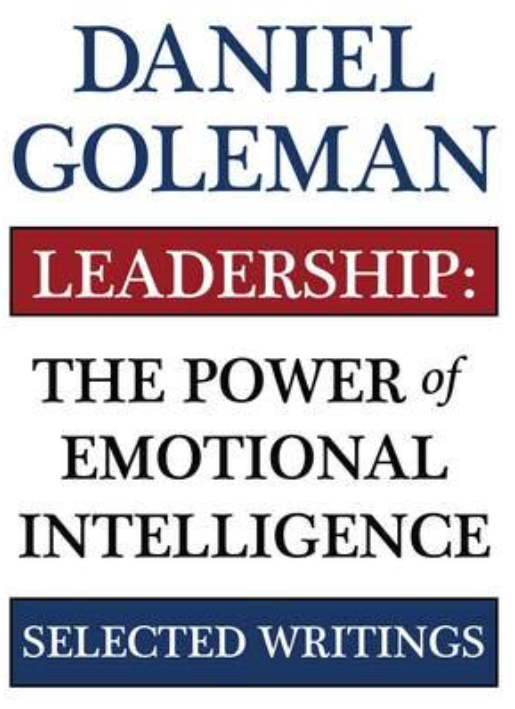 In Leadership: The Power of Emotional Intelligence, Daniel Goleman packs his vast knowledge into a compact guide, perfect for you as a manager seeking proven strategies for ongoing improvement.
This book focuses on the importance of emotional intelligence in leadership, offering successful habits to cultivate self-control and stress-free productivity.
Each chapter serves as a unique tool, helping you become the emotionally balanced and perceptive boss you aspire to be. It addresses emotional intelligence concepts such as:
Self-awareness
Empathy
Inner well being
How to handle toxic feedback
Understanding the emotional impact of a decision
Goleman's writing style is engaging and easy to follow, making it a must-have on any manager's reading list.
---
6. First, Break All The Rules: Best Book For Breakthroughs
First, Break All the Rules by Jim Harter is a revolutionary guide that shatters conventional management techniques. It showcases how the best leaders often defy traditional norms to achieve extraordinary results.
The book offers fresh insights into employee engagement, suggesting that focusing on individual strengths rather than fixing weaknesses fosters a thriving organization.
This radical candor approach resonates with the surprising truth that not all can excel in everything. So, instead of trying to fit a square peg in a round hole, the authors suggest we embrace individuality and support the best in each employee.
This no-size-fits-all philosophy liberates managers from outdated management styles and encourages them to create conditions for employees to thrive. It's a must-read for breakthrough-thinking managers who want to inspire their teams to greatness.
---
7. Leaders Eat Last: Best Big-Picture Management Book
Leaders Eat Last, part of Simon Sinek's 'Why' series, is an indispensable reading for anyone in a leadership role or aspiring to step into one.
The book offers a captivating true story about a Marine Corps general's insight that "Officers eat last," symbolizing the sacrifices great leaders make for their teams. This key result of effective leadership is creating a 'Circle of Safety' within organizations, fostering trust and cooperation.
Sinek's writing style is engaging, making complex conflict resolution concepts accessible to every ordinary leader. His observations on how great companies differ from good companies due to their brave work culture are thought-provoking.
This book is a gem among leadership books, offering insights that are vital for great management. It makes you self-aware of how teams pull together in successful organizations, making it a must-read in the realm of business books.
---
8. Dare to Lead: Best Book For Leaders At All Levels
Dare to Lead by Brené Brown, a four-time #1 New York Times bestselling author, is a must-have addition to management books. It is a profound exploration of true leadership in the context of the fear and uncertainty we face on a day-to-day basis.
This book digs deep into what brings meaning into life and how to align our personal values with our work. Only through personally relating to and connecting with our teams can we make a lasting impact and create true change.
Brown's writing style is direct, candid, and filled with practical advice. She emphasizes that leadership isn't about titles or power but about recognizing potential in people and ideas and having the courage to develop that potential.
This book encourages personal change and growth, daring you to lean into vulnerability and share power for collective success.
It's a powerful call to action for many managers, offering insights into how to cultivate braver leaders and embed courage in your work culture. The book stands out for its focus on empathy, connection, and courage - traits uniquely human and irreplaceable by machines or AI.
Brown's research, stories, and examples make the principles actionable, making it an invaluable resource for current and aspiring leaders.
---
9. 7 Habits of Highly Effective People: Best Management Book For Efficiency
The 7 Habits of Highly Effective People is a classic, first published over 30 years ago but still influencing and guiding leaders worldwide.
It has profoundly impacted millions with its powerful lessons on decision-making and good leadership qualities. Stephen R. Covey presents a principle-centered approach that offers a roadmap to navigate both personal and professional challenges.
The seven habits include:
Being proactive
Beginning with the end in mind
Prioritizing
Thinking win/win
Seeking first to understand
Synergizing
Sharpening the saw
There are timeless principles that equip us to adapt to change and leverage the opportunities it creates. Sean Covey's modern interpretation refreshes these habits for today's leaders, making it an essential read for anyone aspiring to be an effective leader in their own business.
You can avoid the common self-deception pitfalls and become an extraordinary leader. With penetrating insights, practical anecdotes, and key results-oriented strategies,
Covey teaches us to lead with fairness, integrity, honesty, and dignity - the very essence of highly effective people.
---
10. Crucial Conversations: Best Book For Conflict Management
Crucial Conversations by Joseph Grenny is among the best management books, offering potent skills for mastering high-stakes dialogues. This updated edition tackles modern-day business communication hurdles with wit and wisdom.
The book provides valuable strategies for responding to crucial conversations initiated by others, bridging the gap between identifying a problem and discussing it, and enhancing digital communication effectiveness.
It presents three options when faced with intense discussions:
Avoid them
Handle them poorly
Apply all the rules from this book mindfully
The authors argue that the best leaders choose the latter, leading to improved relationships and business success. Whether in the workplace or in one's personal life, Crucial Conversations teaches how to turn potential conflict into constructive dialogue, making it a must-read for aspiring leaders.
---
11. The Harvard Business Review Manager's Handbook: Best Book for Traditional Management Skills
The Harvard Business Review Manager's Handbook is a comprehensive guide that stands out among the best management books.
It offers invaluable advice to new and seasoned managers alike, covering a wide array of topics:
Mastering financial tools
Fostering creativity
Giving effective feedback to leading teams
Developing emotional intelligence
The book is packed with step-by-step guidance, self-assessments, exercises, and real-life stories from working managers. Its concise sections allow for quick reference or a deep dive into complex concepts.
This handbook is an essential tool for anyone aspiring to excel in their career, especially those leading a sales team. It equips you with the skills to become a more impactful leader and stand out in your organization.
The Bottom Line: The Top 11 Best Management Books
In the end, it's clear that the best management books are more than just pages filled with words; they're a gateway to success. They inspire us to become better leaders, capable of navigating through any challenge.
So, if any of these books resonate with you, your goals, or your unique management style, don't hesitate to pick one up and start reading.
Always on the go? No worries, these are also some of the best audiobooks for business owners and are easily found on Audible.
And if you're looking for more inspiration, this list of the 31 best leadership movies of all time will help you further develop your craft.
Want to learn step-by-step how I built my Niche Site Empire up to a full-time income?
Yes! I Love to Learn
Learn How I Built My Niche Site Empire to a Full-time Income
How to Pick the Right Keywords at the START, and avoid the losers
How to Scale and Outsource 90% of the Work, Allowing Your Empire to GROW Without You
How to Build a Site That Gets REAL TRAFFIC FROM GOOGLE (every. single. day.)
Subscribe to the Niche Pursuits Newsletter delivered with value 3X per week