The 10 Best Free & Premium DNS Hosting Providers For Top Performance
When you buy something through one of the links on our site, we may earn an affiliate commission.
Getting the best DNS hosting is essential for speed, security, and the management of your domain. Choosing the best option you can afford is an excellent course of action.
The internet has become more sophisticated, and your DNS hosting must be reliable, as connectivity is vital to your business. Using the DNS provided by your ISP (Internet Service Provider) may not always meet all your needs.
This article provides information on the best DNS hosting providers (both paid and free) currently available.
What to Look For in DNS Hosting Providers
The best DNS hosting providers should have the following characteristics, whether they are paid or free.
Reliability
Reliability is vital when you choose a DNS provider; a DNS host can't let you down if there are technical problems.
Redundancy
Owners of online businesses can't afford downtime, making a redundancy plan is essential. Part of such a plan is to store backups offsite. Another way to ensure redundancy is to use multiple DNS providers.
Speed
It is essential to ensure your DNS host is fast.
By opting for a fast DNS hosting provider, you can expect a decrease in latency between the DNS lookup and TTFB. To see the difference, you can test the DNS lookup time and TTFB with a website speed test tool.
Generally, the more locations for your DNS server, the better it is for your visitors. This is because a DNS server closer to the visitor is more likely to exist, decreasing the lookup time. By reducing the lookup time, you are providing a better experience for your visitors, which can help lead to increased conversions on your website.
Security
Two-factor account security, email notifications, etc., are an essential part of DNS. If a hacker gains access to and edits your DNS records, your website can be compromised by being redirected through a third party server, which could steal your customer's confidential data.
Technical Terms
A level of technical knowledge is required to follow this article. Therefore, I am including a couple of definitions that might help you to choose the best DNS hosting for your purpose.
DNS (Domain Name System) hosting is a network service that provides domain name resolution services. A DNS hosting service operates domain name servers. In others words, when you type in a domain name you would like to access, this has to be resolved to the IP address of the domain name and then returned to your computer. Your computer can retrieve the domain name web page from the web host.
A DNS is a naming system; it is hierarchical and built on a distributed database. The physical servers can be located anywhere in the world.
IP Address
An IP address is an internet protocol address consisting of four numbers, e.g., 10.0.0.206. Networks use IP addresses to communicate. The IP address has two functions: network interfaces identification and location addressing. The DNS assigns IP addresses to domain names, similar to a telephone directory for the internet.
Domain Name Host
A domain name host is an internet service that manages a domain name (for example, domainname.com). Hosts use a DNS record to connect a domain name with email, websites, and other internet services.
DNS Server
A DNS server is dedicated to matching website host names to IP addresses.
Dynamic DNS (DDNS)
Dynamic DNS automatically updates a domain name server in real time with the active configuration of host names and addresses. DDNS maps a hostname and IP address for the server to be accessed anywhere in the world without changing the IP address.
The Difference Between Free DNS and Premium DNS
Free DNS provides the following features:
A firewall policy
Rate limiting and blocking
Secondary DNS
Support of multiple DNS records
Web redirection
Dynamic DNS
Premium DNS hosting providers offer more advanced services such as:
Advanced reporting
DNS templates
Two-way authentication
Domain name system security extensions
A professional support team
Using a premium DNS is a way to obtain secure and stable cloud service. It uses multiple locations to permit fast DNS hosting. Premium DNS also provides increased protection against online attacks.
Secondary DNS
A secondary DNS server allows for redundancy in the form of two DNS networks. These networks back each other up, which limits downtime. When you include a secondary DNS in your system, your site should always be available.
Managed DNS
A managed DNS service is managed by the DNS host provider, a company that is usually a specialist in the field.
Reasons to use a managed DNS:
A managed DNS is more cost-effective than building and managing your own DNS.
A managed DNS is managed by professional experts who can implement the technical requirements of your system.
You manage the high-level functionality with a control panel, dashboards, and metrics, with technical assistance from the management company.
Self-hosting DNS
A self-hosting DNS is managed totally by you or your organization.
You must have the technical knowledge or employ someone with this knowledge to keep your DNS working correctly to maintain good uptime.
Private DNS
A private DNS allows the user to use their private domain name and manage applications in a VCN (Virtual Cloud Network). This network can be located at a company's premises and other locations.
Cloud DNS
Cloud DNS supplies users with a high-performance, resilient DNS service, allowing companies to give access to applications with ease.
DNS Hosting Services
DNS hosting services run domain name system servers. These can be paid for or free.
Enterprise DNS Hosting Providers
DNS implementation for a global organization is known as an Enterprise DNS. This resolves internal and external queries in a centrally managed DNS scaled and automated with superior security.
---
Best DNS Hosting Premium Providers
Here is our list of the best paid DNS hosting providers. These DNS hosts bill you either monthly or yearly.
Cloudflare DNS
Main features
Cloudflare is one of the best DNS hosts currently available. It is also one of the largest DNS hosts that offer a free service - this DNS host powers over 38% of the managed DNS domains on the web. Cloudflare has very fast response times; in fact, the company claims to be the fastest-managed DNS provider. They service 86 billion queries in a day! Their servers can make DNS updates live in just a few seconds!
Cloudflare is a managed DNS host, which means you do not have as much control over your backend services as that provided by self-contained options. As a result of Cloudflare being managed, extra security features such as rate-limiting, filtering, and blocking are included. Blocking and filtering eliminate malware and phishing; rate limiting and filtering configure thresholds and provide URL information.
Cloudflare's speeds are faster than most premium DNS, according to www.dnsperf.com, which compared the speed and uptime of enterprise and commercial DNS services.
Cloudflare Pricing
There are several pricing plans, including a free plan, a Pro plan for $20 a month, and a Business plan starting at $200 a month.
Cloudflare Pros and Cons
Cloudflare is a cost- effective solution.

Recommended for speed, it is one of the fastest DNS systems.

Offers additional security.
Cloudflare is a managed DNS host. Therefore users don't have complete control of this DNS. This may not be suitable for users who have the technical knowledge and would like complete control of their site.
Cloudflare Key Takeaways
This DNS host offers free as well as paid versions. It has a very fast response time and excellent management and security features.
---
WordPress Hosting
Main Features
WordPress is not immediately associated with DNS hosting, but it does offer this service for users that obtain a domain name using WordPress. This DNS host is very reliable and has very fast query response times. WordPress offers public or private domain name hosting.
The public registration allows your contact information and site to be available to the public. Private registration means that your site is available to only those with permission.
For the best WordPress hosting, read our article where we list 13 companies that can supercharge your business.
WordPress Hosting Pricing
There are a number of pricing plans, including:
A free plan
Personal plan for $4 per month
Premium plan (very popular) at $8.00 per month
Business plan for $25.00 per month
E-commerce plan for $45 per month
WordPress Pros and Cons
Competitively priced

Excellent security

Fast query speed
WordPress is optimized for WordPress sites. This is a limitation if you want to build your site with other software.
WordPress Key Takeaways
Fast and affordable, it works best with a site built with WordPress. You get additional server resources and perks such as plugins. WordPress is one of the most optimized CMS.
---
Comodo
Main Features of Comodo
Comodo Group offers many superb security products and also a public DNS service. Comodo was originally a company providing security. Therefore, their host offering emphasizes safety and security.
When you use this host, phishing sites are blocked. The host warns you when you attempt to visit sites with malware, spyware, and parked domains. The danger of a parked domain is that it can redirect users to unwanted or malicious landing pages that can attempt to overload your system.
You can also test the Comodo Dome Shield Service, which provides additional features to Comodo DNS.
Comodo Pricing
The pricing for Comodo and Comodo Secure DNS is free.
The pricing for Comodo SIG - Secure Internet Gateway plan has multiple editions:
The Gold edition is free for up to 300,000 DNS requests per month.
The Platinum edition costs $2.45/user/month for up to 99 users if paid monthly. There's a slight discount if you pay for the entire year, and the prices per user will also come down as the number of users increases.
Comodo Pros and Cons
Not as fast as some of the other DNS hosts
Comodo Host's Key Takeaways
This DNS host is very focused on security, including the smart handling of parked domains.
---
DYN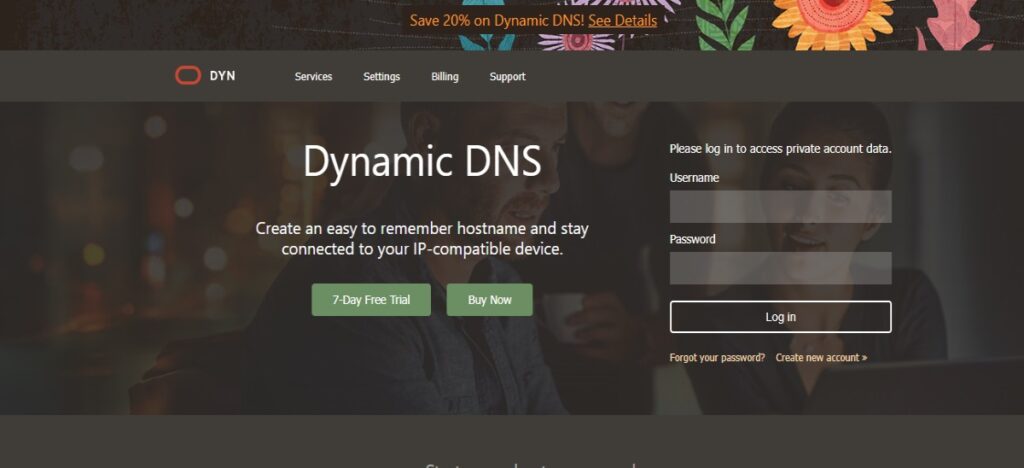 Main Features of Dyn
Dyn is an old DNS host. Oracle bought the company in 2016, giving it credibility. Dyn is an Enterprise DNS that large global corporations often choose. There are options available for smaller businesses and private individuals. It is a Dynamic DNS - the host names are updated automatically when the IP address changes.
Dyn Pricing
The entry-level plan is $5.00 per month, which is very affordable. The Managed DNS costs $7.00 per month. For larger installations, the cost starts at $35.00 per month.
Dyn Pros and Cons
Above-average data and analytical services

Excellent customer support

Intelligent responses to DNS queries
User interface is cumbersome and difficult to work with

Errors occur in the system when updating the rest APIs (A REST API is an application programming interface that conforms to the constraints of REST architectural style and allows for interaction with RESTful web services.)
DYN Key Takeaways
The system is inexpensive to purchase and has been available for many years. Companies of various sizes can use Dyn. Support is excellent and consistent.
---
DNS MADE EASY
Main Features of DNS MADE EASY
DNS MADE EASY has been available for many years. This host has a great reputation for managing multiple domains. Large successful companies like DuckDuckGo and Hyundai use DNS MADE EASY.
Pricing
There are three paid plans. The Small Business Plan costs $29.95 for a year. This plan offers ten domains and 400 records and manages 5 million queries. The Business Plan costs $59.95 per year. The Corporate plan is $1,499.00 per year.
DNS MADE EASY Pros and Cons
Affordable

Two-factor authentication in all three payment plans (This authentication gives the website owners security by making it very difficult to redirect your DNS records to malware or dangerous sites.)

A 30-day free test period 
Capped number of users per plan 

User interface is old-fashioned and clumsy
DNS MADE EASY Key Takeaways
This DNS host provides a stable, scalable worldwide DNS infrastructure. It is easy to use and fast. New users can test the system during a 30-day trial period.
---
DYNU
Main Features of DYNU
DYNU has been in business since 1997. It is a dynamic DNS service. With DYNU, you can control domain names through the DNS client's simple control panel. DYNU supports top-level and third-level domain names. This advantage is that the word 'dynu' can be left off or added to your URL.
Servers for DYNU are located in the US, Japan, Australia, Singapore, Netherlands, Germany, and the UK, meaning response times are fast.
Pricing
DYNU has a free limited version. A 14-day free trial is available.
The cost of a large number of hostnames or faster support DYNU is $9.99 a year.
DYNU Pros and Cons
Advanced DNS record is supported

Free client software for different operating systems

Fast IP update
Advanced features are only available if you have a paid membership.

DYNU is created for advanced users in a business environment; not the best option for home users.
DYNU Key Takeaways
A free plan, as well as a very cost-effective paid plan, is available. The free version is available for a variety of operating systems. Servers for this host are available globally. The client has an easy-to-use control panel.
---
Edgecast
Main Features of Edgecast
Edgecast Route or (Verizon Routes) was previously known mainly as a CDN provider. In 2013, DNS was added to the company's products. Edgecast works with its internal DNS technology. The company has introduced its Enterprise DNS Host to a broader client base.
Pricing
The pricing for Edgecast Route is flexible; there is no fixed price for every user. The cost depends on factors such as the number of zones, queries, and DNS health checks per month. The price also depends on whether the routing is standard or advanced. The price is approximately $0.40 per million queries.
Edgecast Pros and Cons
Edgecast is a division of Verizon

Has its internal technology

Very reliable

Adapted internal technology to a broad client base

Flexible enough to suit any company's needs
The cost increases with the number of queries and can become expensive.
Edgecast Key Takeaways
Verizon, a global enterprise, owns Edgecast. It has been built with an alternate technology. The technology is stable and reliable.
---
Bunny DNS
Main Features of Bunny DNS
Bunny DNS can be used as is or can be modified using Javascript-based rules. It is an innovative DNS created for the newest internet applications.
Bunny offers:
Load balancing (distributing network traffic over several servers for speed and redundancy)
Domain mapping (connects your primary domain with several domains or content management system)
Multi-cloud solutions (a form of cloud computing where an organization uses a combination of clouds - two or more clouds - to distribute applications and services.
Geographical routing requests)
If you are looking to increase organic traffic, Bunny is recommended as one of the fastest CDNs.
Pricing
Bunny's pricing is reasonable:
Standard queries (first 20 million): Free
Standard queries (more than 20 million): $0.1 per million
Smart queries: (first 1 million free)
Smart queries (after the first million): $0.3 per million.
Bunny DNS Pros and Cons
Versatile and can easily change to specific DNS requirements

Can be used with a standard configuration or altered for the user's particular requirements

Fast response times.

Effective and available customer support 

Direct interaction with the developers

Inexpensive

Free built-in system monitoring
Launched this year and doesn't have a large user base yet. 

Time-consuming to master using the advanced features 
Bunny Key Takeaways
With its recently introduced DNS, Bunny's technology is modern. It offers users management, speed, and simple, easy coding. It is also very well priced.
---
Best DNS Hosting: Free Hosts
Google Public DNS

Google Public DNS Best Features
If you are looking for a free option, Google Free DNS is a good choice. It has advanced features and online training. Google provides a flexible DNS that supports legacy and modern DNS searches. Google Public DNS servers are hosted by data centers worldwide.
IP addresses contacted by Google Public DNS are logged and kept for 24 to 48 hours for diagnosis and troubleshooting by the Google customer support department.
Google Public DNS Pros and Cons
A solid DNS host that allows secure, complex DNS lookups

No restriction on the organization's size using Google Public DNS; it works as a personal DNS or an enterprise DNS.

Free training is available through Youtube tutorials and online discussion forums

Provides flexibility for advanced users
Not very effective for larger search volumes

Only basic modifications are supported by Google Public DNS
Google Public DNS Key Takeaways
This is a good choice for a DNS host as a large amount of information and training is available online in Youtube tutorials and discussion forums. Google Public DNS can be used for large and small companies.
---
Namecheap
Namecheap Best Features
This host is actually best known for Domain Name registration. The company offers free DNS hosting for a year with Dynamic DNS. After the first year, Namecheap charges for its use. Namecheap has geographically dispersed name servers to improve your site's performance and speed. Namecheap supports almost every record type, including SRV. This host offers a free migration service.
Management consoles are powerful and easy to use, and customer support is available 24/7. This host is a good choice as a backup to a primary DNS.
Namecheap Pros and Cons
Good speed and unmetered bandwidth

24/7 customer support 
Uptime is not good

Can be unreliable
Namecheap Key Takeaways
This host offers free Dynamic DNS. It has geographically dispersed name servers. Namecheap is best as an alternate DNS.
---
Conclusion
The internet has grown, matured, and become vital for business and home. It is a good idea not to use the DNS offered by your ISP and instead select the best DNS host from the many available.
There are several good choices for the best DNS hosting at various price points and with great features. In this blog, I have chosen the ones that cover the broadest range of options and choices available.
The best-paid DNS host is WordPress. My second recommendation would be Cloudflare. WordPress can be self-managed, which makes it more flexible. Meanwhile Cloudflare is a managed DNS and thus is easier to use with less user control.
I think the best free DNS is Google Public DNS. It has a large number of users and firm support. Google Public DNS is part of Google and provides excellent training.
Bunny has only recently introduced a DNS. Bunny's technology is modern. It offers users management, speed, and simple, easy coding. It is also very well priced.
Core Web Vitals is a very important signal in Google ranking, therefore select the best DNS hosting you can afford.
Want to learn step-by-step how I built my Niche Site Empire up to a full-time income?
Yes! I Love to Learn
Learn How I Built My Niche Site Empire to a Full-time Income
How to Pick the Right Keywords at the START, and avoid the losers
How to Scale and Outsource 90% of the Work, Allowing Your Empire to GROW Without You
How to Build a Site That Gets REAL TRAFFIC FROM GOOGLE (every. single. day.)
Subscribe to the Niche Pursuits Newsletter delivered with value 3X per week