How Anil Agarwal Turned His Side Hustle into a $13k Per Month Blog [Traffic & Earning Reports]
When you buy something through one of the links on our site, we may earn an affiliate commission.
Is blogging about blogging profitable? It is for Anil Agarwal. 
Anil's interest in SEO dates back to 2005. Since that time, he has worked as an SEO for brands in his native India, such as The Economic Times, Times of India, and Dainik Jagran.
In 2010, Anil Agarwal decided to try his luck, launching his website, BloggersPassion. The first few years were difficult and Anil had a hard time gaining traction. But he stuck with it. Then when he changed his content strategy in 2016, things started to change for him, and by 2018, he quit his job to be a full-time blogger.
Anil Agarwal was able to grow his blog from $100 per month to well over $10,000 per month (that's a 12,900% increase). 
To learn more about his favorite tools, his biggest challenges, and his strategies for growing his traffic, email list, and Facebook group, please keep reading.
Why Anil Agarwal Created His Website
I launched Bloggers Passion in 2010 as a side hustle. In the initial days, it had no direction and I used to publish content on almost every topic imaginable related to internet marketing. 
As a result, I really struggled to generate traffic and sales. 
If you want to build a successful blog, you have to give it direction.
Define your target audience first.

Know your audience's needs and wants.

Create tailor-made content for them.
And that's how you'll grow.
That's what I did, and I started creating content mostly around SEO and affiliate marketing. My blog's primary aim eventually became helping beginners build a money-making website.
His Site's Earnings
BloggersPassion is generating over $13,000 a month. In 2021, we made $160,000 from the blog. 
Our income sources include affiliate marketing, selling our own ebooks, brand collaborations, sponsorships, reviews, and more. But I'd say the majority of our blogging revenue comes from affiliate marketing. 
Here are some of our earning screenshots:
BeRush earning report (BeRush is a Semrush affiliate program that helped us generate over $411,000 so far)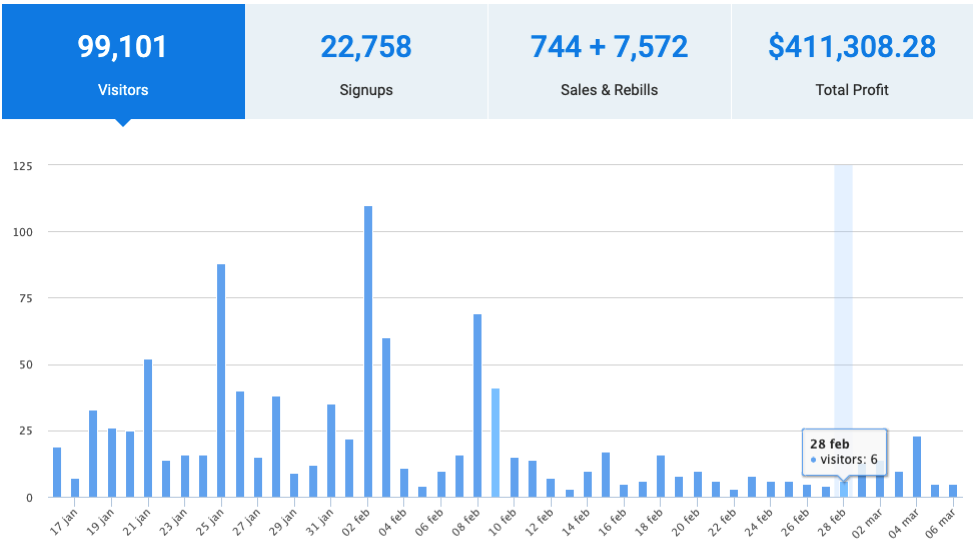 Bluehost.com earnings:
Revenue from Impact.com since July 1, 2021:
Serpstat.com earnings:
Anil's Marketing Strategies and Advice
Our top marketing strategy is to create long-form content and provide quality products that our customers love. We've been publishing in-depth articles (3000+ words) since 2016.
We currently have 4 premium ebooks in our store that are related to SEO and affiliate marketing. And we used our email lists and Facebook group (over 18,000 people) to find out what our audience wants. 
As a result, we've quadrupled our search traffic and sales ever since.
I truly believe that no matter what type of content you create though, you should make sure to optimize it for search engines. And for this, we always use Rank Math to optimize our blog posts.
Additionally, I think most people are not consistent with their blog's posting schedule. And I believe consistently creating something since 2010 is one of our biggest strengths. 
We noticed that when you publish blog posts consistently or regularly update your existing posts, you'll see an improvement in your search rankings.
So we publish at least 6 to 8 new posts per month.
Another thing we do is update 5 to 10 old blog posts per month (depending on the quality). And we mostly promote our new posts through our Facebook group and email list.
We launched our Facebook group in November 2018 and it took us two years to grow and build a solid email list and social media following.
If you want to grow your social media following, especially on Facebook, post quality content every single day. Connect with your followers, reply to their questions, and ask engaging questions.
His SEO Strategy
Our SEO strategy consists of finding long-tail keywords and creating content that's useful for our target audience. We also spend a ton of time promoting our content (be it through Quora answers, Facebook groups, email lists, etc.)

We target keywords that have 200 to 300 monthly searches as well if they are commercial keywords. For informational keywords, we target those with at least 500 monthly search volume.
Anil Agarwal's Link Building Approach
Link building is the key to growing your search traffic or sustaining your current keyword rankings.
We've tried all kinds of strategies, including blogger outreach, guest blogging, press releases, broken link building. And we've even found that strategies like Quora, and blog commenting still work like a charm.

Currently though, we're not focusing much on the link building part as we're spending the majority of our time finding great topics, creating high-quality content, and optimizing our posts to get better rankings.

Earnings and Traffic Growth
That's a good question. It took me several years to generate decent revenue from my blog. 
Although my blog was launched in 2010, it only started making decent revenue as from 2016. 
Until 2016, I relied on my full-time job as an SEO to make a living. I knew I could make a solid income from blogging if I spend more time on blogging. That's why I quit my job in 2018 to become a full-time blogger.
Here's a quick breakdown of the revenue from 2016 to 2021.
We made $21,789 in 2016 (average monthly earnings: $1815)

$67,294 in 2017 (average monthly earnings: $5607)

$106,116 in 2018 (average monthly earnings: $8843)

$128,014 in 2019 (average monthly earnings: $10,667)

$140,298 in 2020 (average monthly earnings: $11,691)

$160,836 in 2021 (average monthly earnings: $13,403)
The progress is slow, but we're consistently growing our revenue, and that's what's important.
As for traffic, our blog attracts over 100,000 visitors a month.
Here's our traffic report for February 2022: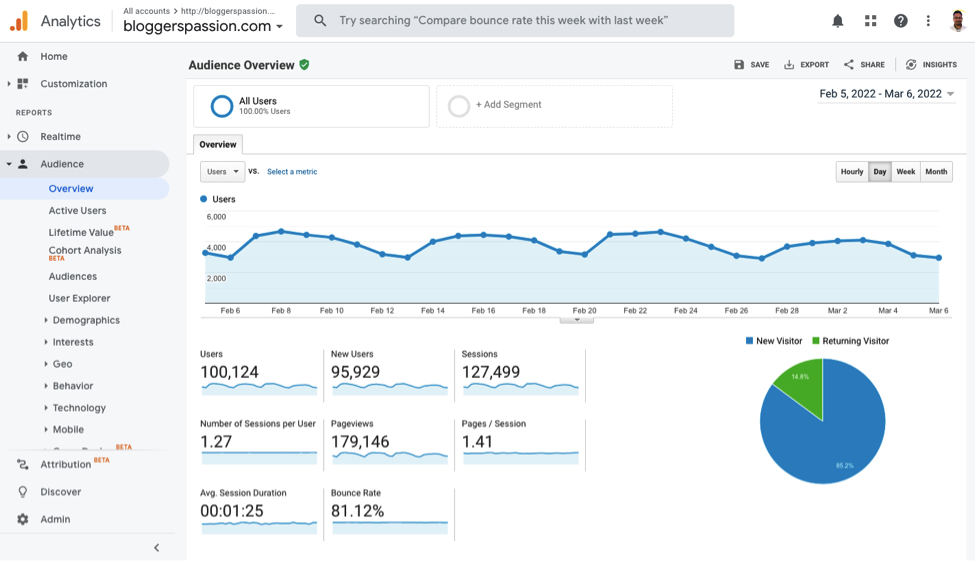 Over 950,000 people visited our blog in the last year. Here's the traffic report for the last year 2021: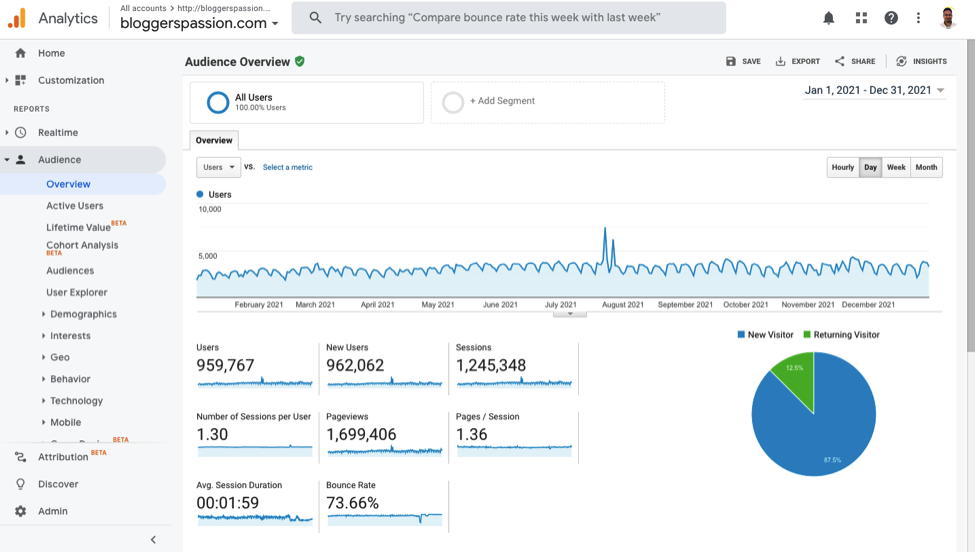 Over 85% of our traffic comes from search engines like Google. Search traffic is also the reason we're getting better conversions and sales.
Around 35% of traffic comes from India, 24% from the US, and the rest of the traffic comes from various countries across the world.
Anil Agarwal's Top Three Tools
I use the following tools regularly;
Semrush:

We've been using it since 2016, and it's one of the essential tools for anyone who wants to grow their search traffic and sales. It offers over 50 tools under one roof, including keyword research, competitor analysis, site audits, and more.

Rank Math:

If you're using WordPress, you should install this plugin as it helps you optimize your content. It also provides a wide range of features, including image SEO, schema, sitemap, local SEO, search console integration, and so on.

Drip:

Drip is the email marketing software we use. If you're looking for flawless software to build, manage and grow your email list, Drip is the best choice.
The Biggest Challenge Anil Agarwal Faced Growing His Site
I would say that our biggest challenge is search traffic. As I mentioned earlier, our blog's primary traffic source is Google. We all know Google is known for rolling out freaky updates every now and then.
And so it's tough to rank your content and sustain your website rankings, especially in such a competitive industry.
We always keep an eye on the Google algorithm updates. In the past, we've been hit by several Google updates, and whenever we notice a traffic drop on our site, we immediately start taking actions, such as:
Updating our blog posts

Finding and removing toxic backlinks (using backlink audits)

Getting rid of thin content, and more
Building any online business is challenging. You need to battle the challenges that come at you constantly. Being consistent is the key to growing your business online.
Anil's Main Accomplishment
My greatest achievement is quitting my full-time job to become a full-time blogger, and making a full-time income from it.
I started as an SEO trainee in 2004, earning just around $100 per month. Now, I'm able to generate over $13,000 per month, thanks to blogging and SEO.
What Anil Agarwal Wishes He Had Known Back Then
I think it's vital to treat your blog like a business. Most people who start a new website don't treat it as a business. They don't invest money in their website design, email marketing, content, or SEO.
Always remember, it takes money to make money online. You must invest money and time to see positive results from your online business.
Also, learn to enjoy the journey. If you enjoy the process of helping others with your website, you'll eventually start making money as a byproduct. 
His Biggest Mistake on This Journey
I didn't give enough importance to email marketing. Your email list is the best source of traffic and conversions. Build your email list from day one, whether you're building a website, app, or online business.
When you're building an email list, send informative emails, not sales pitches. Help as much as you can. Give, give, give, give, give before you ask for a sale. That's how you build a high-converting email list.
Currently, we have an email list of 5K subscribers and we send at least one email every week. We often clean up our email list to send emails only to those who are interested. Having an active email list helps with better sales and conversions.
It took us almost a year to build an email list of over 5,000 subscribers. We're offering an email series as a freebie to get more signups.
Anil Agarwal's Advice for Other Entrepreneurs
Focus on building your audience from day one. Give away free content as much as you can, be it blog posts, videos, infographics, or eBooks.
Just give stuff away valuable content for free.  
You need to differentiate yourself from the rest regardless of the industry you're in. Learn SEO or hire someone good at it, as search engines send you highly qualified leads to your website. And once again stay consistent, it'll eventually pay off!
Want to learn step-by-step how I built my Niche Site Empire up to a full-time income?
Yes! I Love to Learn
Learn How I Built My Niche Site Empire to a Full-time Income
How to Pick the Right Keywords at the START, and avoid the losers
How to Scale and Outsource 90% of the Work, Allowing Your Empire to GROW Without You
How to Build a Site That Gets REAL TRAFFIC FROM GOOGLE (every. single. day.)
Subscribe to the Niche Pursuits Newsletter delivered with value 3X per week