How Andrea Volpini's SEO WordPress Plugin Reached Over $1 Million in Sales
When you buy something through one of the links on our site, we may earn an affiliate commission.
If you have an online business, you most likely know about the importance of SEO. But are you familiar with AI-powered SEO? That's the niche in which Italian entrepreneur Andrea Volpini operates.
Traditional SEO vs. AI-powered SEO is like comparing a handheld vacuum cleaner to a Roomba. And with that in mind, he and his team set out on a mission to automate content marketing and SEO using artificial intelligence.
To do it, they created a WordPress plugin called WordLift. Today it's used by everyone from bloggers and solopreneurs to world-class companies like Airbnb, Oakley, and Ray-Ban.
WordLift was created in 2017 and started generating profits by mid-2018. Last year it hit its revenue target of $1.1 million. And the scope for growth is massive.
Keep reading to learn how WordLift works, understand how it can help you scale your business, and get inspired to turn your SaaS idea into a profitable WordPress plugin.
Get 10% Off WordLift Here
Meet Andrea Volpini
If you're a real nerd, my story shouldn't be too different from yours. My nickname on the web has always been Cyberandy. It sounds so 90s right now.
Cyberandy is the result of a generation that grew up with cyberpunk writers and sci-fi movies before finding itself digitized at 360 degrees. 
This morning, I was reviewing the WebXR standard, an interoperable way to create 3D Web applications—or the metaverse if you like —on the open Web. Think of it as an advanced HTML format to describe objects for augmented reality and virtual reality devices.
The ancestor of this standard was called VRML, back in 1997, and when using this markup, I built my first metaverse with David Riccitelli (WordLift's Cofounder and CTO) on a web browser.  
In 2017, we created WordLift.
Why He and His Team Created WordLift
WordLift is a semantic platform. AI today is at the very beginning of its course in human history. Gary Marcus says that deep neural networks have already hit a wall, yet he adds that a neural network doesn't know what it's talking about. Gary is 100% right.
Companies that want to grow (big or small) need semantics. They need to invest in creating their semantic capital. The idea of semantic networks isn't new, but to explain things in layman's terms, you need to look at AI today.
There is nothing magic; it's a terrific automated statistical tool that can do many things, but it's far from being "intelligent."
Now, as we organize and structure content, products, and services into rich semantic networks of metadata (or knowledge graphs, KG), we dramatically improve the quality of the predictions that these amazing automated statistical tools can make. WordLift builds connected data graphs to help AI get smarter. 
Today's most prominent AI is Google's brain, and this is why we focus on knowledge graphs that can help you with SEO. KGs are no longer just for large corporations like Microsoft, Google, or Amazon. KGs are for any organization that wants to grow. WordLift is a foundational building block of your AI strategy.
How WordLift Works
WordLift helps companies build search engine-friendly websites by leveraging the power of artificial intelligence to convert content into Google's native language.
We create a semantic graph that brings more targeted traffic to the website and improves its rankings in search results, enabling businesses to reach and appeal to new audiences. 
WordLift analyzes web content and identifies the most relevant topics for the business, organizing them into entities. Each entity describes an idea, concept, person, or place you're talking about on your website. Entities are saved in a vocabulary.
WordLift goes deeper than that. It relates the entities in the vocabulary and turns the information into linked data, creating a customized knowledge graph. 
Andrea Volpini on Knowledge Graphs
The knowledge graph is the infrastructure behind the content that makes it understandable to Google and search engines. It makes information well contextualized and relevant. This makes the website rank better on search engines and, as a result, users spend more time on that website.
The website then ranks high in search results and, by offering users relevant information, they spend more time on the website. 
By building a knowledge graph using WordLift, you can:
Build up your website's expertise, authority and trustworthiness (E-A-T)
Create your own knowledge graph to help Google understand your content
Add structured data markup without writing a line of code
Increase internal links using semantic annotation to make it easier for Google to understand the relevance of pages, their relationship, and their value
Increase the time users spend on site by using smart content widgets like the faceted search
Grow organic traffic in the first month of use
WordLift helps professionals (bloggers, content creators, journalists) and companies operating in all market sectors, including e-commerce, regardless of their size, who want to grow their businesses by reaching more people and getting more organic traffic. 
We have several case studies of different types of companies using WordLift, and it's also used by large companies like Kinsta and GadgetFlow.
For each type of business, there are specific types of entities that allow the dataset of a website to be enriched with detailed information that Google and search engines will use. For example, if you sell services, you can use service markup. 
Setting It Up
WordLift is easy to install and learn. You can go to our website and find the plan that best fits your business. 
Once you install WordLift and activate the plug-in, the AI will analyze the text for each piece of content on the website and suggest which concepts are relevant for that specific business. You can add schema markup to these concepts, and they will represent entities in your knowledge graph. 
The entities will be part of your vocabulary. They can be linked within your articles, enriching your content and creating a dynamic environment where users can move around and find information relevant to their search intent.
Andrea Volpini on how WordLift helps in all sorts of ways
It gets a site, understands it, builds a KG, and links it to other graphs that Google, Bing, or Amazon know, and helps crawlers realize what you're talking about. The data that you build with WordLift is not just for Google.
It will help you strengthen your internal linking strategy, it will improve the quality of the results on the on-site search engine, and it will enhance the capabilities of your chatbot, among other advantages.
How Much Money Andrea Volpini's SaaS Business is Making
We operate as a SaaS business, and at the end of 2021 we hit our $1.1 million revenue target.
We closed Q1 of 2022 with 32% growth compared to the previous year. Growth potential is enormous, but we also want to grow properly. Innovation is, generally speaking, a complex business.
We became profitable after the first year and a half. We began in 2017, and by mid-2018 we started generating profits.
Current Traffic and Subscriber Stats
We have 830+ active subscriptions and around 15,000 monthly visitors to our website. Given our premises and mission, we are keener to measure the growth rate of entities and triples that we help clients publish using our platform. 
How the Pricing Model Was Determined
We basically serve the following clients: 
A single website owner, a solopreneur with 1 site, bloggers, etc. 
A team of editors working on 1-3 sites
An agency or a business that needs to build multiple KGs 
An organization that is looking for a fully managed SEO solution 
An enterprise looking to scale SEO automation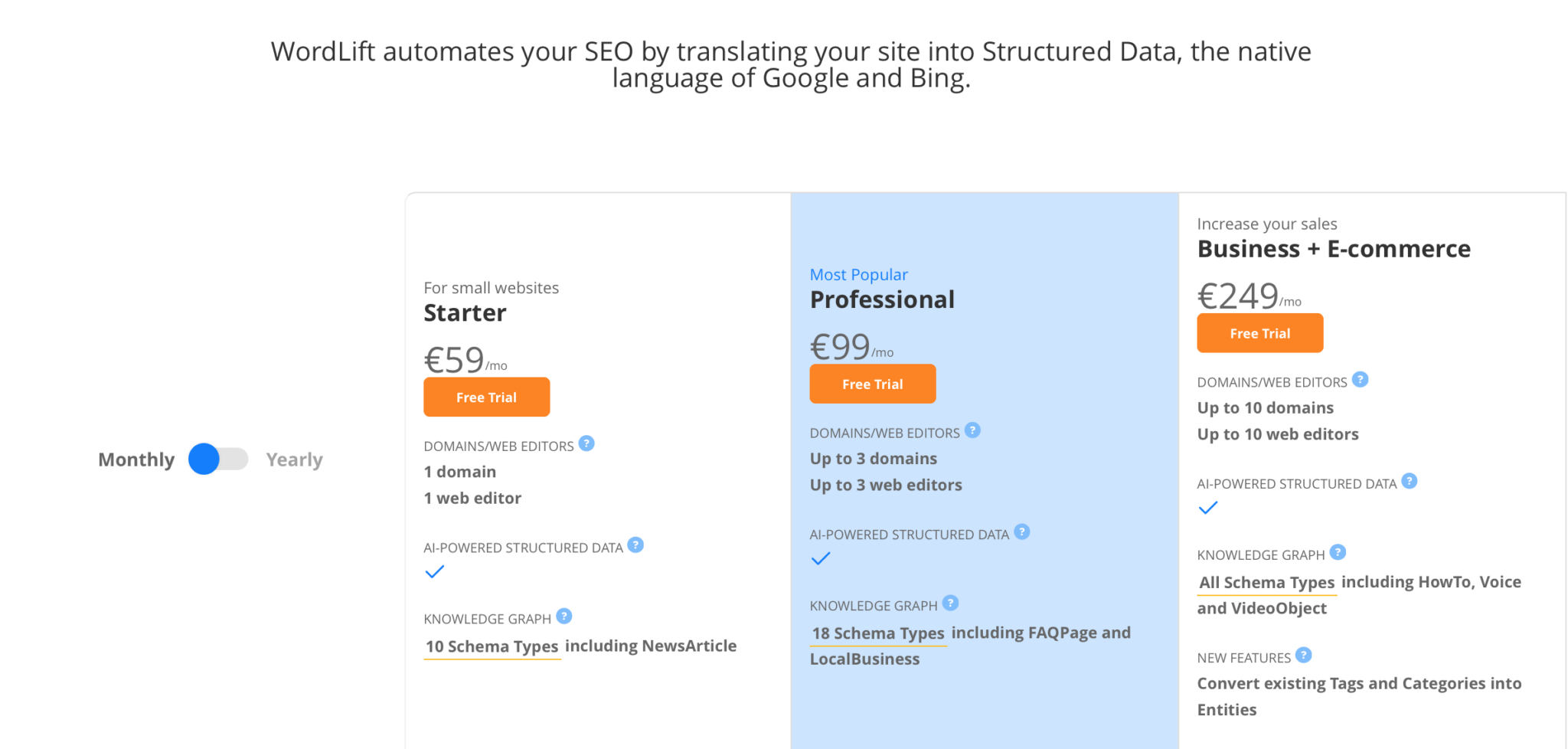 We host graph data and make sure that your website uses this connected data to improve the markup and help you gain a competitive advantage on Google's SERPs. The graph is the very beginning of our workflow, so our pricing scales as more URLs are added to it. 
How Andrea Volpini Grew the Business
We represent a new wave of SEO tools that have focused on semantics and linked data marketing. This is our mission, and this is also what we focus on the most.
We also operate as a research lab. Open innovation is at the core of our growth strategy. We share what we learn as we improve our tooling and grow our expertise in semantic SEO.   
The WordLift Team's Top Tools
Our stack is primarily made up of:
Trello & Everhour
Slack
GitHub
Mailchimp 
Chatra 
Zapier
Their Biggest Challenge
Explaining what we do and how a KG helps automate digital marketing tasks has been our greatest challenge.
Innovation is about changing the rules of the game. People need to understand the change, adapt to it, and invest in doing things differently. It is a massive task.
You not only need to create a product that doesn't exist and that creates a measurable impact for many users but, most importantly, you need to educate the market.
Their Most Important Accomplishment
Fortune named WordLift a top AI startup in Italy, our country. We have been the first mover in helping people build graphs and invest in semantic SEO. It's just the beginning and still incredibly fun.   
What Andrea Volpini Wishes He Knew When He Started
UX is not an add-on for SaaS. It's the key to smoothly onboarding new clients. It's not about technology (that is, of course, massively important), but about conveying a vision into a playful and practical workflow.   
Andrea Volpini's Biggest Mistake
I tend to be highly resilient. As I get older, I'm losing some of this resilience, and the advantage is that I'm making decisions faster. A good day starts in the morning, people say.
Don't waste energy on fixing things that will never work. Squaring the circle is an act of evil.  
Check Out WordLift Here
Andrea Volpini's Advice for Other Entrepreneurs
Remember that the journey is more important than the destination. Your most strategic assets are your vision of the world and the people around you.  
Want to learn step-by-step how I built my Niche Site Empire up to a full-time income?
Yes! I Love to Learn
Learn How I Built My Niche Site Empire to a Full-time Income
How to Pick the Right Keywords at the START, and avoid the losers
How to Scale and Outsource 90% of the Work, Allowing Your Empire to GROW Without You
How to Build a Site That Gets REAL TRAFFIC FROM GOOGLE (every. single. day.)
Subscribe to the Niche Pursuits Newsletter delivered with value 3X per week