How A-Z Animals' Traffic Just Exploded Up To 6.9 Million Monthly Visitors
When you buy something through one of the links on our site, we may earn an affiliate commission.
A-Z Animals is an online encyclopedia of animals covering wild animals, birds and fish as well as domestic pets like cats and dogs.
They're now getting nearly 7 million monthly visitors, so let's take a look at what they're doing:
---
A-Z Animals' Amazing Traffic Growth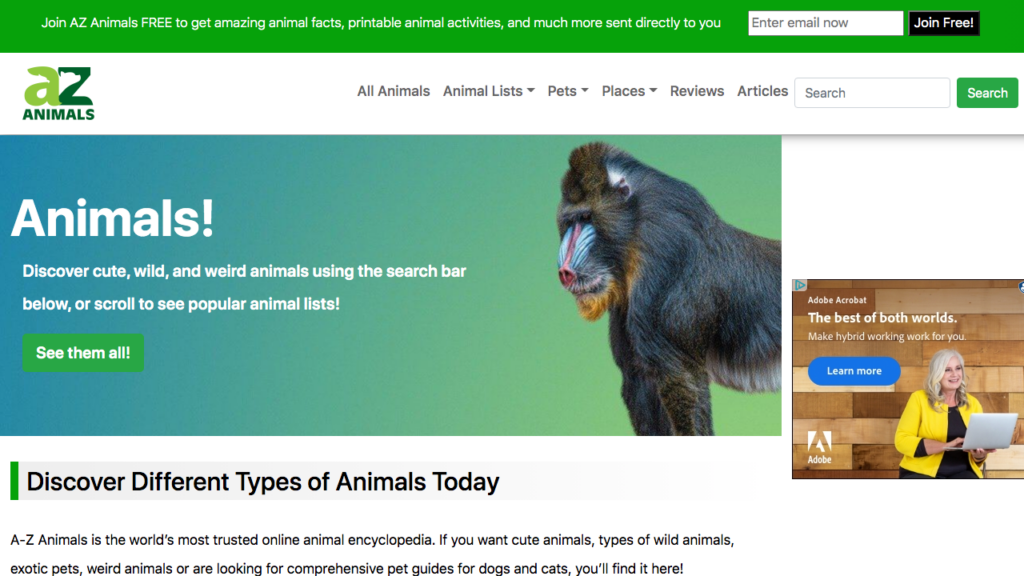 Although A-Z Animals has been online since 2008, their traffic had remained steady at around a million monthly visitors since 2016.

But since January 2021 their traffic has risen rapidly, and it's now approaching 7 million monthly visitors.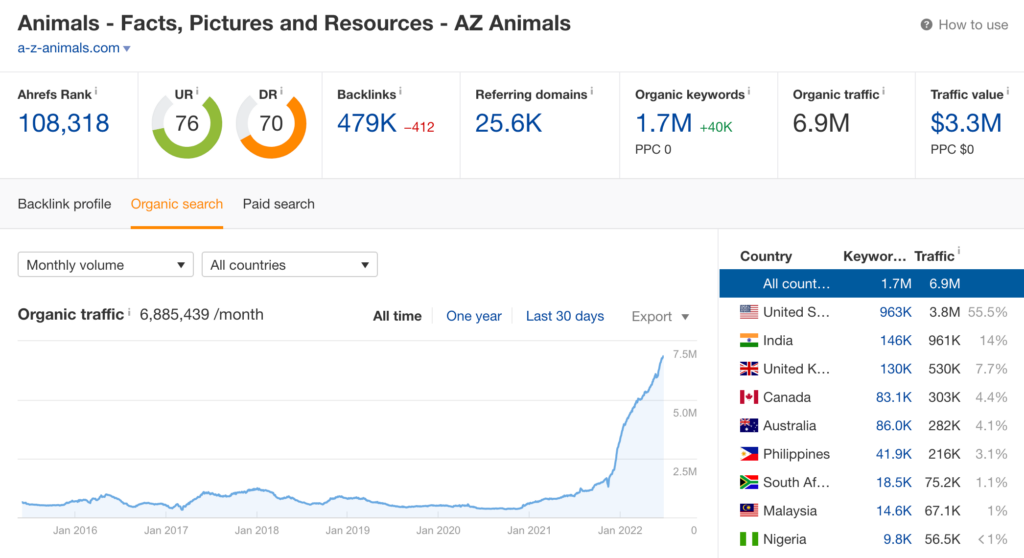 The site has quite an international audience, with only 55% of traffic coming from the USA, which is a lower percentage than many sites.
So what are they doing to grow traffic so fast?
There are some clues from Ahrefs here: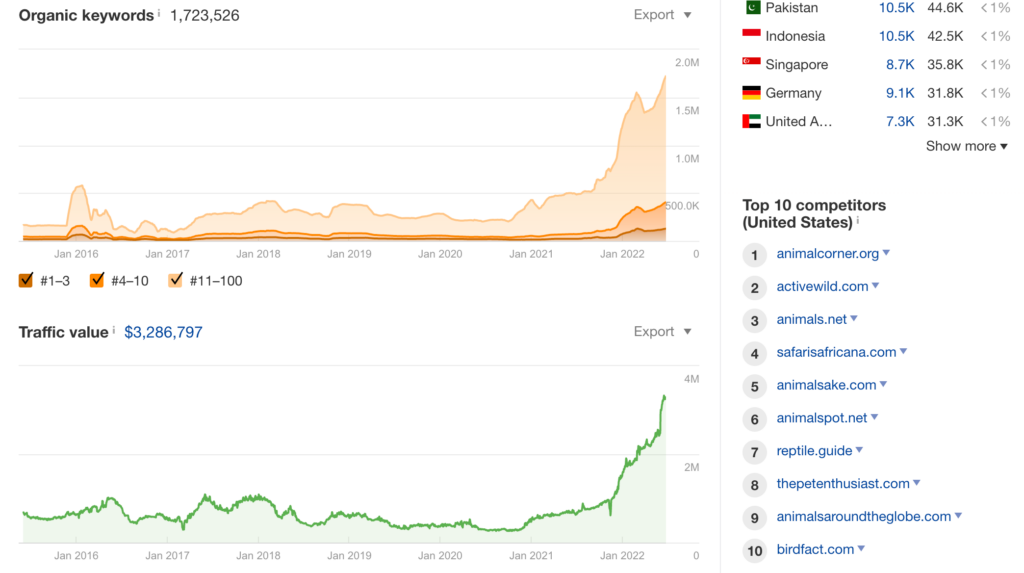 Notice that from about December 2020 there's strong growth in keywords ranking outside the top 10 results.
That looks like a lot of new content is being added to the site, and of course, some of it is ranking higher as you can see from the darker orange lines.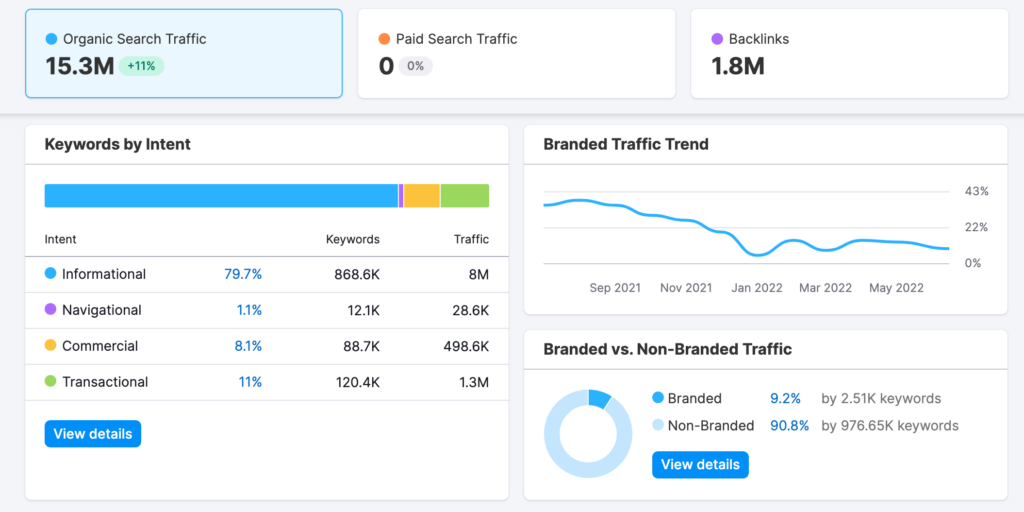 If you look at the Branded Traffic Trend in this graph from SEMRush, you can see a steady decline in the percentage of branded traffic since 2021.
This isn't A-Z Animals losing brand recognition - it's just a symptom of ranking for a large number of new non-branded terms.
Which Keywords do they Target?
A-Z Animals have noticed that people search for "animals that start with a" and other letters.
They have created a comprehensive list of animals starting with each letter of the alphabet to satisfy these queries.
As a result, 3 of their highest traffic pages are targeting these keywords.
Which Pages get the Most Traffic?
Ahrefs shows there's a good range of content getting high traffic:
4 of their top pages are blog posts - 3 listing top 10s, and one comparing alligators and crocodiles.
How do They Create Content?
A-Z Animals say they maintain a library of more than 100 encylopedias and guides to the animal kingdom that form the basis of their research.
Each article sites their sources at the bottom of the page, for example, the page on the Alaskan Malamute lists 8 online sources.
There are lots of photos on the site - these appear to be mainly stock photos licensed for publication, creative commons photos, or public domain photos.
A-Z Animals don't claim any particular subject expertise or qualifications - they say:
Our editorial team has more than 30 years of experience directly managing editorial teams.
This shows that you don't need to be a veterinarian or a qualified zoologist to succeed in this niche - if you're prepared to put in the work and do the research.
Their articles about individual animals are all well-researched and cover the topic in-depth, with many sub-headings and FAQs which target common search queries.
How is A-Z Animals Making Money?
The two income streams for this website are display advertising and affiliate programs:
A-Z Animals is running display ads on most of their pages, including video ads which often pay very well. Their advertising income will be reduced by the fact that only 55% of their traffic comes from the USA - traffic from other markets is less lucrative.
They are also signed up to affiliate programs from Amazon and Chewy (one of the best-paying programs in the pet niche) and have created a lot of content, such as pet food reviews, to send targeted traffic to these affiliate programs.
Keeping People on the Site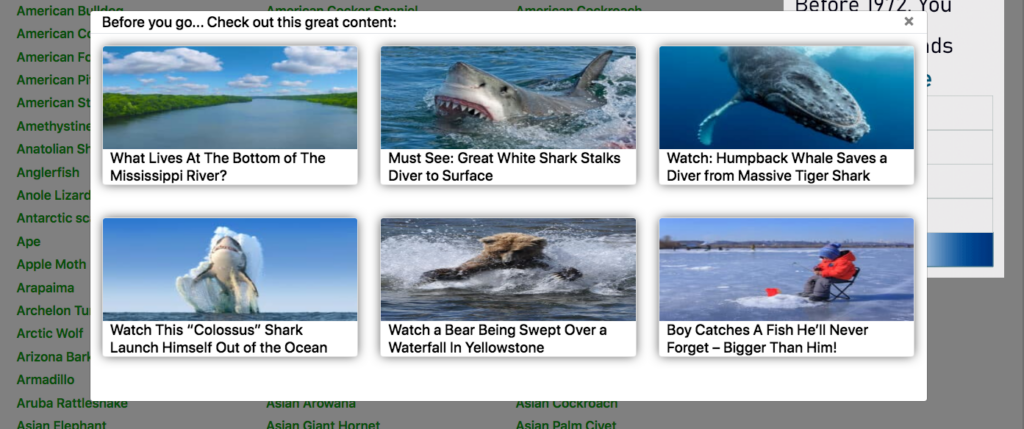 We believe that time spent on site is a Google ranking factor, and A-Z Animals have come up with a great way to reduce their bounce rate and keep people on the site for longer:
Many sites display a pop-up when you move your mouse towards the back button (a so-called exit-intent pop-up), they're usually used to offer a newsletter sign-up or a special offer.
A-Z Animals are using an exit-intent pop-up to show other popular articles you might be interested in - thus keeping visitors on the site for longer.
What we can Learn From A-Z Animals
You don't always need professional qualifications to succeed in the animals niche.
Creating a large site with a lot of in-depth articles is an effective way to drive traffic.
It's worth creating related content relevant to your top affiliate programs as A-Z animals have done with pet affiliate programs.
Want to learn step-by-step how I built my Niche Site Empire up to a full-time income?
Yes! I Love to Learn
Learn How I Built My Niche Site Empire to a Full-time Income
How to Pick the Right Keywords at the START, and avoid the losers
How to Scale and Outsource 90% of the Work, Allowing Your Empire to GROW Without You
How to Build a Site That Gets REAL TRAFFIC FROM GOOGLE (every. single. day.)
Subscribe to the Niche Pursuits Newsletter delivered with value 3X per week