Visme Review: Pros, Cons, Features, and Pricing
When you buy something through one of the links on our site, we may earn an affiliate commission.
Are you tired of being limited by basic design tools?
Enter Visme - a powerful design platform making waves in the design community.
I decided to roll up my sleeves and dive deep into Visme's features, ease of use, and overall performance.
By the end of this Visme review, you'll see why I think Visme is a serious contender in the design space.
If you're short on time, here's the TL;DR:
I underestimated Visme and was pleasantly surprised with the results. It's a great design tool for both beginners and experienced designers alike.
Visme Review
Ease of Use

Stability

Customer Service

Price
Summary
Visme is a design tool that helps you create high-quality visuals for your business, school, or personal projects. Get Started With Visme Today!
Pros
High value in exchange for the cost
Easy to start using without training.
High quality stock images
Awesome infographic templates
Data visualization capability
Many templates for different verticals
Branded templates
Free plan available
Cons
Some glitches when using the tool
Users may think it's more complex than Canva, but that wasn't my experience
Visme Main Features
First up, we'll look at the features. Visme is packed with amazing features that make beautiful works of art everyone will admire.
Templates
To get started, simply click "Create New > Project."
You'll be presented with a library of templates you can customize to your needs.
Whether you need an infographic, case study template, create presentations, or even website template, you're in for a treat.
Every template is professionally-designed and fully customizable: change colors, fonts, images - just about anything! Their search function also makes finding what you're looking for super simple.
Let's pretend that you want to create visuals for a client meeting. So, select the "Presentations" option.
Now, I highly recommend using Visme's templates. Why? Because they have templates from every industry!
Whether you're a marketing manager or in sales (they have a sweet pitch deck template) or you're a teacher, Visme has the perfect template for your next presentation.
Each template is scaled for various aspect ratios so that you can go with 16:9, 4:3, square presentation (1:1), and other sizes.
When you've found the template you love, click "Use This Template."
Graphic Designer Tool
Now that we have our template, it's time to get creative!
Let me give you a quick overview:
To add text, click on the text box option and start typing. You can then customize the font, color, size, and alignment. If you're feeling fancy, you can add shadowing or outlines to your text.
You can also add elements like shapes, icons, and images with a few clicks. Just select the element you want to add from the left-hand menu and drag and drop it into your workspace.
You also have different customization options for the background. Change the color, add a filter, flip the image, set the canvas size, and change the scale to suit your needs. You can also upload your own image or select one from the stock library.
When you're happy with the design, you can share it with your team or export it in various formats like PDF, DOCX file, or HTML5.
Customization Sidebar
The Visme sidebar is your one-stop shop for all customization options.
You can alter design elements like headings, font pairs, statistics, diagrams, and calls to action.
The My Blocks section is an excellent feature you should use to save time. It lets you save content blocks you often use and reuse them in any project.
Visme has a vast library of stock images at your fingertips, giving you the ability to make your designs impactful and eye-catching.
The Graphics section is also a treasure trove of pre-made graphics, from icons to charts and graphs.
And let's not forget about multimedia elements. Whether you want to add videos, audio, or any other multimedia, the Media section can help bring your designs to life.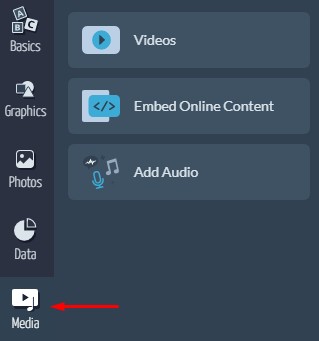 Customizing your color scheme is also essential for branding. With Visme's brand kit, you can select from pre-made color schemes or create custom schemes to accentuate your brand colors.
Data Visualization
Visme can help you create visuals for accessible storytelling out of raw numbers.
Select the "Data" option from the left-hand menu to import data.
Import your data from Google Sheets, Excel, and CSV files.
So, why is data visualization important?
Well, for one, humans are visual creatures. And let's face it; data can be boring.
When I stare at a spreadsheet, my brain curls up in the fetal position. But when I receive that same data in a visual format, it becomes more interesting and easier to remember.
For example, check out this infographic on search data created in Visme.
And because it's easier to digest, I can uncover trends and insights that weren't obvious from the numbers alone.
The power of visuals is real, folks.
Animation
Visme makes it easy to capture the eye, evoke emotion, and add depth to your designs with animations.
Select the element you want to animate, such as an image, text, or shape, and then click "Animate."
Don't worry if the animation panel seems like a foreign language at first.
Visme offers a bunch of "Animation Styles" that you can use to get started.
For example, the Fade In style makes your element gradually appear on the canvas. Other styles include bounce and fly-in.
You can also customize the animation speed and when it should start and end.
Visme also supports advanced animation settings like delay and easing types. So get creative!
While animations bring a dynamic touch to your designs, they can distract the viewer from the main message or slow down the performance.
Visme's level of customization allows you to strike a balance between the two.
Visme Review: The Pros and Cons
I'm super impressed with the quality of this content creation tool I'm receiving in exchange for the cost
It's intuitive and easy to use, even for an SEO-guy like myself.
There's lots of sweet images in the stock library
Awesome infographic templates and data visualization capability
The presentation templates span across many verticals
Branded templates to help you streamline branded content
Plus, there's free access. It doesn't get much better than that!
I encountered occasional glitches and bugs while using Visme
Some may consider Visme more complicated than Canva because it has more capabilities.
Visme Pricing
Visme offers three pricing plans for users: Basic (Free version), Starter, and Pro.
The Basic plan is free version and includes 100 MB of storage, limited access to templates and design assets, regular support, and most templates.
The Starter plan costs $12.25 per month, billed yearly (or $29 monthly). It includes everything in the Basic plan plus 250 MB of storage, full access to templates and design assets, download as JPG, PNG, or PDF, and 24/7 email and chat support.
The Pro plan costs $24.75 per month, billed yearly (or $59 monthly). It includes everything in the Starter plan plus 3 GB of storage, full downloading options including PPTX, HTML5, Video, and GIF, a brand kit, analytics, and privacy controls. This plan is best suited for individuals managing their businesses.
Students, educators, and nonprofits also get access to special discounts.
Students can sign up for $48/year, while teachers can get access for $96/year.
Nonprofits get everything included in the business plan at 25% off!
Who is Visme Best For?
Visme is great for:
Businesses
Educators and students
This is not an exhaustive list. Anyone who wants to create visually appealing designs without spending hours on editing can benefit from Visme's tools.
SEO Use Case
People absolutely love sharing infographics! They're actually shared three times more than any other type of social media posts.
And why is that?
Creating infographics offer a lot of benefits. They're visually appealing, easy to understand, and pack information in a compact format.
With Visme, you have tons of infographics at your disposal.
This combination is a recipe for success on the internet. When people see a great infographic, they cannot help but share it with their friends and followers.
Even better, they'll link to your site. And that, my friend, is how backlinks are born.
Let me give you a concrete example. Imagine you run a health blog. You use Visme's infographic templates to showcase 9 ideas for a happier, healthier new year.
The infographic is stunning and packed with value. It's not long before people start sharing it like crazy on social media posts and their own websites.
Before you know it, your website has dozens of new backlinks.
Education Use Case
As a teacher, you know that students love visual learning. After all, they're living in a world where the internet is flooded with visual content.
So, it's no wonder they respond better to visuals than to pages and pages of text.
University of Washington Professor John Medina asserts that the human brain retains up to 65% of the information presented in a visual format, compared to just 10% of text-based information.
And that's exactly why you need Visme in your content creation toolkit.
Next time you're teaching about photosynthesis, use Visme's animation capabilities to show a virtual plant absorbing sunlight and generating energy.
Punctuate your lesson with some colorful charts and graphs.
Even P.E. teachers like Mike Graham can benefit from Visme's visuals. At the elementary level, he uses Visme to create awards to incentivize students to be healthy!
He also uses Visme to create activity calendars and challenges he sets for his students on Twitter.
What Are People Saying About Visme?
Users are providing glowing reviews of the platform. One user described Visme as "an all-in-one tool for creating engaging presentations, create infographics, and other designs with ease."
Not surprisingly, businesses are also climbing onboard.
IBM Digital Manager Hubert Janowski highlighted that their relationship with Visme has been both positive and successful right from the start.
Even Actuary Promod Sharma of Taxevity acknowledged that he tried other design tools before, but none stood up to the levels of convenience, versatility, and affordability offered by Visme.
"After trying a couple other tools like Canva and Adobe Spark, we picked Visme. Nothing else matched the flexibility, capabilities or ease of use. The YouTube tutorials are excellent too."
Claudia, the professional copywriter, also praised Visme. She says, "Visme has saved me a lot of time and money by giving me the power to design on-brand visuals without needing help from a graphic designer."
It looks like everyone agrees – Visme is the real deal!
Visme Alternatives
If Visme isn't the design tool for you, there are several alternatives you should consider.
Canva
Canva is an ideal tool for those who don't have a strong design background but still want to create eye-catching designs on a budget.
Its drag-and-drop interface and pre-designed template capability make it extremely simple to use, and with over 100 million users worldwide, its popularity speaks for itself.
To top it off, the free plan comes at no cost, and the Pro version starts at a very affordable $12.99 per user per month.
If your design needs are modest and you're looking for affordability, Canva should be your go-to option.
However, if you require something more feature-rich for complex designs, Visme might be a better fit. While the paid plans start at $29 per month, they come with plenty of extra interactive features that Canva doesn't offer.
Piktochart
With Piktochart, it's easier than ever to take tedious data and turn it into visual eye candy for your audience.
From sleek custom templates and gorgeous themes, this tool packs in a great selection of features and comes with a serious affordability edge too!
You can choose their free plan or opt for their paid plan starting from just $29 per month.
It's the perfect choice if you want to focus exclusively on producing captivating infographics since that's their main focus.
Truth be told, I recommend Visme over Piktochart. It's a more comprehensive tool that lets you create a wider range of beautiful visuals.
Visme Review: Is Visme Worth It?
Yes, Visme is worth it. It's a formidable tool that can make work easier for professionals, businesses, and educators.
It's even a step up compared to the popular product, Canva. Visme is user-friendly, packed with features, and affordable, especially if you opt for their annual plan.
The icing on the cake is that this graphic design software comes with a free plan, so it's definitely worth taking for a spin. Good luck!
Want to learn step-by-step how I built my Niche Site Empire up to a full-time income?
Yes! I Love to Learn
Learn How I Built My Niche Site Empire to a Full-time Income
How to Pick the Right Keywords at the START, and avoid the losers
How to Scale and Outsource 90% of the Work, Allowing Your Empire to GROW Without You
How to Build a Site That Gets REAL TRAFFIC FROM GOOGLE (every. single. day.)
Subscribe to the Niche Pursuits Newsletter delivered with value 3X per week