751 Cute and Sweet Milktea Business Name Ideas
When you buy something through one of the links on our site, we may earn an affiliate commission.
Hey there! Whether you dream of a cozy teahouse, a modern boba haven, or a unique twist on classic flavors, choosing one of these milktea name ideas could be your ticket to making a lasting first impression.
Keep reading to unlock the secrets to crafting the perfect milk tea business name. From catchy and clever to heartwarming and chic, we've brewed 750+ innovative name ideas your customers will surely love.
Plus, you'll end it off with a bunch of essential naming tips you don't want to miss.
Enjoy!
Unique Milktea Name Ideas
TeaBurst Delights
MilkyWay Brews
PearlFusion Teas
CreamyCloud Teahouse
Velvet Sip Cafe
Froth & Flavors
Enchanted Brews
Moonlit Tea Magic
Sweet Serenity Teas
Infusion Oasis
Frothy Elixir Hub
Blissful Boba Bites
TeaLuxe Haven
MellowCup Teahouse
Stardust Sips
Sippin' MoonTea
Honeyed Harmony Teas
Uptown Tea Co.
Whisked Wonders Brew
TranquilBrew Teas
Velvet Petal Teahouse
Creamy Comet Cafe
SereneSpoon Teas
SugarGem Infusions
DreamyDrops Teahaven
BobaBliss Brews
PearlWhisper Teas
FrothCraft Delights
Moonlit Mingle Teahouse
Sippable Stardust
Sweet Nebula Teas
VelvetPeak Brews
Milky Mirage Teahouse
Enchanted Elixir Den
Frothy Oasis Teas
SugarSerenity Brews
LushBloom Teahaven
Stardust Sip Society
HoneyHarbor Teas
VelvetVisions Brew
Tranquil Twilight Teahouse
Froth & Ivy Teas
DreamyDragon Brews
PearlPetal Teahaven
Moonlight Elixir Bar
MilkyMist Delights
Celestial Sip Teahouse
SugarNova Teas
VelvetVerse Brews
BlissfulBoba Haven
Sweet Milktea Shop Names
SugarySip Delights
BerryBreeze Teas
CaramelCloud Brews
HoneyDew Haven
PeachyElixir Teahouse
StrawberrySugar Sips
VanillaVelvet Infusions
ChocoCharm Teas
MarshmallowMingle Brews
CandyCozy Teahouse
ToffeeTales Delights
CupcakeCascade Teas
LemonadeLush Brews
RaspberryRipple Sips
BlueberryBliss Teahouse
ButterscotchDreams Delights
PomegranatePleasure Teas
CoconutCream Sips
MochaMist Brews
AlmondAmour Teahouse
MapleMagic Delights
BananaBonanza Teas
PineappleParadise Brews
ChocolateCherish Sips
CottonCandy Cloud Teahouse
NutellaNectar Delights
CaramelCraze Brews
StrawberryShortcake Teas
BlueberryBurst Sips
CherryCheer Teahouse
MintyMarzipan Delights
MangoMelody Brews
HoneyedHazelnut Teas
BubblegumBreeze Sips
RaspberryRhapsody Teahouse
CinnamonSwirl Delights
TiramisuTreasure Brews
PeachesNCream Teas
ChocolateChipJoy Sips
RedVelvetEuphoria Teahouse
ButterPecan Delights
LemonMeringue Brews
PineapplePassion Teas
BlackberryBakery Sips
HoneyedCupcake Teahouse
CherryCocoa Delights
LavenderLace Brews
CaramelAppleTease Teas
MarshmallowMocha Sips
VanillaFrosting Teahouse
Cool Milktea Name Options
UrbanBoba Brews
FrostyFlare Teas
ChillWave Sips
RebelBrew Milk Tea Co.
FunkyFusion Teahouse
ArcticFlame Elixirs
ZenBoba Haven
VibeVortex Teas
NeonNectar Brews
ChillLuxe Teahouse
RetroFizz Milk Tea Lounge
FusionFlow Sips
GrooveBrew Teahouse
UrbanElixir Delights
QuantumQuench Brews
ChillOutpost Teas
ElectraBoba Elixirs
NeonNook Milk Tea Hub
SonicSip Teahouse
UrbanHarmony Brews
ZenithZest Milk Tea Co.
FusionFrenzy Teas
StarburstBrew Elixirs
CoolCraze Teahouse
NeonNova Brews
ElectroElixir Sips
UrbanUtopia Teas
CosmicCup Milk Tea Lounge
GrooveGrid Brews
ChillVibes Teahouse
VortexValor Elixirs
FusionFlicker Milk Tea Hub
ZenSonic Teas
StellarSip Brews
CityScape Elixirs
NeonRhythm Milk Tea Co.
VelocityVibe Teahouse
EdgeElixir Sips
UrbanPulse Brews
ChillAura Milk Tea Lounge
QuantumQuencher Teas
RebelRipple Elixirs
NovaNectar Teahouse
UrbanAlchemy Brews
FrostyFunk Milk Tea Co.
NeonNectar Sips
PulsePotion Teas
CoolCircuit Elixirs
ZenZone Milk Tea Hub
FusionFlux Teahouse
Fun Milktea Name Ideas
BobaBonanza Funhouse
SipSafari Milk Teas
WhimsyWhisk Teahouse
PlayfulPearl Brews
BobaBash Delights
FrothFiesta Milk Teas
QuirkyQuench Teahouse
TastyTornado Brews
BubbleBliss Bonanza
MischiefMug Milk Teas
LivelyLush Teahouse
BobaBoogie Brews
GiggleGulp Delights
JollyJasmine Milk Teas
FrolicFlavor Teahouse
BounceBoba Brews
CheerChalice Delights
WhimsicalWave Milk Teas
TingleTreat Teahouse
JoyfulJelly Brews
BobaBeam Delights
ChortleCup Milk Teas
FizzFrolic Teahouse
SparkleSip Brews
GleeGarden Milk Teas
PeppyPearl Teahouse
ChuckleCharm Delights
SwirlSamba Milk Teas
BubblyBanter Brews
GrinGrove Teahouse
MirthMist Milk Teas
BlissfulBounce Delights
SizzleSip Teahouse
GigglyGlaze Brews
BobaBedazzle Milk Teas
FrolicFountain Delights
ChuckleChalice Teahouse
ZestZing Brews
WinkWhisk Milk Teas
BounceBerry Delights
QuirkQuencher Teahouse
MirthfulMingle Brews
GiddyGrove Milk Teas
BubblyBanter Delights
FrothFiesta Teahouse
ChortleChai Brews
WhimsyWave Milk Teas
SparkleSprout Delights
SipSamba Teahouse
LivelyLagoon Brews
Rhyming Milktea Business Names
BubblyBoba Blends
WhiskAndSip
TastyTidbits Teas
BobaBonanza Brews
SipAndSkip
FrothFiesta Flavors
QuirkAndPerk
MellowMingle Milk Teas
FrolicAndFizz
SizzleAndSip
ChaiCheer Delights
JollyJasmine Juices
ZestAndZing
SipAndSwirl
GleeGrove Gatherings
ChuckleCharm Chai
BounceAndSip
WinkAndWhisk
WhimsyWave Blends
BobaBedazzle Brews
FizzAndFlair
MirthfulMingle Milk Teas
SparkleSprout Sips
MunchAndMug
GrinAndGulp
BounceAndBlend
ChuckleChai Delights
QuirkAndCup
FrothAndFlavor
SipAndSpark
WinkAndWhirl
JollyJasmine Juices
BlissfulBoba Blends
WhiskAndWink
BubblyBanter Brews
TastyTango Teas
SizzleAndSavor
SparkleSprinkle Sips
ZestAndZest
GrinAndGusto
MirthfulMug Milk Teas
TwirlAndSip
FrothAndFlair
ChuckleCharm Chai
BobaBonanza Brews
BounceAndBrew
QuirkAndQuaff
WhiskAndWhimsy
SipAndSnuggle
BlissfulBoba Blends
Cute Milktea Name Ideas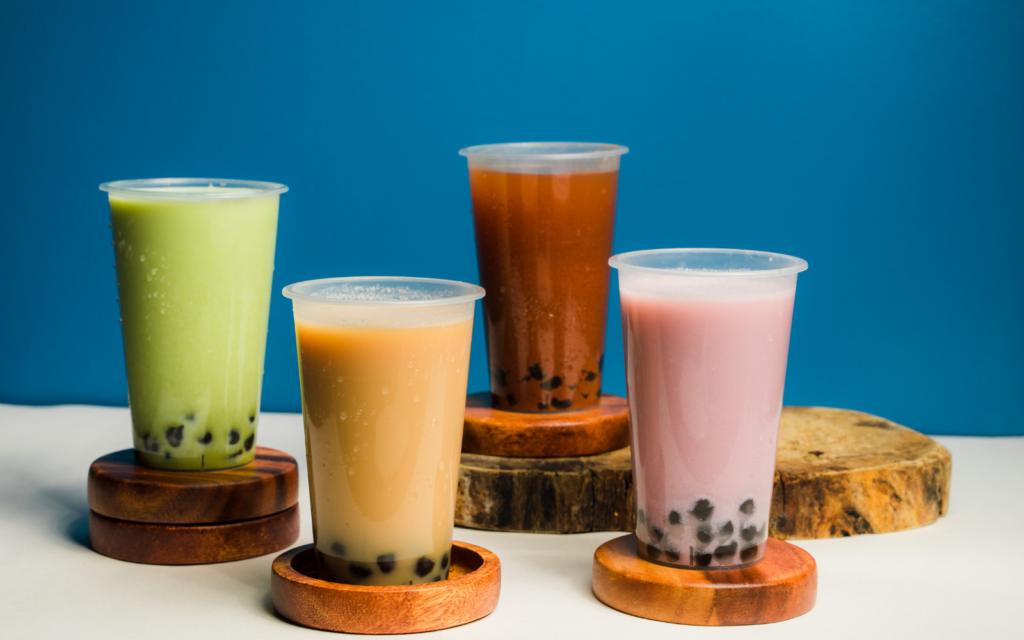 CuddleCup Teas
SweetWhisk Sips
CozyBoba Corner
HoneyHug Teahouse
CupcakeBrews
DarlingDew Delights
FluffySip Boutique
TinyTreat Teahouse
PearlyPetal Brews
SnuggleSip Spot
CherishCup Teas
SugarSprinkle Sips
LittleBoba Nook
AngelicSip Teahouse
PetalPotion Brews
MellowMarshmallow Delights
FuzzyFlavors
DreamyDip Teas
LovableLush Sips
SparkleSmile Milk Tea Co.
MiniMug Delights
SunnySip Teahouse
DaintyDew Brews
TeddyTea Corner
PeachesNCream Sips
SweetheartSip Teas
CupcakeCraze Corner
BumbleBrews
RosyRipple Teahouse
HoneyBear Brews
SnuggleSip Sweets
PearlyPetal Teas
CuddleCraze Nook
AngelWhisk Sips
CharmingCup Corner
CozyCocoa Teahouse
FurryFlavors
SweetheartSip Spot
DreamyDrops Delights
DarlingDip Teas
LovableLush Brews
TinyTreat Boutique
SparkleSmile Teahouse
TeddyTea Delights
HoneyHug Sips
DaintyDew Nook
MiniMug Brews
CherishCup Boutique
FuzzyFlavor Teas
RosyRipple Sips
Taiwanese Milktea Name Ideas
TaipeiTea Treasures
FormosaFlavors
TastyTaste of Taiwan
TaiwanTwirl Teahouse
PearlPride Brews
TaiwaneseTemptations
OolongOrigin Elixirs
BubbleBlend Bistro
TaiwanTradition Teas
TaipeiTwist Delights
FormosaFusion
TapiocaTranquil Brews
TaiwanPearl Pleasures
MinglingMilk Teahouse
BubbleBreeze Sips
TeaHaven Taiwan
TaipeiTwirls Elixirs
FormosaCraft Brews
TasteTaiwan Blends
TaiwanTeaTrail
BubbleNectar Delights
OolongOasis Teahouse
TaipeiTantalize
FormosaFiesta Brews
TapiocaTwist Elixirs
TaiwanTreasures
TeaTopia Taiwan
BubbleBouquet Sips
MinglingMilk Blends
TaipeiTradition
FormosaFlair Teahouse
TasteTaipei Brews
BubbleBloom Elixirs
TaiwanTwists
OolongOpulence
TaipeiBoba Blends
FormosaFroth Teahouse
BubbleBurst Delights
TeaTrek Taiwan
TapiocaTranquil Elixirs
TaipeiTaste Journey
MinglingMilk Pleasures
FormosaFusion Blends
BubbleBreeze Teahouse
TaiwanTempting Sips
OolongOrigins Brews
TaipeiTwist Delights
FormosaFlavors Elixirs
BubbleBlend Bistro
TasteTaiwan Treasures
Catchy Milktea Shop Name Ideas
Bubbles & Bliss Teas
SipSensation
TastyTingle Brews
BobaBeat Delights
QuenchQuest Teahouse
FrothFiesta Elixirs
FlavorFusion
UrbanBrew Magic
WhiskWonders Teas
SipCity Delights
ZestZenith Teahouse
FrolicFlavors
SplendidSip Brews
BubbleBoulevard
SwirlSense Teas
BubblyBrio Elixirs
BrewBuzz Hub
EpicElixir Delights
ZingZest Teahouse
SipSnap Brews
FlavorsomeFusion
FrothFinesse
QuirkQuench Teas
UrbanBoba Elixirs
SparkSavor Delights
MingleMist Brews
VelvetVortex Teahouse
SipSwank Elixirs
BuzzBliss Hub
ZestZing Teas
UrbanSip Brews
BlissfulBubbles
FrothFlow
SplendidSip Delights
TantalizingTea Hub
SwirlSensation
BrewBoulevard
SipSync Teas
WhiskWhirl Elixirs
FlavorFiesta Delights
QuenchQuest Hub
BubblyBlend Brews
SipSavvy Elixirs
FrothFrenzy Teas
ZingZen Delights
EpicElixir Hub
SparkSip Teahouse
VelvetVista Elixirs
SipSync Hub
UrbanEuphoria
Creative Milktea Name Ideas
InfuseNectar Teas
Flavorscape Brews
WhimsiBrew Delights
ArtisanAura Teahouse
EnigmaElixirs
MuseMingle Milk Teas
BrewSculpt
VelvetVivid Teahouse
ElixirCanvas
QuirkyQuencher Brews
PalettePearl Teas
MosaicMug
WhiskWander Teahouse
ZestfulZen Elixirs
VisionBrews
CreaTeaHub
EnchantMist Teas
ChromaCup Elixirs
InnovateInfusions
QuirkCraft Teahouse
FlavorFusion Hub
InspireBrews
ElixirEmporium
WhiskedWhimsy Teas
RadiantBrew Delights
PalettePotion
VividVerse Teahouse
CurioCup Elixirs
ImagineMug
QuirkyQuotient Teas
FlairFusion Hub
MuseMist Brews
WhimsiWhisk
ElixirEuphoria
VisionaryVista Teahouse
InnovateIced
ChromaCraze Teas
QuirkQuota Elixirs
ArtistryAroma
WhiskedWonders
PaletteParadigm
RadiantRipple Teahouse
CurioCraft Elixirs
InspiroBrew
ElixirEnigma
VividVoyage Teas
FlairFresco
ImagineInk Elixirs
QuirkQuest
ArtisanAlchemy Teahouse
Lactose-Free Milktea Names
DairyDelight-Free Teas
LactoseLess Sips
MilkAlternative Elixirs
CreamyFree Brews
LactoLibre Teahouse
Non-DairyNectar
FrothWithoutLactose
CreamlessCup Teas
VelvetVegan Brews
DairyEscape Delights
LactoLiberate Elixirs
MooMingle-Free Teas
LactoLuxe Sips
NoMilkMagic Brews
CreamBuster Teahouse
DairyDismiss Elixirs
FrothNix-Free Teas
LactoLush Brews
VelvetLiberate Sips
NoMooMingle Teahouse
LactoLight Delights
CreamEscape-Free Teas
FrothFreedom Brews
LactoLovely Sips
MilkMinusMagic Teahouse
LactoLively Elixirs
MooVanish-Free Teas
CreamlessCharm Delights
LactoLuxury Brews
VelvetVeggie Sips
DairyDazzle Teahouse
LactoLure-Free Elixirs
CreamFarewell Brews
LactoLush Sips
MooMist-Free Teas
CreamlessCraft Elixirs
VelvetVibe Brews
DairyDepart Delights
LactoLight Sips
FrothFreeElixir Teahouse
LactoLuxe-Free Brews
MilkMinusMagic Elixirs
CreamCharm Teas
LactoLiberty Sips
VelvetVitality Teahouse
DairyDelight-Free Brews
LactoLure Sips
MooVanishMagic Teas
CreamlessCraze Elixirs
VelvetVoyage-Free Teahouse
Amazing Milktea Business Names
BlissfulBrew Haven
VelvetVerse Teahouse
EnchantedElixir Hub
CelestialCup Sips
TranquilTaste Teas
DelightfulDip Brews
SereneSip Spot
InfusionInnovation
MellowMist Delights
HeavenlyHue Teahouse
TranquilBrew Bliss
OasisOrigins Milk Teas
RadiantRipple Brews
StarrySip Haven
EnchantedElixir Delights
CelestialCharm Teahouse
DreamyDrops Brews
SereneScent Sips
AromaticAlchemy
VelvetVista Teas
BlissfulBoba Elixir
FrothFable Delights
WhiskedWhispers
MoonlitMingle Brews
PearlPerfection Teahouse
TranquilTonic Spot
EnchantedEuphoria
CelestialCraze Delights
DreamyDip Milk Teas
VelvetVortex Brews
AromaticAmbrosia
SereneSip Teahouse
RadiantRipple Elixir
OasisOrigins Delights
StarryScent Brews
EnchantedElixir Teas
CelestialChai Bliss
PearlParadise Milk Teas
WhiskedWhispers
MoonlitMingle Teahouse
BlissfulBoba Brews
FrothFable Delights
TranquilTaste Milk Teas
EnchantedEuphoria
VelvetVista Teahouse
DreamyDip Brews
SereneSip Delights
RadiantRipple Milk Teas
OasisOrigins Teahouse
CelestialCharm Brews
Thai Milktea Shop Names
ThaiChai Treats
BangkokBlend Teas
SiamSips Delights
ThaiTwist Elixirs
ChaiChaCharm
ThaiTeaTemptations
SiameseSip Hub
BangkokBrews
ChaiDelightful Teas
ThaiFlavors Elixirs
SiamSpice Sips
ChaiCharm Teahouse
ThaiBrewed Blends
TomYumTea Delights
BangkokBoba Elixirs
ThaiTranquil Teas
SiameseSips Hub
ChaiEnchantment
ThaiTeaTwirl
SiamSerenity Teahouse
ThaiFusion Brews
ChaiJourney Elixirs
BangkokBrewcraft
ThaiTantalize Sips
SiamSavor Blends
ChaiDeluxe Delights
ThaiTradition Teas
BangkokBurst Elixirs
SiameseSipcraft
ThaiCharmful Brews
ChaiConcoction
SiamSpiceCraft Teahouse
ThaiTeaTempest
BangkokBrewMagic
ChaiDelish Elixirs
ThaiTraditions Hub
SiameseSipscape
ChaiCraze Teas
ThaiTeaTreasures
BangkokBliss Blends
ThaiFusionHub Elixirs
SiameseSavor Sips
ChaiCherish Teahouse
ThaiTasteQuest
BangkokBobaBrews
ChaiCraftsmen Elixirs
SiameseSensation
ThaiTeaTranquil Blends
SiamSipcraft Teas
ChaiChic Delights
Sawadee Chai
Matcha Milktea Name Ideas
MatchaMingle Teas
EmeraldElixir Brews
ZenZenith Milk Teas
MatchaMagic Sips
PureLeaf Pleasures
WhiskedGreen Delights
MatchaMarvel Teahouse
EnchantedMatcha
VelvetMatcha Brews
DivineDew Teas
ZenithZest Elixirs
MatchaMist Delights
EmeraldEmporium
GreenGlow Sips
MatchaMosaic Brews
TranquilTeaSpot
WhiskedWellness
MatchaMingle Elixirs
PureLeaf Palace
SereneSip Teas
MatchaMarvel Delights
EnchantedElixir
VelvetVitality Brews
DivineDip Teahouse
ZenithZen Milk Teas
MatchaMist Sips
EmeraldEuphoria
GreenGaze Elixirs
MatchaMosaic Teahouse
TranquilTeaTreasures
WhiskedWhispers
MatchaMingle Brews
PureLeaf Haven
SereneSip Sips
EnchantedMatcha Delights
VelvetVibe Teas
DivineDew Elixirs
ZenithZen Brews
MatchaMarvel Milk Teas
EmeraldEmpire
GreenGlow Teahouse
MatchaMist Brews
TranquilTeaTranquility
WhiskedWellness Sips
MatchaMosaic Elixirs
PureLeaf Pavilion
SereneSip Delights
EnchantedElixir Brews
DivineDip Teas
ZenithZest Milk Teas
Short Milktea Business Name Ideas
BrewHub
TeaJoy
SipFusion
FrothLab
SweetLeaf
SipBliss
BobaMix
CupCraft
MellowMug
VelvetVibe
WhiskWonders
PearlSip
SipNook
FrothVerse
Brewology
BlendBurst
CupZen
TeaCraze
MilkMingle
SipSoul
BlissBoba
QuirkTea
FrothFlair
BobaBuzz
SweetCraft
TeaMingle
CupNectar
BlendNook
SipZenith
FrothCharm
BobaSoul
BrewLuxe
TeaFlair
MellowMix
VelvetBuzz
WhiskCraft
CupCharm
BlissBurst
FrothJoy
BobaVerse
SweetSip
SipLuxe
BlendBuzz
Cupology
MilkJoy
QuirkBlend
FrothCraft
TeaCharm
PearlSoul
SipMingle
Clever Milktea Name Ideas
BrewSavvy Delights
WhiskWit Milk Teas
CleverCup Infusions
SipSleek Elixirs
BrainyBoba Brews
WittyWhisk Teas
CraftyCuppa Creations
MingleMinds Milk Teas
Intellicup Elixir Bar
SmartSip Teahouse
WhiskIQ Brews
CerebralCup Delights
SipSync Innovations
BrightBrew Haven
QuickQuench Teas
SavvySipcraft
EinsteinElixirs
WhiskedWisdom Brews
CuriousCuppa Teahouse
EurekaElixir Bar
SipSense Innovations
InsightfulInfusions
CleverBlend Brews
WittyWhisk Teas
CogniCup Creations
BrainyBurst Delights
Intellea Bar
MingleMinds Innovations
SavvySip Teahouse
CuriousCraft Brews
EurekaElixir Delights
WhiskedWisdom Teas
SmartSipology
CerebralCuppa Innovations
SipSync Elixir Bar
BrightBlend Teahouse
InsightInfuse Brews
QuickQuench Delights
SavvySipcraft
Intellicuppa Teas
WhiskIQ Innovations
CraftyCup Brainwaves
CuriousCup Elixir Bar
SipSense Savvy
CleverBlend Innovations
EinsteinElixir Haven
MingleMindful Teas
InsightfulInfuse
BrightBrewcraft
WittyWhisk Elixir Bar
Key Tips When Naming Your Milktea Business
Here are some unique and essential tips.
These will help guide you in selecting an appealing and impactful milktea business name that will resonate with your target audience and set you on the path to entrepreneurial success:
Reflect Your Identity: Your business name should reflect the essence of your milk tea venture. Consider the flavors, ambiance, and experience you want to provide to customers. Think about the emotions and impressions you want your business to evoke.
Capture the Experience: Your business name is an invitation for customers to experience the world of milk tea you're creating. Craft a name that gives a taste of what they can expect – the delightful flavors, cozy atmosphere, and unique offerings.
Creativity is Key: Don't hesitate to think outside the cup! Combine words, invent new ones, or use metaphors that capture the essence of milk tea. Play with rhymes, alliteration, and puns to make your name memorable and stand out from the crowd.
Stay Memorable: Simplicity and memorability go hand in hand. Choose a name that's easy to pronounce, spell, and remember. A straightforward name will make it easier for customers to refer your business to others.
Think About Versatility: While milk tea may be your main focus now, consider if you might want to expand your offerings in the future. A versatile name can accommodate potential growth and diversification.
Consider Your Niche: If you have a specific niche or specialty within the milk tea industry, your name can reflect that. Whether it's a focus on matcha, lactose-free options, or unique flavors, a niche-specific name can attract your target audience.
Research and Availability: Before you fall in love with a name, research its availability as a domain name and on social media platforms. Having a consistent online presence is crucial for brand recognition.
Check for Trademarks: Ensure that your chosen name doesn't infringe on any existing trademarks. A unique and original name will save you potential legal troubles down the road.
Engage Your Audience: Share your potential names with friends, family, and potential customers. Their feedback can provide valuable insights and help you gauge how well the name resonates with your target market.
Stay Timeless: While trendy names can be catchy, consider whether they'll still feel relevant years down the line. Aim for a name that has lasting power and won't become outdated.
Test it Out: Imagine your chosen name on signage, packaging, and marketing materials. Does it look appealing and professional? Visualizing your business name in action can help you make an informed decision.
Trust Your Instincts: Your gut feeling matters. If a name resonates with you and feels right for your brand, it's likely to resonate with your customers as well.
Remember, your milk tea business name is your first impression on potential customers. Let it tell your story, convey your passion, and entice people to step into the world of flavors you're crafting.
Embrace the journey of choosing a name, and let it fuel your excitement to embark on this remarkable entrepreneurial adventure!
Ps. Have a look at some more tea business names - we have 1051 ideas related to all aspects of the tea industry.
Want to learn step-by-step how I built my Niche Site Empire up to a full-time income?
Yes! I Love to Learn
Learn How I Built My Niche Site Empire to a Full-time Income
How to Pick the Right Keywords at the START, and avoid the losers
How to Scale and Outsource 90% of the Work, Allowing Your Empire to GROW Without You
How to Build a Site That Gets REAL TRAFFIC FROM GOOGLE (every. single. day.)
Subscribe to the Niche Pursuits Newsletter delivered with value 3X per week