Manufacturing Business Ideas: 13 Helpful Options to Explore Now
Manufacturing business ideas are a smart business concept and an awesome potential business venture to explore. This small business idea is about creating a business with products you produce. They can be for the consumer market and commercial market, as well.
They also cover a huge range of goods, from customized products to jewelry, food, pet goods, and a lot more!
In this post, we're sharing 13 different profitable manufacturing business ideas you can launch for yourself!
We're covering:
The best manufacturing business industries
How it works and also,
Industry data
Ready to start?
13 Manufacturing Business Ideas to Explore
There are many manufacturing businesses out there. We'll break down this roundup into sections to make it easier to navigate:
Lifestyle manufacturing business ideas
Beauty manufacturing business ideas
Food and beverage manufacturing business ideas
Let's take a look.
Lifestyle Manufacturing Business Ideas
Lifestyle manufacturing business ideas include high-demand businesses for large markets and also small-scale manufacturing. Let's get into it!
1. Clothing and Footwear
Clothing and footwear include clothes and shoes for men, women, children, and babies. The garment manufacturing industry is a very profitable business market, forecasted to pass two trillion dollars by 2027.
Clothing and footwear are huge because of globalization. Increased consumer demand and fashion trends also play a role.
There are many different angles you can approach with this manufacturing business idea:
Seasonal wear
Accessories like belts, scarves, or hats
Leather goods
Eco-friendly apparel and shoes
These finished products are typically produced in factories. But, some niche, smaller-scale products can be handmade, like knitted mittens, for example.
Success story: Allbirds sustainable footwear brand is focused on sustainable materials and eco-friendly practices.
---
2. Candlemaking
The global candle market was valued at 12 billion dollars in 2022 and is estimated to grow by 5.7% by 2030. Candles can be made in factories. They can also be a home-based manufacturing business, produced on a smaller scale.
Here are some of the steps for manufacturing candles:
Choose the materials: wax, candle wicks, candle jars, etc.
Melt down the wax
Assemble the candle
Trim the wick
Package and distribute
For more details, read this 6-step guide for starting a candle business.
Success story: Milk Jar Candle Co. is a small-batch candle company. They create hand-poured, vintage-inspired soy wax candles using natural ingredients.
---
3. Personalized Gifts
The personalized gifts market has experienced significant growth recently. Overall, this growth is driven by the demand for unique gifts for special events and corporate gifting.
Customization options include:
Engraving
3D printing
Bespoke products
Monogramming
Customization is done using special equipment. Goods can also be customized by hand with tools.
The personalized gifts market is expected to grow to 47 billion dollars by 2030.
Success story: Hedge House offers bespoke, handcrafted furniture pieces sourced with local materials.
---
4. Pet Food and Treats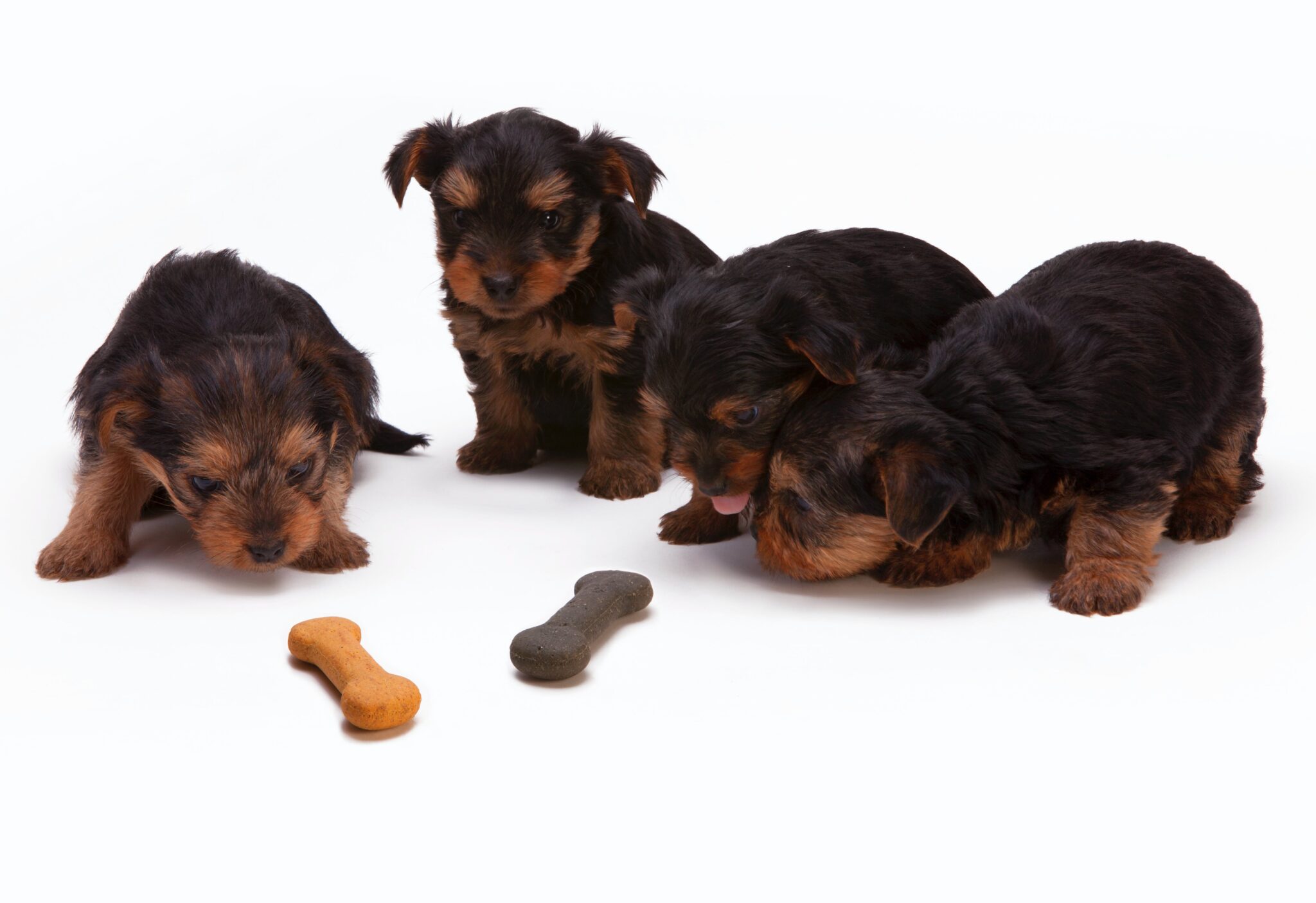 The pet food industry is expected to grow to over 160 billion dollars by 2029. There is a huge demand for pet food products and treats.
These products include:
Dog food
Dog treats
Bird food
Fish food
There are hundreds of pet food companies that exist today, like Tetra, Oxbow Animal Health, Blue Buffalo, and Greenies.
How to Start Manufacturing Pet Foods?
Pet foods are manufactured through a multi-step process:
Ingredient sourcing
Quality control
Preparation and baking
Adding nutritional supplements
Cooling and drying
Packaging
This manufacturing process is subject to strict manufacturing guidelines. In general, pet companies must ensure the final product is nutritious and safe for pets.
This industry's continued growth comes from the growing demand for healthy and nutritious pet food. Another contributing factor is the growing number of households considering pets as a part of the family.
Nearly 97% of U.S. pet owners call their pets family.
Overall, this passionate audience wants the best for their animals. They will continue to demand the highest quality ingredients, food, and treats for their pets.
Success story: The Farmer's Dog offers personalized, fresh dog food tailored to each dog's diet and nutrition needs.
---
5. Toys
Create toys and games for kids. You can handmake toys, or you can also use machinery to assemble toy goods.
Create a prototype
Test it for safety
Make samples
Bring in a focus group
Toy manufacturing is a billion-dollar industry. It provides a lot of entertainment for kids and adults, like board games, brain and memory games, etc.
Tip: take a look at our fabulous list of board game name ideas for some inspiration!
Success story: Melissa & Doug offer educational toys to promote child development and imaginative play.
---
6. Furniture
Another lifestyle manufacturing business idea is furniture!
Furniture manufacturing covers goods like:
Couches
Sectionals
Beds
Tables
Desks
Furniture Manufacturing Business Ideas Niches
You'll need to decide what kind of furniture you'll craft. Then, choose a focus.
Eco-friendly
Space-saving
Antique or vintage
Outdoor
Commercial
For more inspiration, take a look at our list of ideas for furniture business names. We cover all sorts of furniture categories.
Furniture is a massive industry with expensive products. The furniture industry is growing rapidly. As a result, it is expected to pass one trillion dollars in the next several years!
How To Start Furniture Manufacturing
Here are the steps you'll follow to launch a furniture manufacturing business:
First, conduct market research to understand market demand. Then, look at competitors and gaps in the market and choose a niche.
Create your business plan and move into the manufacturing phase of business development.
This involves:
Setting up a warehouse or location for furniture assembly
Buying equipment, sourcing raw materials, and also machinery
Hiring workers
Quality control
Marketing and sales
Distribution
The furniture industry was valued at over 600 billion dollars in 2022. Overall, it's still fairly large, but there's still plenty of room for competitors to enter into the furniture space, especially if you go niche.
Success story: Burrow offers customizable modular furniture designed for easy assembly and transport.
---
7. 3D Printing
To start a 3D printing manufacturing business, you will need a 3D printing machine. Surprisingly, 3D printers can create a lot of unique products nowadays.
Lots of people think of 3D printers fondly, but honestly, they are another tool for manufacturing.
22% of people said they used a 3D printer to fix something at home, while
77% of people said 3D printing would be useful for simple supply chain issues
3D Printed Product Examples
Aerospace components
Earthhomes
Jewelry
Art
Architectural and education models
There are also 3D printed homes, believe it or not!
3D printing could be a great specialized manufacturing niche to enter.
Success story: Ultimaker is a big name in the 3D printing space, known for their user-friendly 3D printers used by consumers and businesses.
---
8. Jewelry Making
The jewelry industry manufacturing sector is vast, covering hundreds of different categories and styles of jewelry.
Bracelets
Necklaces
Rings
Anklets
Minimalist
Modern
Jewelry is made with different metals and materials. It's also embellished with gemstones and other expensive materials.
While the U.S. is a major player in the jewelry market, China is the global leader.
The global jewelry industry is projected to reach over 308 billion dollars by 2030.
This versatile market can be run on a small scale or large scale. You could start with jewelry as a small manufacturing business idea and then scale it in the future. The low investment requirements make this an attractive option for aspiring entrepreneurs.
This is how you start a jewelry business in 12 steps.
Success story: Kendra Scott, known for a diverse array of high-quality fashion jewerly. They offer stylish, affordable jewelry pieces catering to the luxury market.
Beauty Manufacturing Business Ideas
Beauty manufacturing business ideas include all manufacturing business ideas related to beauty, personal care, haircare, and cosmetics. Let's go!
9. Soapmaking
Making soap is a passion project that, surprisingly, may have a cult following, depending on the brand. You'll design and create soap products for the general public. You can sell B2C or B2B.
You'll need:
A concept for the kinds of soaps you'll produce
Soapmaking equipment and supplies
Design and packaging materials
Soapmaking manufacturing produced on a large scale is possible. It can also easily be a handmade business.
Overall, if you're interested in a smaller scale home-based manufacturing operation, soapmaking is a real option.
The soapmaking industry will grow to an estimated 66.5 billion by the year 2032.
Success story: Dr. Bronner's an organic and fair trade soap company offering an array of soap products including soap bars, liquid soaps, and personal care products.
---
10. Natural skincare
Natural skincare products use natural and eco-friendly ingredients. These products may be made with plant-based ingredients, minimal processing, and have a focus on sustainability.
They are free from chemicals as well as artificial fragrances.
Natural skincare products include:
Cleansers
Moisturizers
Lotions
Serums
Masks
Natural skincare products are produced in factories and also made in a home-based setting.
Examples of successful home-based natural skincare companies are BeeFriendly Skincare, The Honest Company, as well as Pai Skincare.
The natural skincare industry was valued at 6 billion dollars in 2021 and is expected to grow 6.6% by 2030.
Success story: Burt's Bees uses beeswax and other natural ingredients in their product line. They are known for their commitment to sustainability and ethical sourcing.
---
11. Personal Care and Beauty Products
Personal care and beauty products include self-care, beauty, and cosmetics goods.
Creating these products involves a multi-step process:
Come up with a product concept
Create a formula and prototype
Test for safety
Package and label
There are government regulations in place for beauty and cosmetics products. You'll need to take care that you're adhering to those guidelines to ensure products are safe for consumers.
You'll also want to pay close attention to packaging, product colors, labeling, and overall appearance.
Examples of personal care and beauty products are:
Shampoo and conditioner
Bodywash
Lipstick
Foundation
Perfume
The beauty industry is growing overall. It will generate nearly 580 billion dollars in 2023.
Success story: Drunk Elephant is a small scale beauty brand with an emphasis on clean skincare and creating products without the "Suspicious 6" harmful ingredients.
Food and Beverage Manufacturing Business Ideas
Lastly, food and beverage manufacturing business ideas cover food and drink products. These products are also called consumables.
12. Coffee
Coffee manufacturing business ideas can be a fun product category to pursue, especially for coffee lovers. Food processing in food and beverage is a massively huge market.
So, it makes sense why this business idea made the list!
Coffee has a cult following among consumers. This is one of the best manufacturing business ideas to start for aspiring entrepreneurs looking for a small manufacturing business idea to pursue.
Here are some ideas:
Coffee
Coffee accessories
Roasted coffee beans
First, consider what coffee products you'll manufacture. Then, source ingredients. Following that, you'll formulate the product and create samples. Then comes testing and taste sampling.
Look at wholesale vs retail markets and figure out what direction you'll take.
The coffee roaster industry alone is expected to reach over 700 billion dollars by the year 2032.
Success story: Nespresso, known for it's unique premium coffee capsule products. They've cultivated a brand identity for luxury, high-quality coffee that also has its roots in convenience – you can brew it right at home in your kitchen.
---
13. Tea
Tea is one of the best manufacturing business ideas for people interested in entering the food and beverage industry. It has a similar product manufacturing cycle as coffee.
How To Start A Tea Manufacturing Business?
You'll start with a product idea, then:
Create your recipe
Source ingredients
Test and also taste
Package as well as distribute
The tea industry is quite large as well, though not as big as coffee. Surprisingly, it's projected to reach 160 billion dollars by 2028.
Success story: Twinings of London, known for their versatile and wide variety of teas and blended teas.
Which Manufacturing Business is Most Profitable?
The most profitable manufacturing businesses are those that cater to a unique market and/or offer high-demand products.
Some examples of these profitable manufacturing business ideas are unquestionably accurate, like pharmaceuticals and medical device sales. Others might be surprising.
Here are examples:
Food and drink
Electronics
Renewable energy
Are you shocked?
What is the Easiest Thing to Manufacture?
When looking at manufacturing business ideas, the easiest products to manufacture are those that:
Require the least amount of materials
Can be easily manufactured with the fewest steps
Some examples of easy products to manufacture include:
Handmade crafts: Jewelry, candles, and soaps that can be made from home.
Clothing and accessories: T-shirts, scarves, and related goods.
Food products: Baked goods, homemade sauces, and simple snacks are examples.
Basic woodworking projects: Picture frames, small furniture, and small wooden toys.
Once you choose a product to manufacture, you can carry on with the remaining steps in the process to bring the product to market and sell to the public.
Sell your products on handmade and retail marketplaces like Etsy - it is a great place to sell your manufactured goods. Many different kinds of products thrive on Etsy, like jewelry, soap, home goods, food products, and more. Etsy has tons of potential to attract customers and sell your goods, but new sellers can face challenges like:
Setting up SEO-optimized product listings correctly to get the most exposure,
Ranking on Etsy search and,
Taking product photographs like a pro.
This Etsy Masterclass will show you how to master Etsy, including marketing, sales, and social media. Learn how to optimize your store and make sales from a seasoned seller.
Bottom Line
We just covered 13 manufacturing business ideas! You learned about different products to manufacture in your own company, from small scale products to significantly larger scale products.
What's next?
If you want to start a manufacturing business, then you see, there are plenty of options available. I hope this list of manufacturing business ideas gave you some inspiration.
Do you have a clearer idea of what path you'll take?
Which manufacturing business idea caught your eye?
Want to learn step-by-step how I built my Niche Site Empire up to a full-time income?
Yes! I Love to Learn
Learn How I Built My Niche Site Empire to a Full-time Income
How to Pick the Right Keywords at the START, and avoid the losers
How to Scale and Outsource 90% of the Work, Allowing Your Empire to GROW Without You
How to Build a Site That Gets REAL TRAFFIC FROM GOOGLE (every. single. day.)
Subscribe to the Niche Pursuits Newsletter delivered with value 3X per week