441 Classic & Mythical Magic Shop Name Ideas
When you buy something through one of the links on our site, we may earn an affiliate commission.
Are you dreaming of launching your magic-themed store? The first step is conjuring a list of magic shop names that spark curiosity and leave a lasting charm.
So, to help, we've conjured up a cauldron of 441 Magic Shop Name Ideas, each a unique potion of imagination and allure.
We've also crafted an enchanting spellbook of essential tips to help guide you through the naming process. From embracing originality to ensuring future expansion, these tips are the key to naming success.
So, let's not waste any time, and let's get crafting!
Funny Magic Shop Names
Presto-Perfect Magic Emporium
Abracadabra Amusements
Hocus Pocus Haven
Wands & Whimsy Wonders
Enchanted Giggles Magic Mart
Charmed Chuckles Conjuring
Spellbinders' Comedy Caboodle
Gigglepot Potions & Prestidigitation
Grins & Glitches Magic Bazaar
Mystic Mirth Megastore
Quirky Quarters of Conjuring
Chuckle Charm Curiosities
Whimsi-Wizardry World
Jestful Jinxes & Joys
Marvelous Mischief Magic Mall
Wacky Wand Warehouse
Trickster's Tickle Trinkets
Jolly Japes Enchantments Emporium
Guffaw's Grand Illusion Shop
Giggles & Gadgets Magic Mart
Jestful Alchemy Arcade
Mystic Grins Magic Mercantile
Witty Witchcraft Wonders
Chuckle Conjurers' Corner
Laughs & Levitation Emporium
Wacky Wizardry Wharf
Whimsical Enchants 'n' Laughs
Gag & Glamour Grove
Punny Potions Parlor
Cackle Castle Magic Mart
Silly Sorcery Superspot
Laughter & Legerdemain Lounge
Jestful Hexes & Hoots
Mirthful Magic Monopoly
Quirk & Quill Conjurations
Whimsi-Wizard Whistlestop
Guffaw & Glisten Emporium
Chuckles & Charms Cabin
Mystic Merriment Market
Comedic Casts & Conjures
Great Magic Store Name Ideas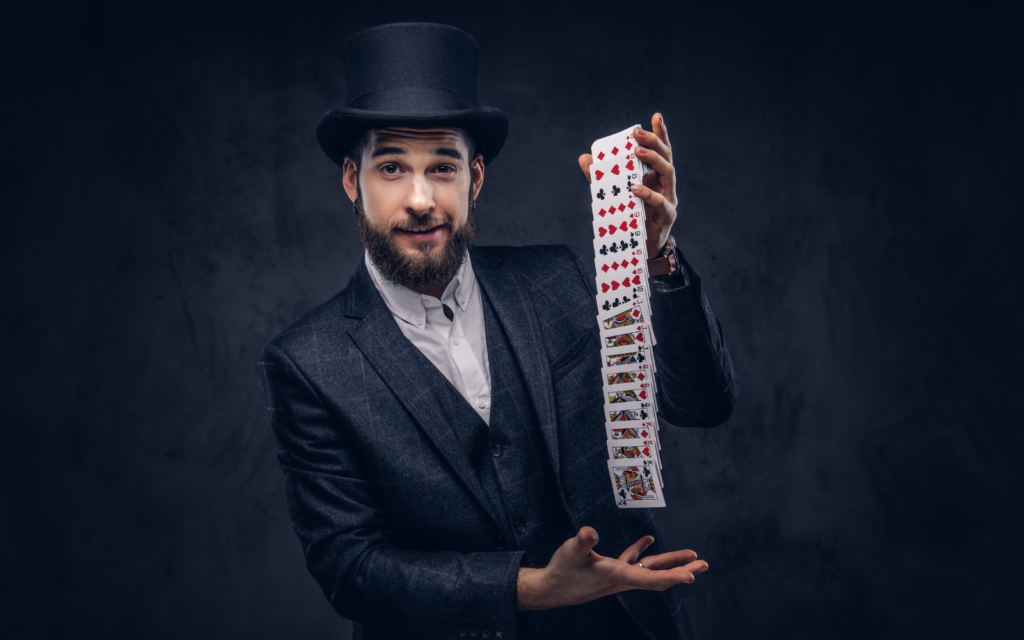 Enigma Enchants Emporium
Arcane Allure Attic
Whispers of Wonder Wares
MystiTech Magic Haven
Enchanted Odyssey Outfitters
Mirage & Marvel Magic
ConjureCraft Chronicles
Celestial Sorcery Store
Nebula Nexus Novelties
Ethereal Enchants Emporium
Astral Alchemy Alley
Enigmatix Euphoria
Quantum Quirk Conjures
IllumeWand Wonders
LuminaLex Magic Den
EtherEclipse Emporium
AstralArc Amulets
NovaGleam Enchantments
Eclipsed Elements Emporium
Enchantisphere Emporium
MagiMatrix Mystiques
EsoteriCraft Emporium
NebulaWhisper Magic Loft
EtherealEssence Emporium
Enchanted Horizons Hub
Stardust Chronicles
Radiance Riddles Realm
GalaxiGlimmer Magic Market
EnigmaNova Mysteries
MythiTech Marvels
AstralAlchemy Emporium
NebulaWhirl Wonders
EsoteriSphere Spells
CelestiCraft Treasures
EnchantiCore Curios
IllusionEcho Emporium
StarLuxe Sorcery
EtherEdge Enchants
ArcanaVista Ventures
MirageLoom Magic Forge
Rhyming Magic Names
Mystic Rhymes Emporium
Enchanted Dance Enhancements
Whimsy Whispers Wares
Spellbound Sounds Store
Dreamy Gleam Theme
Illusion Confusion Fusion
Mystic Mix Tricks
Riddle and Diddle Rendezvous
Charms and Chants Plants
Potion Notion Ocean
Giggles and Wiggles
Enchant Chant Bazaar
Twinkle Spell Inkle
Mischief Whiff Gift
Marvelous Moon Muse
Wizard Lizard Blizzards
Starlight Delight Twilight
Crystal Whisper Drifter
Spark Arc Remark
Glimmer Shimmer Simmer
Jinx Wink Ink
Quest Nest Fest
Mystic Rhyme Sublime
Mirage Garage
Whirl Swirl Pearl
Fantasy Symphony
Mirage Whisper Quiver
Blissful Abyss Miss
Lumina Luna Tuna
WhizFizz Fizz
Harmonic Bionic
Mystic Lyric Panoramic
Fantasy Galaxy Symphony
Enchanted Chanted Attendants
Serene Scene Routine
Magic Gig Song
Fable Stables Labels
Zephyr Effervescent Whisper
Wandland Grand Stand
Lively Dive Five
Mythical Magic Shop Names
Olympus Arcana Emporium
Nymph's Nook of Enchantment
Centaur's Secret Treasures
Phoenix Fire Wands & Charms
Griffin's Gaze Magic Maven
Pegasus Portal Potions
Minotaur's Maze Mystiques
Siren's Serenade Spells
Medusa's Marvelous Medley
Cyclops Craftworks
Triton's Tidal Trinkets
Chimera's Charm Cache
Hydra's Haven of Wonders
Gorgon's Glint & Glimmer
Valkyrie's Veil Enchantments
Faun's Fantasia Finds
Harpy's Harmony Hall
Unicorn's Unity Emporium
Sphinx's Secret Scrolls
Dryad's Dreamy Delights
Dragon's Den of Magic
Golem's Glyphs & Gadgets
Basilisk's Bewitching Bazaar
Cerberus Curio Corner
Kraken's Krystals & Konjuring
Furies' Fabled Forge
Nereid's Nautical Notions
Phoenix Nest Nexus
Chimera's Choice Charms
Gorgon's Gaze Galleria
Centaur's Constellation Crafts
Mermaid's Melody Magic
Griffin's Gold & Glamour
Unicorn's Utopia Utensils
Harpy's Harmony Haven
Siren's Starlit Spells
Minotaur's Mythic Market
Basilisk's Brews & Elixirs
Medusa's Mirage Emporium
Dragon's Domain Designs
Classic Magic Store Name Ideas
Merlin's Mystical Emporium
Enchanted Elixirs & Artifacts
Spellcaster's Sanctum
Mystic Manor Magic
Arcane Auras Antiques
Wizardry Wonders Workshop
Charmed Chronicles Curios
Enigma's Ephemera
Alchemist's Attic
Grimoire Gallery
Potion & Scroll Parlor
Starlight Sorcery Shop
Enchanted Elements Emporium
Wand & Rune Relics
Sorcerer's Secrets Store
Enchanted Hearth Haul
Magician's Marvelous Merch
Eldritch Elegance Emporium
Scroll & Crystal Cove
Mystic Lore Marketplace
Rune & Potion Provisions
Spellcraft Treasures
Wizard's Watchful Wares
Elixir Emporium
Incantation & Amulet Abode
Enchanted Alcove Antiques
Mystic Grimoire Gallery
Potion Pinnacle
Sorcery Scroll Seekers
Wizardry Wares Warehouse
Enchanted Alchemy Alcove
Arcane Artifacts Avenue
Charm & Conjure Collectibles
Sorcerer's Study Store
Enchanted Ephemera Emporium
Wizard's Whimsy Wares
Mystic Manuscript Maven
Enchanted Enigma Emporium
Spellbound Keepsakes
Ancient Magic Archives
Modern Magic Name Ideas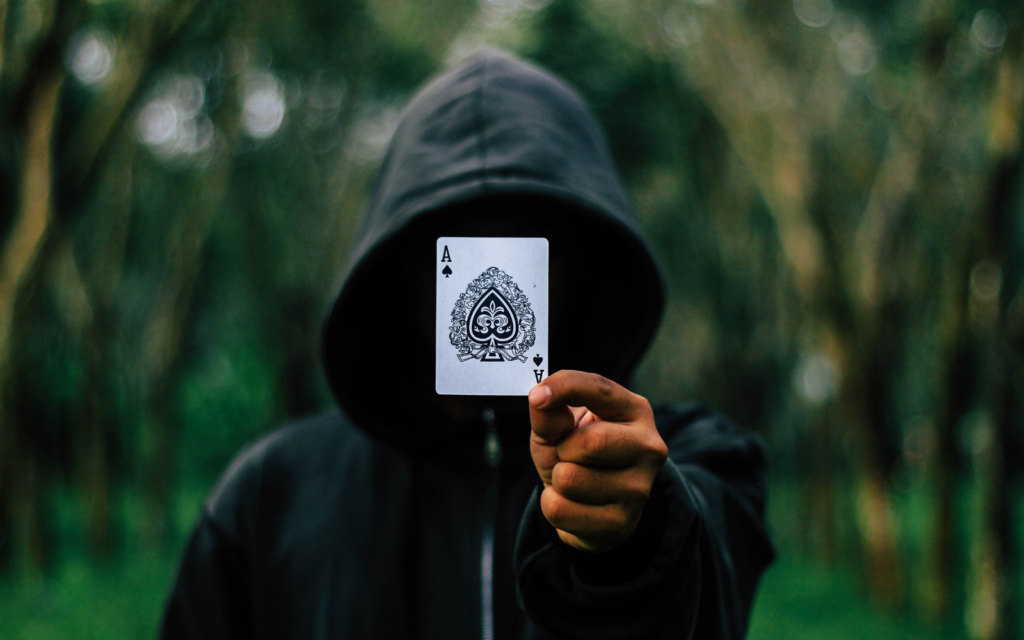 TechWitch Innovations
PixelPotion Emporium
Quantum Quirk Magic Hub
VRVerse Enchants
MystiTech Matrix Mart
Digital Dexterity Delights
Enchanted Code Collective
ByteBrewed Magic Bazaar
CyberCaster Connections
NanoWand Nexus
FuturaFantasy Finds
HoloHex Haven
MagiSync Modern
TechnoCharm Trove
Ethereal E-Shop
E-lixir Emporium
Vortex Visions Ventures
EnigmaCraft E-Spells
LuminaLink Magic Store
Quantum Quill Quarters
MetaMagix Mart
VRValor Vortex
SparkSphere Spells
PixelPulse Potions
WizWire Enchants
ByteBrew Bazaar
TechnoTales Treasures
HoloHub Harmonies
CodeCraft Co.
VRVerse Ventures
Quantum Quest Quarters
E-Magi Emporium
MagiMatrix Marketplace
FuturaFocus Finds
TechnoWand World
HoloHex Hexes
CyberSpark Spells
Ethereal Echo Emporium
DigitalDelight Dwelling
ByteWitch Boutique
Retro Magic Business Names
Mystic Memory Lane
Vintage Enchantment Emporium
Nostalgic Spellcasters' Studio
Classic Conjurations Corner
RetroGlam Grimoires
Magic Rewind Relics
Spellbound Era Emporium
RetroWand Wonders
Enchanted Echoes Emporium
Vintage MystiTech Marketplace
WhimsiNostalgia Wares
Timeless Enchants Trove
Spellcraft Revival
Olden Enigma Emporium
RetroSpell Scrolls
Charmed Reminisce Relics
Vintage Alchemy Avenue
Wizardry Echo Emporium
NostalGlow Magic
ClassicCraft Collectibles
RetroRune Relics
Enchanted Flashback Finds
Mystic Memoirs Mart
Vintage Spellwork Shelves
WhimsiThrowback Treasures
RetroElixir Emporium
TimeWarp Trinkets
Enchanted Yesteryears
Vintage Aura Antiques
Charm Chronicles Chateau
RetroTech Magic Maven
EnigmaEcho Elixirs
Nostalgia Nexus Novelties
Wizardry RetroRevive
Mystic Melodies Memoir
Vintage Pixel Potions
Charmed RetroRealm
Enchanted Epoch Emporium
Spellbound Sentimentalities
NostalMagic Emporium
Fun Magic Shop Name Options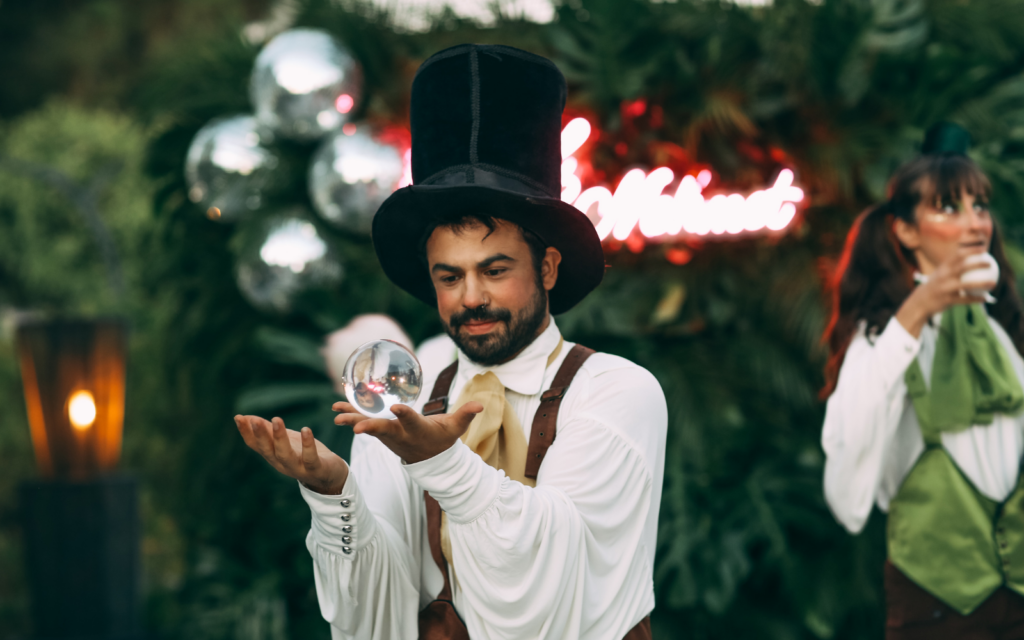 WhimsiWonders Magic Emporium
Giggles & Glitz Enchants
Funky Fantasy Finds
Joyful Jinx Junction
ChuckleCharm Charms
Happy Hexes Haven
WackyWizard Whimsy
Enchanted Glee Gallery
Laughing Spells & Trinkets
Mirthful Magic Moments
Playful Prestidigitations
Jolly Japes & Enchants
SmileSpark Sorcery
GiddyGlamour Groove
WittyWizard Wares
Hilarious Hex House
ChuckleCraft Conjures
GleeGlow Magic Nook
QuirkQuest Emporium
Amusing Aura Alcove
Enchanted Euphoria Emporium
WhimsiWand Wonderland
Cheerful Chants Corner
Radiant Riddles & Relics
GiggleGlyph Magic Shop
ZanyZap Enchants
QuirkyQuest Quarters
JoyJolt Jinxes
HappyWand Whirl
WackyWhisper Emporium
Laughing Lore Loft
GleeGlow Grotto
Sparkling Shenanigans Store
WittyWhirl Wonders
GrinGalaxy Enchants
ChuckleCharm Curio Cabin
Blissful Bizzarre Finds
Enchanted Ecstasy Emporium
PlayfulPotion Pavilion
Mirthful Mystic Mart
Clever Magic Business Names
Wits & Wands Wizardry
CraftyConjures Collective
MindMeld Magic Emporium
EnigmaEra Elixirs
CogniCast Charms
IntellectArcana Innovations
SageCraft Sorcery
RiddleRealm Relics
Insightful Illusions Inc.
QuirkQuest Qorner
WitWhisper Wares
CunningCharm Curios
SmartSpell Satchel
SavvySorcery Shop
BrightBrew Enchants
BrainwaveBrews Bazaar
CerebralCast Collectibles
SavantSphere Spells
CleverCauldron Creations
GeniusGlyphs Emporium
ThoughtfulThaumaturgy
Synapsera Sorcery
QuizzicalQuill Emporium
InsightAlchemy Attic
SharpSpell Scrolls
CogitationCraft Corner
IntelliMystic Market
StrategyStir Sorcery
PuzzlePotion Pavilion
ArticulateArcane
EnigmaIntel Emporium
CogniCraft Chronicles
WiseWhispers Wares
BrillianceBrew Bazaar
SavvyScribe Spells
SageSorcery Shack
SmartySpell Emporium
CogCraft Curios
QuickwitQuarters
ShrewdSpellcraft Store
Creative Magic Company Names
Mythos & Mirth Magicks
Luminary Lexicon Lodge
FableFusion Fantasies
WhimsiWeave Wonders
ChronoCharm Curios
IlluNova Emporium
SynthSpell Surplus
DreamForge Divinations
KaleidoCraft Curiosities
ChromaCraze Conjures
VisionVortex Vault
Pulsar Potions Parlor
AetherArcane Artistry
NebulaNook Nectar
EtherealEcho Enchants
MosaicMagix Market
QuantumQuill Quest
MirageMingle Mystiques
PrismPotion Provisions
StardustStir Sorcery
LucidLoom Legends
EchoEnigma Emporium
KaleidoKraft Keepsakes
CosmoCraft Chronicles
PixelPotion Piazza
OdysseyOracle Outlet
StellarSynth Spells
SpectrumSpellcraft Store
ArcaneAmalgam Art
QuasarQuirk Quests
MirageMosaic Magic
ChromaCraft Caboodle
DreamDazzle Diviners
CelestialCanvas Charms
LuminaLattice Loft
QuixoticQuanta Quarters
NebulaNexus Novelty
EtherEssence Emporium
EnchantedEpoch Esoterica
ChromaCrafter Collective
Short Magic Shop Names
MysticMingle
EnchVista
WizWares
SparkArc
HexHaven
FableFinds
CharmCart
DreamGems
GlimmerGrove
SpellSpot
QuirkCove
LuminaLuxe
BrewBazaar
MythMart
PixiePulse
EtherEss
NebulaNook
WhimsiWand
GleamGuild
NexusNest
PrismPotion
MythosMyst
BlinkBoutique
RuneRack
StarGlow
ArcaneArt
QuillQuest
GlintGem
ArcVault
ChantCraze
EnigmaEden
MirthMuse
GigaGlint
WittyWares
HocusHaven
MuseMark
ZingZone
SpellSmith
HexHut
WonderWeft
MagicSpot
Key Tips For Naming Your Magic Shop
Here are some essential tips to guide you on this exciting journey when choosing among these magic shop names:
Reflect Your Style: Your shop's name is the first impression customers will have of your magical world. Consider words and phrases that mirror the style and atmosphere you want to create. Whether it's whimsical, modern, or classic, let your name reflect it.
Embrace Originality: Strive for a unique name that sets you apart from the crowd. Think of words, phrases, or concepts that resonate with your vision but haven't been overused in the industry.
Storytelling Spark: A great name tells a story or sparks curiosity. Consider incorporating magical elements, folklore, or even a short enchanting tale within your name to captivate potential customers.
Magic with Words: Play with words, puns, and alliterations to create memorable names. Clever wordplay can be catchy and leave a lasting impression on your customers.
Keep It Simple: While creativity is key, simplicity is just as important. A name that's easy to spell and remember will make it easier for customers to find you online and recommend you to others.
Visualize Your Brand: Imagine how your chosen name will look on a sign, business cards, and your online presence. A visually appealing name can contribute to your brand's aesthetic.
Think Future Expansion: If you have aspirations to expand your magical offerings in the future, choose a name that isn't too narrow in focus. This flexibility can serve you well as your business evolves.
Check Domain Availability: A matching website domain can be crucial for success. So, before finalizing your name, check if the corresponding domain is available on a site like Namecheap.
Legal and Trademark Considerations: Ensure that your chosen name doesn't infringe on trademarks or copyrights. Conduct a thorough search to avoid legal issues down the road.
Test with a Focus Group: Enlist friends, family, or even potential customers to get their feedback on your shortlisted names. Their input can provide valuable insights and help you refine your options.
Positive Vibes: Your magic shop's name should evoke positive feelings and curiosity. Opt for a name that makes people smile and piques their interest.
Future-Proof Your Name: Consider whether your chosen name will stand the test of time. Avoid trends that might fade quickly and choose something that can remain relevant for years to come.
Remember, naming your magic shop is a creative endeavor that should reflect your passion and enthusiasm for magic. Let your imagination flow, and don't be afraid to take a magical leap into the world of entrepreneurship! Your unique name will be the cornerstone of your enchanting journey ahead.
Want to learn step-by-step how I built my Niche Site Empire up to a full-time income?
Yes! I Love to Learn
Learn How I Built My Niche Site Empire to a Full-time Income
How to Pick the Right Keywords at the START, and avoid the losers
How to Scale and Outsource 90% of the Work, Allowing Your Empire to GROW Without You
How to Build a Site That Gets REAL TRAFFIC FROM GOOGLE (every. single. day.)
Subscribe to the Niche Pursuits Newsletter delivered with value 3X per week