How Vegetarian Food Blog Love and Lemons Grew To 10M Visitors Per Month
When you buy something through one of the links on our site, we may earn an affiliate commission.
Love and Lemons was created by Jeanine Donofrio, a food writer, recipe developer, and photographer. The blog started as a creative outlet for Jeanine to document her plant-based recipes and share her love of all things food.

Jeanine's passion for creating recipes and photographing food led her to develop a strong following on social media, and in 2014, Love and Lemons was awarded the blog Best Cooking Blog by Saveur Magazine.

In 2016, she released her first cookbook, The Love and Lemons Cookbook: An Apple-to-Zucchini Celebration of Impromptu Cooking. Her latest cookbook, Love and Lemons Every Day: More than 100 Bright, Plant-Forward Recipes for Every Season, was released in September 2019.

Jeanine's work has been featured in The New York Times, Bon Appétit, Vogue, Glamour, Shape, Women's Health, and more. She is a regular contributor to MindBodyGreen and has been a guest on The Today Show, Good Morning America, The Rachael Ray Show, and more.

Since the site started in 2012, it has grown to over 2000 pages of recipes, meal ideas, and food related "how-to" guides. Let's have a look at how this niche food blog attracts over 10 million visitors per month.

[TOC]
---
How Love and Lemons Gets Its Traffic
Most of Love and Lemons' traffic comes from search, with direct traffic and a little bit of social media thrown in.
According to SimilarWeb, about 82% of the blog's traffic comes from search engines, with the rest coming from direct traffic (15%), social media (0.8%), and referral sites (1%).
As you would expect for a food blog, nearly 60% of its social traffic comes from Pinterest. The majority of the rest comes from Facebook (15%), and YouTube (13.5%). Surprisingly, Instagram does not feature heavily here.
What Types of Keywords Does Love and Lemons Target?
According to Ahrefs, Love and Lemons ranks for over 700,000 keywords and have grabbed the number one spot for some seriously high traffic food and recipe related keywords, such as
Quinoa
Mimosa
Brownies
Pasta recipes
They've also won some great "how to" and meal idea keywords:
How to boil eggs
Healthy breakfast ideas
Easy dinner ideas
Their two top pages - "how to make hard-boiled eggs" and "easy dinner ideas" each account for 3.9% of their traffic, so their success is spread fairly evenly across their site, and isn't just coming from a handful of viral posts.
This gives them a much more sustainable traffic model that is less likely to be impacted by algorithm changes or social media platform updates.
With 93% of their content classed as informational in intent, they should be safe from future Google algorithm updates penalising sites with thin content that doesn't add value for the reader.
How Their Pages Look
The website is beautiful, with gorgeous photography and a clean, modern design.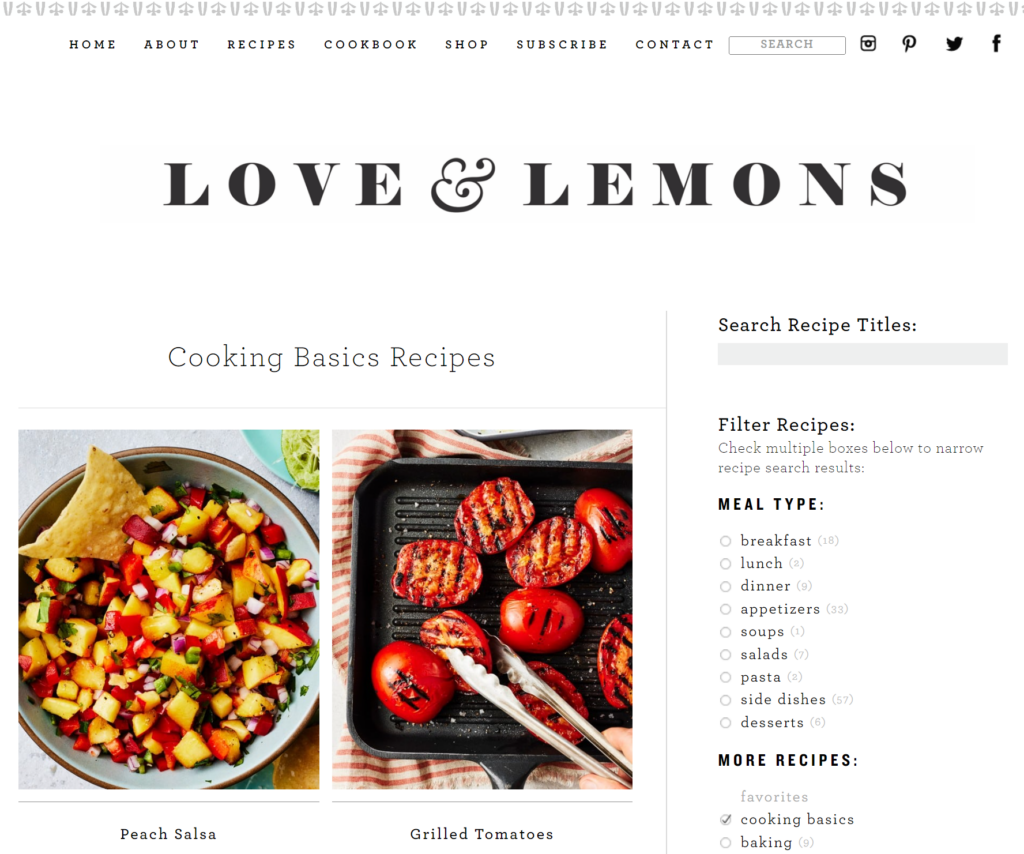 Each recipe has its own page with a photo, ingredients list, and step-by-step instructions. Some of the recipes also have videos embedded from YouTube that show you how to make the dish.
Love and Lemons has built a successful blog by focusing on creating high-quality content, both in terms of recipes and photos. We also featured their site as a prime example for how to start a food blog.
What's Their Link Profile Like?
As mentioned, Love and Lemons has a very strong link profile. It has links from some of the biggest sites on the web, such as Wikipedia, Medical News Today, Good Housekeeping and Healthline.
It's highly likely these links were obtained organically through the creation of great content.
Its link profile is also very diverse, with links from a variety of different domains, including food blogs, health websites, and even an art gallery! This diversity indicates that Love and Lemons is considered a high-quality resource by a wide range of websites.
Overall, their link profile is extremely impressive.
What Does The Site Do Well?
Love and Lemons uses a mix of beautiful photography, delicious looking recipes, and interesting blog posts to engage their audience.
The branding is consistent and the overall aesthetic is pleasing to the eye.
They also do a great job of optimizing their recipes for search engines, which brings them a lot of organic traffic.
There's not much that Love and Lemons could improve upon – they're doing a lot of things right!
How Does Love and Lemons Make Its Money?
Jeanine monetizes her blog in a variety of ways, including two cookbooks and a recipe planner, along with affiliate sales through her resources shop.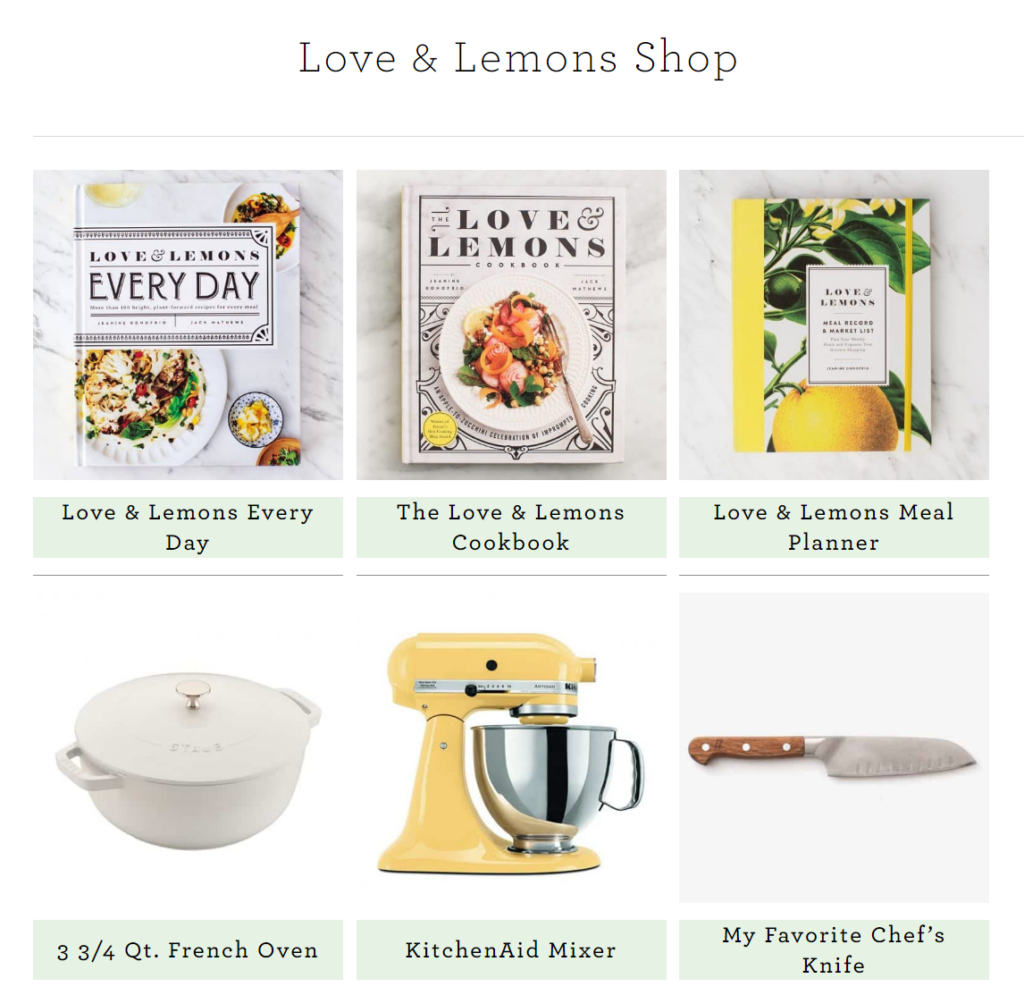 Love and Lemons also partners with leading brands, including Whole Foods and KitchenAid, to produce sponsored posts.
There are also a few ads on the blog, in the sidebar and every few paragraphs, but they're not terribly intrusive.
Overall, Love and Lemons provides a great model for how to monetize a food blog successfully.
What Can We Learn From Love and Lemons Website?
Here are a few things you can learn from their success:
Invest in high-quality photography and recipe development. People are drawn to beautiful photos and delicious sounding recipes.
Know your niche. Love and Lemons focuses purely on healthy, vegetarian recipes. This gives them a narrower focus than many other food blogs, but it also allows them to be seen as an authority on their topic.
Optimize your recipes for search engines. This will help you rank higher in search results and get more traffic to your site.
Create helpful resources for your readers. Whether it's a printable recipe card or a video tutorial, giving your readers additional resources will help them engage with your content and come back for more.
Partner with leading brands. Sponsored posts can be a great way to monetize your blog while also introducing your readers to new products and companies that they may be interested in.
Keep your ads unobtrusive. Ads can be a great way to generate additional income from your blog, but it's important to strike a balance. Too many ads can be intrusive and turn readers off, so it's important to find the right balance for your site.
Love and Lemons is a great example of a food blog that does everything right. From stunning photography to delicious recipes, they have it all. They also monetize their blog in a variety of ways, including cookbooks, sponsored posts, affiliate links and ads.
If you're looking to start a food blog, or grow your existing site, there's a lot you can learn from their success.
Want to learn step-by-step how I built my Niche Site Empire up to a full-time income?
Yes! I Love to Learn
Learn How I Built My Niche Site Empire to a Full-time Income
How to Pick the Right Keywords at the START, and avoid the losers
How to Scale and Outsource 90% of the Work, Allowing Your Empire to GROW Without You
How to Build a Site That Gets REAL TRAFFIC FROM GOOGLE (every. single. day.)
Subscribe to the Niche Pursuits Newsletter delivered with value 3X per week