Is Eneba Legit? Here's How It Compares To Other Game Reselling Platforms
When you buy something through one of the links on our site, we may earn an affiliate commission.
Eneba is an online gaming marketplace where you can buy game keys at a discounted price. It got started in 2018. But since the beginning, Eneba has become popular among the gaming crowd because of its strict vetting process.
And as it is the new kid in town, it's natural to ask yourself - is Eneba Legit?
Yes, Eneba is a totally legit website to buy game keys. You can find great deals for Playstation, Xbox, or PC games.
Want to know more about Eneba? Read and find out!
Evidence that Eneba is a Legit and 100% Safe Place to Buy and Sell Game Keys?
You should know that any key reselling platform has its risks. But Eneba is not marred in controversy, unlike their competitors, namely G2A. And G2A's legitimacy is under a lot of pressure.
On the other hand, Eneba's dedicated customer support team vets the sellers thoroughly. It's hard to get listed on this online marketplace.
Another red flag that a lot of similar marketplaces share is that they don't allow you to use PayPal as a payment method. PayPal's buyer protection is ironclad. And that's why the gray market isn't a big fan of it.
But with Eneba, you have that option. So, if you choose PayPal as your go-to payment method, you won't ever get scammed because of PayPal's buyer protection.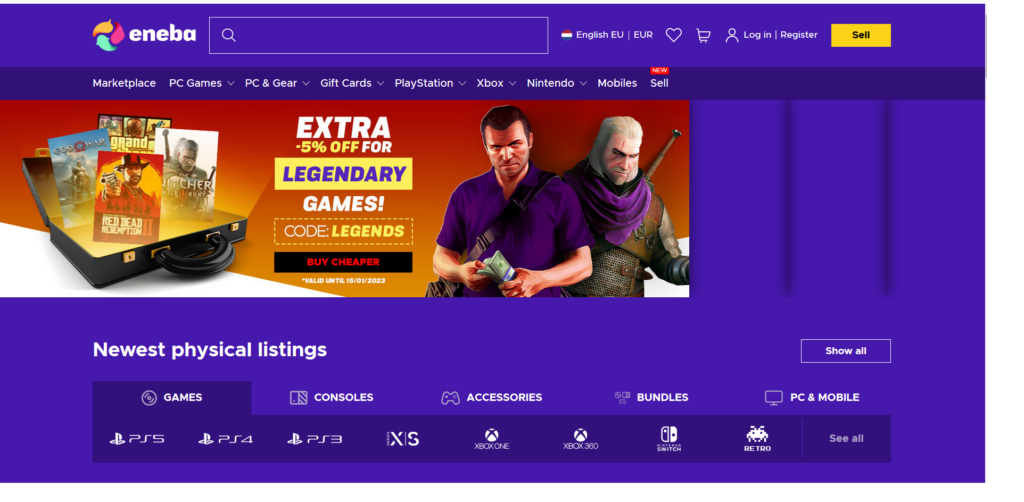 Trustpilot Reviews
The Trustpilot reviews are excellent. And all credit goes to the Eneba support team. They reply to all of the negative comments in less than 24 hours. If you wait, the customer service team will always try their best to help you out.
Positive Reviews
Negative Reviews
Note: As you can see, Eneba has 90% positive reviews. Although there are some complaints, they're few and far between. One thing to note is that most complaints are a result of slow response from the customer support team.
How Does Eneba Give Big Discounts? Are They Real?
Eneba is a completely legit platform to buy game keys. But how do they give discounts while turning a profit? Well, the business practice is pretty simple.
1. Bulk Purchase of Game Keys
Many game developers slash the price point when games are purchased in volumes. But individual gamers like you and me can't do that. Sellers who run a business can. Once they get the game codes in bulk, they sell them for a discount.
2. Regional Pricing
Using regional discounts to buy cheap game keys is pretty common in the gaming industry. In some regions, especially in third-world countries, games are released with different price tags. All the giant reselling platforms try to abuse this regional discount.
However, you should always double-check whether you are getting a global key or not. Many games purchased with this regional discount loophole are region locked. And if that happens, you can't use the base game. Also, you can't get a refund if it's region locked. Keep that in mind.
3. Holiday Discounts
Holiday discounts are available everywhere! And the same goes for the gaming industry as well. You don't need to rely on a key reselling platform to get these discounts though. You can try platforms like Steam, Epic, Humble store, Origins, Uplay, or Playstation store.
The point is - gray market resellers buy games during holidays because game developers give massive discounts. Once the sale is over and gamers have missed it, they can always get it from a platform like Eneba but at a slightly higher price.
Can You Get Scammed on Eneba?
No. As long as you're using PayPal as the payment method, there's little to no chance of any scams. Even if you get a bad game key, you can use PayPal's buyer protection to get your money back!
However, people who don't have PayPal can get the short end of the stick. As other payment methods don't have buyer protection, you need to rely on the Eneba support team to get either your game code or a refund.
Can You Get Scammed as a Buyer?
With PayPal, no. But without it, there's a chance. However, you can contact Eneba, and the support team will definitely help you out.
The first step is to create a support ticket and wait. Eneba's biggest drawback is its slow response times. They get a lot of customer requests all the time. And the support team is still small because the platform is relatively new. So, you have to wait. But with patience, you can get a refund or a new game key.
And the best part of buying from Eneba is that the Eneba team really vets the sellers before giving them the right to sell digital products. It's hard to become a listed seller on Eneba. And this high-level entrance barrier is what makes Eneba legit.
Can You Get Scammed as a Seller?
No. It's highly unlikely to get scammed as a seller unless you sell an invalid key. However, the buyer protection of PayPal can cause some issues if a buyer is trying to get away with a free game. But the support team can seize the buyer's Eneba wallet to pay you back.
So, there's nothing to worry about.
Is Eneba legit?: Verdict
Eneba is an excellent place to buy games. It's legit and safe. The only true competitor would be CDKeys. Check out our article Is CDKeys legit (spoiler alert: YES) - so it boils down to which platform is giving the better deal.
If Eneba can keep up this strict screening process and clean customer support, they'd be the next top dog in the world of reselling. The one thing they should work on is their response times.
I hope this article gave you some valuable insight. Cheers!
Want to learn step-by-step how I built my Niche Site Empire up to a full-time income?
Yes! I Love to Learn
Learn How I Built My Niche Site Empire to a Full-time Income
How to Pick the Right Keywords at the START, and avoid the losers
How to Scale and Outsource 90% of the Work, Allowing Your Empire to GROW Without You
How to Build a Site That Gets REAL TRAFFIC FROM GOOGLE (every. single. day.)
Subscribe to the Niche Pursuits Newsletter delivered with value 3X per week