How Family Destinations Guide Grew to 3M+ Organic Monthly Visitors in 3 Years
When you buy something through one of the links on our site, we may earn an affiliate commission.
What a rise!
A couple with 2 young children who still want to travel and live life to the fullest but struggle to find good recommendations tailored to families online. So, they create the solution themselves.
The result is Family Destinations Guide. 
A site launched in 2019 with a mission statement to help families 'create incredible family travel memories that last a lifetime.'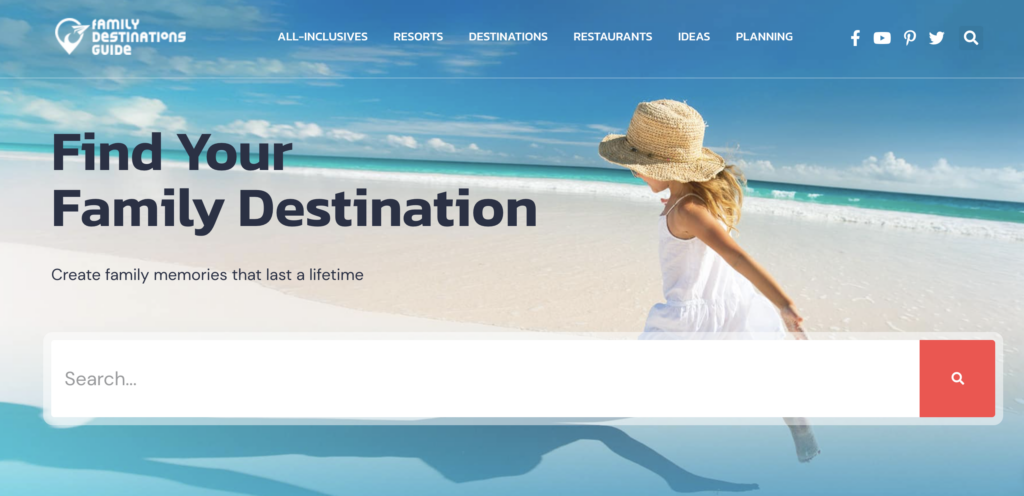 They now get 3.3 million organic visitors a month (almost entirely from the United States), reviewing all sorts of family-friendly resorts, hotels, destinations, and activities in exchange for ad revenue and affiliate commissions.
As a family man myself, I'm a little miffed the idea didn't come to me first.
But it's awesome to see their success.
So let's poke around for any tips we can find!
---
How Family Destinations Guide Gets Its Traffic
As a travel site aimed at families, Family Destinations Guide goes after a ton of different topics.
And since launching in 2019 (around August based on the graph in Ahrefs), they already have 4,160 pages indexed in Google.
So considering that from August 2019 to today is around 162 weeks, you could say they publish an average of 25 articles a week… That's a ton of work and it's where they put most of their efforts.
While they do post quite a bit on channels like Pinterest and YouTube, nearly all of their traffic comes from organic and direct searches.
So how have they gained so much traffic and brand recognition in such a relatively short time?
Well for one thing, they've got some great backlinks.
Family Destination Guide's Link Profile
With the breadth of content they've produced, they've become a source for related sites looking to link to something about 'denver restaurants', or 'things to do in Florida with kids', or 'Best Beach in Wisconsin'.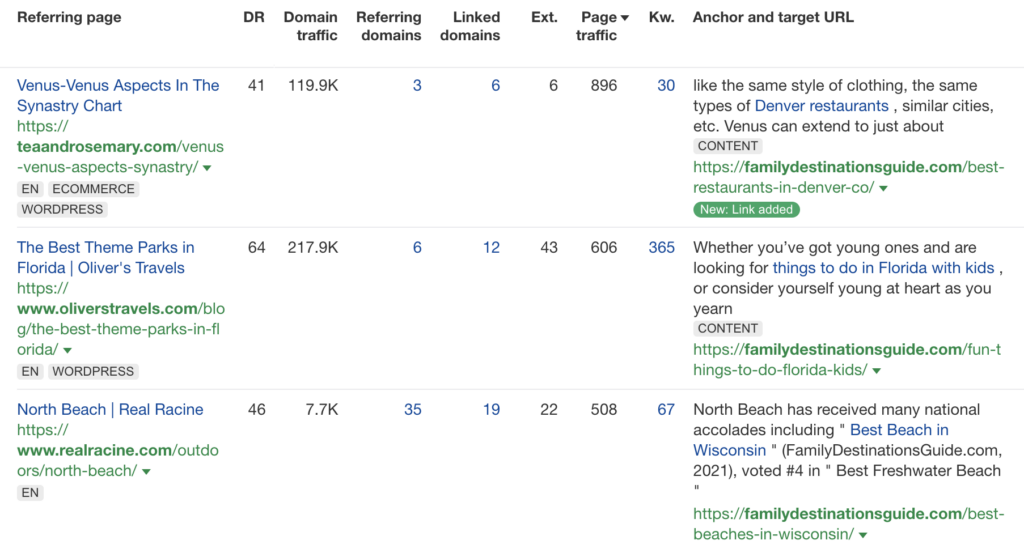 And because these anchor texts are so closely related to their pages' target keyword they may likely be the result of outreach.
But it's definitely working!
Because they're now a DR 60.
This is also thanks to linkable assets on their site. Like an interactive map of the United States that shows the best days of the year to vacation in each state.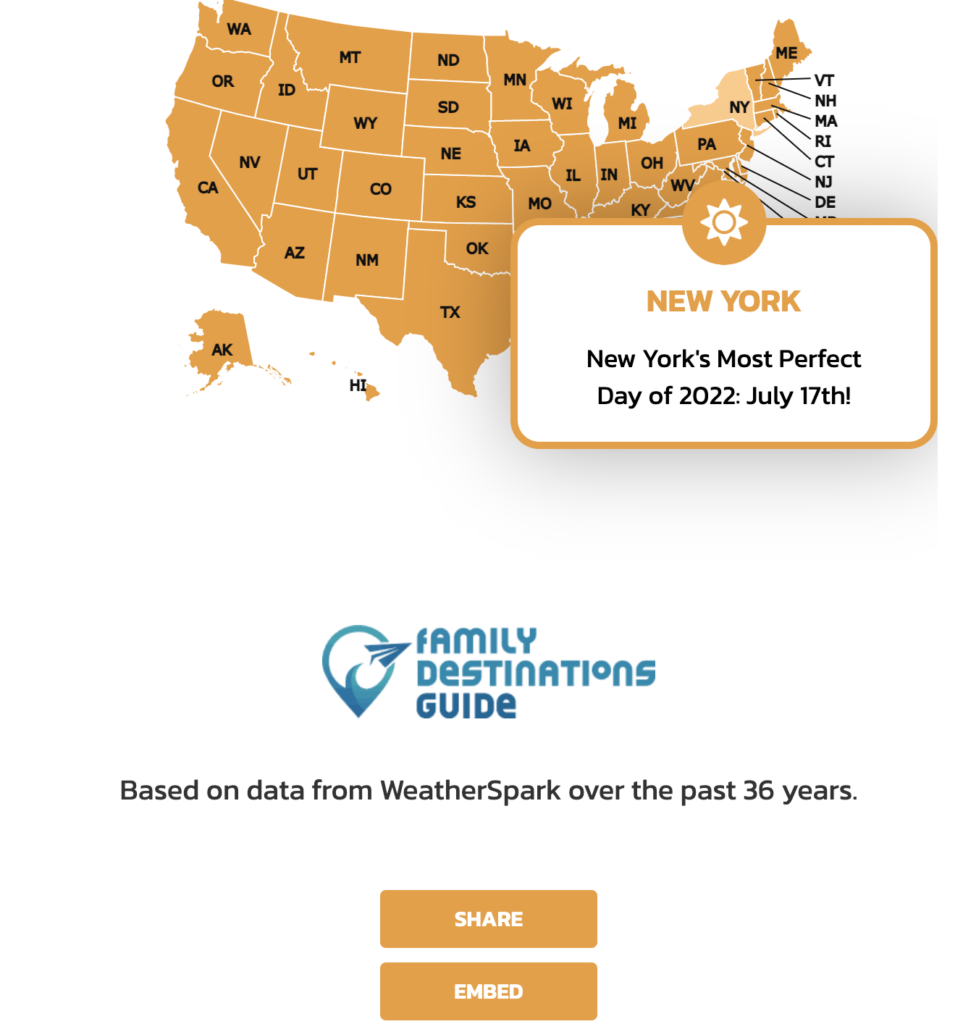 And as many of their links from high DR sites are direct quotes, they seem to be making good use of HARO.
Here are some of their top links:
A Quick But Important Note About Their 'Meet Our Team' Section
One of the especially interesting findings when examining this site was their 'Meet Our Team' section.
These are not real people and besides Muck Rack accounts (probably for link building/HARO concerns) lack any social signals like LinkedIn accounts, etc.
This does raise some ethical concerns regarding the trustworthiness of the site. And also makes you wonder about the importance of E-A-T as a ranking factor for non-YMYL niches.
From everything I've found on the site, I would bet that this site is run by an experienced SEO and not what the site mentions in any of their about us sections.
But What Types of Keywords Do Family Destinations Guide Target?
As you can see from this keyword intent analysis with Semrush, the site ranks for tons of commercial and transactional keywords.
But they also enjoy a great luxury as many of these are also relatively 'informational'.
For instance, a topic like 'things to do in….' has an informational intent with monetization opportunities.
And they go after a wide range of travel and 'leisure' niche keywords with lots of success in the SERPs.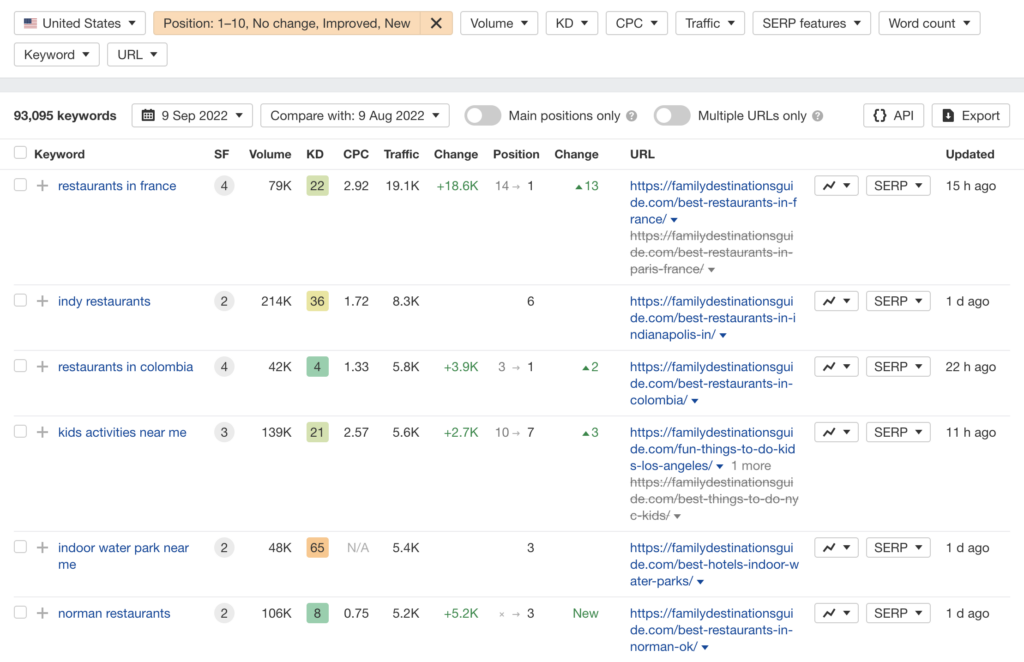 But what are their most successful topics?
Well, here are their top pages according to Ahrefs:
There's a medley of all sorts of topics. From waterparks and resorts to restaurants and 'things to do in X with kids'.
Most of these are list posts so they can promote all sorts of activities and probably make a healthy profit from a lot of them.
What their Pages Look Like
Here's one of their top pages about Fun Things to Do in Nashville with Kids.
You'll notice that the content is formatted with mobile in mind.
The content is decent and fairly easy to skim. And each paragraph is generally only one sentence long.
Any options that can include a ShareASale link for tickets are mentioned first and all options include a Recommended Hotel Nearby link to a Booking page.
What's also great for this site and niche in general, is how they're able to have a page targeting the 'Fun Things to Do in Nashville with Kids' keyword and then internally link to an article targeting the 'best things to do in Nashville' keyword.
They even have an article titled 'Fun Things to do Near Nashville'.
Very similar topics but with different intent.
And also if they ever start running out of topics, they can simply review each city's attractions requiring tickets they can monetize.
This is what they're doing with hotels and resorts.
So How Do Their Hotel Reviews Look?
The page targeting the keyword 'Cancun all inclusive family resorts' has a list of 15 resorts, each including a link to their individual review and red buttons with 'See Best Price' CTAs.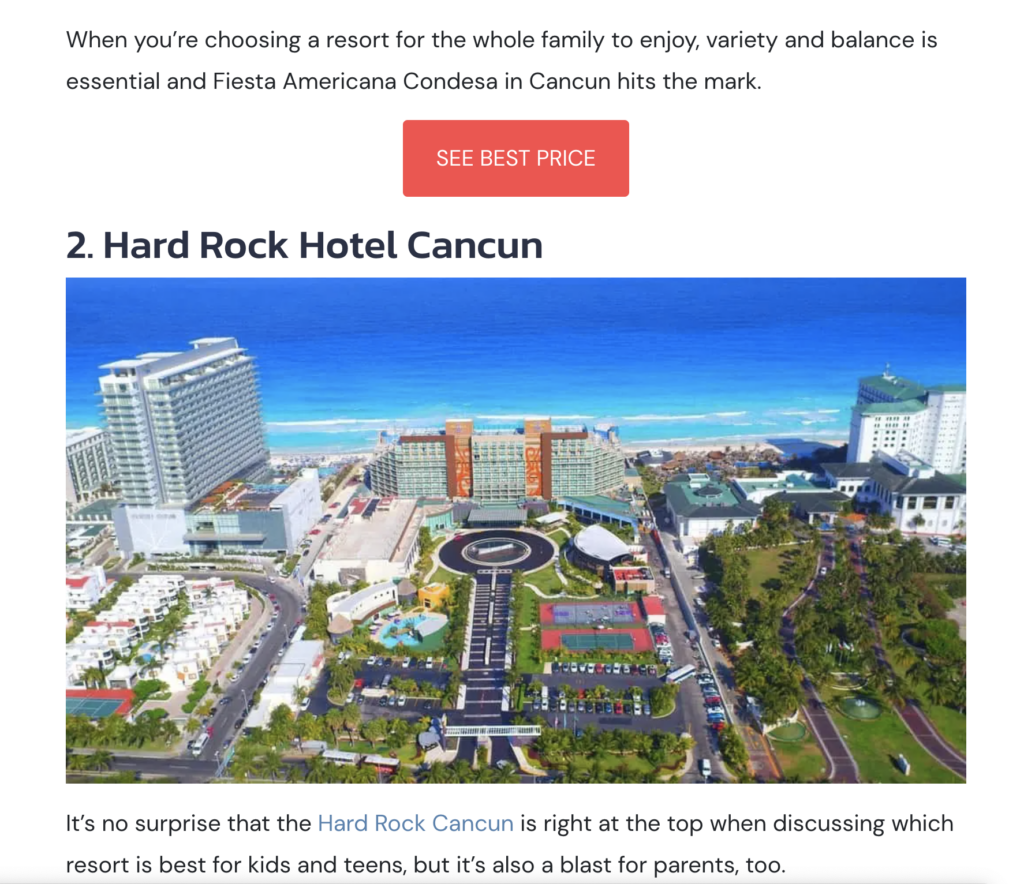 And each review of a hotel or resort includes a Booking plugin before the Table of Contents.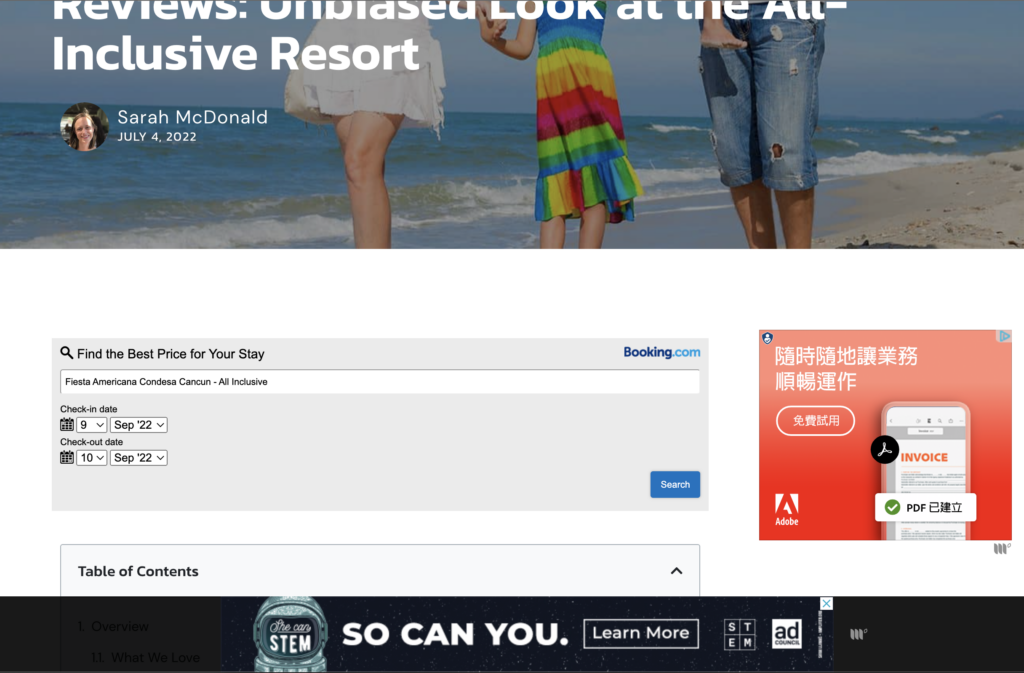 Plus, they add more inline Booking opportunities periodically throughout the article (in this particular article, 4 in total).
Their reviews also include Alternatives and a Customer Reviews section, where they highlight posts found on Trip Advisor. This also seems to be where they sourced the information used in their review.
There also aren't any unique photos in the article.
And so if they wanted to, especially with their reach and potential for sponsorship opportunities, they could visit each for an actual stay for both quality and longevity sake.
This would allow them to take photos and videos (so their YouTube channel can be more than stock photos) and include, say an 'Our Experience' section to add unique information and signal their legitimacy to both readers and Google.
Having said all this, they're the ones driving 3+ million organic visitors as is!
So I'm sure they're doing just fine.
How Family Destinations Guide Makes Money
The site is a Mediavine Travel member and has a fair amount of ads. And despite also being built with Elementor, the site loads fairly quickly.
As we've discussed, they also do a good job with their affiliate efforts.
They link to lots of various travel affiliate programs, the Booking plugin, and individual hotel offers wherever possible. Plus they also have some sponsored content.
Here are their top outgoing links.
So, some of the domains they link to the most are:
What Can We Learn From Family Destination Guide?
If I were to guess, I would say that the site is run by experienced SEOs who know what they're doing.
Considering how fast they've grown and how successful they've been in their content efforts at a large scale, it's hard to imagine a couple with no prior SEO or online marketing experience built this bad boy.
And that's why it's a great site to examine because:
They've focused mostly on organic traffic (their social channels are very lackluster) and have been very successful.
They're doing a good job of using HARO and linkable assets to gain E-A-T and links.
Their content is decent but nothing really to write home about, but there is a A lot of it, covering the niche well.
Their content is monetized well (maybe too well, where they may eventually get hit by an update).
In the end, we'll have to wait and see whether their strategy is built to last but it's certainly making them good money thus far.
And hopefully helping families enjoy their holidays together!
Want to learn step-by-step how I built my Niche Site Empire up to a full-time income?
Yes! I Love to Learn
Learn How I Built My Niche Site Empire to a Full-time Income
How to Pick the Right Keywords at the START, and avoid the losers
How to Scale and Outsource 90% of the Work, Allowing Your Empire to GROW Without You
How to Build a Site That Gets REAL TRAFFIC FROM GOOGLE (every. single. day.)
Subscribe to the Niche Pursuits Newsletter delivered with value 3X per week