521 Clever & Classic Barber Shop Name Ideas
When you buy something through one of the links on our site, we may earn an affiliate commission.
Want some help finding barber shop names that cut through the competition? You've come to the right place.
From classic to modern, folksy to funny, we've got a name for every vibe and style.
I'll also share a treasure trove of essential tips to help you pick the perfect name that speaks volumes about your grooming prowess.
So let's not waste any time!
Cool Barber Shop Names
ClipperCraft
DapperCuts
ManeMasters
ShearSavvy
Gentlemen's Haven
RazorEdge Studio
WhiskerWhiz
The Grooming Grove
UrbanTrim
The Clipper Club
Blade & Brush
The Stylish Shears
Mane Street Barbers
The Shave Lounge
Shear Delight
The Gents' Parlor
The Cut Creators
Classic Clippery
Precision Shears
The Modern Manes
Trim & Trendy
The Whisker Workshop
The Grooming Gallery
Scissor Symphony
Clean Cut Corner
Strands & Styles
The Sharp Edge Salon
Dapper Den Barbers
Shear Elegance
The Mane Atelier
The Clip 'n' Craft
Whisker Wizards
Blade Haven Barbers
Grooming Grid
The Urban Shave Spot
Clipper Canvas
The Mane Mechanic
Polished Profiles
The Styling Haven
Shear Brilliance
Creative Barber Shop Name Ideas
Sculpted Strands Studio
BladeCraft Barbers
TressTamer Haven
The Whisker Revival
Crown & Clipper
UrbanGroom Collective
Shear Serenity Salon
Gents' Grove Barbers
The Mane Mirage
Artful Trims & Tapers
The Shave & Shade Spot
WhiskerWise Studio
Strand Symphony Barbers
Precision Profiles Parlour
Trim Theory
The Clipper Charmery
Whisker Whisperers
Verve & Shear
The Modern Gents Parlor
The Grooming Grind
Taper & Texture Studio
ShearSculpt Salon
The Strandsmiths
The Dapper Domain
Trimscape Barbers
The Clipper Canvas
Refined Cuts & Co.
Mane Mosaic Studio
WhiskerCrafted Cuts
The Sharp Haven
Chisel & Crown
GroomHub Studio
The Strandscape Spot
ShearSavvy Haven
Verve Vanguard Barbers
The Trim Trove
Whisker & Blade Co.
Refined Mane Workshop
The Clipper Carousel
WhiskerWhirl Studio
Memorable Barber Names
WhiskerWarp Studio
TrimTide Barbers
ManeMarvel Haven
Signature Shears Salon
DapperCraft Collective
The Clipper Odyssey
UrbanChisel Studio
WhiskerWhisper Salon
Majestic Mane Studio
Sculpted Traditions Barbers
The Grooming Odyssey
ShearEssence Parlor
Regal Razors Studio
WhiskerWonders Haven
Elegance & Edge Barbers
The Clipper Reverie
Refined Cutscape Studio
UrbanWhisk Barbers
The Iconic Shear Salon
WhiskerVista Collective
Precision Artistry Studio
Timeless Tapers Barbers
The Grooming Venture
Strands of Legacy Salon
WhiskerVerse Studio
Noble Mane Barbers
The Clipper Odyssey
WhiskerSculpt Collective
Evergreen Elegance Studio
Traditions & Trends Barbers
The Grooming Horizon
Stylish Whisker Salon
ManeEra Studio
Regal Shears Barbers
WhiskerVoyage Salon
Tapered Traditions Studio
The Clipper Chronicles
UrbanLegacy Barbers
Artisanal Shear Studio
WhiskerLore Haven
Classic Barber Shop Name Ideas
The Gentleman's Clipper
Crown & Comb Barbers
Traditional Trims Salon
The Heritage Haven
Old Town Barbers
Vintage Shears Studio
The Clipper Classic
Regal Razor Barbers
Time-Honored Tapers
The Distinguished Den
Classic Crafted Cuts
The Shave & Shear Shop
Royal Razor Edge
The Vintage Grooming Parlor
Classic Charm Barbers
Whisker & Blade Haven
The Traditional Touch
The Timeless Shear Salon
Heritage Heights Barbers
Classic Crown Studio
The Barber's Legacy
The Traditional Gents
The Elegant Edge
Classic Contours Barbers
The Vintage Vanity
The Stalwart Shear Studio
Classic Crown Cuts
The Nostalgic Groom
The Honored Haven
Classic Carved Co.
The Vintage Valor Barbers
The Classic Clip Parade
The Dapper Draw
Classic Couture Studio
The Time-Honored Haven
The Trademark Trim
The Classic Craftsmen
The Prestige Parlor
The Traditional Throne
Classic Mane & Blade
Modern Barber Names
UrbanShear Studio
Chic Cuts Collective
The Modern Groomery
Edge & Echo Barbers
UrbanClip Salon
Contemporary Crown Studio
MetroGroom Haven
ShearWave Barbers
The Urban Trim Co.
Nexus & Shears Studio
TrendCraft Barbers
UrbanElegance Salon
The Modish Mane
ModernCraft Collective
The Edge Emporium
Sleek Shears Studio
UrbanMane Haven
Verve & Vertex Barbers
The Metro Groom
ModernChisel Studio
TrimTide Barbers
UrbanSculpt Salon
ShearVista Studio
Vanguard Vibe Barbers
The Modern Mirage
UrbanEdge Studio
Trendsetters' Trims
The Urban Haven
ShearNexxus Barbers
ModaCuts Studio
UrbanFlair Salon
The Metro Mane
Nexus & Vertex Barbers
The Modern Twist
Urbane Shears Studio
VogueCraft Barbers
UrbanEclipse Salon
ShearPulse Studio
ModEdge Barbers
The Urban Icon
Local Barbershop Names
Hometown Shears Studio
CommunityClip Barbers
LocaleTrim Salon
Neighborhood Nicks
CornerCuts Collective
Town & Taper Barbers
HomeGroom Haven
LocalEdge Studio
Main Street Manes
CivicChisel Barbers
Villager's Vanity
Roots & Razors Studio
TownTrend Salon
CornerCraft Barbers
BlockBarber Collective
GlocalGroom Haven
LocalLuxe Studio
UrbanVillage Barbers
Neighborly Nicks
SquareShears Studio
CivicCuts Salon
CornerCraze Barbers
LocaleLegends Studio
CommunityChisel Barbers
HomeHarbor Haven
TownTradition Studio
RusticRazors Barbers
HeartlandHair Salon
CornerCrest Studio
LocalLoom Barbers
HeritageHaven Studio
TownTonsor Salon
GlocalGents Barbers
LocaleLegacy Studio
CornerCurl Barbers
VillageVista Studio
UrbanPatch Salon
CornerCrown Barbers
HomesteadHaven Studio
LocalLuxe Barbers
Clever Barber Shop Names
Shear Genius Hub
ClipSmith & Co.
Whisker Whisperers
Mane Magic Forge
Crown & Comb Crafters
The Clipper Conundrum
Tress Treasures Studio
Shear Delights Den
Mane Maze Barbers
Blade Ballet Studio
The Shear Sleuths
Dapper Domain Deft
Clip Couture Creations
Whisker Wonders Workshop
Sculpt & Scissor Square
Taper Trove Studio
Urban Elegance Enclave
Whisker Wizardry Works
The Shear Synthesis
Trim Tacticians
Strand Sorcery Studio
Crafted Cuts Cabal
Razor Riddles Haven
The Dapper Enigma
TressTech Collectives
Whisker Whimsy Hub
Clipper Cognoscenti
Shear Spectrum Studio
UrbanEdge Enigma
The Crown Concoction
Blade Brainteasers
Tress Teasers Studio
Mane Mystique Manor
The Shear Strategy
ClipperCraft Cabal
Whisker Whims Workshop
Sculpted Secrets Studio
UrbanEdge Enclave
The Mane Matrix
Crown & Comb Conundrum
Fancy Barber Shop Names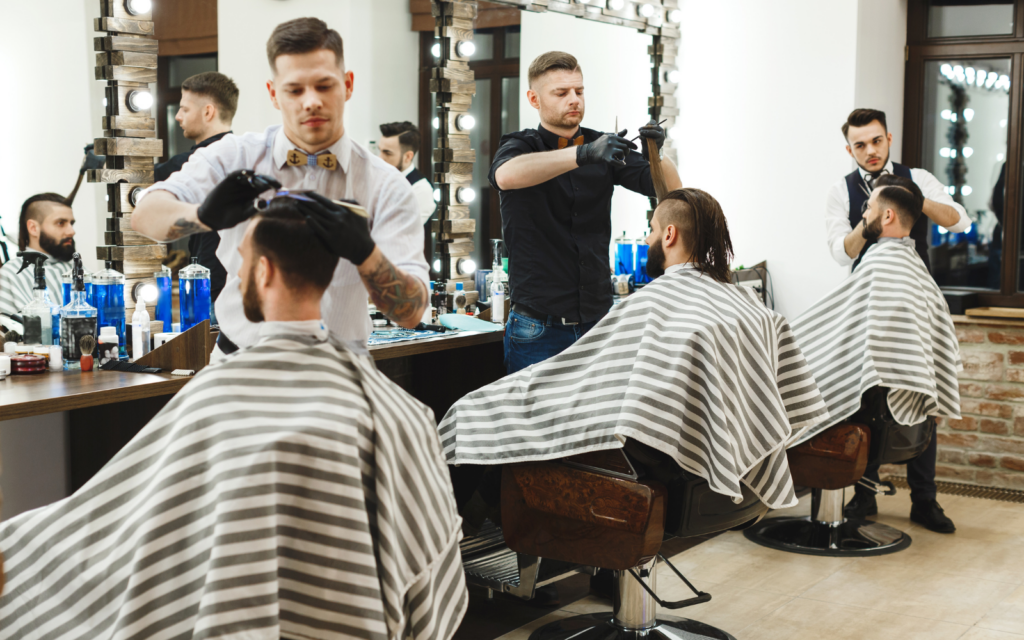 Regal Shear Salon
Opulent Trim & Taper
Aristocratic Barbers
Elegance & Edge Parlour
Grandeur Grooming Studio
Royal Strand Sanctuary
Luxe Shear Elegance
Refined Razor Emporium
Prestige Profile Barbers
Majestic Mane Maven
The Glamour Groom
Noble Nexus Barbers
Lavish Locks Lounge
Chateau Shear Studio
Ornate Clipper Chambers
Enchanted Elegance Salon
Crown & Couture Studio
The Dapper Domain
Regency Razor Rituals
Gilded Grooming Gallery
Victorian Vogue Barbers
Aristocrat Shears Studio
Exquisite Edge Emporium
Imperial Icon Barbers
Luxe Lather & Shears
Grand Grooming Guild
Nobleman's Nook
Glamour Grind Studio
Royal Elegance Haven
Opulent Origins Barbers
Regal Razors Retreat
Majestic Mane Mirage
Couture Clipper Castle
Prestige Profile Parlor
Lavish Locks Lounge
Elegance Enclave Studio
Gilded Groom's Grotto
Aristocratic Shear Salon
Elite Edge Emporium
Opulent Origins Barbers
Short Barbershop Names
TrimTech
ShearCraft
ClipNook
SharpVue
CrownEdge
DapperCut
UrbanClip
The Mane
ShearHaven
StyleSnap
BladeHub
TrimTrove
GroomEase
ClipWorks
ManeMix
ShearSync
TrimLine
SnipSpot
RazorCove
TrendClip
StrandUp
TrimZone
SharpBlend
ChicCuts
ShearStyle
GroomGrid
TrimTide
EdgeElite
CraftCuts
BladeMark
SnapStyle
UrbanTrim
ClipCraft
CrownCuts
ShearEase
DapperDen
TrimTech
SharpSnap
GroomGrid
ClipChic
CrownEdge
Folksy Barber Name Ideas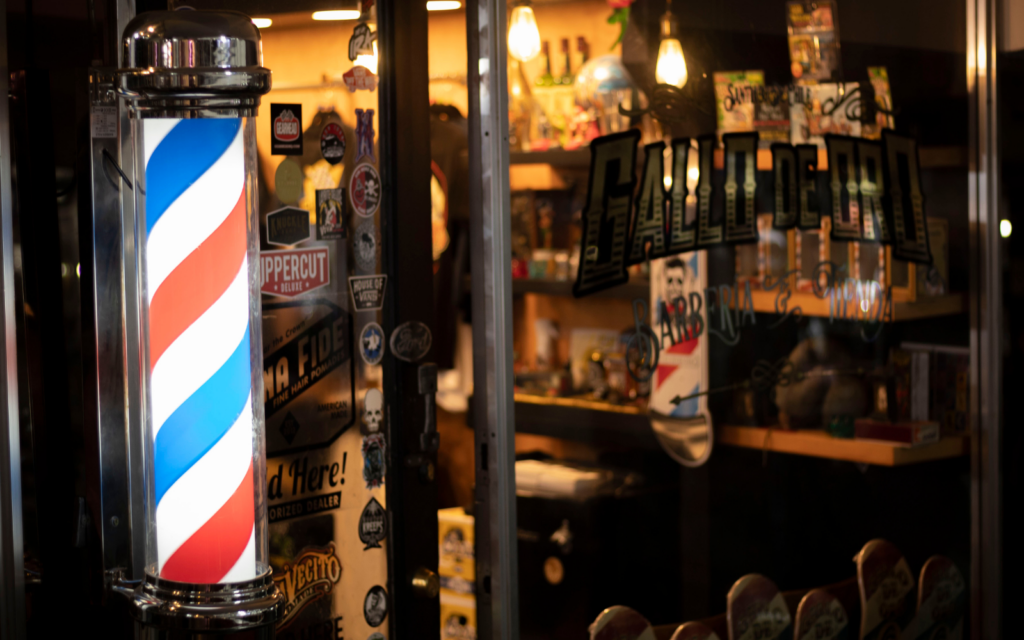 WhiskerWagon
HomesteadHair Haven
RusticRazors
CozyClip Barbers
BarnyardBarber
PrairieTrim Studio
CountryCraft Cuts
ShearShack
WhiskerWeave
FolkloreFades
DownHomeDapper
TractorTaper
GinghamGroom
HometownHaven
ShearSong Studio
HearthsideHair
WhiskerWhittle
FrontPorchFade
CabinClip Cuts
FolkFlair
HarvestHaven
ScissorSerenade
BackyardBarber
TrundleTrim Studio
ShearStitch
GinghamGents
RusticRazors
HomesteadHues
PrairiePatch Studio
FolkloreFade
WhiskerWheel
HearthHaven
ShearSong
DownHomeDapper
CozyClip
HometownHair
TractorTaper
ShearShanty
GinghamGroom
CabinCraft
Funny Barber Names
Hair Today, Gone Tomorrow
The Clip 'n' Chuckle
Shear Madness Salon
Barber's Banter Zone
The Mane Event Comedy Cuts
Hairlarious Hub
Clipper Comedy Club
Curl Up & Dye Lounge
The Razor Roast
Tress Tease & Tickle
Chuckle Clippers
Wiggle & Whisker
Shear Nonsense Studio
The Shave & Shout
Trim & Titter Barbers
Laughing Locks Lounge
The Witty Whisker
Hilarious Hair Haven
Clip & Comedy Corner
Jokester's Jaws Studio
The Guffaw Groomery
Side-Splitting Shears
Barber's Belly Laughs
Chuckle & Cut Co.
The Shave Shack Shenanigans
Giggle & Groom Studio
Curl Up & Chuckle
The Trimmed Tickler
Barber's Barrel of Laughs
Haha Haircuts
The Comical Clipper
Quips & Clippers
Shear Hilarity Hideout
Chuckles & Cuts Corner
The Barber's Comedy Cache
Whimsical Whisker Workshop
Snip & Snicker Studio
Giggles & Grooming
The Laughing Locksmith
The Haircut Hoot
Rhyming Barbershop Names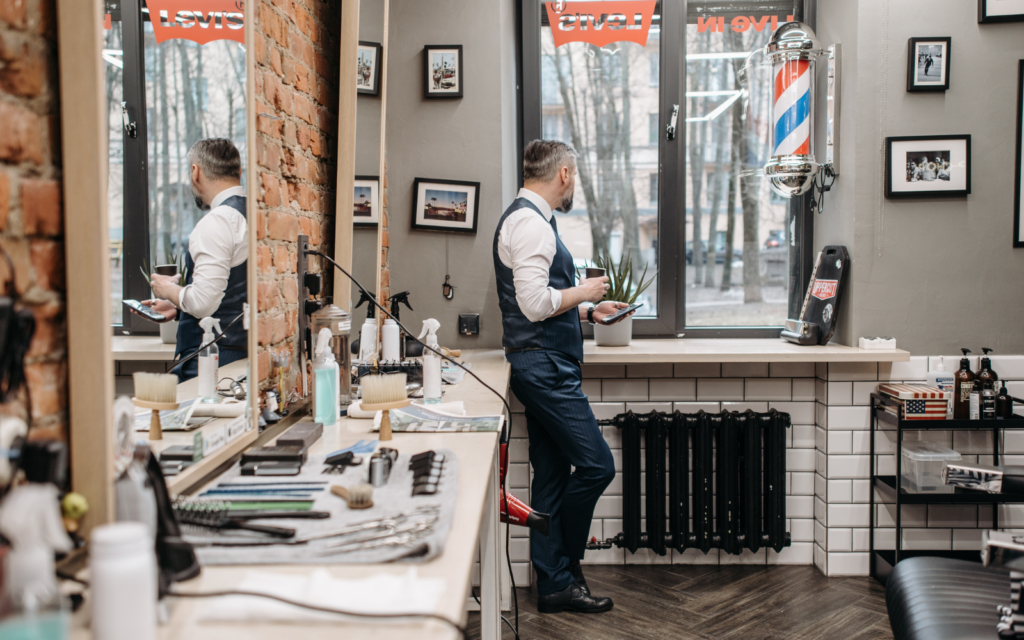 Trim Time Barbers
Shear & Cheer Studio
Clip 'n' Quip Cuts
Razor Rhythm Salon
Whisker Whisper Barbers
Snip & Skip Studio
Dapper Drapers
The Trimmed Rhyme
Mane & Explain Cuts
Scissor Serenade
Clip & Quip Parlor
Trim & Rhyme
Snip 'n' Sip Studio
The Barber's Blare
Shear & Clear Barbers
Rap & Razor Lounge
Groom & Boom Studio
Snip & Ship Barbers
Flair & Shear Fair
Groove & Groom Cuts
Trim & Whim Studio
Whisper & Whisker Barbers
Clip & Quip Co.
Loom & Groom Studio
Tress & Jest Cuts
Plunge & Groom Lounge
Snip & Skip Haven
Gleam & Groom Studio
Trim & Slim Cuts
Whisker & Whisper Lounge
Slice & Spice Barbers
Crop & Prop Studio
The Clip & Quip
Prune & Tune Salon
Groom & Bloom Barbers
Shave & Rave Studio
Trim & Grin Cuts
Line & Shine Barbers
Snip & Sip Salon
Style & Smile Studio
Excellent Barber Shop Names
Eminent Shears Studio
PrimeCut Grooming
Flawless Trim & Taper
Opulent Edge Barbers
Pinnacle Profile Parlor
Superior Shear Crafters
Perfectionist Cuts
Paramount Mane Studio
Elite Razor Realm
Optimum Style & Shears
Exquisite Edge Emporium
Supreme Shear Salon
Apex Grooming Gallery
Ultimate Trim Trove
Premier Clipper Haven
TopTier Tress Studio
Elite Elegance Enclave
Summit Scissor Salon
The Finest Fade
Definitive Groomers' Guild
FirstClass Shears Studio
TopNotch Trim & Taper
Optimal Edge Elegance
Sovereign Shear Parlor
Elegant Excellence Barbers
Pristine Profile Studio
Masterful Mane Forge
Regal Razor Regency
HighQuality Shears
Summit Style & Shears
The Eminent Groom
Choice Clip & Craft
Supreme Strand Studio
PrimePeak Groomers
Flawless Finishing Touch
Pinnacle Precision Parlor
Optimum Edge Oasis
Superior Shear Savvy
Apex Adornments
Premier Precision Palace
Key Tips for Naming Your Barber Shop
Absolutely, choosing the right name for your barber shop is an exciting journey that can set the tone for your business and resonate with your customers. Here are some unique and essential tips to help you select a barber shop name that stands out and attracts customers:
Reflect Your Style: Your barber shop's name should reflect the style and atmosphere you want to create. If you're going for a modern, trendy vibe, opt for a contemporary name. For a classic feel, consider more traditional or vintage-inspired names.
Be Memorable: A catchy and memorable name can go a long way in establishing your brand. Choose something that rolls off the tongue and sticks in people's minds, making it easy for them to remember and share with others.
Consider Your Niche: Think about what makes your barber shop unique. Are you specializing in beard grooming, vintage styles, or contemporary cuts? Incorporate elements of your niche into the name to attract your target audience.
Local Touch: Adding a local touch to your name can create a strong sense of community and connection. Consider using the name of your neighborhood or town to make it feel more personal.
Wordplay and Puns: Clever wordplay or puns can add a playful and memorable element to your name. Just ensure that it's easy to understand and doesn't become confusing.
Avoid Limiting Names: While it's great to include your specialty, avoid names that could limit your future growth. If you plan to expand your services, ensure your name remains relevant.
Check Availability: Before you fall in love with a name, check if the domain name and social media handles are available. Consistency across platforms is crucial for building a strong online presence.
Visualize Your Logo: Think about how your chosen name will look when designed as a logo. A visually appealing name can translate well into an eye-catching logo, enhancing your brand identity.
Ask for Feedback: Don't hesitate to bounce ideas off friends, family, or even potential customers. Their input can provide fresh perspectives and help you make a more informed decision.
Stay Authentic: Your barber shop name should authentically represent your values and personality. Avoid choosing a name just because it's trendy; authenticity will resonate better with customers.
Future-Proofing: Ensure your chosen name has longevity. Trends come and go, so select a name that won't become outdated quickly.
Legal Considerations: Check for trademarks and ensure your chosen name doesn't infringe on existing businesses' rights. Consult with legal counsel if needed.
Embrace Creativity: Don't be afraid to get creative and think outside the box. Unique names can spark curiosity and draw people in.
Remember, your barber shop's name is an integral part of your brand identity. Take your time, have fun with the process, and let your passion shine through in the name you choose. It's the first step toward building a remarkable barber shop that customers will love.
Want to learn step-by-step how I built my Niche Site Empire up to a full-time income?
Yes! I Love to Learn
Learn How I Built My Niche Site Empire to a Full-time Income
How to Pick the Right Keywords at the START, and avoid the losers
How to Scale and Outsource 90% of the Work, Allowing Your Empire to GROW Without You
How to Build a Site That Gets REAL TRAFFIC FROM GOOGLE (every. single. day.)
Subscribe to the Niche Pursuits Newsletter delivered with value 3X per week