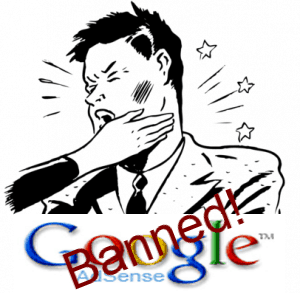 I was minding my own business a few days ago, perusing articles on my Feedly account.  Then I saw an article that not only caught my attention immediately, but also made me visibly upset the more I read it and caused me to tell my wife…"this is SO messed up….if its true!"
I proceeded to relive a moment that quite frankly I don't think about any more, but a moment that had a dramatic impact on me…it was the most devastating single moment in my business.  It was a moment when I seriously thought I was going to have to crawl back to my old boss and ask for my day job back.
That moment was when my Google Adsense account got banned 2 years ago.  I wrote an extensive post explaining the entire ordeal of when my Google Adsense account got banned right here.
You have to understand my background to know why getting my Adsense account shut down was such a big ordeal.   I had slowly over the course of 3 or 4 years built up tons of niche sites; most earning money from Google Adsense.   My sites were doing so well, that I quit my job in March of 2011.
I averaged just over $10,000 per month for all of 2011 from Google Adsense.  Then in April of 2012, my Adsense account was shut down without warning.  Ouch!
The Accusations Against Google Adsense
The article I read, was about a supposed former Google Adsense employee that had stepped forward to claim that Google had been participating in a massive scheme to shut down Adsense publishers accounts without warning and without reason.
You can read the original anonymous post from the "Google employee" here; and you can also read a Tech Crunch follow up article here that raises doubts about the claims.
As you can imagine, this article struck a chord with me…big time!  I still to this day do not know why my Google Adsense account was shut down.  (And I've since been welcomed back to Google Adsense; where I still have all my exact same sites running Adsense, and have never had an issue in 2 years now).
Lets jump right into what the article said, my thoughts, and whether or not I believe this is actually from a former Google Adsense employee.
I'm not going to quote the original post entirely, but will quote from it liberally.
I am a former Google employee and I am writing this to leak information to the public of what I witnessed and took part in while being an employee. My position was to deal with AdSense accounts, more specifically the accounts of publishers (not advertisers). I was employed at Google for a period of several years in this capacity.

Having signed many documents such as NDA's and non-competes, there are many repercussions for me, especially in the form of legal retribution from Google. I have carefully planned this leak to coincide with certain factors in Google such as waiting for the appropriate employee turn around so that my identity could not be discovered.

To sum it up for everyone, I took part in what I (and many others) would consider theft of money from the publishers by Google, and from direct orders of management. There were many AdSense employees involved, and it spanned many years, and I hear it still is happening today except on a much wider scale. No one on the outside knows it, if they did, the FBI and possibly IRS would immediately launch an investigation, because what they are doing is so inherently illegal and they are flying completely under the radar.
My thoughts: First of all…whoa!  This sounds like some pretty heavy stuff.  And because I was one of those publishers that got shut down a couple years ago, I was certainly intrigued.
Google Bans and Ban Criteria

Before December 2012:

In the first quarter of 2009 there was a "sit-down" from the AdSense division higher ups to talk about new emerging issues and the role we (the employees in the AdSense division needed to play. It was a very long meeting, and it was very detailed and intense. What it boiled down to was that Google had suffered some very serious losses in the financial department several months earlier. They kept saying how we "needed to tighten the belts" and they didn't want it to come from Google employees pockets. So they were going to (in their words) "carry out extreme quality control on AdSense publishers". When one of my fellow co-workers asked what they meant by that. Their response was that AdSense itself hands out too many checks each month to publishers, and that the checks were too large and that needed to end right away. Many of the employees were not pleased about this (like myself). But they were successful in scaring the rest into thinking it would be their jobs and their money that would be on the line if they didn't participate. The meeting left many confused as to how this was going to happen. What did they mean by extreme quality control? A few other smaller meetings occur with certain key people in the AdSense division that furthered the idea and procedure they planned on implementing. There were lots of rumors and quiet talking amongst the employees, there was lots of speculations, some came true and some didn't. But the word was that they were planning to cut off a large portion of publisher's payments.

After that point there was a running gag amongst fellow co-workers where we would walk by each other and whisper "Don't be evil, pft!" and roll our eyes.

What happened afterwards became much worse. Their "quality control" came into full effect. Managers pushed for wide scale account bans, and the first big batch of bans happened in March of 2009. The main reason, the publishers made too much money. But something quite devious happened. We were told to begin banning accounts that were close to their payout period (which is why account bans never occur immediately after a payout). The purpose was to get that money owed to publishers back to Google AdSense, while having already served up the ads to the public.

This way the advertiser's couldn't claim we did not do our part in delivering their ads and ask for money back. So in a sense, we had thousands upon thousands of publishers deliver ads we knew they were never going to get paid for.

Google reaped both sides of the coin, got money from the advertisers, used the publishers, and didn't have to pay them a single penny. We were told to go and look into the publishers accounts, and if any publisher had accumulated earnings exceeding $5000 and was near a payout or in the process of a payout, we were to ban the account right away and reverse the earnings back. They kept saying it was needed for the company, and that most of these publishers were ripping Google off anyways, and that their gravy train needed to end. Many employees were not happy about this. A few resigned over it. I did not. I stayed because I had a family to support, and secondly I wanted to see how far they would go.
Again, these are some pretty serious accusations.  But are they true?  Right off the bat, it does sound a little fishy.  After all, why would Google; a company that has posted solid profits each year suddenly decide to do something so "evil" just to capture a few extra dollars?  And to be clear, the amount of money "saved" from this practice would have been a tiny drop in Google's bucket.
Google's Profits over the last 5 years:
The leak continues…
The bans of April 2012 came fast and furious. Absolutely none of them were investigated, nor were they justified in any way. We were told to get rid of as many of the accounts with the largest checks/payouts/earnings waiting to happen. No reason, just do it, and don't question it. It was heart wrenching seeing all that money people had earned all get stolen from them. And that's what I saw it as, it was a robbery of the AdSense publishers. Many launched appeals, complaints, but it was futile because absolutely no one actually took the time to review the appeals or complaints. Most were simply erased without even being opened, the rest were deposited into the database, never to be touched again.

Several publishers launched legal actions which were settled, but Google had come up with a new policy to deal with situations such as that because it was perceived as a serious problem to be avoided. So they came up with a new policy.
After reading this section, is where the anger really set in for me.  I don't know if this "leak" is real or not; but this person certainly nailed the exact date of when my Adsense account was banned…April 2012!
I had to get up and pace a few times and call my wife in.  Not only did this story hit home, it was surprisingly accurate…at least according to the dates that I and many others were banned from Google Adsense.
I wrote an entire post about my experience
getting banned from Google Adsense
, and I mentioned several others that had also just been banned; and NONE of us had a good reason or explanation from Google as to why our accounts had been shut down without warning.
You can read my entire post here about
getting banned from Google Adsense
…and notice the date of April 2012.  Also notice over 600 comments, many of which are from other Adsense publishers who had also been shut down without any known reason.
The person "leaking" this information then goes on to explain how quality control and more is handled for closely publisher accounts after 2012.  I won't go into that.  However, the person closes with this…
Their BIG Fear
The biggest fear that Google has about these AdSense procedures and policies is that it will be publicly discovered by their former publishers who were banned, and that those publishers unite together and launch an class-action lawsuit.

They also fear those whose primary monthly earnings are from AdSense, because in many countries if a person claims the monthly amount to their tax agency and they state the monthly amount and that they are earning money from Google on a monthly basis, in certain nations technically Google can be seen as an employer. Thus, an employer who withholds payment of earnings, can be heavily fined by government bodies dealing with labor and employment. And if these government bodies dealing with labor and employment decide to go after Google, then it would get very ugly, very quickly ….. that is on top of a class-action lawsuit.
I really don't know that this is Google's biggest fear.  Money is not an issue for Google…so a class action lawsuit is bad not really because of the "heavy fines" or settlements that occur.  The big fear for Google would be bad PR and diminishing of the Google brand.
If advertiser's and publishers begin to lose trust in Google; THAT's the real problem…not fines.
My Thoughts on Authenticity
Overall, this person making claims about Google brings up some very interesting points, but there are certainly red flags as well when it comes to authenticity.   TechCrunch brought up several in its recent article.
Language inconsistencies
TechCrunch mentions that the whistleblower refers to the department as "Adsense division" rather than "Online Sales and Operations".  This is a very weak point by TechCrunch.  Of course the person is going to refer to Adsense; because that is what its publicly known as.  In addition, I wouldn't be surprised that despite the official name of "online sales and operations" most employees informally still call themselves the Adsense team.
TechCrunch says the whistleblower should have referred to "being a teamplayer" as "being Googley" instead.  Again this is a super weak point by TechCrunch.  Google is made up of humans, not robots.  My guess is that the "teacher's pets" of Google still love to use the phrase "being Googley"…but I also suspect that a huge portion of the company would never use this phrase or even don't like the phrase.  Its a huge company…humans…not robots.
"Click Bombing" should have been referred to as invalid clicks.  Maybe; but maybe not.  Again its a huge company, and not everyone is going to use the proper terminology.
Functional Discrepancies
However, TechCruch does make an excellent point about what happens to publisher's payments when accounts are banned:
Then there's the functional discrepancies. AdSense's billing is believed to require a publisher to be paid for an advertiser to be billed. That would block Google's ability to charge an advertiser but not pay the publisher. Google's policies explain that if a publisher is suspended for policy violations, "Payment for the 60 days prior to the disabling will be withheld and the money will be returned to impacted advertisers."
So, if Google was following their policies, this pretty much shatter's the whistleblower's entire premise that this whole scheme was concocted as a way to save the company money.  If the money was returned, Google was actually losing money that it had already charged advertisers.
Think about it.  An advertiser pays, $1,000 to Google for ads in the content network (Adsense).  The publisher (you and me) gets approximately 68% of that amount (see their policies here); and Google keeps the other 32%.  So, Google made $320; I (the publisher) made $680 in this example.
Get 50% off Your First Year of AmaLinks Pro! (This Week Only)
AmaLinks Pro is the all-in-one Amazon Affiliate WordPress Plugin:
Create product comparison tables that match your theme.
Create beautiful call to action buttons
Create high converting showcase boxes that show price, images, and more.
Everything you need to easily manage and create Amazon affiliate links.
Use Coupon Code NP50
If they shut down the Adsense account and return the $1,000; Google is LOSING $320 by shutting down the account.
So, the economics of this whistleblower's claim just don't add up.  Google is a company that is making billions; and they don't make any money by shutting down accounts.  This is the primary reason I have to lean towards this statement being false.
HOWEVER, if its true that they didn't follow their own policies and kept the money, rather than returning it to the advertisers…THEN that becomes a pretty interesting argument; and a big problem for Google.
So, is there tons of evidence that Google shut down a large number of Adsense publisher's accounts in April of 2012?  Yes
Is there evidence that advertiser's were not returned their money?  I have not seen any evidence in that regard.
Google Denies Claims
And of course, Google has officially released a statement denying the claims (posted on TechCrunch):
"This description of our AdSense policy enforcement process is a complete fiction. The color-coding and 'extreme quality control' programs the author describes don't exist. Our teams and automated systems work around the clock to stop bad actors and protect our publishers, advertisers and users.
All publishers that sign up for AdSense agree to the Terms and Conditions of the service and a set of policies designed to ensure the quality of the network for users, advertisers and other publishers. When we discover violations of these policies, we take quick action, which in some cases includes disabling the publisher's account and refunding affected advertisers."  
Whistle-blower Rebuttal
And like any good argument, the original Adsense leaker has issued a rebuttal to Google's statement!  In part it reads:
I have communications. I have documents, I have files, I have lists, and I have names.  I have all of it. Like I said from the beginning, I have carefully waited and carefully planned everything out.

So you ask why haven't I released it?  The answer, if I release everything I have now, it will give Google too many possible avenues to discover my identity. Also doing thing such as publicly naming people and giving Google a pre-emptive look at what I have will only make them prepare for the class action lawsuit that will hit them.  They won't be caught off guard and they will have time to come up with excuses and explanations in attempts to rid themselves of this issue.  I do not want that to happen. I want the people to win. I want those who had money they earned, that was stolen from them, to get the right to fight for it on equal grounding.

That is why I have chosen to only release it to the legal representatives of the class action lawsuit against Google in regards to AdSense. (…)

If several months go by and no class action lawsuit manifests, then I will have to selectively release a few key pieces of evidence to the public at large.

The information and evidence I have is extensive and quite detailed, it will also paint a very different picture of what Google is really like to the public.
This individual clearly is doing all he can to sound official, but until he actually puts up some real evidence; I'm going to have to remain skeptical.
However, this has stirred up many others to discuss some of Google's internal policies; including what time of month accounts get shut down.  I was shared a poll recently posted on Y Combinator looking to gather data about when their Adsense account was shut down.
My Final Thoughts
Overall, reading the originally Adsense "leak" stirred up a lot of bad memories for me!  Unfortunately, just because the user nailed the date when my Adsense account (and many others) were shut down, does not mean its true.
I have no idea why this person would bring up these claims, but at this point, there is just not enough evidence to consider the conspiracy as true.
However, this discussion does bring up at least one good point.  Google Adsense does not communicate well with its publishers.  When my account was shut down, I never received any warnings and email requests for information as to why my account was shut down were never addressed.  I was given the same generic answer that everyone else was given.
It hurts pretty bad when you lose $10k/month and Google won't even tell you why.   If nothing else, Google could learn to communicate better with its publishers.
I do want to re-iterate that my story has a happy ending!  Even though my account was shut down, I formed a new business entity, applied for a new account, and was approved just a few short months after being shut down in 2012.  I've been a happy user of Google Adsense for the past 2 years without any issue.  (Here's my post from 2012 explaining how I got back in with Google Adsense).
I put the new Adsense code back on all my old sites (and now my new sites), and I've been earning ever since.  Why was I shut down the first time?  I still don't know…and Google Adsense doesn't appear to be interested in shutting me down again; so I've stopped trying to figure out why.
For me, this really struck a chord.  Adsense was my primary source of income for about 2 years straight…and so I just had to post my thoughts on the Adsense debate.
I'd love to hear your thoughts on the subject.  Do you believe there is any truth behind this Adsense whistle-blower's claims?  And if its just a conspiracy, why in the world would someone post all of this?
---