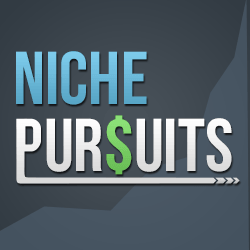 One of the primary steps to building a successful niche websites business is finding a good hosting service.   For many of you, this may seem like an elementary step, and in fact it is.  But its a critical one to ensure the long term success of your business.  Especially as you scale your business to include more niche websites or as you build larger sites, you want a WordPress web host that can handle the additional load.
I personally have used 3 different hosting services, and I am by far happiest with Bluehost.  So, in my post today I want to discuss first what to look for in a good web host for niche websites specifically, and then why I feel like Bluehost is the best service to use.
What is Needed in a Webhost?
If you are going to be hosting multiple niche websites on a hosting account, you want to make sure that it has a few basic features.  One of these basic features is the ability to install WordPress with a push button installation.  Many hosting companies offer this through either Fantastico or Simple Scripts or some other script.  I prefer Simple Scripts over Fantastico – which I will show in my video below.
Also, you need to know how many "Add On" domains are available in your account.  Bluehost allows unlimited Add On domains.  However, if you are installing WordPress on each of these domains (my preferred Content Management System), then you are limited to 100 SQL databases (you use 1 database for each WordPress install) on your account.  Most people never get to 100 websites, so this is probably not a worry.  Even if you were like me and had more than 100 sites, I would not recommend having them all on the same hosting account.  I have several Bluehost accounts for my websites.
I have also used HostGator.com, and quite honestly I wish I never had.  I did it initially because I saw that they allowed both unlimited domains AND unlimited SQL Databases.  However, after using them for a while, I learned that you are indeed limited by something called "inodes".  This wouldn't be a big deal as I figured I could still fit 200 or so sites on the account, but I soon discovered other issues that just made Bluehost so much better.
Bluehost is a Good Company
I recommend using Bluehost for your niche sites, for several reasons – one of them being that they are a reputable company.  They have been around for a while now and its not like you are buying cheap goods from some greasy guy with shifty eyes in the back alley.  Bluehost stands by their product and they have EXCELLENT customer support.  Whenever I have called in, they have quickly answered with almost no wait time and have been able to just as quickly resolve my questions.
Hosting Features – Bluehost vs Hostgator
In addition, to being a great company and having quick customer support, Bluehost also has some features that Hostgator simply does not offer.  These features are really what sets Bluehost apart in my opinion.  After you build a couple of hundred websites, you start to notice some of these little things that you probably wouldn't notice the first time you buy a hosting account.  Hopefully some of this information will help you make a more informed decision.
I have decided to make a quick video that shows me in both the Bluehost cPanel and my Hostgator cPanel to visually show you the differences.  But first I will just spell out here what I am going to show in the video that follows.  But trust me, its much easier to just look at the differences in the video.
Easy WordPress Installation
First of all, both Bluehost and Hostgator have a push button easy WordPress install.  But Bluehost uses Simple Scripts which I like MUCH better as opposed to Fantastico.  I will show you why in the video.  However, I am always annoyed by the fact that Fantastic on Hostgator always installs an older version of WordPress.  So, lets say the current version of Wordpres is 3.2; Hostgator will do a "new" installation with version 3.1!  So, as soon as I install WordPress I have to then go and update each installation to the really new version of 3.2.  Can't stand that – total waste of time.  Bluehost ALWAYS installs the most up to date version.
Easy Login
Get 50% off Your First Year of AmaLinks Pro! (This Week Only)
AmaLinks Pro is the all-in-one Amazon Affiliate WordPress Plugin:
Create product comparison tables that match your theme.
Create beautiful call to action buttons
Create high converting showcase boxes that show price, images, and more.
Everything you need to easily manage and create Amazon affiliate links.
Use Coupon Code NP50
When I go to Bluehost.com there is a login button to push – making it very easy to login to my cPanel.  When I go to Hostgator.com, there is NO LOGIN BUTTON.  Annoying.  For Hostgator, you have to remember your special login URL, something like: http://gator1245.hostgator.com/cpanel or yoursite.com/cpanel.  Quite honestly I can't always remember which site is my login site for Hostgator or remember my special login URL.  Others probably can, but I just find Bluehost logins much easier.
Easy Updates
On Bluehost, you can update ALL of your WordPress installations with the push of 1 button.  On HostGator you have to click on each site individually to update the WordPress installations.  If you have dozens of sites, you just lost an hour of your time.
Unlimited FTP
Bluehost offers something call "unlimited FTP" which Hostgator does not.  Of course you can always use traditionally FTP programs on either hosting service, but I have always found this "unlimited FTP" much easier than setting up FTP accounts, etc.  I have found it to be another huge time saver – and as you will see in the video Bluehost offers it where others do not.
Get Bluehost
Overall, this is my honest review of where I feel like the best place to host niche websites is.
And yes, this is obviously an affiliate link – so I get paid if you sign up for Bluehost.   I only recommend services that I actually use and love, so if you feel like my information is valuable enough for me to earn an affiliate commission – please do so by buying Bluehost through me link above.   Thanks!
If you have something to say, or ask – share your comments below!
standard
building-niche-sites
standard
building-niche-sites
---