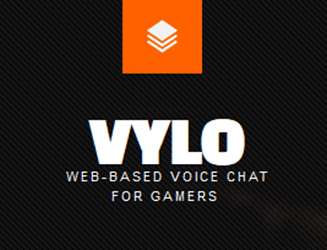 Today I wanted to provide an update on a software case study that Perrin and I are doing right now.  As introduced a little while ago, we are developing a software application targeted at gamers called Vylo.
Vylo is a web-based chat solutions for PC gamers primarily, and we hope to build it into a great business.  However, we are still in the development stage and have not launched the business quite yet.
This is one reason I haven't provided an update for about 2 months now; because not much outwardly has occurred.  However, there has been A LOT going on in terms of product development that need to be shared.
In addition, I think this post will be a great insight for anyone looking to hire a developer and create their own software business in terms of project timelines and small issues that can arise.
Current Status of Vylo
So, how is the Vylo development coming along?  Well, I truly believe that we are getting VERY close to having a product that we can start officially beta testing.  We've been internally testing Vylo for a couple of months now.
Once we have worked out just a couple of minor issues, we will likely start sending out the beta version to the list of over 6,000 interested people that Perrin built.
So, in its current state, we have a working version of Vylo that Perrin and his friends currently use while they are gaming.  It works!  So, that's a huge step obviously.  But, it still has just a few rough edges that need to be tweaked before we can publicly share it.
Toss the Timeline Out the Window
If you look at the date of the last Vylo update, you will remember that it was posted in February of this year.  Development on the project actually started at the end of November, and we expected that it would only take a couple of months.
So, as you can see this project has taken our developer much longer than expected.  We are now going on about 5 months, and its still not quite ready.
As you can imagine, this can be very frustrating to some people.  However, I'm personally not too anxious about it.  I've always been MUCH more concerned about getting a great product, even if its late, than getting a half-working product on-time.
And to be honest, this is really not out the norm for larger projects; they often take much longer than expected.  I've come to realize this as I've made major changes to Long Tail Pro a few times and the deadline is always a goal, but if it takes a month or 2 longer to get something completed; I'm okay with that as long as its done right.
For Vylo, we have had a few issues arise that have caused the time delay; including our developer getting sick; developer being extremely busy with other projects (as he thought he would be done with ours), some graphic design delays that were caused on our end, and unforeseen bugs that needed to be fixed.
Again, this is probably the norm for any large project.  The unexpected happens.  So, despite our wishes that the software would have been ready for prime-time by now; it really is going to be just fine.  We've had great communication with our developer and that goes a LONG way in keeping everyone on the same page.
Graphic Design Issues
One of the issues that caused a bit of a delay was the graphic design.  We didn't have graphics ready to hand to the developer…to be honest we didn't fully know what we would need going in.  The developer was able to add some basic skins, but after discussing with the developer and ourselves, we decided the highest quality product would be created if we hired a graphics person to do the designs.
This took a little bit of time, but what took even more time was the fact that we sent back our first designs and asked for a second set!  Ouch!
Want To Build Smart & Relevant Internal Links...Quickly?
Link Whisper is a revolutionary tool that makes internal linking much faster, easier, and more effective.  It makes it simple to boost your site's authority in the eyes of Google. You can use Link Whisper to:
Bring out your orphaned content that isn't ranking

Create smart, relevant, and fast internal links

Simple yet effective internal links reporting: what has lots of links and what pages need more links? 
Click here to revolutionize your site's way of doing internal links
Basically, it was our fault again.  We asked for a bit too much in terms of graphics, and ended up with some designs (based on our instructions) that we thought looked outdated for this project.
Here's a sneek peek at the first set of designs that we got for Vylo:
I'll be honest, I like the design.  However, I'm not a gamer.  After Perrin, the developer, and the other partners (all of whom are gamers), discussed the designs, they decided they did not like it.
The primary reason was that it looked like something that would have been cool 10 years ago, but not so much now…it looks out of date.  Also, we wanted something more simple and clean to match what Vylo is all about (a quick and easy way to set up chat rooms for your gaming buddies).
Again, this was our own fault for not being more clear about what we wanted up front with our graphics person.  So, we went back and got a second set of designs that we are moving forward with.
Here is the current look of Vylo:
Overall, we are happy with what we have and are moving forward!  Just a few more tweaks to the actual application and we'll be ready to introduce it to the world for more testing.
Marketing Plans
Despite a few hiccups along the way, we are still actively planning how we will market the software once its ready to go.  We are still planning on what I shared in the last update about marketing:
Connect with influential gamers and communities where gamers hang out.
Get Pro Players to try it out.
In addition, with our initial list of over 6,000 people we hope that it will spread by word of mouth.  This is a very natural way for Vylo to spread since its pretty boring to chat in a room by yourself.
Once we have a final product in our hand, we will be hitting the marketing side of things much harder.  But the majority of it will be focused on finding those that already have some influence in gaming communities, forums, have email lists, etc and doing whatever we can to strike up some sort of agreement with them to mention, promote, or share Vylo with their communities.
Going forward, I'll share our marketing plans and results much more as that will be critical to the success of this business (as with any business).  For now, its still a bit of quiet before the storm…
Excited for the Future Launch
Overall, Perrin and I are very excited for the eventual beta testing and launch of Vylo!  The potential market is huge and we think with the completed product and the right marketing we can capture a nice sliver of that market.
We still don't know the exact date of when everything will be ready to go, but it really should be in the next few weeks.
As always, I'd love to hear any comments or questions that you have, and Perrin and I will do our best to address each of them.
---