39 [Mostly Free] Video Marketing Tools to Help You Grow Your Audience
When you buy something through one of the links on our site, we may earn an affiliate commission.
Video is a compelling medium for many businesses, including niche and authority websites. To help with your video marketing efforts, it's critical to work with the best video marketing tools.
Here are some top-rated tools that can help you avoid dropping a small fortune getting what you need for video marketing.
---
Video Marketing Tools
These best video marketing tools can make creating professional videos much more manageable for marketing and branding purposes. These are some of the top tools in the industry and cover a wide range of budgets to ensure you can find the right solution for your needs.
1. Animoto
Animoto is a free-to-use video maker that helps video marketers create professional-quality videos for publishing on any video marketing platform like YouTube. The software makes the video creation process simple and can help people without advanced video editing skills to create the videos they need.
One of the benefits of the software is the free plan which allows you to test the tool before committing to a paid plan. The free plan will add an Animoto watermark to the video.
Animoto Features:
HD Video quality downloads
Over 3,000 licensed music tracks are available
Licensed stock photos from Getty Images
Voiceover capabilities
Check Out Animoto
2. Biteable
Biteable is an online video maker that makes it easy to create branded videos for in-house use or marketing to potential clients and customers.
Similar to Animoto, the online video editor cuts out much of the work that can make traditional video editing software difficult for beginner users. While this does take away some of your control, it can make video creation more accessible.
There is a free plan allowing you to test the software before committing to one of their paid plans. With the free plan, you will have watermarks on your videos.
Biteable Features:
Unlimited HD video exports
Stock video clips from Shutterstock, Unsplash, and Storyblocks
Video analytics
Interactive call-to-action buttons
Check Out Biteable
3. Powtoon
Powtoon provides advanced video creation capabilities through an intuitive platform trusted by brands like Coca-Cola, eBay, Starbucks, and more.
The platform offers animation, GIF creation, and full video creation solutions. Users can easily export to platforms like Facebook, YouTube, Wistia, and Vimeo. Other features include whiteboard doodling, screen recordings, and custom character creation.
You can test out the software through a basic free version that will add watermarks to all videos.
Powtoon Features:
Character creation capabilities
Third-party resell rights (agency plan)
Easily to export to video platforms
Whiteboard and animation options
Check Out Powtoon
4. Magisto
Magisto is a smart video creator that makes creating videos for social media more streamlined and simplistic.
The tool comes from the team at Vimeo and is geared toward creating videos for the platform but also works for YouTube, Facebook, Instagram, Twitter, Linkedin, and personal websites.
One thing to note is that Magisto does not offer a free starter plan like the other video creation tools mentioned. There is also no money-back guarantee, so you will have to pay to try the platform.
Magisto Features:
Premium editing styles
Make videos up to 10 minutes long
Custom branding, logos, and fonts
Commercially licensed music
Check Out Magisto
5. PlayPlay
PlayPlay offers a more enterprise-focused video creation solution that can create videos for in-house needs such as training and human resources or marketing for social media and website usage.
The tool offers various advanced features such as access to music, video, and a photo library, as well as collaboration tools for teams. There are also voiceover and subtitle options for making your video more accessible.
One thing to be aware of is that PlayPlay is significantly more expensive than many of the alternatives listed above.
PlayPlay Features:
Team collaboration tools
Voiceover and subtitle capabilities
Integrated branding features
Access to Getty images library
Check Out PlayPlay
---
Video Editing Tools
While the above best video marketing tools can be great for beginners, sometimes you need more advanced control over your video creation. These video editing tools can help you create studio-quality videos without a studio-level budget.
6. iMovie
For Mac users, iMovie can be a great video editing solution if you want something basic and easier to operate than a full-blown studio editing tool.
The software provides powerful features such as 4k video output, advanced editing features, green screen controls, people detection, and more.
This tool is Mac-specific and comes standard with new iMacs, MacBook Pro, and MacBook Air. For Windows, you will need an alternative such as one of the below video editing tools.
iMovie Features:
Advanced editing tools
Greenscreen controls
4K video output
Easy video sharing
Check Out iMovie
7. Adobe Premiere Pro CC
Adobe Premiere Pro is a studio-grade video editing software great for more advanced or longer videos. The software has been used for blockbuster movies such as Avatar and Deadpool, so it's more than enough to handle any task you can throw at it.
The great thing about Adobe Premiere Pro is that it comes with Adobe's creative cloud, so you get many apps such as Photoshop and InDesign that can further aid your video marketing efforts.
Be aware that these tools are geared more towards experienced users and may not be the best option for first-time video creators.
Adobe Premiere Pro CC Features:
Motion graphics templates
VR editing
Shared projects between users
Advanced video effects
Check Out Adobe Premiere Pro
8. Filmora
Filmora is another highly rated video editor capable of providing studio-quality video. The software has everything you need for video editing, adding effects, voiceover, and more.
One thing I like about Filmora is that it comes in much cheaper than solutions such as Adobe Premiere Pro or DaVinci Resolve discussed below. The software offers a low-cost annual plan as well as a lifetime license for each version.
Filmora Features:
Advanced video editing tools
4k resolution editing support
Video stabilization
Audio editing tools
Check Out Filmora
9. Final Cut Pro
Final Cut Pro is the big brother of iMovie. The tool is geared toward professional-quality videos and is better suited for people who understand video editing. The software has everything you will need to create marketing or social media videos.
You can purchase Final Cut Pro as an add-on when buying a Macbook or iMac or purchase it separately through Apple's website. The software is on the pricier end. If you are only doing basic editing work, there are better alternatives.
Final Cut Pro Features:
Magnetic timeline for editing
Highly advanced editing capabilities
Audio, motion graphics, color grading, and more
Multicam editing options
Check Out Final Cut Pro
10. DaVinci Resolve
DaVinci Resolve, similar to Adobe Premiere Pro, is a studio-grade editing tool that's been used for blockbuster movies such as Alien: Covenant, La La Land, Pirates of The Caribbean, and more.
The software has everything you need to create top-quality videos that can aid your marketing efforts. Similar to Adobe Premiere and Final Cut Pro, this is an advanced editor and is better for experienced users.
DaVinci Resolve Features:
Cloud storage for enhanced collaboration
Intuitive object masing and other color features
Surface tracking for adding graphics
YouTube and Quicktime chapter markers
Check Out DaVinci Resolve
---
Video Animation Tools
Animation can be an excellent medium for capturing people's attention and conveying your message. What's great is the medium can work for both serious and playful brands and creates more possibilities for what you can do. Here are some of the best video marketing tools for creating animated videos.
11. Vyond
Vyond is a cloud-based animation software that helps businesses easily create marketing videos for social media and other platforms. The tool offers a simplified interface to make it easy for a range of users and skill levels.
You can easily try out Vyond through the free trial and if you like, sign up for one of the multiple plans that suit your current level. The tool has all the features you will need, including whiteboard animation, contemporary animation styles, and business-friendly animation.
Vyond Features:
Whiteboard and other animation styles
Video collaboration tools
Speech enhancement
Color-changing props and backgrounds
Check Out Vyond
12. VideoScribe
VideoScribe is similar to Vyond and allows users to create whiteboard-style videos and other animation styles. The tool offers solutions for educators, businesses, charities, marketing, product showcases, and more.
With VideoScribe, you can try out the software free for seven days to see if it meets the needs of your business and your team. After your trial, you can choose from a monthly or annual plan at half the price.
VideoScribe Features:
Whiteboard and other animation options
Pre-made video templates for social media and other uses
Animated GIF creation
Browser and desktop options
Check Out VideoScribe
13. Adobe Character Animator
Adobe character is a more advanced animation software that allows you to create animated videos in real-time. The tool is a good solution if you want greater control over the minions and actions of the character on the screen, owing to the real-time motion capture capabilities.
As with many other Adobe tools, Character Animator is part of the Adobe Creative Cloud. This ensures you have all the video marketing tools you need.
Adobe Character Animator Features:
Advanced motion capture technology
Free starter option with basic features
Easy to export animation for sharing
Live stream to external devices or apps
Check Out Adobe Character Animator
14. Wideo
Wideo is similar to Vyond and allows businesses and individuals to create quality animated videos perfect for marketing, in-house training, and social media.
The tool provides you with everything you need, from premade templates to stock video, and simplifies the video creation process.
You can start with the free version of the software, which allows you one-minute videos branded with Wideo watermarks. Once you're confident it's the right solution, you can upgrade to one of the low-cost paid plans.
Wideo Features:
Numerous templates to make creation easy
Stock video library
Color palette generator
Storyboard creator
Check Out Wideo
15. Blender
The final video animation tool is perfect if you're looking for a more robust and feature-rich video animation tool. Blender is an open-source video animator and 3D rendering solution that's been around since 1994.
Be aware that this is a more advanced tool with a much steeper learning curve than the above animation tools. However, it will allow you to create a wider selection of animated videos. It also has the added benefit of being completely free.
Blender Features:
Advanced animation rendering
Animation and rigging
Basic video editor
Digital modeling and sculpting tools
Check Out Blender
---
Video Hosting Platforms
The best videos in the world don't mean anything if you have nowhere to put them and no one to watch them. That's where video hosting platforms come in. With platforms like YouTube and Vimeo, you have a place to put your videos and drive traffic.
16. Cincopa
Cincopa is a platform that allows you to host videos and present these through streaming, integrations, or app creation via API. The platform provides solutions for marketers, educators, content publishers, sales, or internal communication.
With Cincopa, you can also host podcasts and photos for delivery on your website. Cincopa has everything you need, including hosting, managing, publishing your videos and other media, and analytics to track performance.
Cincopa Features:
Video SEO solution
API and integration options
Host videos, images, and podcasts
Streaming options
Check Out Cincopa
17. Vimeo
Vimeo is one of the top video hosting platforms allowing individuals and companies to host, share, and live stream high-definition videos. The platform provides one of the cheaper hosting solutions out of all the paid hosting platforms.
Some features included with Vimeo are advanced video analytics, marketing and monetization tools, and post-production and collaboration features. The platform also offers numerous integrations such as Final Cut and Adobe Premiere Pro.
Vimeo Features:
Video analytics
Marketing and monetization tools
Integrations with video editing software
Team collaboration features
Check Out Vimeo
18. YouTube
YouTube is a video platform that needs no introduction. As the largest video-sharing platform in the world, it's a no-brainer for hosting videos. This is an excellent platform for hosting your videos, reaching potential clients and customers, and directing them to your website.
Along with free hosting, you can track video performance through YouTube analytics to improve your videos and marketing efforts. The video platform also provides features such as closed captioning and commenting.
YouTube Features:
HD video uploading
YouTube analytics
Closed captioning for videos
Playlist creation for video organization
Check Out YouTube
19. Wistia
Wistia is an all-in-one solution geared toward helping marketers and business owners create, host, and share videos. The platform offers advanced analytics to understand better your videos' impact and how they are performing.
Using Wistia, you can easily embed videos on your website and utilize their custom video player and video CMS system. The software has advanced features such as video SEO tools, lead generation, marketing automation, and more.
Wistia Features:
Custom embeddable video player
Marketing automation and lead generation
Video analytics and A/B testing
Video collaboration tools
Check Out Wistia
20. Dailymotion
Dailymotion is another incredibly popular video hosting and sharing platform headquartered in France but used worldwide. The platform is especially popular with news websites and content-focused businesses.
Some benefits of focusing on the websites include a large audience of potential viewers and analytics to track performance. The platform also makes it easy to embed videos on your website for sharing with your audience.
Dailymotion Features:
Embeddable videos
A large audience of potential viewers
Analytics and performance data
4K and high definition video support
Check Out Dailymotion
21. Facebook Watch
While YouTube may be the largest player when it comes to online video hosting and sharing platforms, Facebook has been pushing hard to make up ground.
The video-sharing section of the Facebook website, Facebook Watch, was launched in 2017 and had some significant benefits for video marketing. Primarily, you have better access to your audience, especially if you have a large Facebook group or page.
Other benefits include analytics and performance tracking, and embeddable videos. One thing to note is that Facebook Watch is only open to certain people who have a profile or page that meets a minimum number of followers.
Facebook Watch Features:
Embeddable videos
Analytics and performance tracking
Easy to share with your Facebook followers
Monetization opportunities
Check Out Facebook Watch
---
Screen Recording and Sharing Tools
For many businesses, the ability to quickly record and share videos is critical. That's where screen recording tools come into play. These video marketing tools allow you to record your screen and share it with people internally quickly or on video-sharing platforms.
22. Loom
Loom is one of the top screen recording tools on the market. It's indispensable for content creators (or influencers) who want to make explainer videos and provide more value to their audience. The tool can also be used for internal business communication or sending videos by email.
You can use Loom free to create up to 25 five-minute videos. They offer low-cost monthly and annual plans for unlimited videos that provide more control over the videos and more features for creators.
Loom Features:
Custom branding
Engagement insights
Embed links within videos
Screen & cam bubble recording
Check Out Loom
23. Screencastify
Screencastify is similar to Loom and one of the top screen recording tools for Google Chrome users. The tool allows you to record your screen with a cam bubble if you want to speak over recordings or explain what's on the screen.
The software includes features such as an easy online video editing feature, video analytics tracking, and more. One benefit is that the free option allows you to record 30-minute videos instead of Loom's five-minute limit.
Screencastify Features:
Video analytics
Online video editing
Screen recording and cam bubble
Unlimited video esports
Check Out Screencastify
24. Vidyard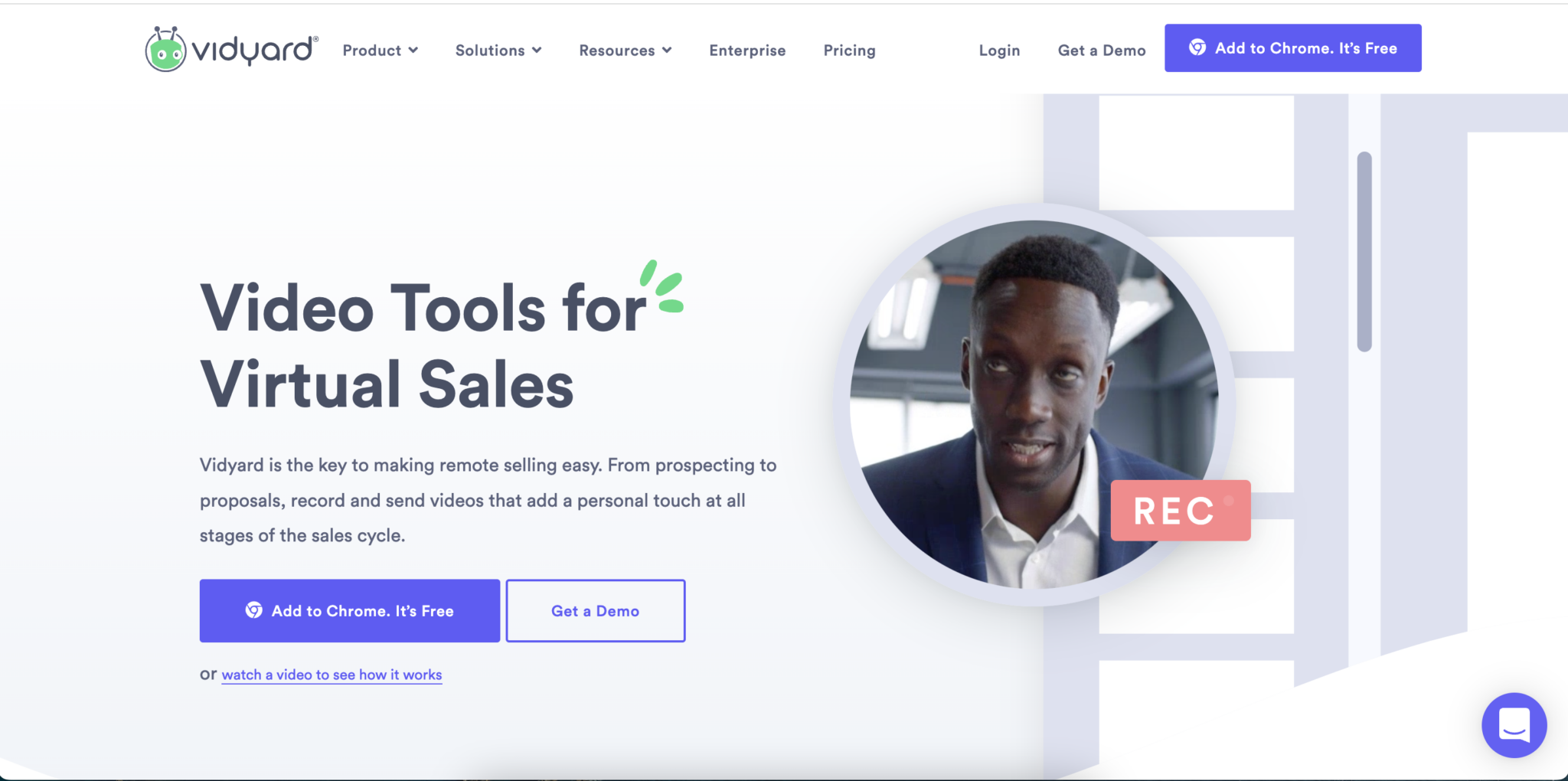 Vidyard offers a full-screen and video recording solution, especially for businesses and marketing teams. The video recording solution provides a range of integrations, including Linkedin, Marketo, Salesforce, and 48 others.
You can try out Vidyard with their free basic plan to get started and even try their paid plan for fourteen days free of charge. The paid plans also come with video analytics to track how your videos perform and how many people view them.
Vidyard Features:
Fifty integrations to work with
Video insights
Call-to-action for videos
Custom branding
Check Out Vidyard
---
Livestream Platforms
Another effective tool in any business toolbox is the ability to live stream. This enables you to conduct webinars, inform your audience, hold special events, and much more. The following platforms each offer excellent opportunities to live stream to your audience.
25. Twitch
Twitch is an interactive live streaming platform created for gamers but has since expanded to entertainment, sports, and more. This platform will be a bit more niche and suitable to people with businesses or niche and authority websites within these areas.
Live streaming on Twitch benefits that you can monetize your traffic, more easily find your audience, and utilize the platform's channel analytics to understand better how your streams perform.
Twitch Features:
Channel analytics
Monetization of traffic
A large number of potential viewers
Real-time chat features
Check Out Twitch
26. Facebook Live
Facebook Live offers a great place for anyone with a large Facebook following or group to live stream their content and connect with their audience in real-time. The benefit of Facebook Live is that your audience is already on the platform, so you don't need to move them to other websites.
Some other benefits of streaming on Facebook Live include your videos sticking around on the platform after your stream ends and the fact it's free to use.
Facebook Live Features:
Free to use for streamers
Analytics to track user numbers
Real-time chat
No need for followers to move platforms
Check Out Facebook Live
27. LinkedIn Live
LinkedIn Live is similar in many ways to Facebook Live, except that the LinkedIn platform is geared more towards businesses and professionals. This can be a significant benefit if you have a B2B company or a course provider targeting professionals.
The benefits are similar to Facebook Live in that you don't have to move your audience to a new platform. Your LinkedIn Live recordings will stay active on the platform after you've finished streaming for future viewing.
Linkedin Live Features:
Videos stay active after streaming
Easier to reach professionals and business owners
Large audience to drive traffic
Analytics to understand performance
Check Out LinkedIn Live
28. TikTok Live
While TikTok may not be the first thing you think of when it comes to marketing, it's a robust platform ripe for the right types of businesses to attract an audience.
The platform has over a billion monthly active users globally, making it prime for marketers to connect with potential clients and customers, especially with B2C industries and niches.
Aside from a large number of people using the platform, some of the other benefits of TikTok Live include a long time limit of up to 60 minutes, access to filters and effects, and a more intimate real-time connection with your audience.
TikTok Live Features:
Free to use the platform
Large potential audience
Filters and effects during streaming
Long stream time of up to 60 minutes
Check Out TikTok Live
29. Instagram Live
For many niche and authority websites, it's very likely that you are already on Instagram, especially if you are in a more visual niche. This makes Instagram Live the perfect platform for streaming to your audience.
As with Facebook, LinkedIn, and TikTok live platforms, the primary benefits of streaming on Instagram are many potential followers on the platform. There are also analytics and the ability to keep your followers concentrated on a single platform rather than needing to direct them to another website.
Instagram Live Features:
Analytics to track viewers
A large number of potential viewers
Keep your viewers on a single platform
Up to 4-hours of streaming
Check Out Instagram Live
---
Livestream Tools
When it comes to livestreaming, you aren't stuck with a single platform like Instagram or LinkedIn. You can also stream on your website.
This is awesome if you want to livestream events or better connect with your audience. The following video marketing software can help with this.
30. Streamyard
Streamyard offers a simplified livestreaming solution that can easily be used by businesses and individuals to stream from the platform of their choice.
The software offers multi-streaming capabilities, so you can easily stream to platforms like Facebook, LinkedIn, Instagram, and your own platform simultaneously.
Some of the other benefits of the software include not having to download anything, easy branding during your stream, the ability to add additional streams for live interviews, easy backgrounds, and more. The software offers a free version and a pro plan for enhanced features.
Streamyard Features:
Multi-streaming capabilities
Free version of the software
No need for software downloads
Easy to use backgrounds
Check Out Streamyard
31. Wirecast
Wirecast offers a professional livestreaming solution perfect for large events and heavy-duty streaming. This is highly customizable video marketing software suited for more experienced users.
Some of the tool's features include an unlimited number of live camera inputs, live guests and screen sharing, multi-track audio inputs, and more.
The software also has multi-streaming capabilities allowing you to stream to multiple platforms, including YouTube, Facebook Live, Instagram Live, LinkedIn Live, and more simultaneously.
Wirecast Features:
Multi-streaming capabilities
Unlimited live camera inputs
Guest and screen sharing capabilities
Production automation tools
Check Out Wirecast
32. vMix
vMix is live video streaming software that allows you to produce, stream, and record video content for your audience. The software offers a high-quality streaming solution that is feature-rich and easy for many to use.
Some of the top features include replay capabilities for live events, social media integrations, a live interview solution with up to eight guests, and more. The software comes as a lifetime license or, for the top version, a monthly subscription.
vMix Features:
Multi-streaming integrations
Up to eight live guests
Replay capabilities
Up to 1,000 camera inputs
Check Out vMix
---
Video SEO Tools
Since video marketing aims to attract a larger audience and better convey your message to potential clients, customers, or followers, it can help to have a solid video SEO strategy (learn more about SEO video marketing here).
Here are the top video marketing tools for improving your video SEO efforts to aid in that effort.
33. TubeBuddy
TubeBuddy is a YouTube tool that helps you to optimize your YouTube channel through better data and improved analytics. Some of the tool's features include advanced keyword research, A/B testing support, and bulk processing, among other things.
The tool comes as a subscription with a low cost and a 30-day money-back guarantee. As with most SaaS tools, you can save 20% by committing to a full-year subscription. The tool can significantly improve your SEO efforts and help boost the results you're getting from your video marketing.
TubeBuddy Features:
A/B testing features
Keyword data and research
Best practice audits
Search rank tracker
Check Out TubeBuddy
34. VidIQ
VidIQ provides a robust toolset to help you expand your viewership on YouTube. The tools offered are straightforward and easy to use, and feature-rich. One thing to note is the complete feature set costs a bit more each month than TubeBuddy.
Some features include advanced keyword research options, competitor tracking, trend alerts, and dedicated SEO analytics. The tool also has helpful Google Chrome and Firefox extensions to make data collection easier.
VidIQ Features:
Trend alerts for quick response
VidIQ keyword research engine (don't miss VidIQ vs TubeBuddy)

Robust competitor tracking
Daily ideas to help with content creation
Check Out VidIQ
35. YouTube Analytics
If you are already on YouTube and you aren't utilizing YouTube's in-house analytics tools, then you are missing out. For starters, this is free data that comes directly from YouTube rather than a third-party service, so it is more likely to be accurate.
YouTube analytics offers daily traffic numbers, watch time, subscriber numbers, and more. You can even research what your viewers are searching for and what types of videos they regularly save. All of this information is available from your channel page.
YouTube Analytics Features:
Traffic, watch time, and subscriber numbers
Advanced viewer research
Specific content information
Free to use
Check Out YouTube
---
WordPress Video Players
With well over a quarter of all websites built using WordPress, it can be helpful to have video marketing tools specific to the platform.
The following video players will help you embed videos on your WordPress website and better track the number of viewers who watch your videos.
36. Presto Player
Presto Player is one of the most powerful WordPress video players available (don't miss our Presto Player review). The plugin works with all page builders, including Elementor, Oxygen Builder, and Beaver Builder. It's incredibly versatile and easy to use without coding knowledge.
Presto Player features include a sticky video player, video chapter support, analytics and reporting, an opt-in email gate for lead capture, and more. You can add videos from multiple inputs, including YouTube, Vimeo, and self-hosted videos.
Presto Player Features:
Sticky video player
Email opt-in gate for lead capture
20 different integrations
Works with all page builders
Check Out Presto Player
37. All-In-One Video Gallery
All-in-One video gallery is a plugin that allows you to quickly build advanced video galleries similar to those you would see on Vimeo.
The plugin provides a custom HTML5 video player that supports MP4, WebM, OGV, and other formats. You can also use the plugin with embeddable video players from websites like YouTube, Vimeo, Facebook, Dailymotion, and more.
You have complete control over the plugin with over 100 settings and display options to style the player exactly how you want it.
All-In-One Video Gallery Features:
It supports multiple formats and embedded players
Over 100 settings to work with
Create great-looking video galleries
Create unlimited categories and tags
Check Out All-In-One Video Gallery
---
Script Creation Tools
One of the best video marketing tools that no one thinks of is script creation software. As the old saying goes, failure to plan is planning to fail.
Creating scripts, even for short marketing videos, can ensure a high-quality product that leads to more viewers and potentially more conversions.
38. Celtx
Celtx is a media pre-production software that helps create scripts for all types of videos, advertisements, audio productions, and more. The software is intuitive and offers a robust feature set that can help the creative process.
Top features include powerful collaboration tools, budget tracking, project cataloging, scheduling, call sheets, and more. The software is offered as a monthly subscription with a 25% discount for yearly subscriptions.
Celtx Features:
Collaboration features
Full budget and scheduling tracking
Interactive media editor
Auto-formatting and predictive text
Check Out Celtx
39. Final Draft
Final Draft is the industry standard for creating scripts. It's used throughout moviemaking from Hollywood to Bollywood and has everything you need to produce a script to your exact specifications.
Final Draft's core features include story planning, beat board for idea organization, an intuitive outline editor, and more. The software also comes with script notes to enhance the collaboration efforts between writers and for future reference.
Final Draft Features:
Intuitive outline tools
Story planning tools
Night mode and focus features
Automatic backups
Check Out Final Draft
---
Things To Consider When Choosing Video Marketing Tools
Before you rush out to buy the best video marketing tools, there are a few things you need to take into consideration. Each of the below factors should be considered to help you save money and get the right tool for your needs.
Subscription vs Lifetime License
One of the first things you should consider is whether you want software and tools purchased on a single site license or a monthly or yearly subscription.
If you plan to use the tools regularly for extended periods, you should go for a lifetime license. This will lower overall costs and ensure you don't need to worry about periodically paying for subscriptions.
On the other hand, if you will only be using the software occasionally, it can be better to get a monthly or yearly subscription as needed.
What Videos You're Creating
The software you need will largely depend on the videos you create. For example, if you plan to livestream events, you won't need a video editor like Final Cut. In this case, you should go for software such as vMix that is focused on livestreaming.
If you are filming promotional videos with a high-production budget, you should use tools like DaVinci Resolve that give you more control over the outcome. Make sure you know what types of videos you want and minimize expenses by keeping software to a minimum.
Skill Level
If you have no experience with video editing, you will face a steep learning curve trying to get started with software like Adobe Premiere DaVinci Resolve.
A primary consideration that many people don't think about until it's too late is the skill level needed to operate specific software.
Take Adobe Premiere Pro, for example. This is studio-level software often used in blockbuster movies and professional advertisements.
If you have no experience with video editing, you will face a steep learning curve trying to get started with software like Adobe Premiere or DaVinci Resolve. You may even need to spend significantly more money to learn how to use the software.
In this instance, an easier-to-use video production tool like Animoto may be a better option. While you won't have as much control over the result, you can get your point across for much less money and significantly less frustration, allowing you to focus on what matters.
Budget
Remember, creating videos is about more than just having the best video marketing tools. You can have the best video software and get horrible results with a low-quality camera or microphone.
Make sure to look at everything you will need and choose software that will fit within that budget. Creating videos doesn't have to be expensive but left unchecked, you will find the cost of video production can get relatively high.
Final Thoughts On The Best Video Marketing Tools
Using videos is a powerful way to drive targeted traffic and increase conversions. The medium is incredibly versatile and can be used for everything from in-house training to promotional content and marketing.
To get the best results, working with the best video marketing tools is vital. Thankfully, there are tools for every level of budget and for a wide variety of needs. As long as you understand your skill level and the full scope of your production, you're on the right path.
Remember, though, that software is only the first step to getting the right video. Always consider the hardware you need, including microphones, mixers, video, lighting, greenscreens, etc. Proper planning will go a long way toward getting the best video for your needs.
Want to learn step-by-step how I built my Niche Site Empire up to a full-time income?
Yes! I Love to Learn
Learn How I Built My Niche Site Empire to a Full-time Income
How to Pick the Right Keywords at the START, and avoid the losers
How to Scale and Outsource 90% of the Work, Allowing Your Empire to GROW Without You
How to Build a Site That Gets REAL TRAFFIC FROM GOOGLE (every. single. day.)
Subscribe to the Niche Pursuits Newsletter delivered with value 3X per week