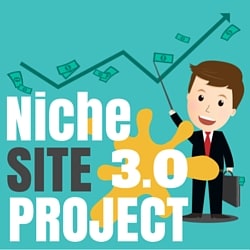 Hi Everyone!
It's been a while since you've heard an update from Ryan Spadafora, but today we've got some exciting news. Ryan has nailed down the niche he's going to pursue and in the call he explains why he made his decision.
Now that we have the niche selected, we talk a little bit about "what's next?"
In other words, where should you start with your content? Ryan already has a large lists of keywords he could target, so I give my 2 cents on which kind of topics he should start with and why.
In general, I like tackling long, in-depth posts like big lists or really well-researched pieces that aren't really focused on promoting products. You don't have to do it this way, but here are 2 reasons why it makes sense:
Your motivation is high. When you first start a site, you are pumped up about it and spending the time and energy on writing is much easier than when you are a couple of months in. That's why I like starting with a long piece of content that I feel will be important to the site.
It lets you outreach early. Typically, these long posts will have ideas and quotes from other bloggers or influencers in your niche and the easiest outreach in the world is to send them a "heads up" email after you publish and let them know. Many people will share your post on social or maybe even link back to it at some point – which is really helpful in the short and long term for your site.
Today's call is the shortest we've done so far, and below the video I've asked Ryan to share a quick update on where he's at in the process. Enjoy!
From The Desk of Ryan Spadafora:
Hello you niche maniacs. Nichiacs? No, let's not go there.
I am EXHAUSTED.
I've been working like crazy on this site (which is live now) and all I have to show for it is one blog post. One.
Granted it's a 2500 word, massive content aggregator article, but still. It should not have taken me as long as it did. When I listened to Perrin and Colleen's call from last week, I wanted to curl up into a ball and hide. I mean, she already has 12 posts up on her site. Really, Colleen? Really?
I don't know what type of pharmaceuticals Colleen is on, but I need some.
If my site is going to be successful, I'm going to need to be faster on the content generation. Like, at least 3 times faster. So what took me so long?
1. I got sucked into the design elements.
2. I researched and wrote at the same time, rather than having a plan.
3. I was too much of a perfectionist.
Get 50% off Your First Year of AmaLinks Pro! (This Week Only)
AmaLinks Pro is the all-in-one Amazon Affiliate WordPress Plugin:
Create product comparison tables that match your theme.
Create beautiful call to action buttons
Create high converting showcase boxes that show price, images, and more.
Everything you need to easily manage and create Amazon affiliate links.
Use Coupon Code NP50
4. I have a full time job, a part time job, and a family.
So, what do I mean by "sucked into the design elements"? It means that I would get distracted, or spend way too much time, tweaking other parts of the site not related to my content. I mean really stupid stuff, like my author's bio, the favicon (which I changed 4 times), Backgrounds, widgets, and all the other goodies in the Thrive Themes basket.
If I could go back and do it again, I would have focused on content first, and tweaks later. But that's a trap that I always fall into.
As for the actual writing, I didn't go in with a plan other than knowing the type of article that I was going to write, and the keyword that I was targeting. This proved to be an issue for me, especially considering the wealth of information I was attempting to tackle.
So what I wound up doing was researching a little, finding something I liked, and then writing about it. Then researching some more, etc…
Next time – research first, then a structural plan, and then writing. There were too many options for me to write about and it kept me stuck. I had no clue where I was heading.
And, of course, it doesn't help that I can be a bit of a perfectionist. I've never understood what "rough draft" meant. Isn't it supposed to be perfect the first time?
Again, I'm learning.
Next time – just get something down and edit it later. You're going to see the post more clearly for what it is at the end anyway.
Lastly, I've been working like a crazy person at my other two jobs and, of course, a two year old in the house doesn't help. But that can't be an excuse.
I will not accept that as an excuse. We are all busy, and we are all hustling. So I've just got to hustle a little bit harder.
My goal for this next coming week is three new posts. I'm trying to set more realistic goals, and hopefully three is attainable. I think it should be.
The good news is that I picked a niche that I'm really passionate about… Baseball!  I thoroughly enjoyed writing my first post, and learned a lot doing it. This will certainly make it easier going forward.
But right now, Colleen is kicking my butt, and God knows what Samara already has down. I better get cracking, or I'm going to get way behind.
Hey Colleen, hook a brother up with those blogging pills.
---