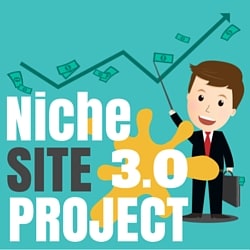 Welcome to another update for Niche Site Project 3!  As you may have noticed, we are now doing updates every other month for Samara, Colleen, and Ryan.
The good news is that all 3 students continue to see growth for their websites both in terms of earnings and traffic!
In particular, Samara and Colleen are now in a rinse and repeat mode for the most part.  They have set up their site and can now just focus on continuing to produce great content and do basic link building each month.
Samara also hit a nice milestone of hitting her first $100 month!  And Colleen's traffic has doubled since August!
Each of the students is making great progress, and much of their results now come down to the amount of time and effort that they continue to put into their sites.
Here's the updates from Samara, Colleen, and Ryan:
Samara's Update
Hey everybody!
I'm excited to bring you an update on all things Tiny Fry!
October was slightly complicated for me as I was visiting family, so I had less free time than usual, but I still tried to work as much as possible on my niche site. As you probably guessed, I have been busy implementing Spencer's long-term strategy: publish content, do outreach, get a few backlinks.
I continue to look for low competition, long tail keywords for my articles, of which I published 7 in September and 5 in October. I've also started to add comparison tables, which I'm hoping will help turn visitors into actual buyers.
I have, unfortunately, dropped the ball with my social media accounts. For a while I was sharing articles every day, and then… I don't know what happened. I guess I got distracted. It's actually quite a bit of work to find useful information to share with your audience every single day; I didn't think it would be so time consuming but it is. I'm hoping to get back on track this November.
I've seen a steady increase in traffic since the site was launched, and as you can see from the screenshot, traffic continued to grow over the last few months.
As for backlinks, I have done a whole handful of guest posts recently (including one for a site with a DA of 56), and am now exploring other strategies to mix things up a bit. My main focus is still on publishing content and then looking for a few links here and there, and that will continue to be my plan going forward.
Want To Build Smart & Relevant Internal Links...Quickly?
Link Whisper is a revolutionary tool that makes internal linking much faster, easier, and more effective.  It makes it simple to boost your site's authority in the eyes of Google. You can use Link Whisper to:
Bring out your orphaned content that isn't ranking

Create smart, relevant, and fast internal links

Simple yet effective internal links reporting: what has lots of links and what pages need more links? 
Click here to revolutionize your site's way of doing internal links
My Amazon earnings are on the rise, which I'm very excited about. In September I earned $90, and one of my guest posts paid $50, which technically brought my total monthly earnings to $140. In October, I made $105 on Amazon. Breaking the $100 barrier is a milestone, and I'm hoping to set a new record next month. I'm also hoping to develop some kind of self-control that allows me to stop checking my earnings every few hours, which has become something of a new obsession (anyone else do that?).
I hope everyone is making great progress on their niche sites and you guys are also in it for the long haul like I am!
Colleen's Update
Hello from the Rocky Mountains!
It's been a busy couple of months. I'm currently living in Colorado and enjoying the views of the mountains and hiking every chance I get. I've put a hold on traveling to focus on work, saving money, and building Coustii! I'm hoping that all my hard work pays off before I jet set off to Bali after the New Year.
According to Moz,
Coustii.com
has a Page Authority of 39 and a Domain Authority of 32. It's crazy to think my site has come this far since only January! As mentioned in the last update, I have put a hold on my link-building strategy to create more content for Coustii. I'm now ranking for almost 6,000 keywords. My goal is to keep that number going up, up, up!
In October I saw a big growth in traffic. Back in August I had about 2,200 sessions, now I have 4,500! This means my traffic has doubled in only 2 months!
Ryan's Update
Wow, these months fly by. I mean, we're rapidly approaching a year into this project. Yikes.
Okay, so, as you can see my site got a little boost in October. I wonder why? Oh yeah, that's when we finally revealed the site.
I'll admit, it was really nice to see some traffic come in – even if it wasn't the hard earned kind. And it did give me a mental boost So, yay for that.
Here's the other thing… I was expecting the spike in sessions, but I wasn't expecting that to raise the overall organic traffic for the weeks after the initial reveal. Yet, so far at least, that's what's happened. So, organic traffic is up quite a bit (for me at least) and I'm looking to build off that momentum.
Organic Traffic:
All Traffic:
As far as whether I've made any money from the site yet? That would be a resounding no. However, I let my Amazon Affiliate account lapse after they rejected me for not making any sales. There just didn't seem to be any point in having live affiliate links until I'm really seeing traffic.
I'll probably re-apply soon if I can keep the traffic growth coming. It would be nice to at least see one sale before we hit a year on the project. Pathetic, I know, but we've already been over that.
Anyway, we'll see what these next few months have in store. Hopefully, Colleen and Samara are seeing some great numbers starting to come in. Good luck everyone!
---