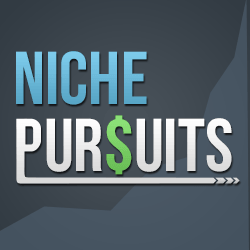 I am a little late about getting this income report out due to my week long vacation with my family to Seaside, Oregon!  We had a blast spending time on the beach, hiking the scenic trails, and hanging out in the small beach town.  Anyway, I've had a nice break and I'm ready to dive back into my day to day work (I guess that's what I call owning niche websites?).
Overall, I started sharing my monthly income reports just a few short months ago, and they are quickly becoming some of the most popular posts on my blog here.  That's great!   I share these income reports to simply show what is possible with niche websites and internet marketing.   I do not share my income to somehow imply that I am better than any of you out there or to "show off" my income.  One of the downsides I feel to the internet marketing community is that people are not listened to unless they can prove their income sometimes.  This is unfortunate.  Just because someone isn't making a full-time living online doesn't mean they can't have exceptional ideas.  In fact, most breakthroughs will come from "out of the box" thinkers or even outsiders completely.
So, I feel like if I am able to show you what's possible, this can give you a little boost of confidence to know that not only is it possible to have a real business online, but I show you the exact business that I am in to make this money.   This confidence can often be the difference between giving some extra effort and quitting.
What Did I Do in July?
During the month of July I kept myself busy building niche websites, working on Long Tail Pro, creating an authority website, and a few other things.
In the month of July I built 14 niche websites.  Obviously I haven't seen much income from these sites yet, but I expect them to grow over the next 90 days in both traffic and income.  To get these 14 sites up and running, I had a virtual assistant help me.   Essentially, I did the keyword research, bought the domains, outsourced the article writing to Textbroker. com, and then had my VA build the WordPress blog, install plugins, and add the articles to the sites according to my instructions.  I created a few videos for my Virtual Assistant to follow along to see exactly how I wanted each site built.  She did a pretty good job on this.
However, I also tried to show her how to spin and post articles to MyArticleNetwork.com (the primary blog network I am using for links for these sites) and it took her A LOT of my instruction to figure out how to do it.  I also found a lot of mistakes as I went over her work, so having a VA ended up not saving me as much time as I had hoped.  So, I decided not to work with a full-time VA at this point – I may try it again in the future.
My Authority Site
Also, in the month of July I started what I am hoping will become an "authority" site.  I wrote about my plans in detail for this site right here. Essentially, I found a primary keyword I wanted to target, and then a couple of hundred long tail keywords that received between about 200 to 500 exact match searches per month.  I was able to do all of this keyword research very quickly with my keyword research tool – Long Tail Pro.
I have ordered about 60 articles from Textbroker.com, and I have around 30 or so currently up and running on my new site.  I am happy to report that I am starting to get some natural search engine traffic from Google already!  The first article was published on July 21st, so the traffic is pretty small, but actually better than I was expecting this early on.
For the first week of August the site is averaging about 15 to 20 unique visitors a day from Google.  The traffic is coming from long tail keywords (no traffic yet for my primary keyword).  Some of the traffic is from long tail keywords I was targeting and other searches are not keywords I was targeting but just happened to mention within my articles.  Anyway, I expect good things as I continue to add articles and build the site!
My Software Project – Long Tail Pro
I started selling the beta version of Long Tail Pro in the month of July.  This is a project that has been in the works for a long time.  I think development for the current version of Long Tail Pro began in January.  So its been about 6 or 7 months in the making (not to mention a good chunk of money).
I have received some REALLY great testimonials and other feedback from people that I respect, so it really feels good to see a product I have been working on for a long time receive high praise.  The software still is in beta version, but I expect it to be coming out of beta in the month of August.  If you are interested in viewing some demo videos of the tool and reading a few of the testimonials, you can do so here.
Since this is an income report, I will mention that I have been VERY happy with the sales volume of Long Tail Pro in its very first month of beta sales.  As you will see in the report below, I am not disclosing how much money I am making from Long Tail Pro simply because its my blog and I don't want to! You're cool with that, right?   But in reality, the purpose of my blog here is to teach about niche websites and how I make money from niche websites.
So, I plan to always fully disclose the income that I generate from my niche websites.  However, I am not teaching how to make money from selling software as that is a completely different business model.  So, I would like to keep this portion of my income private as it is not directly relevant to the discussion of niche websites.  Hope that is understandable.
I am just willing to say that I am very happy with my decision to build and sell Long Tail Pro at this point.  I expect to become even happier with the income from Long Tail Pro as I release the full version out of beta and start to actually promote it other than on this blog (which I really haven't done yet except for 1 post on the Warrior Forum).
Income Breakdown for July
I was very close to having my best month ever with Google Adsense.  In May of this year I pulled in $15,362.62, so I was very close this month.  But you will notice that my Adsense income increased quite a bit since last month.  I can't pin point the exact reason other than something odd happened in the month of June that decreased my Adsense income significantly.  My income numbers were down even though my positions in Google essentially stayed the same in June.  Then right around mid July, the Adsense income jumped significantly back to where it was before June.  I really think something odd was going on with Google Adsense during June and early July.  But I am happy to say that things are back to normal, and so far August is looking very good.
So, here is the breakdown:
July Income from Niche Websites
Google Adsense: $15,222.93 (+ $2,710.69 from June)
Kontera: $93.84 (- $6.93 from June)
Niche eBook Sales: $85 (- $34 from June)
eBay Partner Network: $5.07 (- $9.88 from June)
Clickbank Sales: $40.04 (+ $40.04 from June)
Adbrite: $1.90 (+ $1.90 from June)
Total Niche Website Income for July: $15,448.78 (+ $2,701.82 from June)
Want To Build Smart & Relevant Internal Links...Quickly?
Link Whisper is a revolutionary tool that makes internal linking much faster, easier, and more effective.  It makes it simple to boost your site's authority in the eyes of Google. You can use Link Whisper to:
Bring out your orphaned content that isn't ranking

Create smart, relevant, and fast internal links

Simple yet effective internal links reporting: what has lots of links and what pages need more links? 
Click here to revolutionize your site's way of doing internal links
To provide a little more detail on how my top 5 niche websites performed this month, I am including the graphic below.  You may recall that I posted the change in earnings from May to June for my top 5 sites.  Well, this shows 3 months of earnings for my top 5 sites and how they have fluctuated.   The positions in the search engines was essentially unchanged for these 3 months, which is why I believe something odd was going on with Google Adsense ( I also read on the Google Webmaster Forums from several other Adsense publishers experiencing the same thing).  Anyway, here is the earnings breakdown of my top 5 sites:
July Affiliate Income
This is a new category I am creating for affiliate income that I generate through the Niche Pursuits blog.  I don't put much effort into generating affiliate income here, but I do have a few links on this site that actually earned me a little income, so I thought I would break it out separately.
Clickbank sales: $93.35
Commission Junction: $90
Total Affiliate Income for July: $183.35
Other Income for July
In the month of July I was approached by someone who REALLY wanted me to do some consulting for them on keyword research.  I told them like I tell everyone that I really don't do any consulting (I prefer more passive income sources); however, this individual was persistent and finally offered me $200 for an hour of my time.  Well, I found an hour of my time at that rate to do some consulting :).
I also received an email from someone wanting to buy one of my niche websites.  I believe they found the site after doing some keyword research and wanted the domain primarily.  This was a site I built a long time ago and frankly was probably going to drop soon.  I had only made about $25 in the past 6 months (which I fully disclosed to them along with traffic figures).  After some negotiating, I was offered $250 for my site.  Within a day the money was paid and I had transferred the site to this individual.  That site was scholarshipsforhighschooljuniors.com.  The theme has been changed as well as the content since I sold it, but this was the site that I sold.  Ironically, I have used the zBench theme on some of my sites in the past (which is the theme the new owner is using), and the Adsense placement is very similar to what I would do.
1 Hour Consulting: $200
Niche Website Sale: $250
Total Income from 'Other' Sources: $450
July Income from my Long Tail Pro

As mentioned previously, I will not be disclosing the income I generated from sales of my keyword research software Long Tail Pro.  But I felt like I at least needed to list it here, so that everyone knows that this is indeed an income source.  With the addition of this source of income from Long Tail Pro, my overall portfolio of income is better diversified.
Long Tail Pro Sales: Undisclosed
Total Income from All Sources
Niche Websites: $15,448.78
Affiliate Income: $183.35
Other Sources: $450.00
Total Disclosed Income for July 2011:

$16,082.13
(+ $3,350.09)
Future Plans and Your Thoughts
I'm never complacent with what I did "last month", so I have big plans for the future.  Obviously I will be focusing a lot of my time on my software and my new authority site.  I will be sharing more details about my large niche site project in the coming weeks and months.  However, I also have big plans in terms of promotion for this blog and perhaps another project as well.  I have put very little time and effort into promoting this blog and I really have all of you to thank that anyone even knows about me.  Thanks for spreading the word!
I may actually get started on my iPhone App business that I have shelved for the past couple of months.  I really don't know for sure what this month will bring, but I am excited to grow my existing business as well as try a few new things!
Anyway, I appreciate the fact that each of you are here following along with my progress!  As I stated above, I hope this income report provides both the motivation and knowledge that there is money to be made in the niche websites business.
I would love to hear your thoughts, comments, or questions that you might have below.
---