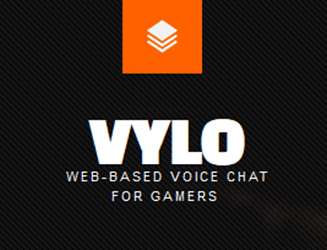 As much as Perrin and I enjoy working on our portfolio of niche sites, we really get excited about the business potential of our new product Vylo.
If you have been following along this software business case study, then you know that Perrin and I have been working for about 6 months now to get Vylo developed.  We are happy to say that the first public version has finally been released and is now ready for the world to try out!
When I hired Perrin at the end of December last year, not only did he bring an awesome work ethic and niche site building skills, but he also brought with him a software idea and 6,000 people that were interested in that idea.  You can read all about what Vylo is here and another update here.
Basically, Perrin had the idea for a hassle free, web based chat software for PC gamers and pitched the idea on Reddit.  As a result of that one Reddit thread, over 6000 people signed up on his email list expressing interest in the product.
Because I saw the enormity of the gaming market, the initial interest in his idea, and knowing first hand how well software ideas can do, I sweet talked my way into becoming a partner in the project.  Okay, I put up some money as well, to help get the project off the ground.
So, after hiring a developer that I had worked with previously, we spent the next 6 months getting Vylo to a place where we were comfortable releasing it.  We launched it about a week ago to the list of 6,000 email subscribers and have developed a more comprehensive marketing plan.
If you want to check out Vylo to see what it's all about, please visit Vylo.org right here.
Since this is really Perrin's idea, I'm going to let him give you a more in-depth update of how Vylo has done since we launched, what our plans are going forward, and some lessons learned.
Recap of the Vylo Launch
Hey guys! Perrin here. It's been a while since we've talked about Vylo in our last update on the project, and a lot has happened since we did!
We've been scrambling and working our butts off, and we finally launched Vylo last week. How'd it go? Let's find out…
Leading Up to Launch…
Leading up to launch, we had an enormous amount of work to do. It was all hands on deck, and every single member of my team was working to get the product ready for launch day.
It was a really great learning experience, too, because frankly, developing a software product and releasing it to the public requires a lot of different skills – and it all has to come together at the right time.
Plus, as with any project, you really can nit-pick anything to death, so a considerable amount of energy was devoted just to remaining efficient – focusing on the things that mattered most, making sacrifices, and deciding what we just didn't have time to do.
As we got closer to launch, we all kind of realized how much work we'd done (and how much we had left to do), and we literally worked right up until the hour we went live.
Here's the breakdown of our activities.
Technical Stuff
The technical stuff was by far the biggest part of the pre-launch work, and our developer, Nick Ohrn, had by far the biggest work load.
The largest chunk of most of the rest of our time was also related to the technical side. We spent plenty of hours testing every little thing we could think of, finding friends to test it, and testing everything again.
A few of the major things we did on the technical side were:
Rebuilding the landing page. We had some pretty huge technical problems here, mostly on the hosting side, which were mostly my fault. We ended up having to rebuild the whole thing from scratch. It was not fun at all, but it was necessary.
Moving the app over to our domain (and all the related stuff that went with it). This was actually relatively simple, but there were quite a few moving parts involved. We had to move the app to the Vylo.org domain, transfer ownership to me inside Heroku (the cloud application platform Vylo is built on), and set up a Stripe account to enable us to take money.
Fixing bugs. I won't bore you with all the bugs we fixed, but it was a major part of the process. And it's going to be a part of any development process; you're just never going to know what needs fixing until you go in and try to break stuff. And we did!
Design Stuff
In addition to the technical stuff, we realized we needed some super-fast, emergency design. Much earlier in the project, I chose to go with a designer I knew and trusted instead of hiring an agency, and this is where that decision really paid off.
As we started wrapping things up, we realized we needed to design a whole new page – mostly because we hadn't counted on having to design it. That page was the sales page. And, really, it was two pages – one for people who already had a free account, and one for those who did not.
So, I called our designer, Suzy Williams of SuzDesign.com, and basically begged her to knock out a design for those two pages in less than 24 hours.
And she totally came through!
One of the reasons I love working with Suzy is that she is incredibly fast, and she was able to design those pages and get the files to Nick (our developer) in no time flat.
And we really, really appreciated it. In fact, she and her husband got two large pizzas and a 6-pack of beer from yours truly as a "Thank you" to Suzy for coming through in the clutch, which she always does.
Priming our mailing list
As the technical stuff and the design stuff was getting worked out, I also had to prime our mailing list. And that, I thought, was going to be a major problem. Why?
We hadn't emailed them for months (didn't have much to say, but still… a mistake)
We'd changed our name (from GGNoob to Vylo)
So, not only did we have a cold list, but when we did decide to email them, they probably wouldn't have any idea who we were.
I had to get us back in the game somehow, and for the week leading up to launch, a lot of my own energy went into strategizing exactly how we were going to do that. Here's the email I ended up sending:
My strategy was basically to use a headline that caught the reader's attention and got them curious enough to open the email. I was leaning into the fact that they would be seeing a new email from someone they'd never heard about. Then I had to remind them why we'd be awesome enough for them to sign up with us.
Here's how it did:
As you can see, that email did very, very well. In fact, it did about twice as well as I thought it was going to, and I figured I was being optimistic. Getting a 42% open rate on a cold list with a new brand is about as good as you can hope for.
So, for the remainder of the week. I sent out a couple more emails. None of them were as successful as the first, but they all did pretty well. Here are the stats:
Email 2:
Email 3, which was actually our launch email:
Want To Build Smart & Relevant Internal Links...Quickly?
Link Whisper is a revolutionary tool that makes internal linking much faster, easier, and more effective.  It makes it simple to boost your site's authority in the eyes of Google. You can use Link Whisper to:
Bring out your orphaned content that isn't ranking

Create smart, relevant, and fast internal links

Simple yet effective internal links reporting: what has lots of links and what pages need more links? 
Click here to revolutionize your site's way of doing internal links
Finally Launching!
We launched on Monday, June 2nd at 5:00 PM. The idea here was to snag people who were just getting off work to go play video games. We only launched to our list, so it was really a pretty soft launch. Why did we only launch to our list? Well, we did that for a few reasons:
We had a big enough list (6,000) that it was feasible
We knew there would be a few more bugs, and we didn't want to flood ourselves with traffic just yet
We wanted to reward our list for signing up early
So, on that Monday afternoon, I had about 3 beers (pretty uncharacteristic for me – but, hey, how often do you start a company?) and let 'er fly…
How'd it go?
The launch went… okay. It didn't quite live up to my dreams, but it did about as well as we could have hoped based on the data we'd already seen, especially since our email numbers were trickling off.
In the back of my mind, I'd kind of hoped we'd get a thousand people to the site, but we didn't quite get there.
Here's the raw data:
And here's how the launch day looked in the context of the month:
Finally, here's a screen shot of the built-in analytics (current as of June 10):

Deciphering the Data
Phew, so that's a lot to take in. Here it is at a glance:
725 visitors on launch day
332 actual users on launch day
260 people have signed up for free accounts
Users are using Vylo organically
Traffic is declining, as expected
So what's the good news and what's the bad news?
The best news by far is all the people who have signed up for free accounts. That big 260 number is much, much more than I would have hoped. Why are they signing up?
The friends list!
With Vylo, you can have a friends list, but only if you sign up for a free account. And that has really been working for us. It means that it's a feature people really want, and they don't mind giving us their email to get it. And that is absolutely awesome. Roughly 12% of our users are signing up for free accounts. That is a very, very good conversion rate if you ask me!
From that data, we can infer that our product is sound. And I think that's really true. In fact, I think we currently have the best browser-based voice application on the market. And our 12% conversion certainly seems to back that up.
The bad news, of course, is that we haven't made any sales (those two paid accounts are myself and one of my team members). So, while a bunch of people are signing up for free accounts, no one has been sold on the "Pro" accounts.
All of that tells me… only half of our sales funnel is working. And we'll likely have to do some major tweaking to get it working.
For now, though, we're not worried about it. So what are we worried about?
Exposure.
And here's how we plan to get it…
The Action Plan
We've been working hard, but the hard work is really just beginning. Up until now, most of the workload has been getting the product working – technical stuff, design, mailing lists…
But now, we've got to do the tough part. We've got to get out there and pound some pavement. We've got to get some eyeballs on our product. We've got to spread the word, build relationships and keep the overall hype up, so that we can edge ourselves over the event horizon – get ourselves to critical mass.
Because right now, if we don't do anything, Vylo will eventually just die out. It's not popular enough to survive on its own.
We've got a pretty difficult mission ahead of us, and it's all hands on deck. Here's what we're going to be doing this month.
Agent Perrin: I'm going to be in charge of getting our product into the hands of influencers. This is going to be really, really hard, I think. But, in my view, it's critical to the success of Vylo. I'm going to be reaching out to important gamers, bloggers, communities and companies in the gaming space to see if we can buy a tweet or endorsement or whatever we can get. In addition, I'll be looking into a few advertising avenues – namely Twitch.tv and Reddit. I'm also going to be overseeing everyone else's marketing efforts.
Agent Spencer: Spencer's going to be throwing his weight around – droppin' some Haws bombs. Spencer is going to try to get us on some podcasts, and he's going to try to get us on some big ones. That's the real value of having Spencer on board here: he's got some really great relationships, and that should help us in the long run. Spencer is also in charge of asking relevant Niche Pursuits gamers for help, so he may be reaching out to some of you soon!
Agent Ahon: Ahon is going to be managing all of our Reddit efforts. Reddit played a huge role in Vylo getting so much early traction, and they have tons and tons and tons of gaming communities. Ahon will be tapping into the biggest ones. He'll be writing big posts and managing all the Q&A that happens there. If I was going to guess, I'd say that this is where almost all of our traffic is going to come from this month.
Agent Samir: Samir is going to be in charge of our grass-roots efforts. He'll be seeking out, connecting with and promoting Vylo on as many smaller gaming forums he can find. While Ahon is going to be focused on a few high-impact Reddit posts, Samir will be the man creating a general buzz – laying the foundation.
So, our plan consists of these elements:
12 or so big Reddit posts
1 Reddit ad
1 Twitch ad
5 tweets from influencers
50 posts on small forums
This blog posts
Help from Niche Pursuits gamers?
Final Thoughts
Overall, I'm super excited for Vylo. I truly do think we have the best Web-based voice application available, and there are very, very few things like it on the market.
That said, I'm also nervous. I have no idea how any of this is going to pan out, and I'd feel a lot better if we'd made a few sales. I think exposure and virality will be critical to the project, but those things are very difficult to create.
The one thing I know for sure is that we got a whole lot of work to do. Luckily, working hard is something I've always been pretty good at. So we'll see where it goes.
What do you guys think?
Til next time!
---