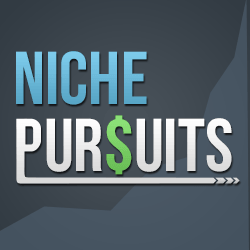 Today I wanted to give a quick report on how I am doing on my Annual goals that I set in January of this year.  Its now been 3 months, and I'm at least still tracking my goals…so that's a good sign!
As you may know, I recently just shared an in-depth monthly income report for my public niche site project; so I won't be covering more of that here; however, I will be covering the rest of the annual goals that I've set for myself.  So, lets jump right into it.
1. Build 2 Public Niche Sites:
I'm making excellent progress on the first one!  Read all the posts for the project here.  The second public niche site will come in the second half of the year.
2. Accomplish at least 1 "Niche Pursuit":
Still no progress on this yet.
3. Double the Average Monthly Unique Visitors to NichePursuits.com:
The total unique visitors in 2012 was approximately 200k for 2012. So, to hit 400k unique visitors in 2013, I should be getting about 33k unique visitors per month.  In March, I was still a bit short of that goal.  I had 27,523 unique visitors during the month of March.  Here's a screenshot:
Even though I haven't hit this goal yet, when I think about how many people 27,500 really is…I'm amazed!  I have the population of a decent sized town visiting my site each and every month.  Even though I'm looking at and trying to grow the numbers, I'm aware that each of these visitors are individual people…and it truly is a large group!
4. Double the Affiliate Sales on NichePursuits.com:
I am very close on this one; at least on an average basis.  Next month, I will break down actual sales volume; however, here is a list of where my top affiliate sales are coming from:
5. Double my Income from Niche Sites:
My niche site income is still essentially the same since last year.  Obviously, I've earned a little bit with my new public niche site project; but overall, the average monthly income essentially remains unchanged.
Want To Build Smart & Relevant Internal Links...Quickly?
Link Whisper is a revolutionary tool that makes internal linking much faster, easier, and more effective.  It makes it simple to boost your site's authority in the eyes of Google. You can use Link Whisper to:
Bring out your orphaned content that isn't ranking

Create smart, relevant, and fast internal links

Simple yet effective internal links reporting: what has lots of links and what pages need more links? 
Click here to revolutionize your site's way of doing internal links
6. Read 1 Business Book Per Month:
I finished the book Influence: The Psychology of Persuasion by Robert Cialdini.  I was very excited to read this book because of the many positive reviews its received and the subject matter is intriguing.  I was not disappointed!
This book was originally written in 1984, so its not new by any means.  The book has been updated and revised, but not much I'm sure…because it doesn't need to be.  The book teaches principles that will always apply as long as humans are interacting and trying to convince each other to do things.
I did find it a bit "funny" that the author kept referring to people as "compliance professionals".  At first I was a bit confused; in my mind a compliance professional is someone working for a large corporation in the compliance department.  (And these people are usually about the furthest from sales people that you can get from my experience).  However, I guess in the 80s, a "compliance professional" is a salesperson (especially door to door salespeople) or anyone that gets you to COMPLY with their wishes – often in a sales position.
In addition, I also find the book interesting because of the perspectives it written from.  Cialdini writes it with the tone that salespeople are out to make you do things against your wishes (i.e. slick salespeople uses tricks to get you to buy); and this book is written as a defense for you against their tricks!
However, my guess is that the true audience of the book is NOT people trying to prevent salespeople from tricking them, but actually salespeople and marketers are reading this book to learn how to implement these psychological triggers in their business efforts.  So, rather than preventing use of the psychological "tricks" as the tone of the book implies, Cialdini is actually arming marketing professionals with the know-how to make offers that are enticing as possible on a psychological level to individuals.
Overall, I really enjoyed reading the examples and case studies showing how these influences work in our lives.  And its much more than just marketing and sales.
These 6 principles explain how we interact as humans all the time to influence one another.
Reciprocity
Commitment and Consistency
Social Proof
Authority
Liking
Scarcity
I could go into detail about each principle, but I simply wanted to provide an overview of my thoughts on the book. I recommend at least researching these six principles and how they can help boost your own business; however, ideally you'll have a chance to read the book yourself some time.
With any review, I also want to include any cons of the book.  I did find that Cialdini was a bit repetitive or at least long winded in explaining some of the principles.  At least 2 or 3 times throughout the book, I felt like the dialogue was a bit overkill.  However, the author was simply driving his points home and does not detract from the valuable information.  Although I shouldn't have been surprised, what else should I expect but long detailed explanations from a psychology PH.D. and Professor?
Overall
My month was a good one, and I'm happy with the progress that I've made on my goals.  I appreciate you taking the time to read this, and keeping me accountable for my goals.  If nothing else, going through the mental exercise and thinking about these keeps me on track.
How are your goals coming along? I'd love to hear and comments or questions that you might have below.
---