At the beginning of each year, I think it's important to reflect on the successes and perhaps failures that I've had in the previous year.
In addition, since I no longer provide regular monthly updates on my own business, I think this review post will give you some good insight into my business and what's working for me.
In particular, I haven't really talked much about the new websites that I built in 2016, and so I'd like to share some stats from those sites.
Overall, 2016 was a fantastic year for me and my business!
I Sold Long Tail Pro
The biggest event in my business for 2016 was the fact that I sold Long Tail Pro in Feb. 2016.  I wrote an entire post about the deal here if you want to catch up.
Overall, I had been running the business since 2010, and so it wasn't an easy decision to let this business go.  However, I was offered a great deal and I still retain some equity in the business.
Going from spending a large amount of time working on Long Tail Pro to virtually no time after the sale, has given me a chance to rethink what I want to pursue.  Some of those ideas are discussed below.
Growing and selling Long Tail Pro was a life changing event for me, and this is by far the biggest business accomplishment of 2016.
I Got Serious About My Amazon FBA Business
I launched my first physical product on Amazon in early 2015.  However, I didn't "try" too hard with this business until after I sold Long Tail Pro.
I took a look at all my businesses, and decided that selling products through Amazon was something that I could scale faster than some of the other options I was looking at.
With the help of Jake (my employee), we grew this business significantly in 2016.  I provided a more in-depth review of the lessons I learned in 2016 from this business right here.
I launched several products and towards the later half of the year really started to focus on more unique ideas.  I've found that more unique offerings tend to sell better and command higher prices.
This probably seems like obvious business advice; however, many of the Amazon FBA courses or "gurus" teach that you should start by mimicking products that are already successful.  I've found that throwing up a "copy" product doesn't always get the job done.
If I were to start over again, I'd only focus on unique or improved product offerings.
2016 Amazon Sales
2015 Amazon Sales
So, in 2016 the top line revenue was roughly $775k, while in 2015 the revenue was just $185k.  That's some serious growth in 2016!  I'm hoping to more than double the revenue in 2017.
(And in case you are wondering, the net profit is roughly 28%).
In December 2016, we did about $87k in sales.  We would have likely done over $100k in December if we hadn't run out of stock on 3 of our products.  A couple of our products starting selling MUCH better than expected and we didn't have enough stock.
However, the holiday season was still huge.
We have a few new products in the works and expect to launch those early this year.  I have no doubt that 2017 will be a high growth year, and I look forward to expanding this business.
Hiring
Part of my plans for growth is additional hiring.  I now have 3 brands that can essentially "afford" to pay for a brand manager.
As a result, in the last week, I've hired 2 new employees to help grow a couple of my physical product brands.  These brand managers will be able to put the time and energy into the products and websites needed to help them grow.  I'll provide the strategic vision.
I've hired one manager to grow the brand I have in the music niche (sells physical products and has a Shopify store).  The other manager is going to grow the brand I have in the household goods niche (sells 7 products in one particular niche).
Niche Site Growth
I know it's been a little while since I've discussed what I've been doing on the niche site front.  In 2016, I've built or been focusing on 5 niche sites.  Here's a quick review of each of these:
Niche Site/Ecommerce Brand 1 – Household Goods Niche
This is a site that I technically started in 2015.  However, most of the growth has happened in 2016.
This site also sells 7 physical products (that I sell on Amazon).  So, I'm driving traffic to my Amazon listings using this niche site.
I've actually written in depth how I've grown this site in a previous post here.
The primary strategy has been low competition content. I have done absolutely NO linkbuilding in all of 2016.  I'm a big believer in keyword research and writing quality content.  That strategy has worked really well for me on this site.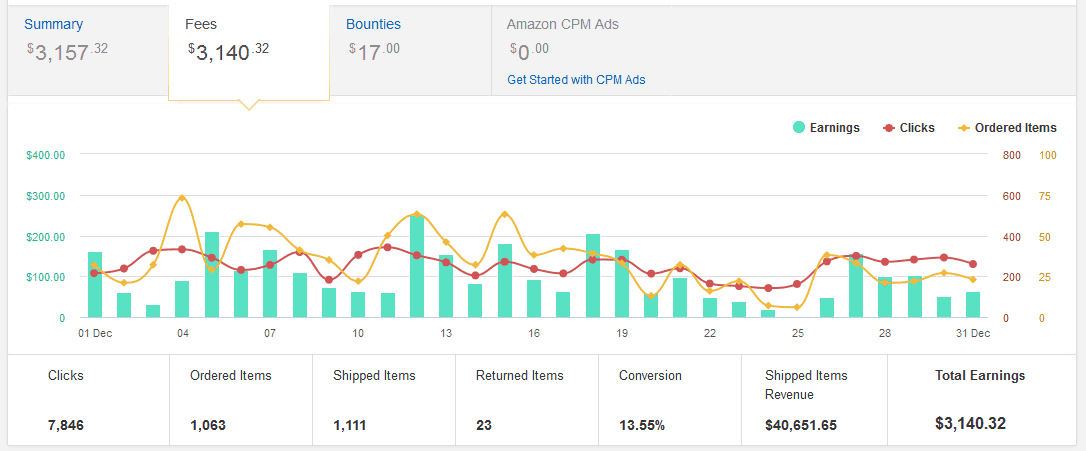 Between a couple of different tracking ids (only 1 shown above in screenshot) and Google Adsense earnings, this site made just over ,000 in affiliate commissions in December 2016.  However, the real win of this site is that it contributed MUCH more in sales to my Amazon listings.
Niche Site/Ecommerce Brand 2 – Music Niche
This is actually an ecommerce brand that I purchased in early 2016.  This site came up for sale on EmpireFlippers.com and I just couldn't pass up on the deal after I spoke with the previous owner.
The product that this site sells is a very unique and high quality product for musicians.  The business has actually been around for 15 years; however, the website was a new addition in the last couple of years.  Also, there's a long story, but the business was at rock bottom, very little monthly sales when I purchased it.
However, the product was so cool, I just couldn't pass it up.
As a first order of business, we revamped the website to make it more user friendly and ramped up the content to start getting some traffic.  Our strategy here was simple, we focused on low competition keywords and quality content (we found a musician/author to write the content).
Want To Build Smart & Relevant Internal Links...Quickly?
Link Whisper is a revolutionary tool that makes internal linking much faster, easier, and more effective.  It makes it simple to boost your site's authority in the eyes of Google. You can use Link Whisper to:
Bring out your orphaned content that isn't ranking

Create smart, relevant, and fast internal links

Simple yet effective internal links reporting: what has lots of links and what pages need more links? 
Click here to revolutionize your site's way of doing internal links
We essentially did no link building.  We did outreach to get mentions on Youtube and Instagram, etc…but our intention was not to get links; although that may have been a by-product.  The growth in the traffic you'll see below is all due to our content ranking well in Google.
When we bought the site, it was only getting about 30 visitors a day, or close to 1,000 per month.  As you can see, we've grown that significantly since we purchased the site.  The site now consistently gets 2,000 to 2,500 visitors EACH DAY!
The brand sold about $5,000 worth of product in December.  Yes, this was higher than normal due to the holiday season; however, I see huge potential here that hasn't been fully tapped into yet.
As a result, I just hired a brand manager (that happens to be a musician) to help us take this brand to the next level.  With an amazing product, now a great website with real traffic, and a dedicated brand manager, I expect great things for this ecommerce business in 2017.
Niche Site 3 – Health Niche
In October 2016, I got the itch to buy another site.  However, instead of going to the available marketplaces, I decided to reach out to owners of sites to see if I could pick something up.
Well, I found a site in the health/dieting niche that I thought was a good deal for $1500.  I basically wanted something that had age and would help me "skip" the Google sandbox.
So far, we've hired writers to add new content and we revamped the look and feel of the site a bit, but haven't ramped things up too serious yet.
We haven't seen any huge success yet, but its only been a couple of months, and I still think there is potential here.
Traffic stats
Niche Site 4 – Treasure Hunting Niche
This site was started in February 2016.  As you can see from the screenshot below, the growth has been pretty consistent.
The strategy on this site has been very simple: find low competition keywords, write great content, then repeat.  We have done NO link building whatsoever on this site.
This is an interesting niche and we don't sell any physical products in this space.  As a result, I have focused only on growing the traffic (through content) and not so much the earnings of the site. In 2017, the focus will shift to get more serious about monetizing the site.
In Dec. 2016, this site earned about $78.
Niche Site 5 – Automotive Niche
This site was started around late Oct. or early Nov. of 2016.  The site only has 10 articles or so published right now.
However, we've hired a writer that is very knowledgeable in the automotive space, and he will be producing content on a regular basis.  And you guessed it, the strategy is the same: find low competition keywords and produce high quality content.  No link building for the foreseeable future.
This is a space that has the potential for us to build physical products around and build into a real brand.  I'm hoping that by the second half of 2017, the site will have grown enough that I can start experimenting with my own products there.
Traffic
Investments Made in 2016
Outside of my own projects listed above, I'm also a financial investor in a few businesses.  Clearly, when I sold Long Tail Pro I had a little extra money that I was able to use here.
I think this just gives a bigger picture idea of where I'm involved and where I'm invested.
Long Tail Pro.  Even though I sold a majority of the business, I technically still own a minority stake.  I'm no longer involved in the day to day operations, so it's a passive investment for me now.
50% of Jake's eCommerce Brand.  I invested the start up capital needed for Jake to launch a couple of products on Amazon.  This is already profitable for me.
6% of PicReel.com.  I'm just a financial investor here and discussed it briefly here with Kevin Peterson who manages the business.
33% of 2 Niche Sites.  These are just a couple of sites purchased with some partners.
7% of Personal Finance Site.  This is another financial investment that I made; someone else runs the day to day operations.
23% of a Digital Marketing agency.  This is a deal I did with WiredInvestors.com.  It has some complexity to the deal, but I'm planning to be a financial investor only here, not actively promoting the services it offers (even though my audience here is clearly a perfect fit). I'm not involved at all in the day to day operations.
9% of a travel/destination site.  Again, I'm just a financial investor here…a team is already in place to run and grow the site.
50% of my brother's ecommerce business.  We launched one product last year that didn't go anywhere, but we have a couple of new products in the works that I think have potential.  My brother is pretty much doing everything, I'm just providing the seed capital.
Bitcoin.  I also took the plunge in early 2016 and bought some bitcoin.  Last time I checked, the value of this investment had doubled.  But don't ask me to check again, because it's so volatile!
Overall, I made a number of website purchases and business investments during 2016.  Most of these I have very little input in the day to day operations of the businesses.  I definitely am enjoying the passive nature of these investments, and I hope they continue to do well!
NichePursuits.com
As I look at NichePursuits.com and what was accomplished with this site, I see both some wins and some areas that need improvement.
In 2016, we conducted an epic case study: Niche Site Project 3.  Jake, Perrin, and I coached 3 students on starting a niche site from scratch.  As a result, we created some VERY in-depth training videos and podcasts, that outdo almost any training course on the subject.  And all of this was provided for free.
The students have all created sites and a couple of them (Samara and Colleen) are now making money.
I also launched a private Facebook group that has gone from 0 to about 14,000 members.  The group is active and lots of great discussions are happening there.
I see these as some big wins for Niche Pursuits.
On the flip side, I see some areas for improvement.  The Niche Pursuits podcast hasn't had a new episode in months.  And I haven't produced as much high quality content on the blog in the second half of the year as I did in the first half of the year.
As a result, I have some plans under way to "re-launch" the podcast…just give me some time!  I also plan to focus more of my time and energy into producing high quality content on the blog.
Now that I've hired a couple of people to help me manage my ecommerce brands, I think I'll be able to dedicate a bit more time NichePursuits.com.
At the end of the day, I really think this will be a good thing for you, the reader of Niche Pursuits.
How Was 2016 For You?
Overall, 2016 was a very eventful and successful year for me.  I sold a company.  I launched several physical products.  I built a few new niche sites.  I invested in several businesses as a passive investor.
I expect good things to happen in 2017.
What about you?  How was last year for you, and what do you expect for 2017?
---