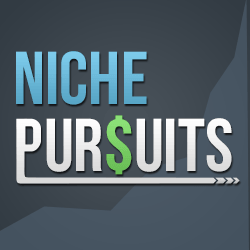 Today, I wanted to do something a little bit different.  Over the past couple of weeks, I have been thinking about some of the major accomplishments that I have made in 2011.  When I look back, it really has been a STELLAR year!  After all, I began 2011 working for someone else, NichePursuits.com did not even exist, and my business was FAR from where it is now.  The year 2011 really will be a year I remember for the rest of my life.
Here are just a few of the accomplishments that I had last year:
Quit my job! (This by itself is enough to make 2011 an amazing year!)
Built over 100 niche websites
Started NichePursuits.com
Ran my 2nd marathon! (First was in 2010)
Developed and began selling Long Tail Pro!
Made a bunch of money with Google Adsense (watch the video to see how much).
2011 Year in Review Video!
I accomplished several other things as well, but I thought this quick video would be more interesting than just listing what I did last year.  The video is good from the standpoint of giving just a little bit of my history with niche sites over the past year or 2.  In addition, I hope you find it MOTIVATIONAL!
An Old, But Still Relevant Video
In the video above, I reference how lots of my sites were penalized in October 2010.  This was a huge setback for me, but ended up being a blessing in disguise as I show in the video.  However, what I thought you also might find interesting is that I actually made a music video shortly after my sites were penalized.
Want To Build Smart & Relevant Internal Links...Quickly?
Link Whisper is a revolutionary tool that makes internal linking much faster, easier, and more effective.  It makes it simple to boost your site's authority in the eyes of Google. You can use Link Whisper to:
Bring out your orphaned content that isn't ranking

Create smart, relevant, and fast internal links

Simple yet effective internal links reporting: what has lots of links and what pages need more links? 
Click here to revolutionize your site's way of doing internal links
In my opinion, its a bit more of a humorous video.  It expresses exactly how terrible I felt when the penalty happened, but also makes me chuckle every time I watch this.  Humor is good medicine!  Anyway, if you are interested, here is a music video I made in about November 2010.
So, if you have a love-hate relationship with Google; trust me…I feel your pain!
Anyway, I hope you enjoyed the 2011 year in review video.  I would be very interested in hearing your thoughts or comments that you might have to share.
---